Fish Out of Water
"I am not Washingtonian. These are not my salmon."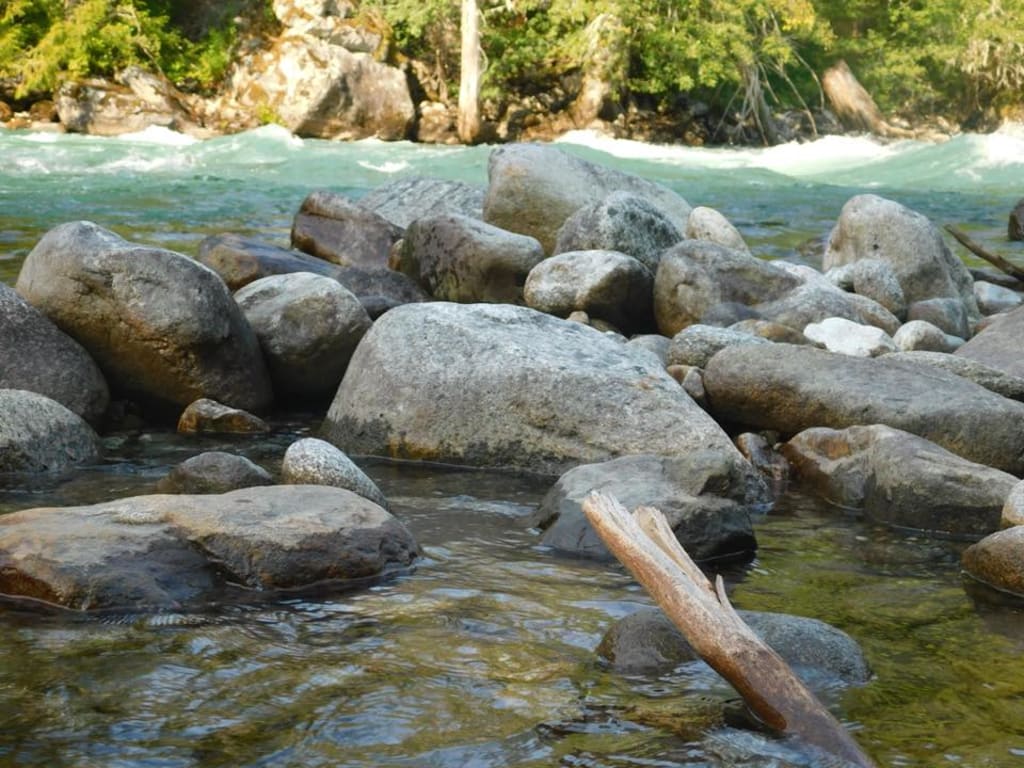 Skagit River, Washington
Carmel, California. 2006.
The first time I remember seeing the ocean. The first memory not on faded photographs, but in my mind. I wear a yellow sundress, brand new and already stained with ketchup. The water is clear, cool, and blue. The sand is hot under my bare feet; it clings to my toes. The sun is blinding. I squint at Grandpa Jim as he takes my picture, pose for the disposable camera. I stand in the ocean, hands about my head, thrilled to be standing in the Pacific Ocean – the real one, like you see on maps. I am ten years old and wish I could stay here. I don't want to return to Ontario, to somewhere so far from this beach. Or any beach.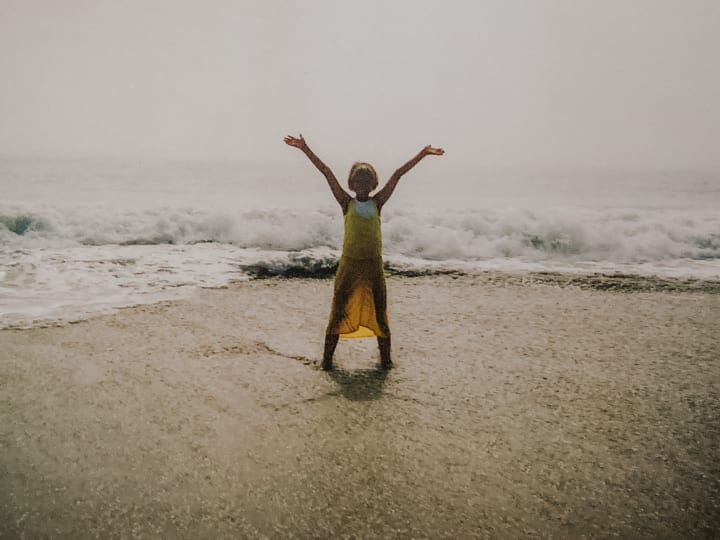 Cannon Beach, Oregon. 2011.
We stop at the beach shortly after leaving Astoria. Mountains frame the water, and I picture One-Eyed Willie's pirate ship sailing out from between the rocks. This is our first time driving down the Oregon coast, instead of taking I-5 all the way to San Jose. I like this trip. Gabriella and I write our names in the sand and Mom takes our picture. Anthony examines anemones in a tide pool and Dad walks Georgia along the beach. For a few minutes, I forget that my best friend stopped talking to me after spring break, that I don't know who I'll talk to when school starts in September. I am fifteen and worried that I'm unlikable. But here, on this beach with my family, I belong. I could spend eternity amongst splintered seashells and gloomy cliffs.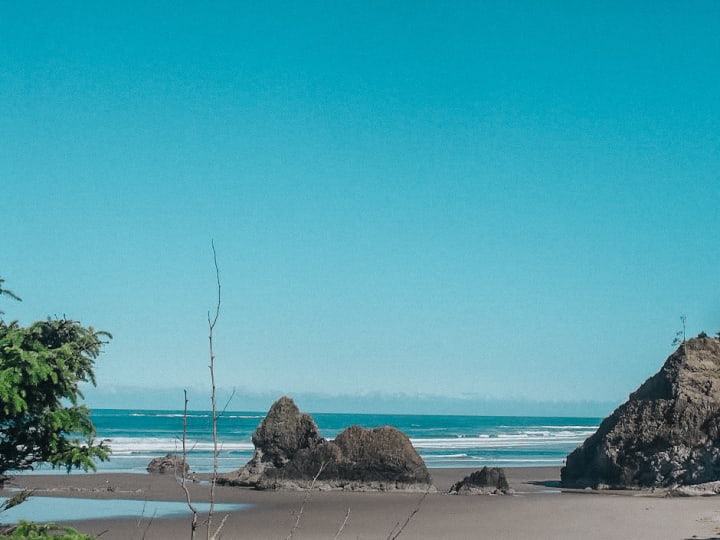 White Rock, British Columbia. 2014.
I stretch out on the grass in front of the ocean, body aching from the long swim back to shore. There are cuts on my hands and feet – sharp kisses from the barnacle-encrusted pier. We swam the length, Otilia and I. Now we dry off under the setting sun with our friends. For once, my joy is genuine; I don't worry about how I look in this bathing suit or what people think of the scars on my arms and thighs. Happiness soaks into my skin with the last rays of the sun. When it finally sets, Otilia and Colton walk me back to the hotel where my family is living for the week: breakfasts on the balcony and ice cream each afternoon. I am eighteen and this moment is bittersweet. We say goodbye. Will I ever learn? I wonder. I tried hard to not think of this as home. But it is, and we're moving.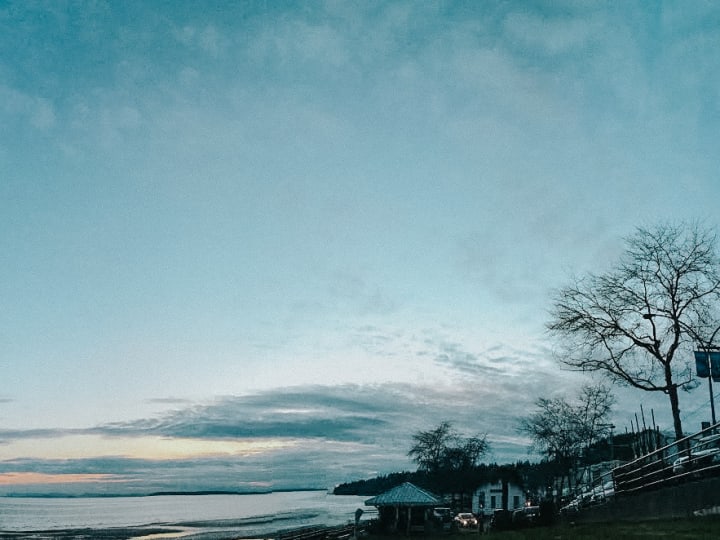 Anacortes, Washington. 2016.
It is early enough in the spring that we are alone. We sit on a large rock overlooking the lake and I think I am in love with Tre. I am twenty and he is my first boyfriend. I haven't been in love before, but this must be how it feels. I glance at him. His eyes are focused on the water, but he rubs the back of my hand with his thumb. I know he loves me, too; he let it slip one day and I pretended not to notice. I wasn't ready. Now I am. I sit by the lake in a town that is starting to feel like home and I am happy. In love.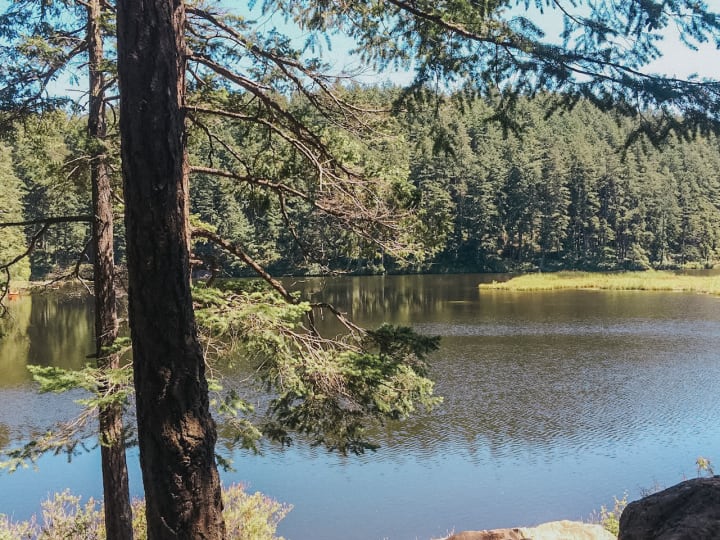 Newhalem, Washington. 2017.
We sit on a gravel bar in the North Cascades, surrounded by decaying salmon. Ben and Chuck have taken us on a field trip. I am twenty-one and in my second year of college. Ben picks through volcanic rocks, encourages us to search for obsidian. I find sandstone instead. Chuck explains the importance of the dead salmon, explains the salmon run and the privilege of witnessing it. He shouts over the roar of the Skagit River, and I feel like an outsider. A fish out of water. How many years will it take to feel at home? Can I ever feel at home? I am not Washingtonian. These are not my salmon.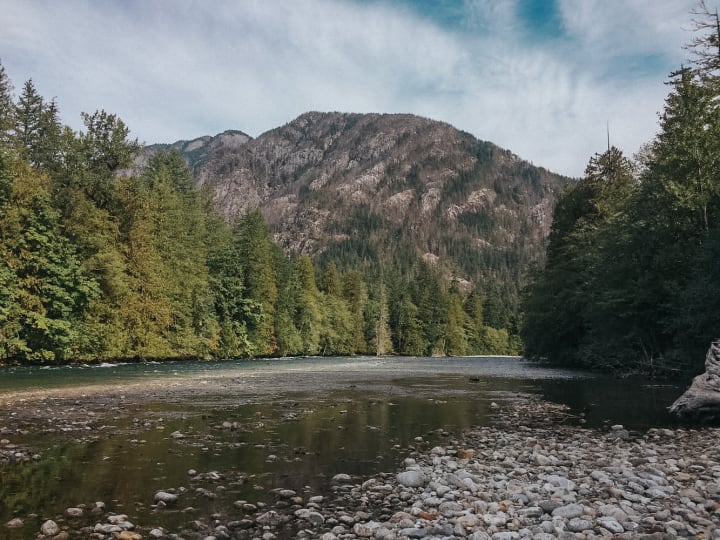 Santa Cruz, California. 2018.
Gabriella and I share a gondola, friends again after fighting in Capitola. The roller coaster rattles from behind us as we glide over the Boardwalk. I can see everything: the children below race from ride to ride, fingers sticky with saltwater taffy; on the beach, people sunbathe on the sand and play in the waves. I watch them live their lives, make memories—a spectator. I am twenty-two and just graduated with a two-year degree. In two months, I move to a different city, living on my own for the first time. I feel like a spectator in my own life, watching instead of living. I am afraid, unsure of where I belong and where I will go. It overwhelms me. So I sit in this moment, content to watch others with my sister. I can worry about the future tomorrow.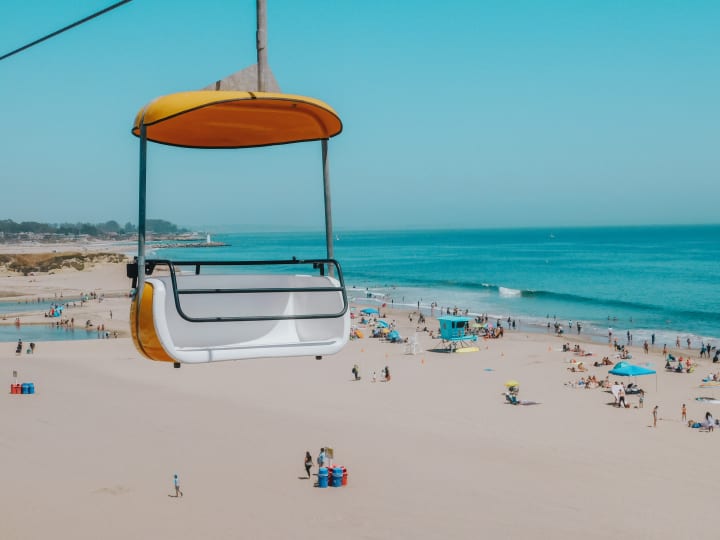 Bellingham, Washington. 2020.
Waist-deep in crystalline water, surrounding trees reflect off Lake Padden's surface. A dragonfly hovers above the ripples, kisses the surface gently before flitting off. In one week, I will have surgery. Today, though, my foot isn't swollen, and the arnica cream that Abigail recommended has dulled the pain. I crouch down, let the water cover my neck and shoulders. Today is warm and the water is a refreshing reprieve from our un-air-conditioned basement apartment. Tre laughs as small fish swim around his toes; I call them minnows, but he corrects me, says minnows don't live here. I am twenty-four and suddenly long for a home I haven't known for many years. "In Minnesota, there are minnows," I say. But Minnesota feels as foreign to me as the fish in this lake.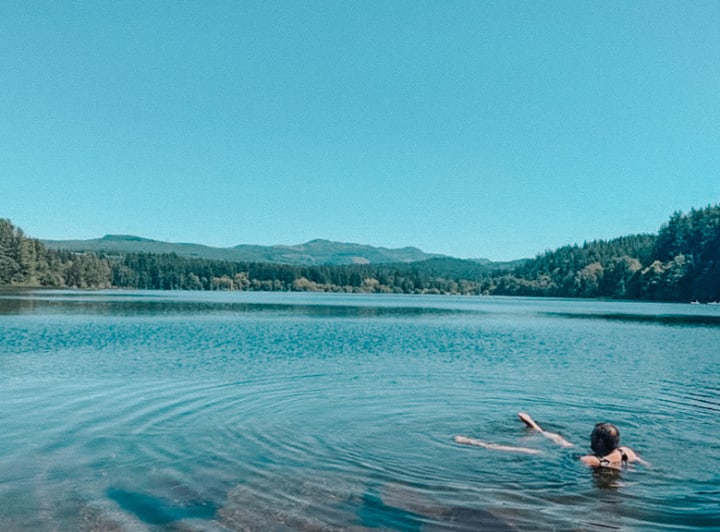 Oak Harbor, Washington. 2021.
Elizabeth is married in an intimate ceremony, on a farm that has a view of both the forest and the ocean. I sit at a table alone, sipping on local beer. Elizabeth's mother stops at my table to say hi. We met briefly, three summers ago, and I am thankful for someone to talk to. "This is such a beautiful wedding," I say. She smiles, tells me how the community came together to celebrate Elizabeth and Jordan: their friend owns the venue, others cooked all the food. In that moment, I understand what it means to be here. I got out of the car feeling anxious and alone. Now, my eyes swell with tears as I realize that I am a part of their community. The wedding is small, and I am here because Elizabeth wanted me to share in this day. Like me, she is from Minnesota and found a home here. Unlike me, she has fully embraced it, found her place in it. I am twenty-five and searching for a home that is right in front of me.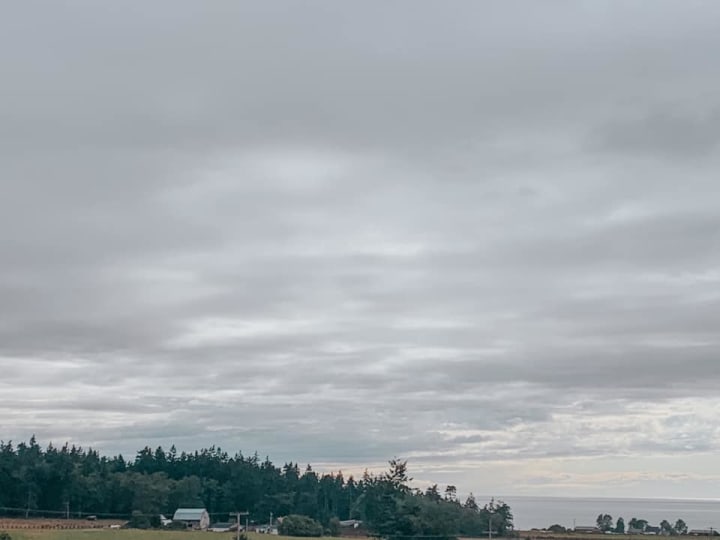 Bellingham, Washington. 2021.
Tre and I sit on the rocks of Teddy Bear Cove, letting the seawater rush over our feet. The tide is coming in. We are celebrating today; a year ago, I couldn't walk after surgery, so I wanted to go on a hike. We parked at one of Chuckanut Mountain's trailheads and made our way to the cove. I wiggle my now-healed toes in the water. It is cool, feels nice with the sun overhead. I am twenty-five, a college graduate and published poet. I wonder what the future holds for me, where the current will take me. Tre asks what I'm thinking about. I don't tell him. Instead, I ask about the mountains at the far end of the bay. As he points out Lummi Island, I think to myself, I know two things. One: five years later, and I am still in love with him. Two: seven years later, and I am still in love with Washington. I never want to leave it.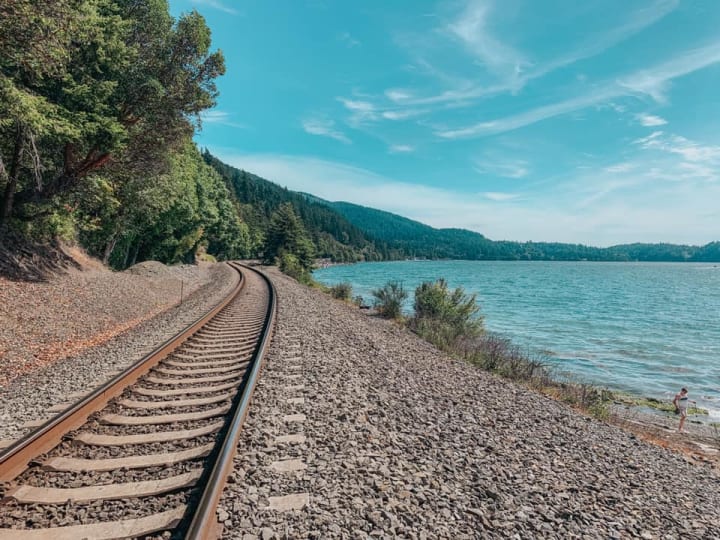 america
pnw | pisces | poet
wwu grad
IG: @kjzwrites
Receive stories by Katherine J. Zumpano in

your feed