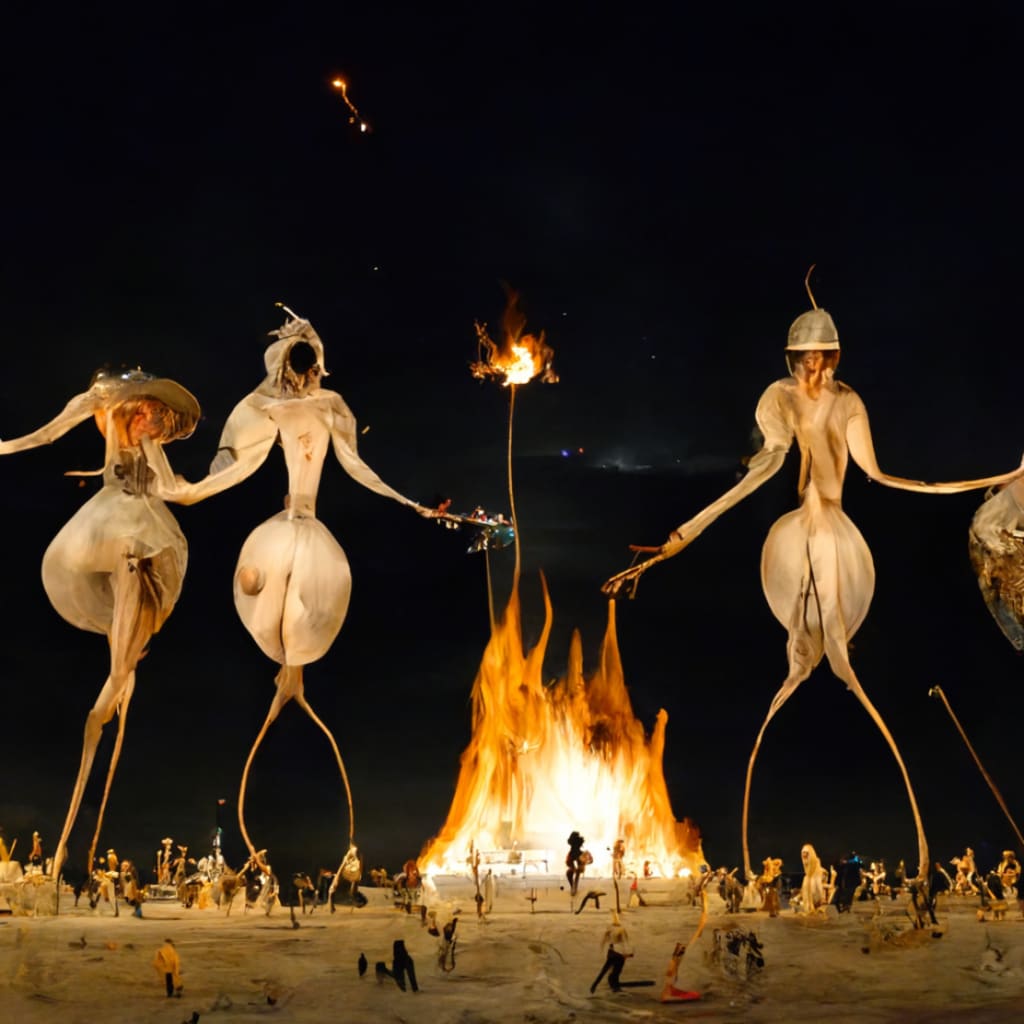 My brother dances at last with explosions and fire—
Not a helicopter, just mushrooms at Burning Man.
I have Minha with me,
accidental lover,
former ballerina with a titanium knee,
a crescent scar on golden skin.
My brother has us,
temporary parents
so he shouts in triumph at the beauty of a bespectacled blonde dancer
incoming from the skyscraper of flames.
My twin let loose at last.
Got burning ash in my fucking eye!
he barks without warning.
So much for bliss.
The carnival is now Hieronymus but I'm not going
to allow
my hypochondriac brother
to chain himself to the wheel in the sky.
My gold and silver velvet robe flaps open,
sharp sand pierces my chest.
I am a king.
He was jealous when I bought my costume on Haight
As if I stole it from him.
A clump of soot, glowing orange,
somersaults jerkily across the desert floor,
a lizard on bad acid.
Minha places her hand on the back of mine.
We should find a medic.
Did I really witness my twin at age six,
friendless in the playground riot,
friendless save for the pale-green puffy jacket
he clutched in his lap?
Or was it our mother who saw him there,
and told us later
before she died
how she'd burst into tears at the sight of one of her little boys
who didn't know how to play?
Maybe it's hard to lead another person to joy,
but here in the windy inferno,
I'll be damned if I don't try.
He'll be fine, I say.
The crust of sand crackles under my boots.
My left palm grips a ribbon that Minha gave me
a hundred minutes ago.
Her hair whips around her big soppy deer's eyes.
Ethan moans, on his knees,
convinced by the inferiority of his boring black robe
he is doomed to go blind.
Now inside the medic's tent,
my brother is tended
I wait with Minha on folding chairs
A different young lady punches herself in the forehead.
Neither the tattooed doctor scurrying around, stethoscope flapping,
nor I, hairy knee trembling with fear for my brother's eye,
know what to do about the weeping stranger.
"But
I
am
I was
a dancer," the young lady cries
to the canvas ceiling
fluorescents revealing her despair
for all to see.
Party time over.
A tiny ballet shoe on the hard dirt beneath her folding chair.
A bone pressing out of her ankle skin.
Her lost joy is embalmed on her wrists
A hundred multicolored bangles rise and fall with her tears.
Minha crosses the floor, kneels behind the stranger,
hand on the girl's shoulder.
Whispers into her ear.
The cacophony of competing sound systems retreats
the plastic-and-tin folding chair levitates me
eighteen inches above packed dirt
The girl softens.
A single glitter sparkle that once graced a cheek
calls to me from the floor
to tear my eyes from my queen's caress of this stranger,
because as she whispers to the girl,
sweet milk pours over the other patients
in their soon-to-be-obsolete-again Victorian costumes
straight towards me.
Look away.
She is an accidental lover,
a girl from the midwest I'm not supposed to fall in love with tonight.
So I tear my eyes from her,
to the tent door flapping open,
to the chaos of the night, and a thousand other parties,
to the road like a long tall princess waiting to be fucked,
to a thousand restless flappings of my mother's wings.
About the Creator
Filmmaker, writer, drummer. Guinness World Record holder for air-drumming.
Poems published in Tablet Magazine: arigoldfilms.com/poems
Watch my movies on Amazon or at AriGoldFilms.com.
Follow on IG, Twitter: @AriGold
Drum podcast: HotSticks.fm