Finding the Best Deals When Booking a Cruise
Advice on how to get some affordable trips across the ocean.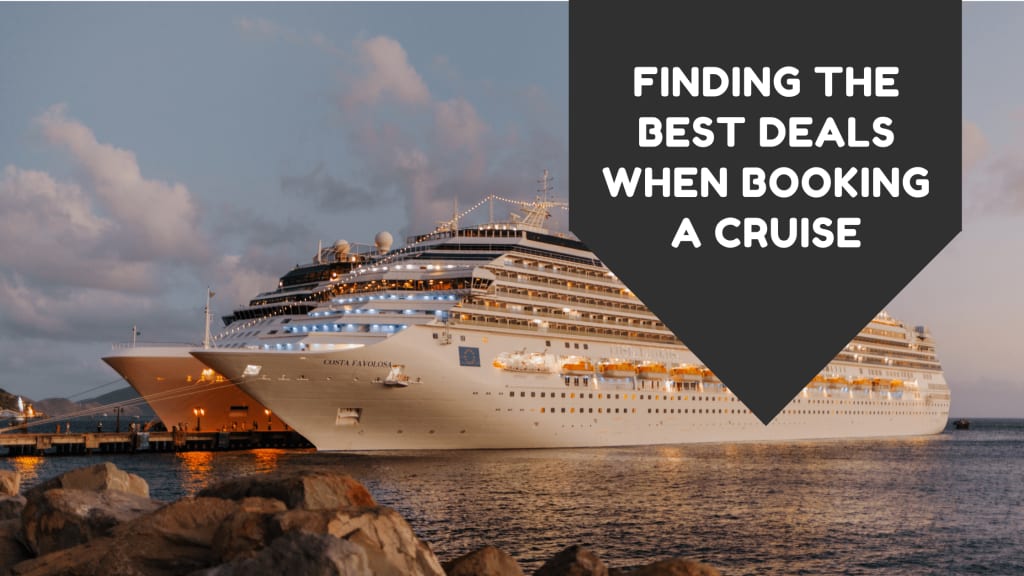 Are you considering booking a cruise for your next vacation? If so, you're not alone – cruises are becoming increasingly popular as a travel option. Cruises offer an all-inclusive vacation experience, with everything from food and lodging to entertainment and activities rolled into one convenient package.
But while booking a cruise can be a great way to save money on your vacation, it's essential to do your research and shop around to get the best deal possible. Here are six tips to help you find the best deals when booking a cruise:
Make Early Reservations
If you're set on taking a cruise during a specific period, making your reservations as early as possible is best. Not only will this give you the best chance of getting the cabin type and location that you want, but many cruise lines offer significant discounts for early bookings. Some lines even offer free upgrades or onboard credits if you book early.
Be Flexible with Your Travel Dates
If you're able to be flexible with your travel dates, you may be able to score a great deal. For example, many cruise lines offer discounts for mid-week sailings or for cruises that depart during shoulder season (the period between the busy summer season and the holidays).
Compare Prices from Multiple Cruise Lines
Don't just book the first cruise you find – compare prices from multiple cruise lines to ensure you're getting the best deal. Remember to compare apples to apples, though – look at factors like cabin type, inclusions, and itinerary when comparing prices.
Join a Loyalty Program
If you often take cruises with the same cruise line, joining their loyalty program may be worthwhile. Many programs offer perks like onboard credits or exclusive deals for members.
Take Advantage of Last-minute Deals
If you're flexible with your travel plans, you can often find great last-minute deals on cruises. This is because many cruise lines don't want to sail with empty cabins, so they offer significant discounts for last-minute bookings.
Look for Bundled Deals
Some travel agencies and websites offer bundled deals on cruises, including airfare, hotel stays, and other add-ons. These bundles can be a great way to save money on your vacation, so look for them when you're booking your cruise.
Conclusion
Booking a cruise can be a great way to save money on your next vacation. By following these tips, you can be sure to get the best deal possible on your cruise.
About Anthony Bilby
Tony Bilby grew up in Europe and Germany. As a child, he spent much of his time with his grandmother and grandfather, affectionately known as Oma and Opa, who were non-English speaking Germans living in Denzlingen, outside of Freiburg, and Munich. As a proud Bavarian, Tony's grandfather was known to wear his traditional lederhosen as a young man. His grandmother, Oma, was from the Black Forest. This varied German background led Tony to speak a hybrid of various dialects, something between High German, Black Forest, and Bavarian.
Spending time with his German grandparents, his German mother, and his American father exposed him to the valuable elements of cultural interaction. By expanding his mind and broadening his horizons, Tony Bilby was able to develop strong communicative abilities, a good foundation for his later career in consultative sales. Interestingly, if his father hadn't traveled to Germany as a student and visited his mother's impoverished ghetto after World War II, he might not even be here today. Tony's international background allowed him to travel around the world. To this day, he has traveled far and wide, from Greece and Turkey, to Africa, the Caribbean, and the United States. Exploring more of Asia remains on his list of travels to come.
If he gets the chance to travel, Tony Bilby has his eyes on various places in Asia, like Bangkok, Thailand, and Singapore. Check out his blog to learn more about where he's been and thoughts on where he goes!
list
About the author
Anthony 'Tony' Bilby is the Founder and General Sales Manager at VegaTech Commercial Group. As an IT consultant, Tony brings a creative and solutions-oriented approach to sales.
Reader insights
Be the first to share your insights about this piece.
Add your insights