Feeding Wanderlust During COVID-19
How do you develop a love of travel when you can't go anywhere?
Some of my earliest memories are of airplanes and airports. As a child of immigrant parents, my arrival meant taking baby me from our home in New York to see family members in their native Caribbean for my first Christmas, and nearly every year following. The airplane safety card was my favorite reading material as a toddler. When I learned how to read actual words, I thought the signs out by JFK Airport that read "Jamaica" indicated our final tropical destination, not the neighborhood in Queens.
Based on that information, you might think that I have the "wanderlust" that members of my generation seem to have en masse. In one travel survey, nearly 40% of American millennials took three or more leisure trips in a year! I have traveled a fair amount; however, other priorities always seemed more important. After an energizing Spring 2019 trip to Paris and Amsterdam, I resolved to give myself over to wanderlust in 2020, and finally plan my dream trip to India. And then 2020 showed up, in all of its apocalyptic glory. Kidding aside, even though I currently cannot travel due to the COVID-19 pandemic, I have made as good as I can on my post-Paris-and-Amsterdam resolution. In the relative isolation of my Manhattan apartment, my wanderlust is at an all-time high. How do I remain excited about an activity off the table for the foreseeable future? A list of very specific quarantine and social distancing-friendly activities designed to help me keep travel and the new experiences at the top of my mind, even though I am spending most of my time at home.
Watch Travel-Focussed Content
It is a universally acknowledgeable truth that a copious amount of TV watching is part of life nowadays. Like many with a certain level of generalized anxiety, I sometimes seek refuge in binge-watching familiar TV shows. While comforting in a tumultuous time, this habit does nothing to increase my wanderlust level and can make me feel numb and content with never leaving the house. To remedy this, I have tried to swap mindless binge-watching for more intentional short-form TV time spent screening films that could give even the most dedicated homebody a bit of the travel bug.
Not every movie set in a travel-worthy has this effect. The Hangover: Part II is a film ostensibly set in Thailand, but you spend most of the film concentrating on the antics of "the Wolfpack," not on the bustling metropolis of Bangkok. The film Roman Holiday is a masterpiece of classic cinema, not only because of the heartbreaking romance between a princess and a commoner but also because of the film's stunning black-and-white showcase of Roman landmarks. It makes you want to fly to Rome immediately, jump on a Vespa, and fall in love. Other films that have had the same impact on me include:
Salaam Bombay
A Room With a View
Crazy Rich Asians
The Darjeeling Limited
To Catch A Thief
Fear and Loathing In Las Vegas
Lost In Translation
"The Trip" series
The "Before" trilogy
If I desperately want to binge a show without dimming my wanderlust, I choose travelogues, many of which are available on streaming services. My absolute favorite show in this genre is Travels With My Father on Netflix (though that may be because my roommate and I are Jack Whitehall fangirls), but some great examples are:
No Reservations and Parts Unknown (RIP Anthony Bourdain)
Somebody Feed Phil
Gaycation
Down to Earth with Zac Efron
Access the World Through Your Kitchen (Or a Takeout Menu)
Screen time is a reality of pandemic life, but it can be draining and disruptive. If you want to shut off the electronics but still stoke wanderlust, my absolute favorite way to do so is to cook. Do some research and find dishes from cultures you're interested in that you can make at home. During my quarantine, I have made everything from beef bourguignon to chicken tikka masala to spaghetti carbonara. If you aren't much of a chef, you can travel with your tastebuds via takeout. Ethiopian culture and food are a huge source of interest for me. While I am reasonably adept in the kitchen, I could never nail the distinct blend of Ethiopian berbere spices or the perfectly spongy injera flatbread. Luckily, through a few taps on my phone, I can get delicious Ethiopian food anytime.
Take a Short, Safe Trip Somewhere Nearby
For much of the pandemic, I did not leave a roughly ten-square block radius around my apartment. Now that restrictions have loosened, I've taken a few masked, socially distant day trips to places near New York City for hiking or beach days. When you are surrounded by concrete jungle every day for months, the top of a mountain or a quaint town in upstate New York can feel like an exotic locale. If permitted right now in your corner of the world, short trips or day can give you a much-needed change of pace and perspective after being stuck at home for so long and whet your appetite for more extensive travel when the time comes!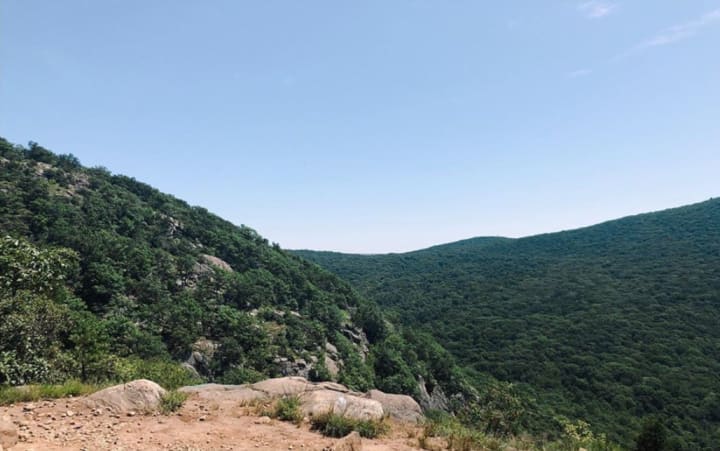 Reminisce About Past Trips
I am no mindfulness guru, but I am a dedicated practitioner of remaining in the present, not stuck in the past or stressing about the future. I have found taking it one day at a time is essential during this challenging period. However, a little past-and-future fixation in healthy doses can induce wanderlust. I may not be as well-traveled as other millennials, but I have been on a few memorable trips. Looking at old photos and mementos from trips in the past, (even if its an old Disney World autograph book) can remind you of the fun you've had traveling in the past and get you thinking about travel plans when restrictions lift someday.

Dream About the Future
This is where I encourage you to go nuts. Write a list of places you have to go to before you die. Create a Pinterest board with every photographable spot you want to visit in those places. Learn about the local cuisines and any must-visit eateries. Research flight routes and accommodations and have an idea of budgets. Supposing you can afford to, start saving funds specifically for trips. I have no idea when I'll be able to travel safely to India, but I know when the day comes, I will be prepared! Nobody knows for sure how long it will be until international travel becomes commonplace again. As individuals, we have no control over when we that will happen. All we can do is be smart (wear a mask!), be safe, and use this time to develop record wanderlust levels.
how to
About the author
Brand Partnerships & Content @ Vocal. Yogi, bibliophile, cinephile, Feminist. Passionate about popular culture past and present. New York with tropical roots. Good at lists.
Reader insights
Be the first to share your insights about this piece.
Add your insights