Exploring Alberta
These are some of the best areas in Alberta to travel and explore.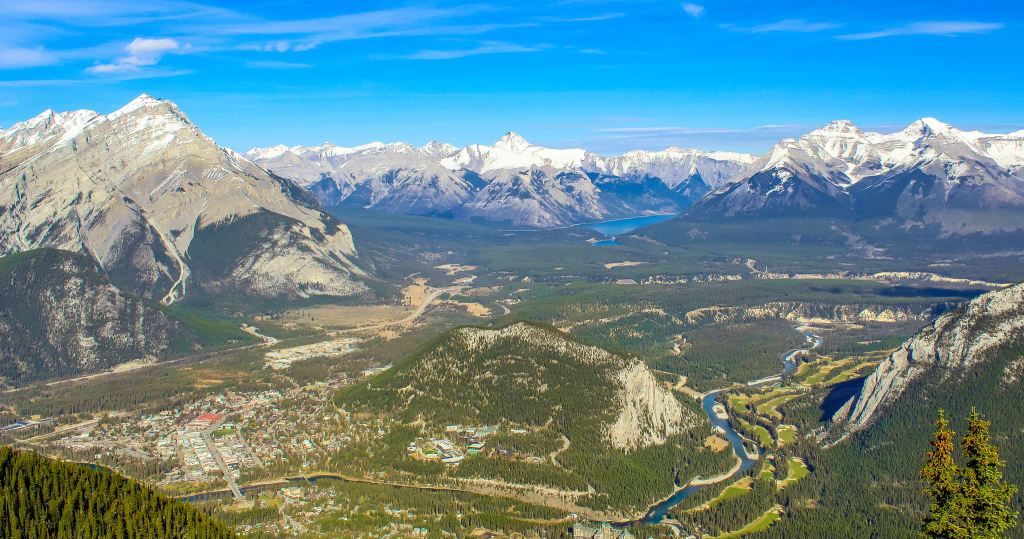 Aerial view of Banff, Alberta from the top of the Banff Gondola
Alberta is a beautiful province in Canada that has some of the best National Parks, mountains, lakes and attractions; city or rural. I was born and raised in Edmonton and have since travelled thoroughly around Alberta on various road trips throughout the years and the scenery never gets old.
These are some of the places that are worth a visit to at one point or another. Worth a note, towns like Banff and Jasper are National Parks in Canada, so in order to enter the parks you need to have a park pass or pay for a day pass.
Banff, Alberta. Banff is a small town situated near the border between Alberta and British Columbia. Banff is one of the most beautiful places to visit and explore. It has a wide array of lakes, mountains and tourist attractions. If going to Banff, one of the prettiest and scenic lakes is Moraine Lake. Choose your timing carefully though because the road to the lake closes for several months and is only open between May and October so it's best to plan ahead for that one. Other lakes worth a visit are Lake Minnewanka, Two Jack Lake and of course the famous Lake Louise which is just a 45 minute drive west of Banff. One of the best tourist attractions in Banff is the iconic gondola. It takes you by cable car all of the way up to the summit of Sulphur Mountain and once at the top, the views are breathtaking. Besides all the nature, Banff does have a lot of gift shops and eateries in town. There's nothing better than strolling the peaceful town streets looking at the unique shops and trying new restaurants. Although during the peak travel seasons, mostly in summer, the streets do get quite busy so going earlier would be better. While in Banff, one place that gets a shoutout is a fast food restaurant called Beavertails. It's a small shop but it is worth a visit! Beavertails is a Canadian based chain which sells various fried dough pastries in the shape of a beaver tail and there are several toppings and flavours to choose from. Overall, Banff is worth a visit and there's something there for everyone.
Next up is Jasper, Alberta. Jasper is on the west side of Alberta, close as well to the Alberta-BC border. It's a small mountain town which does bear some resemblances to Banff but it is just as beautiful. First up, Athabasca Falls. Located just a 30 minute drive south of the town of Jasper, it's an amazing waterfall experience. It's open year round but the views are better in the warmer months. If waterfalls are your thing, another one to check out would be Sunwapta Falls. Not quite as majestic as Athabasca Falls, the views it provides will not be disappointing and stand out on their own. Lakes that are worth a visit are Pyramid Lake, Maligne Lake, and if hiking to lakes is your thing then go check out the Valley of the Five Lakes which will require a lot of walking in order to get to see all the lakes. Finally one of the best tourist attractions that Jasper has to offer is the Columbia Icefield Skywalk. You take a shuttle bus to this destination which lets you walk out over this glass floor observation platform which is situated over a wide valley, surrounded by mountains. It's not for the faint of heart but it's quite the experience and as someone who has done it, worth every cent.
Next is Calgary, Alberta which is located in southern Alberta and is one of the biggest cities. It's home to the large Calgary zoo which has a ton of different animals and is large in size so plan to spend the majority of the day walking around and exploring. One activity that stands out is visiting the Calgary Tower. Located in the heart of downtown Calgary, you take an elevator up and at the top of the tower, it provides panoramic views of the whole city. There is a part of the tower which has clear floors so if scared of heights, this is not for you. One of the best shopping experiences comes from the CrossIron Mills mall located north of Calgary near Airdrie. It is a huge mall which has restaurants, shopping, and a movie theatre. It gets crowded year round early on so plan this one accordingly. Lastly, one unique thing that Calgary has compared to other places in Alberta are their movie theatres. If movies are your thing, the majority of the Cineplex locations in Calgary have leather reclining seats just in their basic theatre. No need for VIP or more fees, you can enjoy a movie in style and comfort all while paying the same price you would for a less comfy seat elsewhere. It's such a nice experience and a great thing to check out on a rainy day.
Last place on the list is my home in Edmonton, Alberta. Edmonton has similarities to Calgary as it's also a big city but it does have its own accomplishments. First up is the iconic West Edmonton Mall. Previously holding the record as the world's largest mall, it is quite impressive and has something for everyone. Inside the mall, there is an amusement park, a waterpark, a movie theatre, shopping stores, restaurants, a casino and much more. It's easy to spend a whole day there exploring and if you haven't been before, then I suggest doing just that. Switching gears to nature, Edmonton has a large variety of parks and areas that allow you to see a beautiful view of the downtown skyline and river. The best are the parks in the Edmonton river valley, which surrounds the North Saskatchewan River that passes through the city; including Kinsmen park, Rundle park and Hawrelak park just to name a few. Lastly one cool attraction to try is going on the High Level Bridge Streetcar, which is only open from May to October. It's an old fashioned streetcar that crosses way up high over the bridge that crosses the river. You have incredible views of the city and it's only seven dollars for a round trip!
This is just a taste of what each city has to offer and there's always so much more to explore and do but hopefully this helps as a stepping stone and will encourage travel to these places, you won't be disappointed!
About the Creator
I love to be creative. I've always been a big fan of writing and now one of my new hobbies is photography! I love to learn and create and if I can inspire others along the way, all the better!
Reader insights
Be the first to share your insights about this piece.
Add your insights