Every Moment, I am Reinvented
We are not the same person we were yesterday, whether we choose to embrace that or not.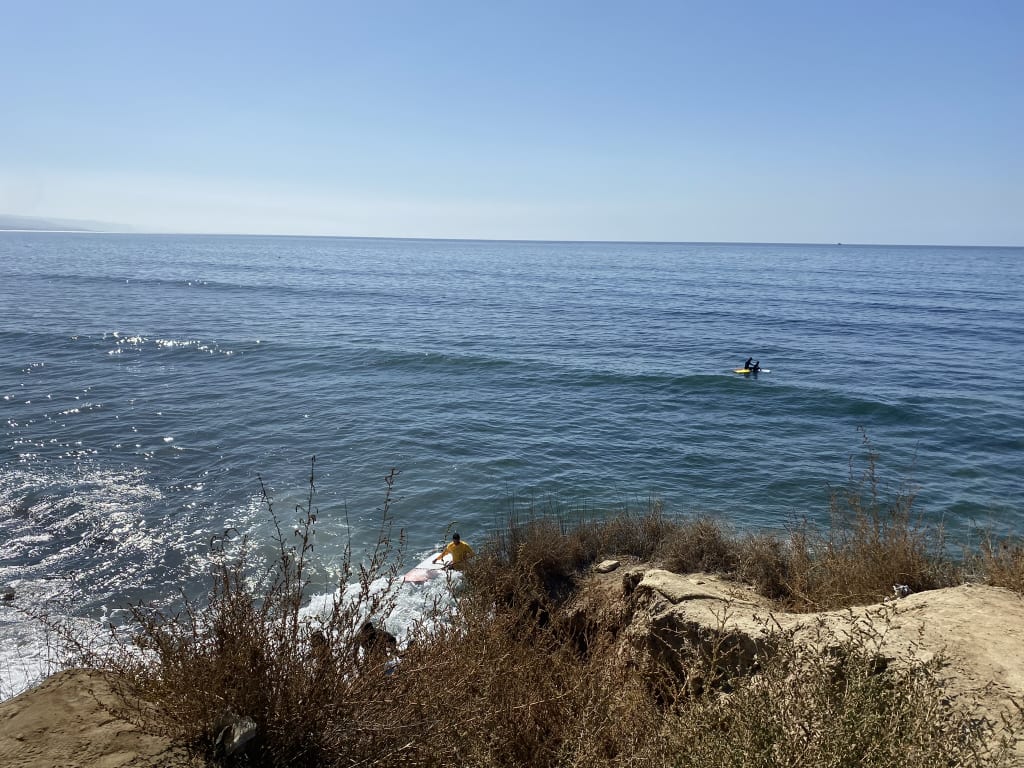 every wave is different than the last
In every moment, I am reinvented.
My eyes are closed. The waves are crashing only 150 feet away from me. Seven other beautiful souls are circled up on the sand. We are each meditating on our own personal mantras. Our teacher, Carrie, has just guided us through a perfect weekend of yoga overlooking the ocean, nourishing gourmet vegan meals, breathwork, hiking, and my first ever surf lesson. We're closing out the weekend with silent meditation on our personal mantras.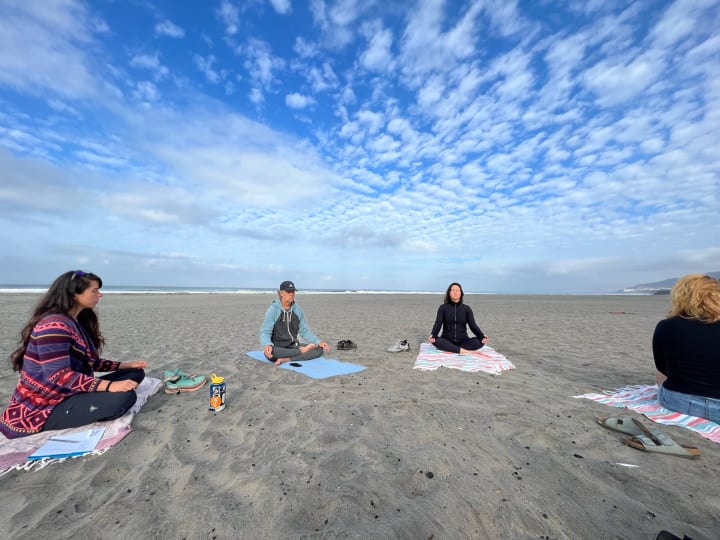 In every moment, I am reinvented.
In some ways this has been my mantra for many years now—but this is the first time I've put it into words, written it down, spoken it with conviction and concision.
This weekend in Baja with Bigger Life Adventures has drawn these words from me. It's brought up a lot of ideas around who I am and who I once was, but more importantly, who I want to be in the future.
On the first full day of the trip, I yanked the tight arms and legs of a wetsuit onto my body and laid on a surfboard for the first time in my life. I was afraid—of the power of the ocean, of the board, of looking silly. But I was not afraid of the unknown. Through so many reinventions, I have come to understand that the unknown is where the magic happens. (And maybe looking silly is a pretty key ingredient too.) It helps to be among new friends, who have every intention of looking silly with you.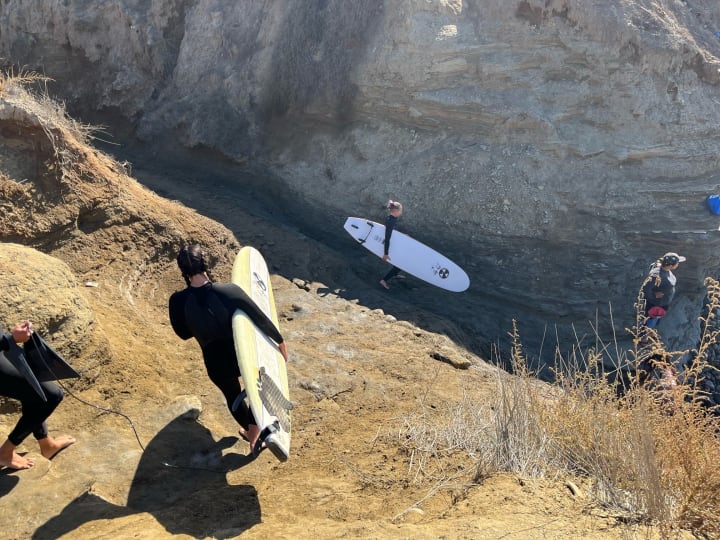 I had thought the ocean might bring back all the memories from an earlier life. Every beach trip I'd taken with my girlfriends in my 20s—days spent lazing in the sun, swimming in the waves, and drinking margaritas in beachside restaurants. Evenings in the karaoke bar, singing our hearts out, taking shots, and kissing strange men on the patio.
However, as soon as I paddled out on my board, I was as present as I've ever been. I felt every wave moving within me. A huge smile stretched my face. I laughed and joked with the surf instructor whose excitement and confidence overwhelmed my fear. There was no room for memories, only new experience.
I paddled out a dozen times, my arms growing more and more tired with every wave I caught. I never stood up on my board. I truly didn't need to. I've never been the type of person who picks up new sports quickly—it will take me a lot of effort and practice to stand on a surfboard. I started to envision myself living near the ocean, surfing every day, finally standing on the water.
I haven't spent much time at the ocean since I quit drinking. Perhaps I didn't think I knew how. Though I've wanted to. I love to float out beyond the wave break, feeling the energy of the water pulsing around me. I love to lie in the sand and soak up the sun. And now, thanks to Bigger Life Adventures, I know I want to surf too.
In that moment, I was reinvented. I wasn't just the type of person who was adventurous enough to go to Mexico and try surfing. I became a person who saw myself moving my life from the mountains to the ocean, because it's where I long to be. I couldn't get that feeling out of my head or heart the rest of the weekend.
There were a lot of special moments on this trip—the surf lesson was just the first. Through daily yoga practice and guided meditations Carrie brought us closer to ourselves. We were invited to go inward and experience silence. At each family-style meal we had an opportunity to get to know each other better, laughing and sharing stories over gourmet vegan tacos, enchiladas, and tortilla soup. We hiked together, explored some of the local restaurants and shops, and roasted marshmallows over an open fire.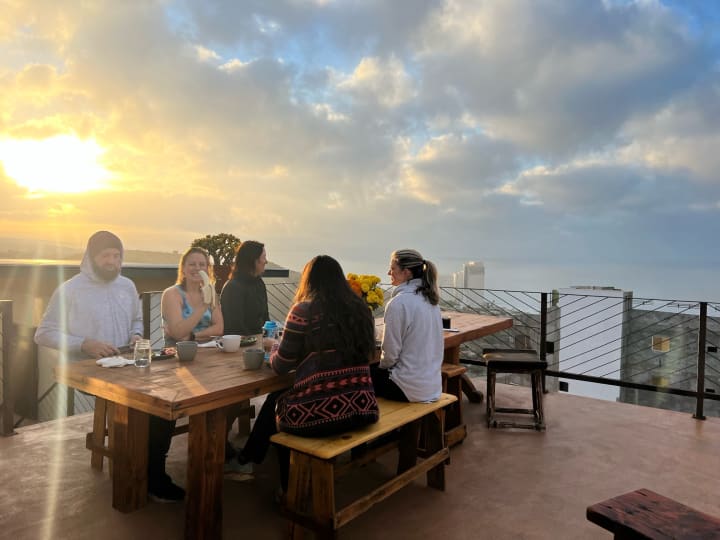 Throughout the weekend, we all listened and shared stories. We talked about our lives at home—the ones we were taking a long weekend break from. We shared pieces of our past and what brought us here. It is a beautiful and amazing experience to be among people who share something as powerful and transformative as sobriety. Living sober can feel like an unusual thing to do in our culture. It can be isolating and othering. It is rare to find spaces centered around adventure and fun and enjoying life that also happen to be full of other sober people. And beyond that—which doesn't center our sobriety stories. We didn't spend much time dwelling on the past. This wasn't a weekend for amends or apologies or regrets. It was an invitation to try something new. To experience community and compassion. To share the version of ourselves we have worked so hard to become.
I am so grateful to have been able to share this weekend of reinvention with Carrie and Zach who planned and hosted an amazing transformative experience. But also, the other five participants who came with an openness to their own reinvention.
I have long believed that we, as humans, are capable of change. Big change. Not like changing careers or fashion choices but changing ourselves. And that we should share that experience with others.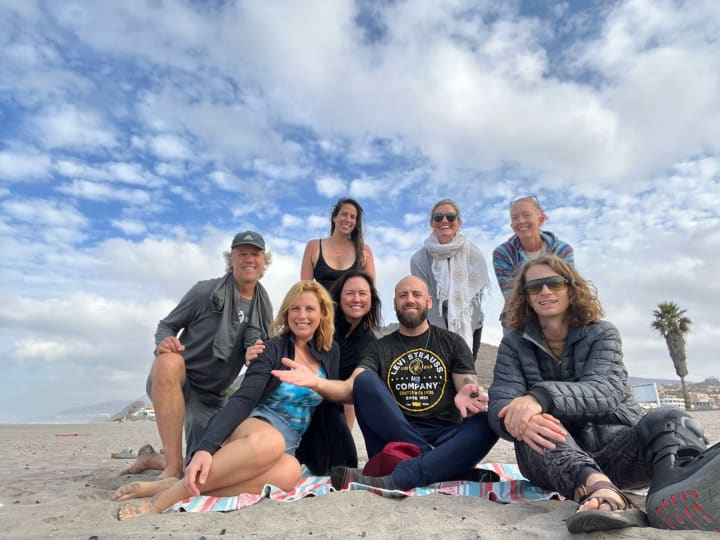 For more info on trips with Bigger Life Adventures: click here
For more adventure stories from me, check out my book, Alone in Wonderland
About the Creator
Author of the award-winning debut memoir, Alone in Wonderland. Christine writes about outdoor adventure, familial relationships, friendship, grief and trauma. She's passionate about hiking, backpacking, rock climbing, & storytelling.
Reader insights
Be the first to share your insights about this piece.
Add your insights