Downstream
River of Emotion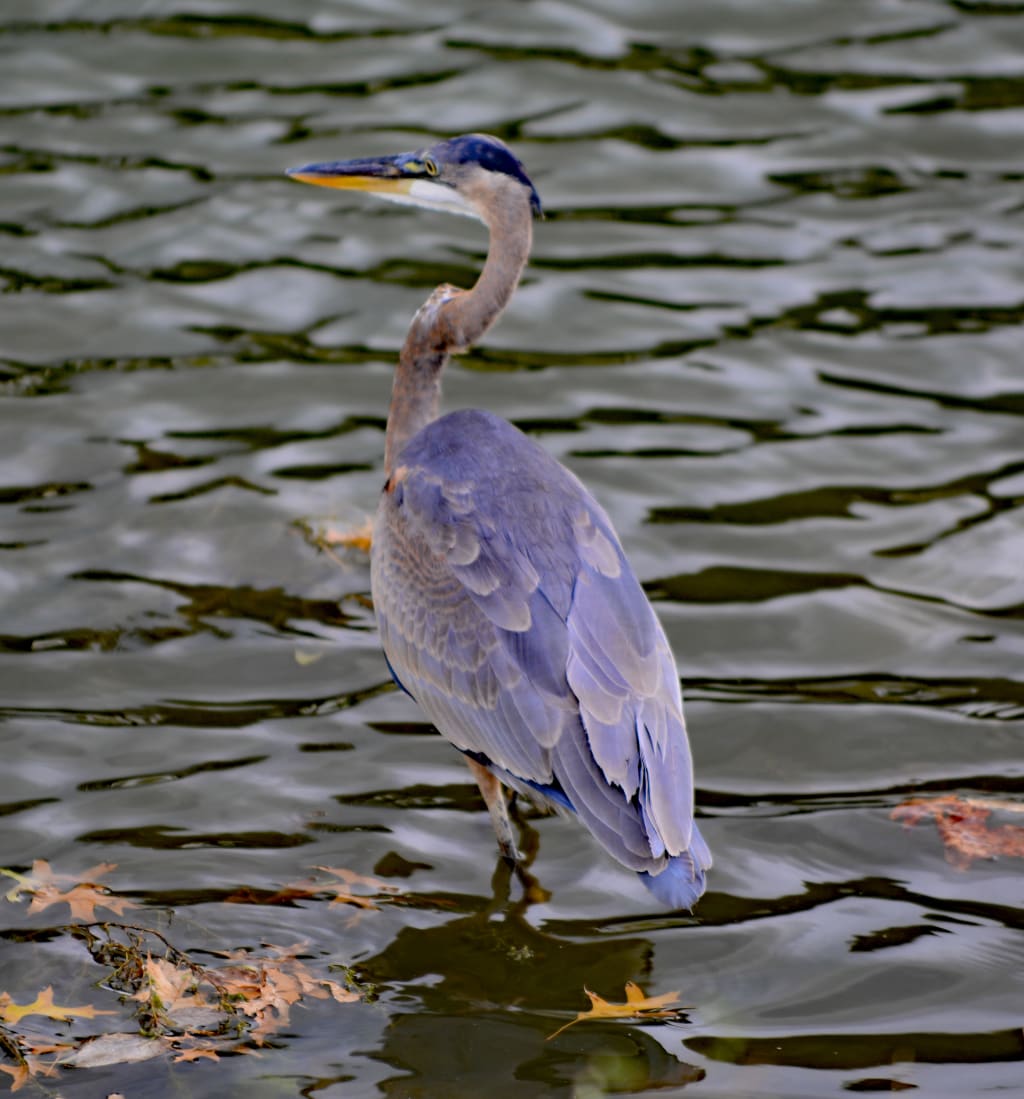 Downstream
She met him online. It's 2008, isn't that the way people meet these days? She had met a number of men. Several were creepy jerks, two were married. Some were boring or narrow minded. Several others were nice guys who remained friends after the mutual decision was made that they should not be a couple. Roger was not all that interesting and she was pretty sure he didn't really want to meet her in person. They had been messaging for almost two weeks and she expected it to fizzle soon. That old "He's just not into you," vibe seemed too apparent. Out of the blue, he invited her to go on a kayaking adventure. He gave the details in the invitation. There was an outfitter that arranged kayaking trips on the Cumberland river. He and his best friend, a woman, were going on Saturday, scheduled to leave the outfitter's at 1pm.
Now Gloria had been kayaking the Summer before and she knew the basics. She wondered if the best friend was included to make her feel comfortable meeting a man in the middle of nowhere or if she was to be evaluated by the other woman. She looked up the outfitter, it was pricey for a first date. So she bought her ticket online and accepted the invitation and replied to Roger that she would meet him there and pay her own way. That would be "super" he said.
Roger seemed like a stand-up guy. He was 53 and had never been married. He had served in the Army and said that he thought military life was hard on the wives. He had retired and was now employed as a machinist. He liked cars and motor sports. Gloria felt like a snob, so she didn't tell him that she thought motor sports were ridiculous and boring. Instead, she told him about a car show featuring restored antique cars that she had attended with her brother. She thought they were fascinating. It was the thin strip of common ground she could find.
Gloria wouldn't have accepted the invitation last week. Giving up a whole weekend day at short notice was usually not a possibility for a teacher. But school had ended for the Summer, her final exams were graded and grades were entered into the computer. Just today, Thursday, she had finished packing her classroom for the Summer cleaning. She was traveling, but not until next Thursday. There was no real reason to decline. And who knows, he might be the "best beloved" for whom she had waited all her life.
Kayaking all afternoon would require some planning. For most first meetings Gloria would give deep consideration to her hair, makeup and the way she dressed. It was important to make a good first impression. Part of her was glad that she didn't feel a connection to Roger, if she did, she probably would have been tempted to sacrifice practical for pretty. She chose capri length jeans and a polo shirt. She owned shoes designed just for this sort of activity. Teal nylon strappy things with elastic straps that could be tightened so river mud couldn't pull them off and grippy soles. Her teal polo nearly matched, she wasn't completely without style. A broad brimmed canvas hat completed her ensemble. She wasn't going to take her purse into the river so she packed another bag. She would leave most of her keys and her wallet in her purse locked in her car. She had a nylon cross body messenger bag. It was the right size, not too big but it also wasn't water proof. So she put tinted lip balm, sunscreen, tissues and a small comb in a zip lock sandwich bag. Another sandwich bag held twenty-five dollars cash and her cheap old wrist watch. And a third had a small digital camera. She wouldn't risk her good camera. She put in a small bottle of water and a protein bar. She had just enough room to add a second bottle of water and protein bar for Roger. Being considerate would also make a good first impression.
Gloria had to drive nearly 3 hours south East to get to the outfitters post. Thank goodness for the GPS she had received for her birthday. Roger's home was about an hour west of Gloria's, so his day would be even longer. She first saw him on the porch of the contemporary log cabin structure. A person who looks like their profile picture is a good sign. He was standing with a girl. The "best friend" looked very young and the girlish impression was accentuated by the fact that Roger was tall and she was not. He waved and called, "Gloria."
"Thanks for inviting me." She replied, climbing the steps to the porch.
"I'm so glad you could come." he answered with a one arm hug around the girl, "This is my best friend Jennifer."
Gloria shook Jennifer's hand and Jennifer bubbled, "Your hair is so pretty! That's your natural color."
Gloria thanked her for the compliment and quipped, "It grows right out of my head. You could tell by the gray." And she touched her left temple where the silvery strands were visible.
"I didn't notice the gray." Jennifer added, "But I can spot a dye job." She giggled.
Gloria was lucky to have pretty hair. It meant that she didn't have to fool with it and she didn't. It was usually twisted up. But now it was down and had the big loose curl of the twist. And it was red, kissed by fire. She had bobby pins in her pocket with her car key and she would twist it up under her hat before she got in the kayak.
Jennifer's hair, on the other hand, was unfortunate. It was dish water blond, pulled back in a short pony tail, with ends that showed the straw textured abuse of dye. Her face was lovely though, with big brown eyes and a warm ready smile. Every woman knows her own figure flaws intimately. Gloria and Jennifer shared the same one. They were hippy and their thighs were thick. Gloria covered hers up with denim, but Jennifer had short neon pink shorts. Her short legs were tanned. Showing below the knee, Gloria's longer, well-turned legs were like her hair, never dyed. And blue-eyed redheads don't tan. Gloria chastised herself inwardly for that habit of comparing herself to others. "Stop it!" she told herself, "This is a kind young woman, she is not your competition."
Roger had not spoken again and Gloria wondered if Jennifer was along for the purpose of talking. Her bubbly personality was an ice breaker. They were joined by another man. Jennifer went to embrace him and he was introduced as, "Her Boyfriend Jason." Jason was the opposite of Roger. He was not tall but slightly shorter than Gloria's five foot ten. Roger was the image of casual simplicity. Jason's look was carefully assembled to be cool. He had an elaborate trendy haircut, Roger's graying hair was a bit shaggy, a Sam Elliot look without the mustache. Jason had tattoos on both forearms. Both ears and one eyebrow were pierced. Jason's tee shirt was from a Lil Wayne concert, Roger's was olive drab and said ARMY. Jason had giant, black cargo shorts with a chain hanging from the waist to a pocket. And on his feet, Doc Martin boots. Roger's practical khaki shorts and old Chuck Taylors were much better suited to today's activity. Roger himself also seemed more suited to the outdoor adventure. He was square shouldered and fit whereas Jason looked like he spent a lot of time playing video games.
The cool look appealed to Jennifer for she was clearly infatuated with Jason.
Gloria asked Jennifer, "Do you go kayaking very often?"
"Oh no!" she replied, "I've never been. This trip is my birthday present from Roger. We watched this movie last Winter, The River Wild. It was about rafting but we got to talkin' about kayaking too because Roger likes it so much. I said I would like to try it and then I forgot all about it, until last week when Roger told me he had planned this trip. My birthday was last Thursday. Isn't Roger the sweetest? Don't you just love him?"
"Yes" Gloria replied, "He's very sweet."
The outfitter required them to watch a safety video, showing the dangers of high water and submerged trees and so many other unexpected terrors. It was enough to make anyone reconsider their plans. Then they had to sign a disclaimer saying that the outfitter wasn't responsible if they were killed or maimed. From the log structure to the launch site was a ten mile bus ride. Their party of four was joined by a Japanese family. They rode a school bus, the short kind used by special education students. The family sat up front. Jason and Jennifer sat entwined in the middle on the left. Gloria sat two seats behind them on the right, thinking Roger would join her but he sat across the aisle from her directly behind Jennifer. Their driver was Dale, a tan, muscle ripped young man who gave the impression of a surfer dude. Gloria tried to talk to Roger but the bus was loud and the road was winding. He was distracted by Jennifer giggling and cuddling with Jason so she twisted up her hair and got out her hat.
Even a short ride on a school bus is so unpleasant that they were all relieved when it was over. The Japanese family did not travel light. Dale unloaded their cargo from the lower compartment of the bus. They had planned a picnic and with a small child they had even more stuff. The husband carried the picnic basket and another travel bag. The petite, delicate wife had the toddler and his life preserver, a beach towel and a very large umbrella, probably the kind used by golfers. Though the other three had no gear at all, it was Gloria with her messenger bag, who offered to tote the small cooler down to the shore for her. The family was paddling together in a canoe. As they packed it, Dale sprang into action and wrangled kayaks for Jennifer and Jason. Jennifer shrieked when the river mud sucked the flip flop off her foot but in a surprisingly gallant move, Jason clomped into the water and retrieved it. Roger was laughing. Dale launched them on their way. The family was packed and ready to go. They were launched. Gloria was next. She climbed in her kayak nimbly and was on her way. She paddled slowly, not wanting to leave Roger behind but flowing downstream. Dale was getting Roger a slightly longer kayak because he was so tall. Roger shooed her on. He could catch up he said. He did, easily.
Gloria had passed and cheerfully waved goodbye to the family. She was approaching the giggling young couple when Roger slipped effortlessly by her. He was in his wheel house, paddling expertly. He passed the younger couple and turned his kayak around and said something snarky to invite competition with them. They laughed.
He slipped to the other side of the river to Gloria. "You okay?" he asked.
She answered that she was remembering how this was done but in truth she was paddling as hard as she could to keep up with him. They had left the younger couple behind but could still see and hear them laughing. Roger turned his kayak around backwards again but they had rounded a bend, Jennifer and Jason were no longer in sight. Roger slowed his backward paddling. Gloria asked him how long Jennifer had been his best friend. He brightened when he recounted the tale of their friendship. They had met almost three years ago at a barbeque at the home of one of his coworkers. It was a large crowd. Roger was new in a smallish town where everybody knew everybody. Jennifer was naturally friendly, talking with everybody sitting at the picnic table with Roger. She was fussing about her car that died at the intersection. It was doing this more and more. Roger offered to help. He would be happy to look at her car. So, a few days later he went to her house and fixed her car. It was easy. Jennifer wanted to pay him but he wouldn't hear of it. He needed a favor though. He had a condominium but not much furniture. He asked her to come with him to choose a couch. Decorating really intimidated him, he thought women did that sort of thing better. They picked out a couch and coordinating chair and coffee table on their first outing. He said Jennifer loved shopping just like all women. Gloria hated shopping, but didn't say so. Jennifer helped him decorate his apartment. If he wasn't with her, she would put curtains or doormats or other stuff on layaway and he would go look at it later and buy it if he liked it. He always did. Jennifer had good taste he said, but she didn't make his home look girly. Gloria could believe that. Jennifer was obviously a people person. She could read the needs of others. In general, she was genuinely kind and warm. But she had a little blind spot, when it came to Roger. Jennifer was twenty-five when they met and lived with her mother. Jennifer hated her mother's on again, off again boyfriend and wanted Roger to date her, but mom wasn't Roger's type. From time-to-time Roger would turn and paddle quickly ahead then turn around backwards and float. Gloria kept him talking. When the river didn't curve and they were in a straight stretch Jennifer and Jason would float into view falling farther behind. Roger would shout taunts at them, challenging them to catch up.
Roger said he saw Jennifer at least once a week. She would come over and watch a movie sitting in his big chair while he lounged on the couch. If Jennifer brought a friend or current boyfriend, they took the couch and Roger got the chair. Roger kept a check on Jennifer's car. He named the car Poz because it was a POS. He performed regular maintenance tasks but would not accept any money from her.
The sky began to darken, threatening a summer squall as they paddled through a section of river where trees hung over the banks on both sides. Gloria asked how long Roger had been planning this birthday trip. It had been booked in February, shortly after the movie night Jennifer had mentioned. Roger had driven over yesterday. Jennifer and Jason left home later after work. The three stayed at a lodge where Roger had booked rooms, one for Jennifer and one for himself. In the morning they had hiked up to Dog Slaughter Falls before lunch. Gloria asked how long had Jennifer been dating Jason. She had been out with lots of guys in the time Roger had known her and had considered five or six "Boyfriends." Jason had met Jennifer about the same time Roger made the reservations. He had just become an emergency medical technician and brought patients to the hospital where Jennifer worked as a licensed practical nurse. Jennifer was studying to become a physician's assistant.
The canopy had opened above them and the first fat drops of rain made a "bloop" sound in the river. Roger took off his T shirt saying, "Skin dries faster than cotton." He folded it in half, then rolled it tightly and tucked it under the plastic helm of his kayak. He looked at Gloria and commented, "Jennifer's right, you do have pretty hair. My army buddies were crazy about a redhead with that milk white skin, and those freckles. They call them gingers in England. They said redheads were pure sex. Is that true?"
Gloria looked him straight in the eye. He was smirking when she answered, "How would I know? Gingers are rare. I've never had sex with a ginger."
He laughed, and shook his head, "A smart aleck, and she's funny!"
The rain was picking up and Roger was peering up river. He could not see Jennifer and Jason though they were paddling in a fairly long, straight stretch. "They probably took shelter under those overhanging trees a ways back. Hell, they're probably hidden in those trees makin' out." he muttered. Then in a lowered voice she wasn't supposed to hear, he growled, "Stupid punk." And the sky opened.
The "bloops' became "toks" and sitting low on the surface, the river was alive with them. They were surrounded by staccato, tiny explosions. The rain fell in sheets and they were quickly soaked but kept slowly paddling. Gloria imagined the Japanese family huddling under the giant umbrella in their canoe. She looked at Roger and for a moment he seemed to be crying. He wiped his eyes but it could have been the rain. His last comment was a clue that he felt that he had been made a cuckold. He had no claim on Jennifer, but she was the one he loved, that was obvious. Sitting in the pouring rain, Gloria felt pity rise up inside her.
Then the rain stopped, more quickly than it had started. The sun came out blazing hot. Perhaps it seemed hotter because the rain had been chilly. Like a big dog, Roger shook the rain out of his hair, then squeegeed it back from his face with both hands. Gloria had a paler circle of polo shirt where her hat had blocked the rain.
"What is that?" she asked. Though the Sun was bright, it sounded like it was raining downstream just around the next bend.
"That's the sound of rapids." Roger answered, "The first set of rapids is about 6 miles downstream from where we started."
"Rapids! I've only kayaked on flat water. I don't know anything about rapids!" Gloria sounded terrified, because she was. "Six miles. How long is this trip anyway?" Gloria looked at the steep muddy banks of the river. There wasn't an easy way out.
"Calm down!" Roger commanded, knowing that no woman ever calmed down because she was told to calm down. "The rapids aren't even graded." Roger then patiently explained, "Rivers flow downstream from higher elevation to lower elevations, from mountains to sea level. When the elevation changes little by little, you have a flat water flow. When the elevation changes more drastically, the water flows faster, more rapidly. When the elevation changes abruptly, it's a waterfall. Whitewater or rapids tend to be rocky and are graded from one to six. One is the easiest. These rapids are not even a one, they're ungraded, not dangerous at all. You can do this Gloria. I know you can."
They rounded the bend and the noise got louder. Gloria could see the white water roiling and splashing around rocks. The turbid water churned for about three hundred feet, then it flattened out again with just a little extra foam.
"This is the fun part. All you need to remember," Roger instructed, "is to keep your bow pointed downstream. If you get turned sideways, you may capsize. If you get hung up on a rock, use your paddle to push off of it. By the way, it's seventeen miles to Cumberland Falls from where we launched. Wait here, and watch me go through, then follow my path. Do what I do and you'll be fine."
He paddled into the churning mess. He slipped easily around the first rock and was lost from view. Then he emerged paddling hard to reach the right of the big rock. He wasn't following his own rules for he was almost perpendicular to the downstream flow behind the big rock. But he cleared it and slipped around it expertly. A few more turns and he was through. Smiling encouragingly, he waved to her.
Good lord, she had to pee. Was it terror or did she really have to pee? She took a deep breath and paddled into the swirling agitation. Her kayak caught on the first rock Roger had slipped so easily by. It was tipping dangerously down on the left and she felt the cold river water run down the left side of her leg. She gave a mighty push with her paddle and freed herself. But what was down stream? She sighted the tree line and attempted to go parallel to it. The big rock was coming up, she tried to paddle to the right of it but her kayak wanted to go left, so she did. It seemed like a big drop but she was fine. She could see both sides of the river now and could maintain downstream orientation. She saw the rocks coming and swerved around them and then she was through. The water settled down. Unlike Roger, she didn't think it was fun but she felt victorious. She raised her paddle above her head with both hands and looked around to share her victory. Roger was nowhere to be seen.
She told herself that he had just floated around the next bend, so she paddled hard to catch up. He wasn't there. She did have to pee. The banks were still nine feet tall, steep and muddy. She picked up her pace and rounded another bend. Nope, she had been abandoned. Her eyes welled with tears. "Oh God, I need help." she whispered. She was angry and she wanted to cry. There were ten miles left to go by herself.
Around the next bend her prayer was answered. A massive tree had split and fallen, still attached to the bank. There was a Y shaped trunk half submerged in the water. She nosed her kayak in the Y. She could climb out of her kayak onto the twin trunks and tie the short rope to a branch so it wouldn't be able to float away. She walked, on hands and feet, up the trunk to the top of the steep bank. The other side of the tree had fallen on the land and in the thick underbrush it provided a sturdy branch seat where she could pee in comfort and privacy. She had remembered her tissues. She felt so much better as she buried her bathroom spot under leaf litter like a good girl scout. Her anger dissipated and she was almost glad Roger had abandoned her. At least it avoided this awkward moment. Poor guy, ditched by the girl he loved for a "stupid punk." She climbed back down the tree and found it was solid enough to heave the kayak out of the river and dump out the water she had taken on in the rain and rapids.
She resumed her journey, but paddled leisurely, automatically. She had miles of river to think. Her thoughts swirled, cycling between rage at allowing her self to be used in some pretense by Roger the jerk and compassion for Roger the rejected. She tried to figure out why she was invited. Was she supposed to make Jennifer jealous? Was she proof that Roger was worthy of a woman's attention and therefore should be given Jennifer's attention? Jennifer, the "best friend" seemed to think Gloria was already dating Roger. She didn't know this was their first meeting. Could Roger see that Jennifer already loved him, but as a father figure? How likely was that kind of love to shift? Would he ever be seen as a lover? Jennifer was a perceptive person, why couldn't she see that this trip was planned so Roger could be alone with her, to show his athleticism, strength and skill at paddling? When the younger man was included, Roger felt the need to show off, teasing the younger man, dominating him with male vigor. Had Roger really thought it through? Did Jennifer want children? If he sired a child today with Jennifer, he would be seventy-one when they graduated from high school. Did he want to be an eighty-year-old walking a daughter down the aisle? This was a mess. Even though Gloria had no emotional investment at the beginning of the day, her feelings were hurt because she has been treated with such disregard. Her reverie was interrupted by movement, ten feet off her bow.
A kingfisher streaked straight down and splashed into the water, then seconds later, exploded from the surface, flying with its prey. It didn't rise from a swimming position like a duck or goose but literally flew out of the water. It flew to the bank and dropped the small fish which flopped around. The bird smacked the doomed fish once with its long beak, then swallowed it whole and was gone. Gloria looked around. She was missing a lovely day stewing about people she'd only just met.
Around the next bend there was log near the right bank that was the host venue for a turtle orgy. Six turtles on the log couldn't care less when she paddled near them. So she took the little camera out of the sandwich bag. She giggled at the thought of pornography for turtles. Two turtle couples were actively engaged in sex. Were the other two chaperones, coaches, pervy turtle voyeurs?
As she paddled on, she noticed the birdsong. She tried to identify the ones she recognized but only knew the very distinct red winged black bird three note warble and the robin's whistling call. She could never tell the difference between a lark and a killdeer. She didn't hear a mourning dove or hawk but there was a wild turkey somewhere in the underbrush.
When the trees shaded the river, she took off her damp hat and enjoyed the dappled light. She found that near the banks the water cleared and she could see fish below the surface. There were lots of minnows and a fair number of trout. She saw several big gar fish. They always gave her the creeps because they looked so prehistoric.
Her favorite wildlife encounter was with a great blue heron hunting in the shallows. She was in the middle of the river when she rounded a bend and there it was. She rested her paddle knowing their reputation for shyness and slowly raised her small camera. One click was all it took for the bird to abandon the hunt and take wing. But it looked like it was moving in slow motion as it unfolded its giant wings and rose to fly over the river right in front of her. She kept clicking, shot after shot of its graceful flight.
Though the paddling seemed endless, careful observation of her surroundings seemed to make it pass more quickly. The second, smaller rapids were a piece of cake. And then time seemed to compress and she heard the falls and saw Dale and a trailer half full of kayaks on the right bank. He waved and called, "Did you have a good paddle?" He was standing in the river. It was only about 2 feet deep but there was no pebbly beach. The bank had lost its height too and was only about two more feet above the water's surface. Dale grabbed the short length of rope on her prow and Gloria tried to lift her self out of the kayak only to discover that she couldn't. All of the strength in her arms was gone.
"Dale," she said, "I don't think I can get out without tipping over."
"No worries!" was his answer. He hopped effortlessly on to the bank with the rope in his hand. He heaved the kayak, with Gloria in it, out of the river and on to the grassy bank. "There you go." he said, "Take your time." "If you need me just yell." And he walked away to avoid embarrassing her by watching while she awkwardly unburdened her vessel.
She breathed a sigh of relief sitting in her kayak. A zebra swallowtail butterfly landed on her wrist. She took a picture of it. On dry land she could get out of the kayak. She asked Dale if Roger had arrived. He looked confused.
"Longer kayak." Gloria prompted.
"Oh yeah, army shirt, he could be a racer. He beat half of the twelve o'clock group back. He left on the bus with them about 10 minutes ago. You made good time though. The next bus doesn't leave for another fifty minutes."
The way her arms had suddenly felt like silly putty when she tried to get out of the kayak, she now suddenly felt gross. Her shirt was still damp and she didn't know if it was from the rain or sweat or both. She headed towards the nearest building. It was a gift shop on one side of a breezeway and bathrooms on the other. Perfect. She went in the gift shop and bought a T-shirt, on sale. It read "Kentucky, The Great Outdoors, Cumberland Falls State Park." Then she went into the bathroom. It was empty when she slipped off her bra through her sleeve. And began to dry it with the hand dryer. A woman come in and Gloria answered her quizzical look with, "Got caught in a cloudburst kayaking on the river."
The woman answered, "Aren't you smart for figuring out how to dry out." Gloria went in the bathroom stall and put on her dry bra and dry t shirt. She put the damp shirt and hat in the plastic gift shop bag. She looked at her face in the mirror. Miraculously, her mascara wasn't even smudged. She combed her hair and redid the twist and put on some lip balm. She had half an hour before the bus and she no longer felt gross.
She was hungry but probably didn't have time for a meal. She had eaten her protein bar and had drunk both bottles of water. She would eat Roger's bar on the bus ride. She walked up the hill to the restaurant anyway. Just inside the door stood a placard sign saying, "Now serving limited varieties of beer and wine." "Oh, that would be lovely." she thought. She went in and sat at one of the tiny tables in the front corner. It wasn't really a bar, but it was trying to be. A young waitress walked up with a menu and Gloria told her that she had less than thirty minutes, but would love a glass of wine if they served any for less than eleven dollars. The waitress said that all four wines were the same price and cost seven dollars for a glass. They had Chardonnay, Pink Zinfandel, Cabernet and Merlot. Gloria asked for Merlot. An older waitress brought the glass and Gloria again explained that she was on a tight schedule so she gave her a ten-dollar bill and instructions to keep the change. The wine was restorative. It had a fruity, complex flavor profile. Gloria savored the notes of blackberry and plum and the tiniest hint of clove. It had been a complicated day. Merlot was a complicated wine. Merlot understood.