Does This Image Scare You or Does it Get You Very Excited? What Lies Beyond the Darkness?
Beginning your morning hike in one of our many Costa Rican rainforests is similar to thinking of today as the first day of the rest of your life. .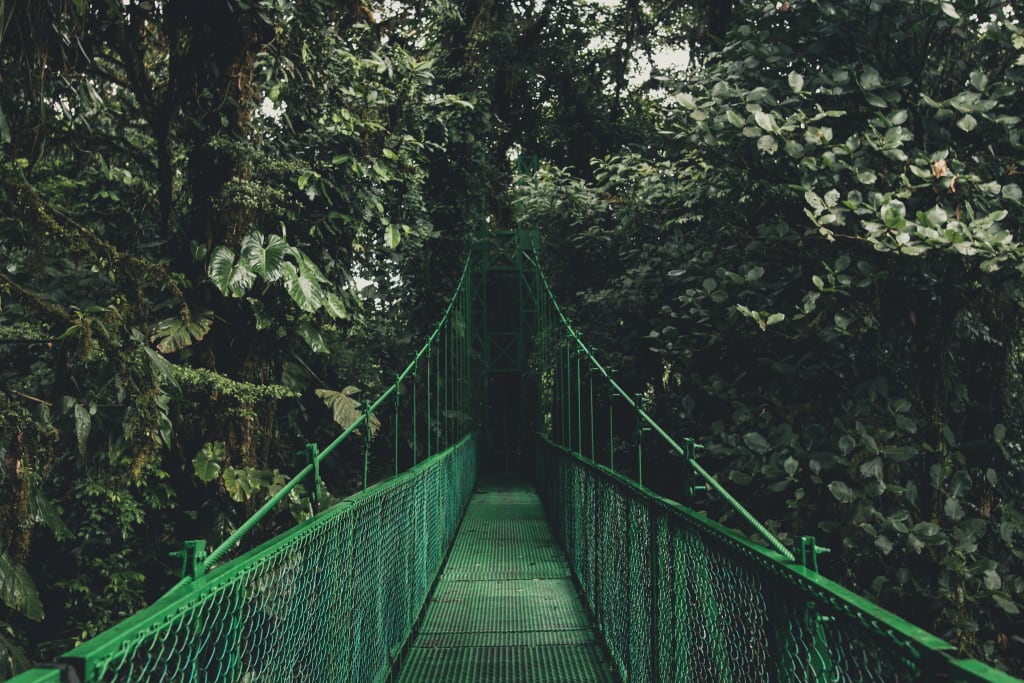 What lies ahead for all of us? It depends on one's attitude. .
Mother Nature has a way of cleansing one's soul. It's just like taking a long, hot shower from the inside out. .
Daily life can wear us all out. We lie back at the end of the day at times and wonder just how we got through and made it to this finally-quiet moment, right before bedtime. And, it all starts again tomorrow. Overwhelming, yet rewarding. . "You get out of life what you put into it". There has to be an antidote for stress. . an antivenom for the poison that naturally seeps into our being, resulting from our ongoing efforts.
I assume that many of you walk, work out, row, climb, jog. . all ways to get us back on track. All actions a necessity among those who work hard and have young children. . Anything we can use to break the hold that the 'rat race'. . the routine of daily life, has upon all of us at any specific point in our lives.
One activity that works for me is a morning hike in a rainforest. It does wonders for cleaning out everything that is dirty, cluttering, unnecessary and unwanted from mind and body. A brisk stroll, a few hundred deep breaths (maybe more if needed), pausing periodically to allow everything to sink in. . the sounds, the aromas, becoming aware of your surroundings. Simply taking in all that Mother Nature has to offer. A guarantee that lies ahead for us is this: For every hour you spend within the boundaries of a Costa Rican rainforest, national park or protected reserve area, you will balance out and negate a week of full-blown stress and havoc that you have experienced the week before. An HOUR for a WEEK. . very good odds, don'tcha think?
A completely RECHARGED person. . maybe one who you won't recognize, is waiting for you on the other side of this entrance into the unknown. Take a moment to look at the image above. . how do you feel? Does it look inviting? Can you envision what lies ahead? Is it scary or is it promising? If you, FOR CERTAIN, knew that nothing but GOOD comes of your journey into the rainforest, would you feel more comfortable?
As you all know, Costa Rica is a very biodiverse country. It is home to hundreds of thousands (over 500,000) of species of flora and fauna. Only the size of West Virginia, Costa Rica holds OVER 5% of the EARTH's SPECIES. I never knew there were so many species of plants, insects & animals until I first visited here back in November, 2002! And it's all here for you to experience. Walking into a rainforest can be intimidating. Keep in mind that there are snakes, big cats, poison frogs and spiders. . there are things that could cause many problems for you. Many POTENTIAL situations exist that could change your life FOR THE WORST. . and it could happen in a split second. Sounds familiar, doesn't it? Sounds JUST LIKE a typical day in the lives of millions of people who have to drive in traffic to get to work everyday. . (there are things that could cause many problems for you Many POTENTIAL situations exist that could change your life FOR THE WORST. . and it could happen in a split second). Sounds familiar, doesn't it? No matter where we are. . in the city or in the rainforest, life can be dangerous and unrelenting. But also, and to be more realistic, we will grow so much stronger from our experiences that day. We will come out at the other side JUST FINE! And, we'll be a better person for it!
Every day is a new day. We can face this adventure in one of two ways. We can become ONE with the journey, or we can fear it. I submit to you that if you clear your mind of what happened yesterday, visualize NOTHING BUT SUCCESS, ONLY within the span of the next day and then work hard to do everything that needs to be done to arrive, then it will happen for you.
Many free-swinging walking bridges here in Costa Rica, similar to the daunting image above, lead into the 100's of our national parks, our rainforests, our mangrove swamps, our dense jungles & our protected areas. These all are home to everything that Mother Nature has created for us to see, hear & experience. Our intense anticipation of the unknown just ahead and/or right around the corner must be contained and controlled. It must be thought of as a chance to grow, to commit to our future and to earn the right to be happy, successful & untroubled.
What lies beyond the darkness? Personal growth, pride in oneself & very happy times! Hope to see you here in Costa Rica very soon! Pura Vida. .
You're invited to visit our websites at: www.costaricagoodnewsreport.com & www.costaricaimmigrationandmovingexperts.com
Also, please enjoy our over 1,700 episodes of our "Costa Rica Minute / Costa Rica Pura Vida Lifestyle Podcast Series". We are found on all major podcast venues, including iHeartRADIO, Spotify, Apple Podcasts, Google Podcasts, Radio FM, Anchor & many more. Here's our link: www.anchor.fm/costa-rica-pura-vida
central america
About the author
Costa Rica is a magical place. Since November, 2002, when I first visited this country, I have been in love with the people, the culture, its biodiversity, the food. . everything about it makes me happy! Now I share my excitement with you!
Reader insights
Be the first to share your insights about this piece.
Add your insights