Does Manchester's Gay Village Have a Future?
Or has its day finally come?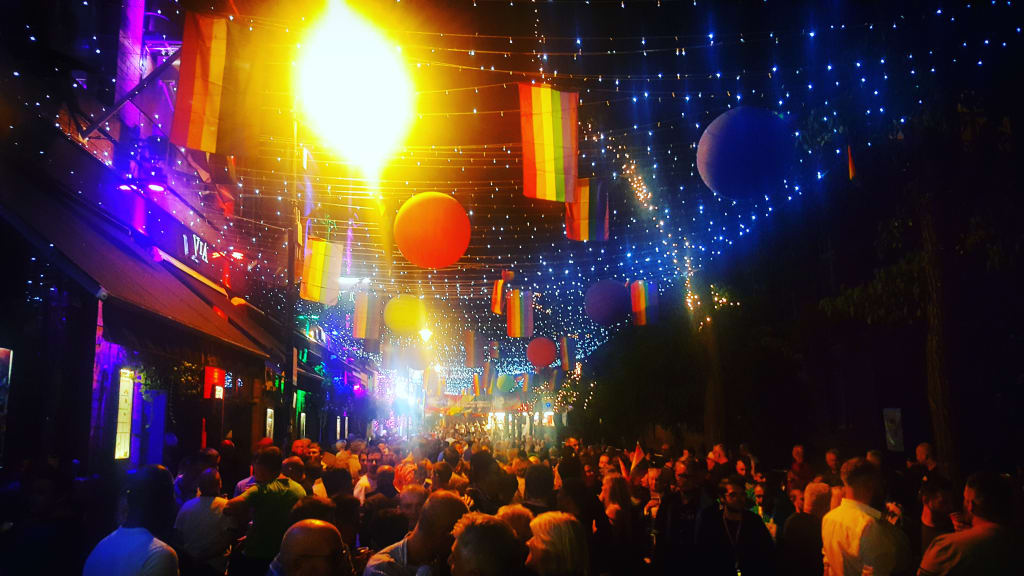 Photograph by R.P. Douglas - August 2017
A friend pointed out to me this weekend that I love lists. And I do. I love a good list. So I'm going to start with one now and ask you a question at the same time ~ What does everything on this list have in common?
Sarasota
Metz
Spirit
Via Fossa
Lush
Blue Cafe
Velvet
Mash & Air
Abbaye
Prague Five
Mongolian Barbecue
So? Did you get it? Well, there are a few things that these places all had in common. Firstly they are, or in some cases were, all in Manchester's Gay Village, but that's not what I'm getting at. The point of my list is that once upon a time you could go to every single one of these venues and have a really cracking meal. There were, of course, other places to have a spot of lunch or dinner in the area, these are the ones that just sprung to mind some 20 years later. Back then, though, we were spoilt for choice in the Village—not so much anymore.
Now what do we have? If I want to go for dinner on a Friday night in the vicinity of Canal Street, we have the recently refurbished restaurant at Velvet—though I do hope they've refurbed the menu too. It's been hit and miss for yonks now. Then there's the new kid on the block, right next door, Number One Canal Street, which I want to be better than it is; after all the service is excellent and the restaurant looks brilliant—but every time I ask anyone about it, and having been myself at the beginning of December, the best that can be said about the food is "it's alright."
I've yet to test the water at Ruby's, the latest incarnation of the restaurant over the Canal which used to house Metz back in the day, spent a number of years as Eden, and then more recently as the customer repelling Delicatezze, but there seems very little to draw me across the bridge at the moment. The new Greek place came and went, Villagio has died a death after years of underwhelming menus and, well, you get the picture.
Manchester's restaurant scene has never been bigger, more vibrant, or eclectic, and yet the Village is a vapid wasteland when it comes to dining and cuisine.
People lament the way the Gay Village is now, complain about the fact that it's quiet before ten o'clock, and whinge about all the drunken behaviour—well, give the people who still want to go there something other than happy-hour booze and flashing bunny ears and believe me, they'll fill those gaps. With the Northern Quarter a five-minute walk from Canal Street and Kampus well under construction and likely to smack the Village round the back of the head, isn't it time business owners looked back at what made it so successful in the nineties and someone, somewhere, open a half-decent restaurant? Forgive the pun but there's an appetite for it and a city wanting to see the Village back on its feet—this could, and maybe should, be the first step towards that.
Canal Street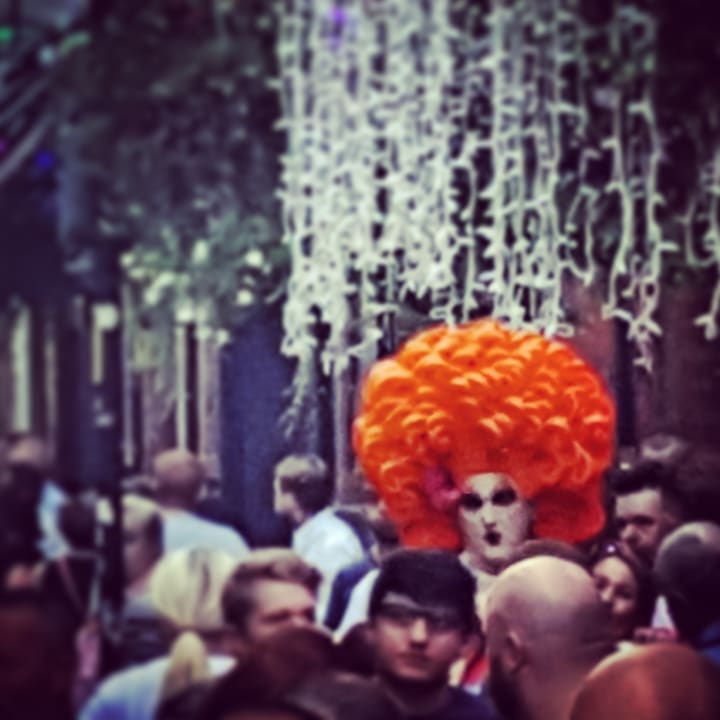 The Big Squeeze is imminent.
Manchester's Gay Village is changing, whether we like it or not. The news of redevelopment plans for Chorlton Street bus station will likely see the demolition of the Thompson's Arms, the building of "new shops and leisure attractions" and across the road, the site of the main stage at the city's annual Pride weekend, is set to become home to a multi-storey car park. With this development on one side, Kampus on the other, and a bunch of sites being opened up for residential development, the Village needs to up its game or risk disappearing forever.
I have a handful of ideas, starting, as I suggested earlier, with lobbying to get a reasonable, mid-range restaurant in there. How about a Pizza Express, Côte Brasserie, or Zizzi? I can think of three buildings immediately which are big enough to house any of these three. Don't want the big national chains? Then maybe we can court our smaller local groups? Tampopo, Croma or something from Living Ventures? I could even see a Balans, Piccolino, or Belgo on Canal Street.
You know when you go down Canal Street in the week running up to the August bank holiday and the place is lit up, cleaned up, decorated and vibrant—why can't we have some of that all year round? The place has a unique selling point, not just in Manchester but for the whole country, so why not emphasise it? I'd like to see the Village shout about what it is once again, get rid of those dreadful tatty little signs that tell people they're in the Gay Village and erect huge totem poles—hell why not even have a massive wooden rainbow across Sackville Street to rival the arch in China Town?
Signs Around The Village—Not Exactly a Welcoming Statement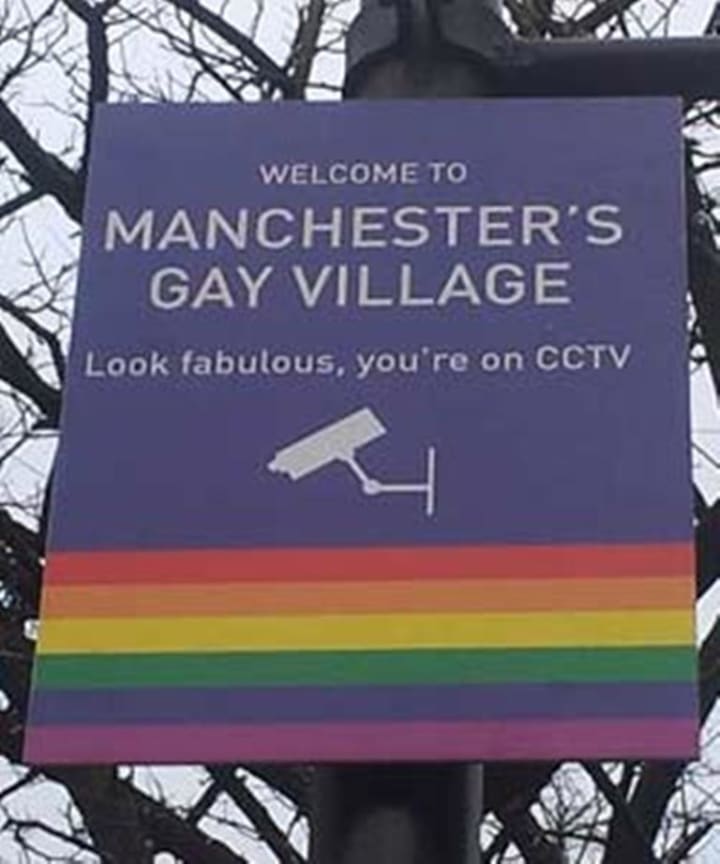 Future Gazing for the Gay Village
While we're at it, let's have some more street art, and get those awful safety barriers along the Canal cleaned and maintained—if we must have them, then keep them looking spick and span. Maybe a bit more greenery wouldn't go amiss, additional street cleaning perhaps—let's face it, the place is pretty grimy and in need of a good scrub. What else shall we add to the wish list? How about permanent street furniture, like you see across the city, and rather than worry that homeless people will sleep there instead think of them as gathering places for the people who live and socialise in the area.
The public realm could be far smarter, let's get the footpaths and roads fixed and suggest they're done in a style that makes the area instantly recognisable. You know when you're in Spinningfields for that very reason. The Northern Quarter has specially designed street signs which are unique to that part of town and even New York Street and Spring Gardens have their own style of paving, planting, and seating which makes the area feel cohesive.
We need to tell the city council that we want the Village to be a beacon not a back water—there's no reason why they shouldn't listen, after all it's in their interest as well as ours and as I mentioned before, the word on the street is there is going to major development right on the doorstep so n ow is as good a time as any.
There are a hundred things that can be done to make the Village a better place to be, and it's not my intention to sound like a massive whingebag. Some of those things can be done by the businesses that are already there, some are longer term investment plans which will need the city council to step up, some are down to us taking pride in the area, and some will only be addressed when it's probably too late.
I for one think there's still hope for Manchester's Gay Village, but it will mean moving away from the late night booze culture that's there now and opening up to a bigger, broader audience. An audience which will be there during the day and early evening, an audience that will stay longer and spend a bit more money, and an audience that's crying out for higher standards than the Village presents at the beginning of 2018.
Bee Proud – Canal Street