Disneyland adds some extra magic in time for the holidays
New disabled characters on Its A Small World spark joy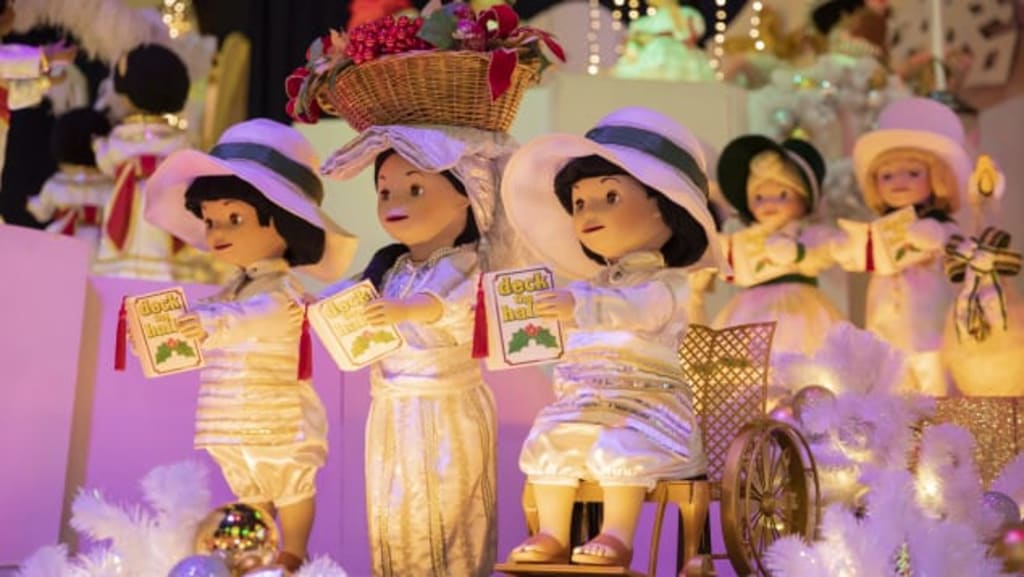 Just in time for the magic of this year's holiday season, Disneyland in Anaheim, California has unveiled new dolls in wheelchairs on their "It's A Small World" attraction. It's quite fitting to do on a ride that is one of the few completely accessible rides at the park. The two new dolls exist first in the Latin American section and then again later in the final choir room where every nationality congregates to sing a holiday anthem together. It's about time for some obviously disabled representation on a ride that's supposed to represent every child and nation known to the world--even the fictional mermaids of Atlantica! Disability is something that exists world wide, experienced in every corner of the planet and it's long overdue to those of us who are disabled to be seen in such a way.
"It's A Small World" first opened in May of 1966 at Disneyland after a run at 1964 World's Fair for UNICEF. It was known as Disney Imagineer Mary Blair's "rainy day project" and is the story of a rainy day where children and their mother begin creating a world for their dolls out of construction paper and imagination. The entire attraction is made to look like a child's creation, papier-mâche, magic, and childlike ingenuity and wonder. It shows how the world is all interconnected and truly smaller than we think. Now, fifty-six years later, this small world gets a little smaller with the inclusion of these two new singing dolls. It's especially fitting because being disabled is the one minority group that anyone can join, at any time in their life, when one least expects it.
"It's A Small World" is one of the handful of fully accessible rides available at the Disneyland Resort. This means that park guests do not have to leave their wheelchairs in order to ride the attraction. There are special boats made to accommodate disabled guests who cannot transfer into the ride boats. There's a special platform that rises and lowers so that wheelchairs can be loaded on to enjoy the experience too. So it's rather appropriate that "It's A Small World" be the first attraction to add the tiny doll wheelchair users to their magical menagerie. Perhaps in the future, more disabled characters can appear in the parks..and who knows, maybe someday we could even have a disabled Disney princess. The representation doesn't have to stop here, as this could truly only be the beginning of a wonderful, huge, inclusive world.
I have been able to go see the new dolls for myself since they were unveiled on November 11th, and as an ambulatory wheelchair user myself, I definitely became emotional, even crying when I saw the dolls. Something so simple can speak volumes and mean so much to someone who has been looked over most of their life. I can only imagine how nice it must be for a small child in a wheelchair, or who uses mobility aids, to look over and see themselves represented, and knowing that they get to grow up seeing themselves right there at Disneyland, on one of their most popular attractions. It gives me hope for a future where more and more disabled kids are seen, heard, and represented. These new dolls are a special addition just in time for the holidays, whose impact will last for decades to come, and make our own small world seem even smaller and more accessible.
"It's A Small World" is a year round attraction at the Disneyland Resort and other Disney Parks, with holidays additions and changes that run from November 11th 2022 through January 8th 2023. The new dolls are a permanent addition which will remain on the ride even after the season ends.