Cruising with Kids
THE Family Vacation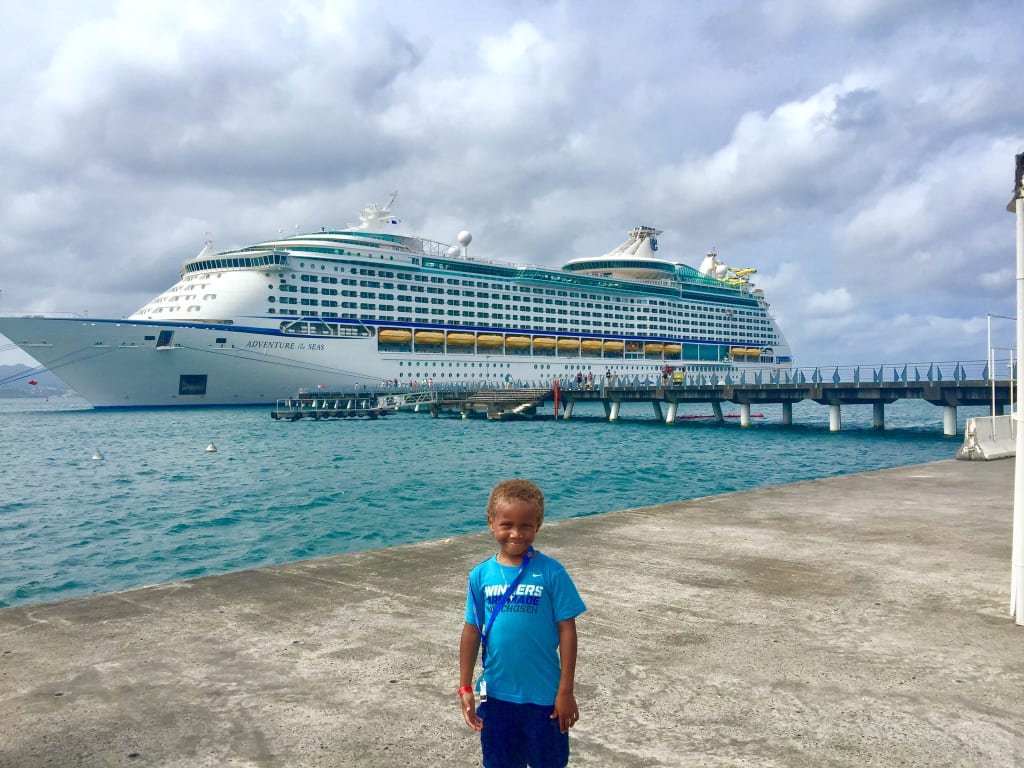 Our family LOVES cruising. Every year for the last six years we've cruised, and one of those years we even went twice! We've cruised Alaska, Europe, California and the Caribbean, and we have no plans of stopping anytime soon. My son who's seven began cruising at the tender age of one, and from our very first cruise it became clear that cruises fit our family perfectly.
1. On Board Child Care!
I get that it's a family vacation, really I do, BUT there will be time when you and your significant other want to do some things that are adult. For example, my spouse and I love to take a couple of nights and go to the adult-only fancy restaurants, casinos, or adult shows. There's also time where we want to do more adventurous excursions that children cannot do. (Ziplining, anyone?) The point is, if you find yourself on a seven day cruise and you need a break from your angels, then there is a place designated for them; and let me tell you, the kids love it. It feels even better to leave the kids when you know they are well taken care of and having a blast.
2. Kid Friendly Activities
I've traveled three cruise lines, Royal Caribbean, Disney, and Carnival. The amenities can vary depending on the line and ship, but they all have great areas where you can do things together as a family. Miniature golf, ice skating, shows, movies, swimming pools, and more can be found on these action-packed ships. Cruise directors also have scheduled programs for families which are a great way for kids to meet other kids who are cruising.
3. Food and Clean Up
I have a picky eater, so it's very important that when we do eat out, we go somewhere that has an acceptable kids menu to my son's taste. On our first cruise I went so far as to pack dried oatmeal, thinking that if there was nothing for him to eat, then at least I could conjure up some hot cereal for him. Silly me. He loved the food on board, and they had EVERYTHING that was on his list of "approved foods." The dining service workers go above and beyond to make sure you have food to your liking. They even went as far as asking a sous chef to create an off-menu dish for a member of my dining party. The best part of all of the food service is that you don't have to clean up afterwards. No dishes, no table wipe down, no sweeping and mopping. Simply get up when you're done and go on to your next activity.
4. The Beach
I've cruised many places, but I will always recommend the Caribbean for those with small (and large children). We live in Los Angeles, so we have regular beach access, but the Caribbean waters are special. Many of the ports will have beach-themed activities which are so much fun, and easy to do with kids. The other hidden benefit of cruising the Caribbean is that your family will have a great time in a Floridian city before and after the cruise. Port Canaveral is a great port to leave out of because of the Disney aspect, but we've also had a great time in Ft. Lauderdale and Miami.
5. Off-Season Cruising and Special Deals for Kids
Many cruises give reduced rates, or "kids cruise free" deals, meaning it's not going to be so much more to add them onto vacation budget. Families with younger children can enjoy the added benefit of cruising during non-peak months as they don't have the implication of school scheduling.
Take your family on a cruise! They'll love it and have fond memories for years to come.
family travel
About the author
Keisha Baker, a Los Angeles native, has books published in the urban fiction romance genre. Check out the series "A Compton Love Story," found on Amazon!
Keisha loves hearing from readers and can be reached at [email protected]
Reader insights
Be the first to share your insights about this piece.
Add your insights