Costa Rica's Resplendent Quetzal
The Emerald Jewel of Costa Rica's Cloud Forests. .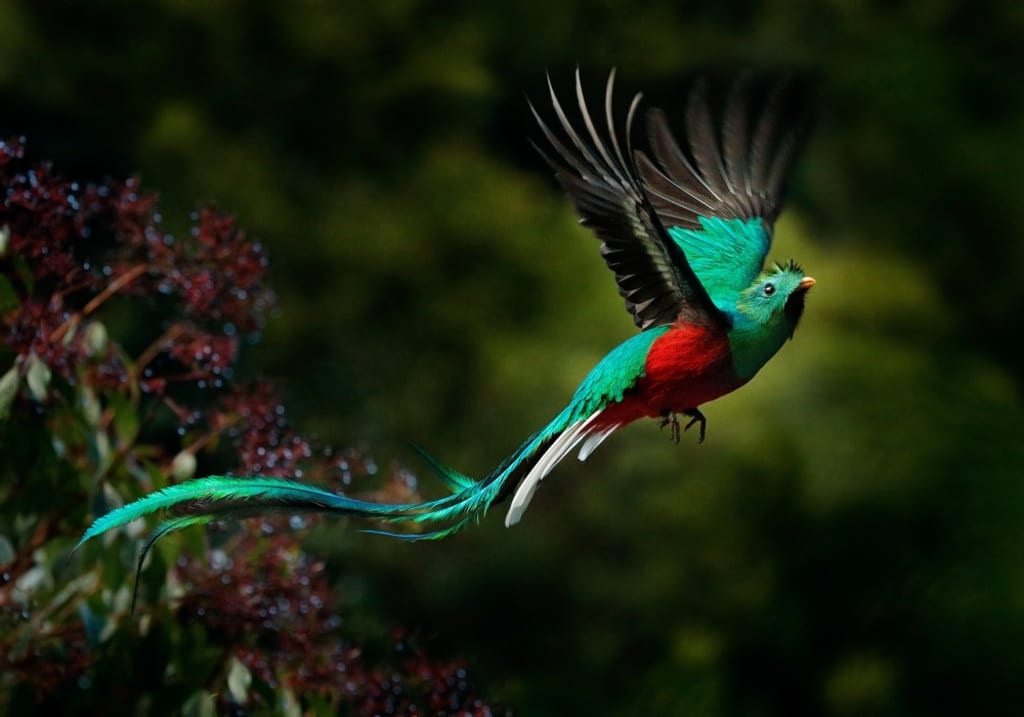 One of the most beautiful and graceful birds in Costa Rica, the resplendent quetzal!
Thousands of birding enthusiasts visit Costa Rica every year for one reason. . to search out and to photograph the elusive resplendent quetzal in its jungle setting. . in all its splendor and awe.
The quetzal is actually the national bird of Guatemala. Its image is on the country flag and is also highlighted on its currency. However, there are larger numbers here in Costa Rica because of all of our protected national forests and reserves. Our government is very well known and praised for creating laws that protect much of the land. They do it for one reason. . to protect our over 500,000 species of animals and over 850 bird species.
They are an endangered species because of a lack of cloud forests here in Costa Rica. They thrive in the high-altitude jungles from Southern Mexico to Northern Guatemala. Nesting habitats are being destroyed and we have to pay close attention to the survival of this colorful species. They are worth the effort.
This species is 14 to 16 inches long. In addition, the male has a very long tail that grows up to 26 inches. Resplendent quetzals have a green body (showing iridescence from green-gold to blue-violet) and a dark red breast. Depending on the light, quetzal feathers can shine in a variant of colors: green, cobalt, lime, yellow to ultramarine. Their green upper tail outer feathers hide their tails. The primary wing coverts are also unusually long and give a fringed look. The male has a helmet-like crest. The bill, which is partly covered by green filamentous feathers, is yellow in mature males and black in females. Their iridescent feathers, which causes them to appear shiny and green like the canopy leaves, are a camouflage adaptation to hide within the canopy during rainy weather. Even with the vibrant colors, they are at times, very hard to see with the naked eye. A strong pair of binoculars are surely the way to go here.
The skin of the quetzal is very thin and easily torn, so it has evolved thick plumage to protect its skin. It has large eyes that adapt easily to the dim light of its forest home. And in the cloud forests of Costa Rica, sight range is at a minimum!
Their "song" is a treble sound in which some describe as like "a whimpering pup", often singing in pairs, which may be repeated for a very long time. Resplendent quetzals have other unmusical calls as well. You'll know when you're close to one. . it is a sound that is so much fun to finally hear!
They nest and raise their young in old rotted tree holes. Their beaks are not strong enough to peck out an area of their own, so they rely on the woodpeckers and toucans to do it for them. After a hole is spotted, the quetzal push their way in and take over the tree for the sake of their chicks.
Early February to late July is the time when viewing these elusive creatures is at its peak. This is their premier mating time and they are out in full force, displaying their beautiful feathers for all to see.
A fun fact. . wild avocados are the quetzal's favorite food. And avocados are aplenty in all areas of Costa Rica.
Quetzals can be seen at the Monteverde Cloud Forest in Northern Costa Rica, at Quetzales National Park, at San Gerardo de Dota and a few other specific high-altitude locations across Costa Rica.
There are also quite a few B&B's, hotels and hostels that cater to the bird watching, quetzal enthusiasts. They can provide guides for you and your group to assure you of many sightings while you are there.
The legendary tail feather of this bird can be up to 39 inches long. It is so beautiful!
Their name stems from an Aztec word, "quetzalli", which means, "beautiful" .
Many ancient myths and legends surround the quetzal. It was considered very special to the Aztecs and the Mayans, associated with their snake God, "Quetzalcoatl". Its iridescent green tail feathers symbolized a successful spring plant growth. And they viewed this creature as the "God of the air", which made certain that goodness and abundance were in their future. The Maya also viewed the quetzal as an assurance of wealth and total freedom from their enemies. The nobility in many of the ancient civilizations wore headdresses made from quetzal feathers. They painted their faces with the same colors as the quetzal. It was a crime to kill a quetzal, sometimes punishable by death.
This unique bird is only a sample of the splendor found in Costa Rica. Our animal kingdom is magnificent and as always, we invite you to visit our country as soon as you can and stay as long as you want. .
You're invited to visit our websites at www.costaricagoodnewsreport.com & www.costaricaimmigrationandmovingexperts.com
Also, please enjoy our over 1,700 episodes of our "Costa Rica Pura Vida Lifestyle Podcast Series". We are found on all major podcast venues, including iHeartRADIO, Spotify, Apple Podcasts, Google Podcasts, Radio FM, Anchor and many more. Here's our link: www.anchor.fm/costa-rica-pura-vida
About the Creator
Costa Rica is a magical place. Since November, 2002, when I first visited this country, I have been in love with the people, the culture, its biodiversity, the food. . everything about it makes me happy! Now I share my excitement with you!
Reader insights
Be the first to share your insights about this piece.
Add your insights