Costa Rica Offers So Much to So Many / A Biodiverse Playground with Amazing Flora & Fauna. .
An enchanted place that will indeed exceed your expectations!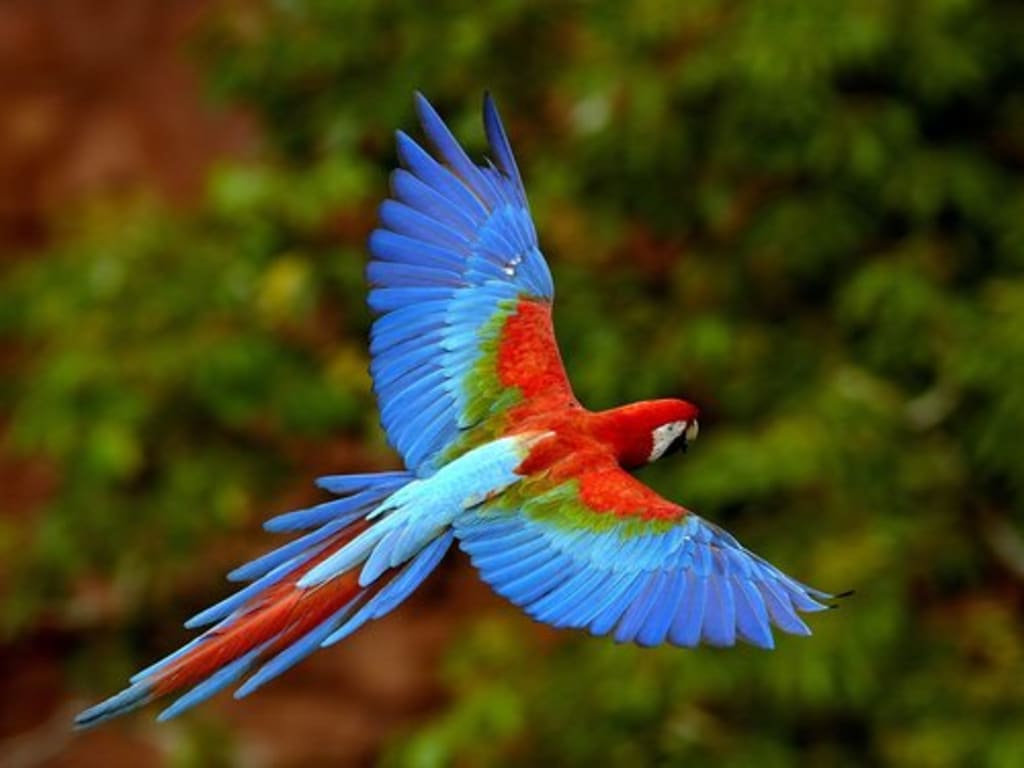 The Scarlet Macaw will change your life when you see it in flight!
Costa Rica hosts over 850 species of birds. That is over 10% of the world's avian population. The scarlet macaw is one of my favorites indeed. As you see above, the markings are beautiful and awe inspiring. And to capture this creature in flight. . you'll simply never forget it. It will change your life. .
Two-toed sloths & three-toed sloths. . such cute little creatures. You'll see them climbing up a tree or moving slowly to the other side of the street. You'll notice that they are always smiling. You'll probably buy a tshirt at the airport that has a sloth face on the front! And, you'll remember your interactions with this very slow animal!
If you're lucky enough to see a toucan, you'll think you died and went to heaven. There are six species of toucans here in Costa Rica. A few of the species have the huge colorful bills that you see on sides of buildings here or on the walls of the airport when you arrive. They seem to be everywhere here and will certainly catch your eye. Have your camera ready!
Monkeys, monkeys and MORE monkeys! The Central American Squirrel Monkey, the Panamanian white-faced Capuchin, the Mantled Howler & Geoffroy's Spider Monkey. They're all over the place and sure do catch your eye when you see the branches start to rattle and bend above in the jungle canopy! In fact, in certain areas of the country, you can be sitting outside eating lunch and one will come close to beg for a handout! Of course, you don't want to give them anything, but HOLD ON to your submarine sandwich. . they may try to steal it from you! The howlers are called, "nature's alarm clock". If you're staying in a hotel by the jungle, you'll no-doubt hear them at 4:30 am! The squirrel monkey is the smallest of the species at just under 2 pounds! They are so cute. The capuchin has a white face and can look very angry at times! They show their teeth a lot. Don't want to mess with them! And the spider monkey is so cool, their arms and tails are especially long and they love to swing. They are so agile and love to play in the canopies above!
The Baird's Tapir is that strange-looking animal that kind of looks like a pig with a hooked nose. They are in a lot of the national parks and love to show themselves to tourists! What a beautiful creature!
There are so many animals here in Costa Rica. Butterflies, hummingbirds, snakes and spiders. . crocodiles, lizards, frogs, salamanders, toads. . the list goes on and on! So colorful. . some poisonous, some docile. . whatever you're looking for, you'll find it here in Costa Rica.
Be sure to Google, "Animals in Costa Rica" and "Plants in Costa Rica" before you visit. It will allow you to perhaps plan your trip according to what interests you have. You'll have a much better vacation if you take the time to do this. Take notes and become ONE with the flora & fauna here in Costa Rica. This is what we are known for so take advantage of what is before you!
Costa Rica has an incredible abundance of flora which is protected by a large system of national parks. It boasts more than 9,000 species of flowering plants and about 800 species of ferns, as well as many other species which are spread throughout the country.
Costa Rica's rainforests are abundant and popular. Being an extremely rapid ecosystem, the competition among species of flora in these forests is quite intense. Trees can grow up to 100 feet tall, absorbing up to 90% of the forest's photosynthesis.
Underneath these enormous wonders of nature, there are thousands of species of smaller trees.
All flora species survive in the rainforest by adapting. Canopy trees adapt by reaching to the crowning heights, while bromeliads adapt by holding rainwater and decomposing matter into food. Vines adapt by hanging to trees and working their way up.
Costa Rica's dry forests do not contain as many plants, but their exotic beauty is also worth to be seen. Trees are short and robust, and during the dry season (November to March), oaks and poro trees substitute their leaves with beautiful and colorful flowers.
Apart from the tropical rainforest and dry forest, the mangrove swamps are also filled with a great variety of flora. They grow in the border between the land and the ocean and produce algae and other organisms. Mangroves are essential for the preservation of species that only flourish in these unique and salty conditions.
For such a small country, flora in Costa Rica is incredibly diverse. This region is home to many of the world's endangered species of flora and even to some species that still haven't been discovered. Hence the importance of protecting Costa Rica's different ecosystems.
Costa Rica surely grows on you. Usually what happens is when you touch down at the airport, you're excited but all of a sudden become super busy! So many things to do! Get off the plane, find customs, wait in line, go through customs (and perhaps practice your Spanish with the customs officer), wait for your luggage, change dollars into colones, purchase a chip for your cell phone, continue to the outside area, find a cab or find your rental car agency. . WHEW, I'm getting tired just telling you about all of this! And think of THIS. . YOU'RE STILL at the AIRPORT! Then, you find your way to the hotel, check in, unpack, get something to eat, relax or sleep for a while, get up and plan your day, your evening or following day! Keep in mind that you're still in the city. You've only experience traffic, stress and total exhaustion. Haven't seen the beach yet. . only have caught a glimpse of the mountains, no birds, sloths, butterflies. . no nothing. You start to think, "What did I come to Costa Rica for? I could have done all this in Topeka, Dallas or Chicago"!
Well, have patience! Because when you finally start your FUN TIME, you'll be able to learn all about one of the happiest countries on the planet. I promise it will be all you thought it was going to be. . AND MORE!
We're waiting for you here. Hope to see you soon! And, remember. . this is indeed a biodiverse playground and you're going to have so much fun exploring!
You're invited to visit our websites at www.costaricagoodnewsreport.com & www.costaricaimmigrationandmovingexperts.com
Also, please enjoy our over 1,700 episodes of our "Costa Rica Pura Vida Lifestyle Podcast Series". We are found on all major podcast venues, including iHeartRADIO, Spotify, Apple Podcasts, Google Podcasts, Radio FM, Anchor and many more. Here's our link: www.anchor.fm/costa-rica-pura-vida
About the Creator
Costa Rica is a magical place. Since November, 2002, when I first visited this country, I have been in love with the people, the culture, its biodiversity, the food. . everything about it makes me happy! Now I share my excitement with you!
Reader insights
Be the first to share your insights about this piece.
Add your insights