Costa Rica Minute / Costa Rica Pura Vida Lifestyle Podcast Series!
We invite you to listen to our 220+ episodes on most all major podcast venues! We're here ONLY for the purpose of getting you excited about one of the happiest countries on the planet!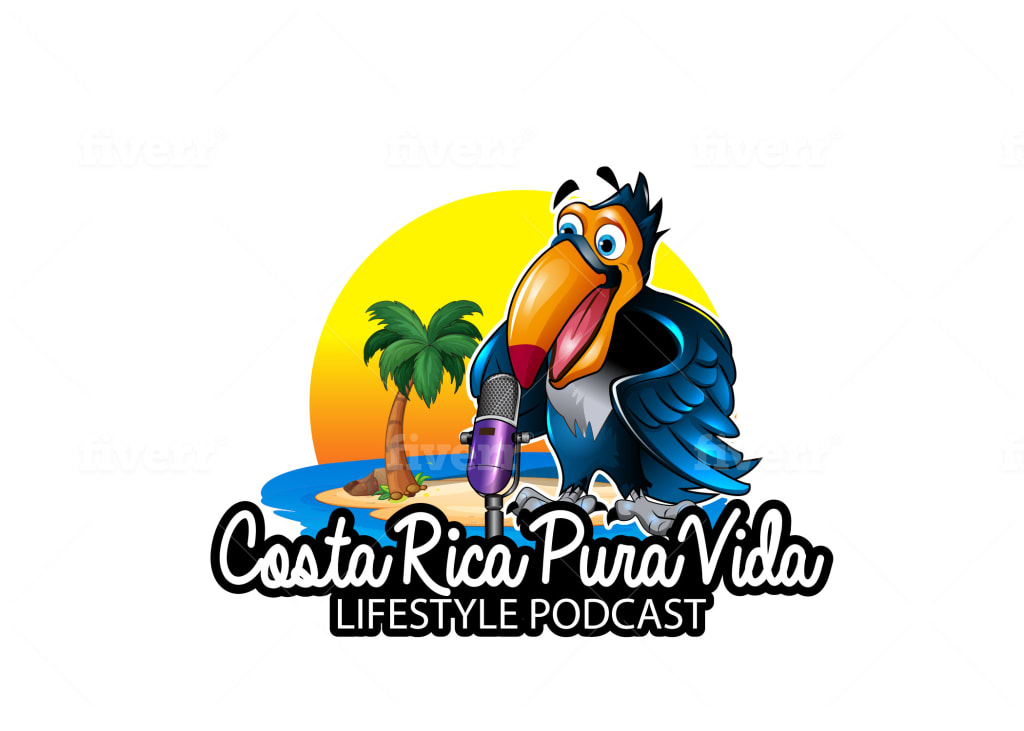 We'll get your heart pumping & yearning for that PURA VIDA Lifestyle!
After my first day or two in Costa Rica back in November of 2002, I knew that there was indeed something special about this country. I didn't know any Spanish at all. . ah, maybe, "Hola" or "Como Estas?". . but that is it. I just sold my business in the USA, sold my home and wanted to spend a couple of weeks relaxing, "away from it all"! And I did just that!
That was the start of my 'collection' of stories about my experiences here in Costa Rica. I never really jotted them down, but I have them all categorized in my head. . filed away and ready to share them with all who care to listen.
Over the years, I have seen many areas of Costa Rica. . from the Playas del Coco to San Vito, from the Osa Peninsula to Limon over there on the Caribbean side. . from Arenal to San Isidro. So much to see and do here in one of the happiest countries on the planet.
In January of this year, 2020, I decided to start recording my stories and other information about Costa Rica for all to hear! I thought about the fact that everyone is so very busy these days and they may not want to sit through 1/2 hour of me discussing all the good points about this wonderful country. So, I decided to keep my episodes very short. Three to five minutes is perfect because you can simply get a little 'taste'. . a little 'teaser' about something that may interest you, whether it be the beaches, the tropical jungles, the history and culture, the wildlife. . the food, places to stay and many other topics of interest. So, that's what I did! I would like to invite you to listen at your own leisure! Here's the link:
www.anchor.fm/costa-rica-pura-vida
If you prefer to listen via Apple Podcasts, Google Podcasts, Spotify, Radio FM or other venues, then simply Google our name and all platforms will show up for you!
Just to get you started, I wanted to share with you a few short stories. . if you like what you read, you'll LOVE our Costa Rica Minute / Costa Rica Pura Vida Lifestyle Podcast Series!
Paying it Forward in Costa Rica:
Sitting here locked and loaded with ideas and thoughts on how to pay it forward here in Costa Rica.
Most of us are very fortunate. We have some type of safety net. We have some form of income coming in. If life ever gets down lower than expected, our friends are there to assist and pick us back up.
We are fortunate. .
Let's step out starting today. I have an idea. .
If you're here in Costa Rica, stop by your local church. If you don't speak Spanish, I am sure there is someone there that does. If not, talk with your hands. . become an Italian for 5 minutes.
Tell the pastor that you want to help them this week. Ask them what they need. Find out if there is a family or two that perhaps is going through some bad times and BECOME THE SOLUTION TO THEIR PROBLEM. . if only for that day.
Maybe stop by the store and buy a few bags of rice and some beans. Get some personal goods. . toothpaste and a new toothbrush. .
Spend a few bucks and pay it forward. Make a local family happy today. . Let's give it back and make a difference. .
Always Having Something to Look Forward to. .
Sitting here, almost dawn's light. . strong and pleasant aroma of coffee embedded. . can't get much better than this. . the sound of nature abounds. Life is good when there's balance. .
A friend and I were talking the other day. We discussed all of the destruction of daily life as we know it in some of the major cities in the USA.
New York City, Portland, Minneapolis, Chicago, Seattle and countless others. Hubs of activity stymied, perhaps forever. Livelihoods totally destroyed. A tragic turn for the worse. Never thought it would happen. Life as so many people know it is changing. Turn off the news programs and do some of YOUR OWN research and you'll see what I'm talking about. .
With that said, my friend mentioned to me that his father used to tell him something that stuck with him until this day. . that THE TRUE MEANING OF LIFE IS. .
ALWAYS HAVING SOMETHING TO LOOK FORWARD TO!
Many of my friends are in real estate. They report an incredible uptick in enquiries. In my residency business, we receive at least 4 calls each and every day regarding how they can start their process in moving to Costa Rica. They are all frustrated with what is happening, but THEY HAVE HOPE in starting a brand new life here in Costa Rica. .
Check it out. . Maybe this life is for you, too! Put yourself in the position of having something to look forward to. . It's a wonderful feeling!
Your Pura Vida Life. .
Sitting here thinking about ABSOLUTELY NOTHING!
Can you believe that?
Well, it's true. Try to follow me. .
A huge part of what is called, "The Pura Vida Lifestyle" is to train yourself to do a few things that you are probably not used to and have not been practicing. . .
First, don't worry about too much. You learned like I did early in life that there is no reason to worry about things you cannot control. Put that thought into play here in Costa Rica. It is a required effort. .
Second, yesterday does not really matter and tomorrow never comes. Place yourself and those around you in a serious, "today" mode. Do all you can to ENJOY yourself TODAY. At the end of TODAY, give thanks to whomever you pray for a glorious day being totally alive and well.
Third, excess money, luxury or materialism should not be on your list of important items. Enjoy nature. . Relish in the simple things in life such as sunrises and sunsets, tasty, healthy food with lots of flavor & good friends and family.
When you move here to Costa Rica, you will find your life is full and RICH because you follow this recipe for YOUR Pura Vida Life.
You're invited to learn more about one of the happiest countries on the planet, Costa Rica!
You're invited to visit our websites at www.costaricagoodnewsreport.com & www.costaricaimmigrationandmovingexperts.com
Also, please enjoy our over 2,000 episodes of our "Costa Rica Pura Vida Lifestyle Podcast Series". We are found on all major podcast venues, including iHeartRADIO, Spotify, Apple Podcasts, Google Podcasts, Radio FM, Anchor and many more. Here's our link: www.anchor.fm/costa-rica-pura-vida
About the Creator
Costa Rica is a magical place. Since November, 2002, when I first visited this country, I have been in love with the people, the culture, its biodiversity, the food. . everything about it makes me happy! Now I share my excitement with you!
Reader insights
Be the first to share your insights about this piece.
Add your insights