Confronting The Past in Hanoi
The United States is Vietnam's third largest trading partner, importing furniture, electronics and clothing. Are we friends now?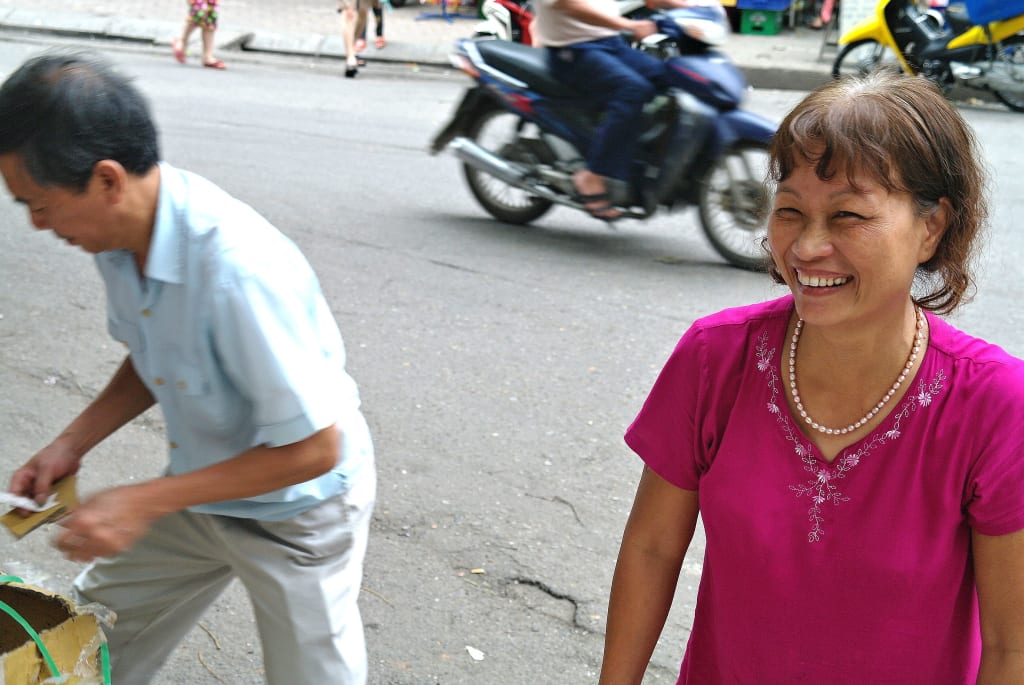 One of the many market vendors in Hanoi's Old Quarter. Photo by the author.
"Oh my God," gushed the teenaged street vendor as my wife and I walked along Hang Dau Street, the Street of Shoes, in the heart of Hanoi's Old Quarter.
"It's embarrassing," he said as he pointed to my wife's dilapidated sandals. True, the sole looked like it was going to come off and the vendor who had followed us for half a block with his toolkit in hand, was more than willing to do the repair. Now. At this very moment. Here on the street. He continued to berate us but he did it in such a charming way that it was hard to fault him for trying to make a buck. And then as suddenly as it began the encounter was over. He flitted away, spying another tourist no doubt, waving us a fond goodbye. "Have a nice day" he shouted as he vanished from sight as quickly as he appeared. It was our second day in Vietnam's capital city and we were getting a lesson in Vietnamese society.
We were supposed to be on vacation but I'm a history buff and I wanted to know more about Hanoi's transition from communism to a rudimentary form of capitalism. I was curious but I was also nervous. Sure, it was 40-something years since the end of the Vietnam War, or what the Vietnamese call the American War, but I still felt conspicuous dropping into a city we had once bombed. My cousin in Florida told me the War was still a sensitive issue among his servicemen friends. Did the Vietnamese feel the same way?
Hanoi is a city of contrasts. On the one hand, we saw leafy boulevards and opulent mansions. Hoan Kiem Lake is literally a sea of tranquility smack dab in the city core but turning a corner revealed another side of the metropolis, dense Hanoi with tall, skinny structures fighting for space while thousands of scooters and motorbikes buzzed about town. Our modest hotel in the Ba Dinh District, one of four major tourist districts that cater to foreigners, had a KFC outlet, the first in the city I was told, but whether through accident or design, we never saw anyone in there.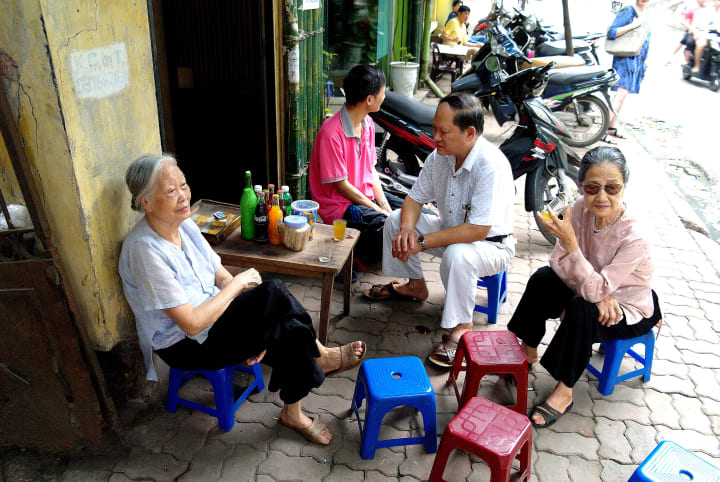 Hanoi is an outdoor society. Whether it's conducting business, entertaining friends or eating meals, everything happens on the sidewalk. The locals sit on small plastic chairs, the kind you get in toy stores, accompanied by stubby, truncated tables. Watching families cooking the evening meal on curbside braziers giving us a fascinating insight into Hanoi family life. Teens and children were friendly and anxious to answer my questions. Older Vietnamese ignored us. Was it anger or simply indifference? I couldn't tell.
"The War? Young Vietnamese don't care about the American War," Truong Tran, the manager of the Hanoi Fusion, a western-style eatery told us later over freshly cooked eggplant. It's true, everywhere we looked, Hanoi youth, like youth everywhere, poured over their smartphones, addicted to western music and fashion.
We visited the obligatory tourist spots of course, Ho Chi Minh's Mausoleum and the Tran Quoc Pagoda but it was Hanoi's Ethnology Museum which intrigued us the most. Vietnam is made up of 54 ethnic tribes each with its own regional clothing, crafts, and utensils. We saw reconstructed long houses and a pagoda. And we saw something else we didn't expect; the Museum was filled with teenagers who kept flashing the ubiquitous peace sign, two fingers in the shape of a "V". I half expected the one finger universal salute instead.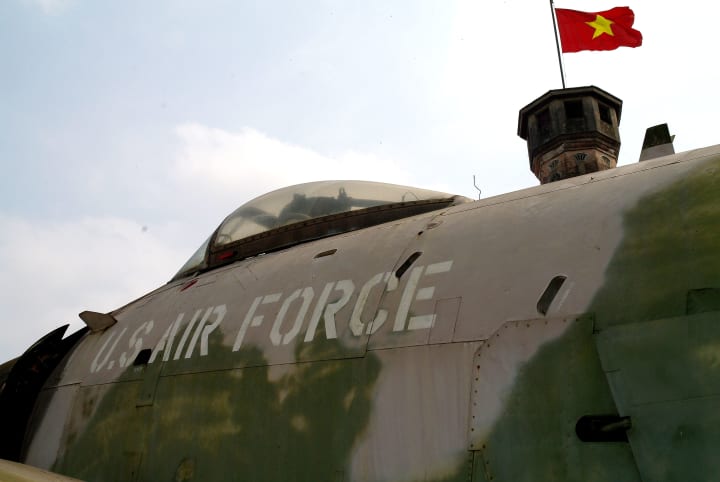 Next stop, the Vietnam Military History Museum. We approached this one with trepidation. The outdoor concourse was filled with captured American warplanes and tanks. The centrepiece was an obelisk made out of B-52 parts. I tried to imagine what my cousin and his Army buddies would have thought looking at all this weaponry. Let's not mince words; they were trophies. Inside, photographs and dioramas showcased Vietnam's conflict with both France and America. Thankfully, the anti-imperialist propaganda was toned down but much was made about homegrown ingenuity and the bicycle brigade that transported food and ammunition down the Ho Chi Minh Trail.
After the War Vietnam turned to the Soviet Union to help it rebuild its economy after the War but I knew that it wanted to make nice with the West now that the Soviets were no longer in the picture. Hence the trade in clothes, electronics and furniture. Then, as if on cue, a column of schoolchildren filed past us on their way to another gallery. "Hello" they chanted in unison, anxious to practice their English, Vietnam's second language (it used to be Russian) after the fall of the Soviet Union in 1991. "Xin chào" I replied in Vietnamese.
The next morning we took advantage of the cool morning air to explore a residential enclave around Truc Bach Lake. The community was just getting up. We passed several houses. Younger children waved to us from their doorways. Older children flashed the peace sign. Early risers were doing morning exercises in a park. One man was pulling himself up on parallel bars and I asked him if I could take his picture. He flexed his bicep and gave me a huge smile.
Back in Ba Dinh District, restaurant manager Truong Tran told us his countrymen were very proud of what they had accomplished since the War ended in 1975. "The Vietnamese nature is to be happy, cheerful and upbeat," he continued. "Content but not complacent. When they see an opportunity, they take advantage of it."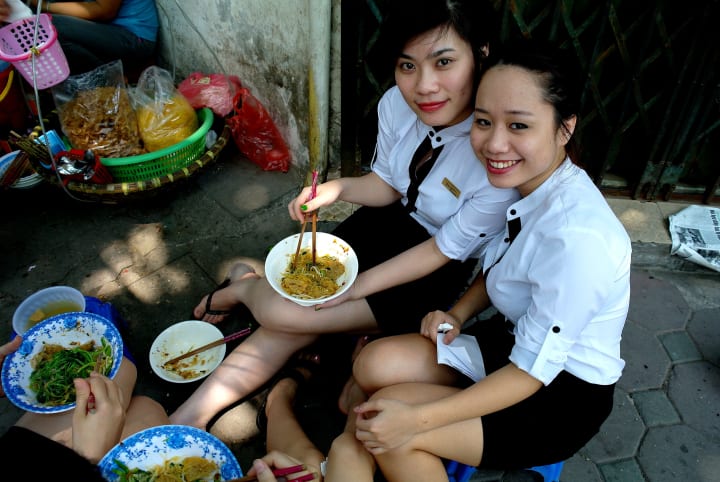 On the surface of things, it appeared to us that Vietnam had embraced western culture if not its ideals. Make no mistake, Vietnam is a one-party state. It's a dictatorship. There's poverty, pollution and a ramshackle infrastructure but there's also optimism, enterprise and an easy-going give-and-take vibe that, for me, can be illustrated in the simple act of crossing the street. Since there are few controlled crosswalks in Hanoi and the locals don't stop for pedestrians, getting to the other side required good timing and a stiff resolve. The trick was to look for a break in the traffic and walk slowly and confidently into the stream while looking the driver straight in the eye. It worked. Nobody cared if we were French, American or whatever. Scooters and motorbikes gracefully swerved around us. We had melded into the rhythm of the street. Life went on. Mission accomplished; my curiosity had been satisfied and my nervousness squelched.
About the Creator
Former television news and current affairs producer now turned writer. Thanks Spell Check. Visit my web page at https://woodfall.journoportfolio.com
Reader insights
Be the first to share your insights about this piece.
Add your insights