Coffee in the Morning. . the Warmth of the People & More Good News about Costa Rica. .
Smiles and new friends surround you when visiting Costa Rica. . it all starts with a sip or two of coffee. .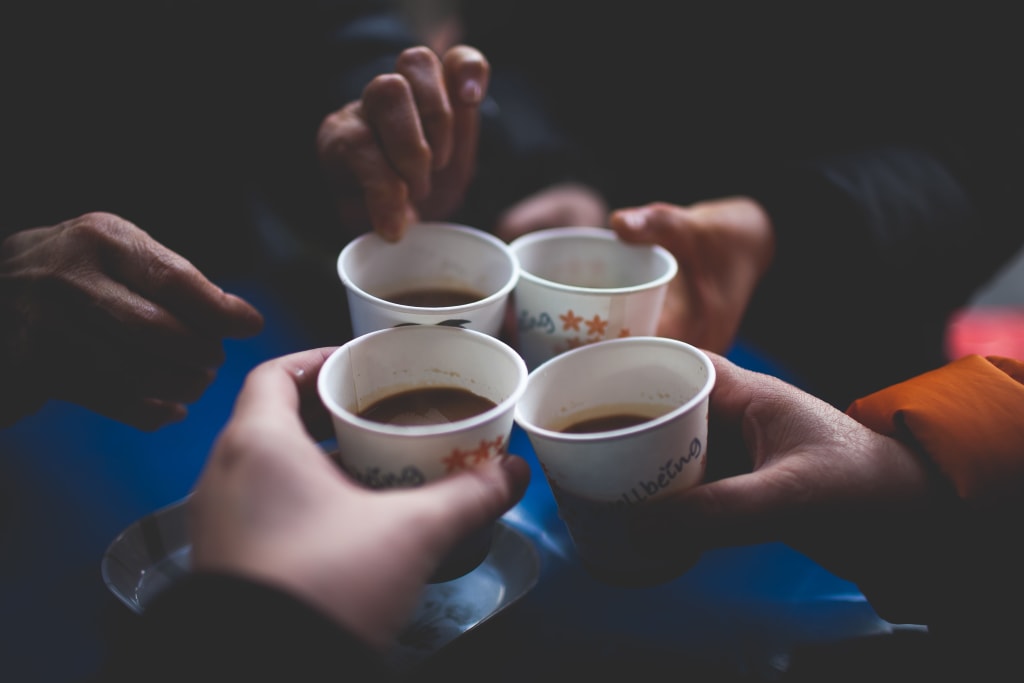 Good friends enjoying the Pura Vida Lifestyle here in one of the happiest countries on the planet!
So many exciting adventures here in Costa Rica. Think about all of the joy that many people have experienced either on vacation or when living here. Costa Rica is a magical place. . one of the happiest countries on the planet. And our job is a very important one. . to SHARE with you the hundreds of stories that we gather from friends, neighbors, family members, clients and even strangers! We hope that you connect with one of these events. . that it may be the catalyst for you to visit or even to move here. The PURA VIDA LIFESTYLE is special and once you understand it. . once you experience it, even for a week or so, THERE'S NO TURNING BACK. It pulls you in. .
Juan Carlos is a manager at the local Mas x Menos, right by my house, close to Sabana Park, just west of downtown San Jose. This wonderful man stands way under 5 feet tall, but he has the heart of a giant! He spends much of his day greeting people at the front door. His smile generates more smiles from all who enter. For those of you who have not visited Costa Rica before, this is the norm. The Ticos and Ticas go out of their way to make their days and the days of others pleasant. This is a part of the PURA VIDA lifestyle that we always mention here on this website.
I often visit the cafe there. . way in the back and to the left of the cereal aisle. There are always other smiling faces working as well. Every morning, either Christina or Ana greets the customers who need their morning cup of coffee. You can hear the cappuccino machine grinding and whirring away, even from the front door. And when you get a little closer, you are able to smell the aroma of the coffee being prepared for those lucky patrons who are waiting eagerly for that FIRST SIP!
And of course, Juan Carlos loves to work the room, stopping by every table to welcome his morning guests. . showing appreciation to all of them. . making sure that everyone knows that they matter and that they are welcome at the little cafe, in the back, at Mas x Menos.
People like Juan Carlos and places like the Mas x Menos cafe are not found on any tourist website. The actions of Juan and his employees are not mentioned in the colorful brochures at the tourist centers and at the airport kiosks. But, be aware that when you finally arrive in Costa Rica and set foot on solid ground, you'll be treated like you're a movie star. There's lots of reasons why Costa Rica is one of the happiest countries on the planet. I am sharing with all of you today one of those reasons. .
Pura Vida!
You're invited to visit our websites at: www.costaricagoodnewsreport.com & www.costaricaimmigrationandmovingexperts.com
Also, please enjoy our over 2,000 episodes of our "Costa Rica Pura Vida Lifestyle Podcast Series". We are found on all major podcast venues, including iHeartRADIO, Spotify, Apple Podcasts, Google Podcasts, Radio FM, Anchor, Podchaser & many more. Simply search our name online and enjoy!
If you like what you've seen here, please share this story link with others in your social media. . your friends and family. . anyone who may have an interest in learning more about Costa Rica! We would appreciate your support and PROMISE to continue to bring you LOTS OF GOOD NEWS about one of the happiest countries on the planet, Costa Rica! We're NEVER GOING TO STOP!
About the Creator
Costa Rica is a magical place. Since November, 2002, when I first visited this country, I have been in love with the people, the culture, its biodiversity, the food. . everything about it makes me happy! Now I share my excitement with you!
Reader insights
Be the first to share your insights about this piece.
Add your insights