Cloth Paintings and Me
A Legacy of Piecework Lives On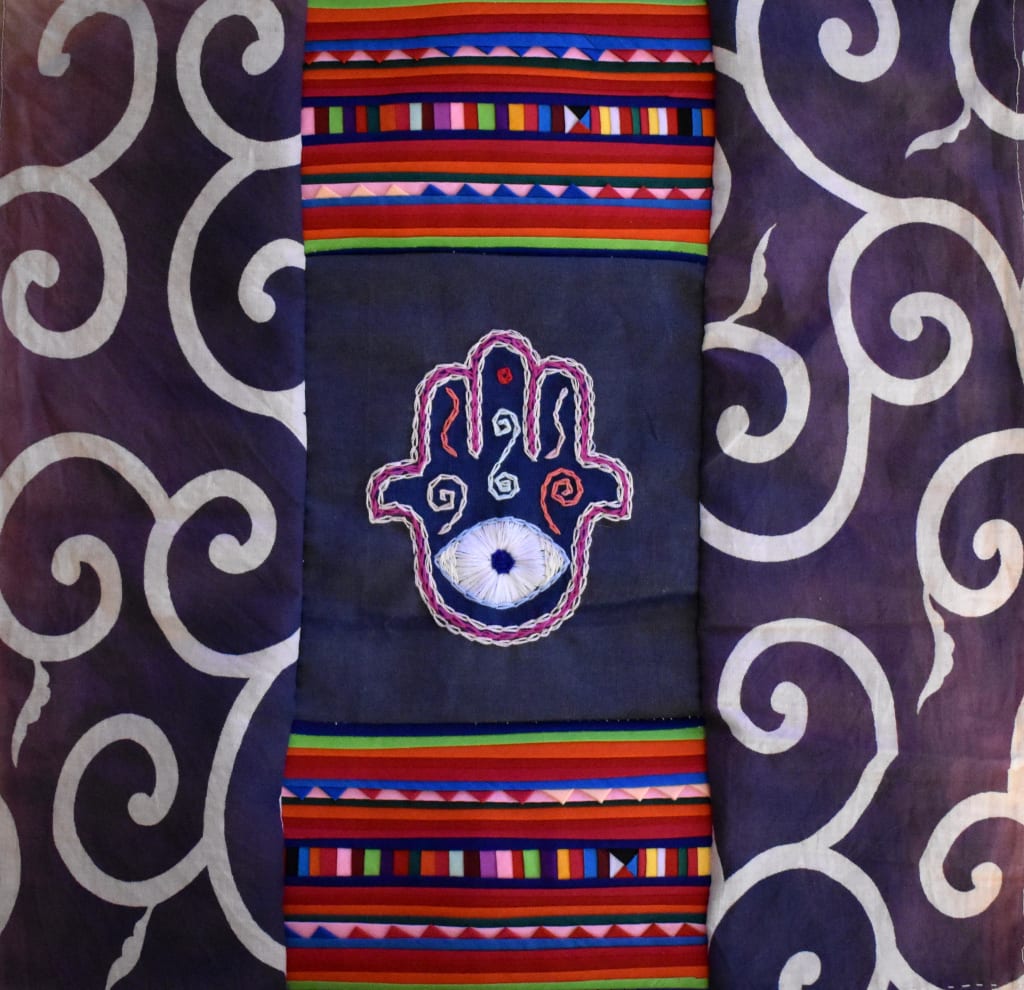 I love fabric. I can't say for sure that I always have, but I know that my love of cloth, of textiles, as grown exponentially with my years on this Earth. When I was little, I used to wear clothes my paternal grandmother used to sew for me, and I hated them, because they weren't new and from stores like the other kids' clothes. How I wish I could go back in time and admire the handiwork of my gifted grandmother, who could also knit and crochet anyone under the table. She tried to teach me to knit, and I ended up making a very uneven but brightly colored scarf for my plush white teddy bear, which I remember photographing for a high school photography class. It did not win portrat of the year!
My maternal grandfather, Mendel, was a tailor – from what I've heard from my parents, a really gifted one. Mendel died when I was 12. We were very close. My family used to have Friday night Shabbat meals at my grandparents' house until I was 10, when we moved away from Montreal, to Ottawa. I remember my grandfather as a sturdy and sometimes surly man with a teddy bear heart, especially where his grandchildren were concerned. He had four of them; I was the oldest. Once, after he tried to teach me gin rummy and I grew petuland and teary out of frustration when I couldn't grasp the game (my younger sister took to it like a fish to the water), he pulled me aside and brought his finger to his lips to shh me, as he whispered: you are my favourite. I smiled wide, placated. It didn't occur to me for years that he must have said that to the other three, too!
I also remember that my grandfather, like many other men of his generation, was always impeccably dressed. I don't remember ever seeing him without a button-down short, or his thin grey hair finely combed. Pictures of him in younger days show me a man handsome in the style of a Jack Kerouac, always serious, and exceedingly-well put together. He made clothes for my grandmother, and my mother, too, suits and pants and skirts with blazers, all impeccably styled.
Mendel and my grandmother, Chanka, came to Canada from Europe in 1947, where they'd been waiting in a Displaced Persons camp in Frankfurt for their first passage out. They lost more than everything after the Holocaust – they'd lost their firstborn, who came in 1940 and who had to be left at the doorstep of an orphanage so that my grandparents had any hope of surviving (they worked in a labor camp at that time, day and night, at a plant manufacturing the bullets that would go on to kill their own kin). My grandmother never stopped believing until the end of her life that her little girl was alive somewhere. My mother was born in the DP camp, and her younger brother, once they'd arrived in Montreal.
I learned from my father that my grandfather's special talents as a tailor lay in doing piecework: he was paid per piece of clothing he made, but because he was the best at the factory, he was given the task of making the model outfits, piece by piece, for the others to use as a model. His work was slower and more painstaking, and didn't pay as well, but my grandfather loved it, and did his job with pride. He took time to perfect each piece.
He didn't speak English well, so I doubt he felt the poetry that I do when I hear the word "piecework". For me, the word conjures the noble aspiration of building the world from the ground up, moment by moment, action by action, under the guiding principle that the sum will always be more than their parts… but that each part, too, is an entire universe unto itself.
I love the idea of building a life piece by piece. The pieces can vary wildly, and each tells such a riveting story, and yet, they can still come together to make up the fabric of one life.
I think this is where my fascination with fabric comes from, though I had only the dimmest awareness of what my grandfather did for a living while he was alive. I've spent a lot of time traveling in Asia, especially Thailand and India, and I've passed by many tailor shops in both places that are virtually open-air stands with everything to show and nothing to hide. In both these countries, life is lived outside so much more than where I come from. This is at least partly a function of the climate, of course, but it feels like so much more. There is an open-heartedness to the people there that I miss fiercely when I'm away – and I've had to be away for far long now. I can still picture these shops, the fancier among them with mannequins out front displaying their custom-made designs, the more modest little more than a hovel with a sewing machine, fabric remnants littering the dusty road out front.
My heart soars when I see these tiny pieces of cloth. While I have bought reams and reams of fabrics from these countries – and then from Japan, when I moved there with my husband, whom I met in Thailand – but the little discarded pieces of cloth are the ones I love most of all. I've gotten many quizzical stares from shop owners after asking or gesturing if I could take these remnants, but I always got a yes. My collection of the colorful discarded, the vibrant unused, the storied unwanted grew.
I didn't know, as I was collecting this fabric, which my husband came to call my "bag of treasures", what I was going to do with it. At the time, I was on what would become a three-year journey of reflecting and healing after losing my job in Toronto and feeling like my life had gone entirely off-course. I didn't feel connected to my roots, and couldn't figure out what home really meant to me, and how I could happily create one. Looking back, I see a young woman who, at 35, had allowed her intelligent mind to prosper while allowing her heart to remain wounded, neglected and misunderstood. In light of newer research into intergenerational trauma, I also see a woman who carried the legacy but also the wounds and burdens of generations of ancestors vilified for nothing more than the religion of their birth, who had had to leave multiple homes on multiple continents in search of relative safety, if not a full sense of security. I could feel all of this – the feeling untethered, the lack of greater trust, the existential questioning – living within this younger version of myself, who decided to leave her life behind, in search of what I now know to be the love, light and connectivity that the birthright of us all.
I only had a backpack and precious few belongings with me at the time, including a camera, a journal, and a tiny hand-crafted sewing kit housing a few needles and gorgeous scissors procured from a street vendor in Delhi), so that I could make little bags or what I came to call "cloth paintings" on the road. At one point, settled down for awhile in the serene river town of Nong Khai, Thailand, from where you can cross the border into Laos, I sewed to my heart's content and sold my modest offerings at a local coffee and bookshop that, with its cool, clay-coloured floor, stacks and stacks of funkily displayed books, and spunky, nurturing proprietor, soon came to feel like home.
It was only when I moved to Japan, and had more of a permanent space of my own (ah, but nothing is permanent! I am in Ottawa now, 8 years later, as I write this…), that I could begin to sort through my fabric collection, add to it, and begin to see worlds emerging from these pieces that I knew I had to start creating. Looking at all the pieces, I found a stupendous story folk tales, a history in prints and textures, and memories of my own synthesizing and becoming under the compassion watch of so many others who taught me that love is not something you do despite (the conditions of my birth, or my character flaws, or the weights dragging my heart down) but because (because love is love, and we are all a part of love).
Before I knew it, I was starting to put the pieces together, unapologetically but with great reverence for each and every piece I'd been fortunate to collect, my way. My work does not at all resemble my grandfather's perfectly-made creations fit for any queen or dignitary; nor does it resemble the stunning textile work of the Hmong people in Thailand, many of whose pieces I've bought, and remnants collected from flea market floors. Possibly the most striking contrast is between my work and the exquisite kimono and obi of Japan, where I started making my own works. In Japan's aging society, kimono are being discarded and sold at secondhand shops at almost unbelievable rates. It took me months and months before I could bring myself to cut them up for repurpose – they are divinely beautiful, and take me back into time like very few things can (my connection to Japan, it feels, runs very deep!). I came to realize, though, that respect for creation is the link between another culture and another time, and my own, and that sometimes, to re-create alongside what is still al living legacy, is how we go on. It is how we bring love into the present, so that it may grow into the future. It is where legacy meets genesis and rebirth, which, together, form the ladder we climb to reach our own healing.
I consider my cloth paintings to be a form of piecework. My grandfather would likely never have left Poland if WWII hadn't happened, but it did, and as a result (of that, and several other factors), I was born in Canada, knowing that home for me was never going to be about one geography, but what I would discover in many geographies, about my own heart and history. I may never find a perfect expression for my ongoing search for the whole, just like my grandfather may never have been satisfied with the model clothing he made, but I have found great comfort and joy in putting the pieces together.