Chicken or Fish? Lunch At a Home In Yangshuo, China
The best soup that I have ever had and a profound travel experience!
I was in China in 2008 with my then-husband. We were independently traveling around the country for three weeks, which was part of a 10-week trip to Bali and Vietnam as well.
Please Note: I took photos of the whole trip, but while trying to find them in Dropbox, I couldn't find any photos of China, just those of Bali and Vietnam. I'm not sure what happened but I do have a 2T storage drive at my parents in Canada, so hopefully, they are still on that. Pardon my usage of Unsplash photos where needed;)
We started in Beijing and then traveled by train from city to city. And let me tell you, it was a challenge. Trying to figure out where trains were going often had us puzzled for hours at the train stations. Eventually, we would find somebody that spoke English to help us out, but it was very difficult. From what we witnessed, the Chinese don't really talk to each other, let alone help foreigners. We had a very interesting time traveling around China because of this fact.
I was excited to get to Southeast China and Yangshuo as I had previously seen photos and knew about the limestone karsts that ply the valley of the Li River. The views did not disappoint!
Before coming to China we had been in Northern Vietnam at Halong Bay and the views were somewhat similar. It's not surprising because geographically these places are not that far from each other.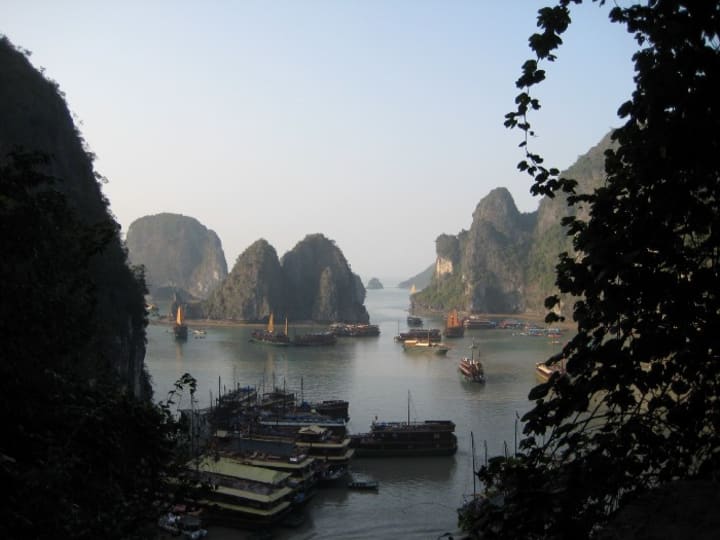 We planned to only spend a couple of days in Yangshuo but we both got a bit sick there. I think we were just traveling too much, and it all caught up with us. So we decided to stay for 4 nights. The first couple of days we only had the energy to go and eat, plus it was raining, so we purchased pirated DVDs in the town and watched them on the TV that had a DVD player in our room.
We were very tired and very lazy for those couple of days.

Sometimes it's nice to have days like that when traveling.
On the third day, we felt better, the sun was shining, and we were eager to get out for a walk. We headed down to the river and were walking along the rocks watching the boats come and go. At some point we found a dirt road leading away from the village, so we decided to follow it along the riverfront.
After about 15 minutes, we came across a young girl standing on the side of the road. She looked to be about 10 years old.
"Hello, how are you?"
I was surprised when she said this. English was not common in most areas of China in those days.
"We are good. How are you?" I asked her in return.
"Would you like some lunch?" she cut right to the chase.
My husband and I looked at each other. It was getting close to lunchtime.
Oh why not, we decided.
We could see that this wasn't a restaurant, but it looked like a nice home anyways.
She immediately turned and led us through the courtyard of the house. On the other side of the wall was a stone balcony that overlooked the river. It was a stunning location.
After a few minutes, she came to ask us what we wanted. We asked her what she had and she said chicken and feesh. We couldn't, for the life of us, understand the second word.
After much back and forth she gestured for us to follow her. We climbed some cement steps and went to a concrete box. She slid the heavy cement lid to the side and pointed for us to look in. We were shocked when we looked down to see large fish swimming in the water inside.
Pointing at them she exclaimed "feesh!"
"Aaaaah yes, fish!" I said.
But wait, after looking these guys right in the eye, and seeing how happy they were swimming in their cool tank, we couldn't just have one killed for our lunch. That seemed ludicrous to us.
No, no, that would not do.
"We will have chicken!" we said, almost in unison.
We went back to the patio and looked out over the view. About 2 minutes later the little girl passed us carrying a live chicken by its feet. We looked at each other alarmed, but before we really realized what was going on, we heard a screech from the chicken and a loud WHACK.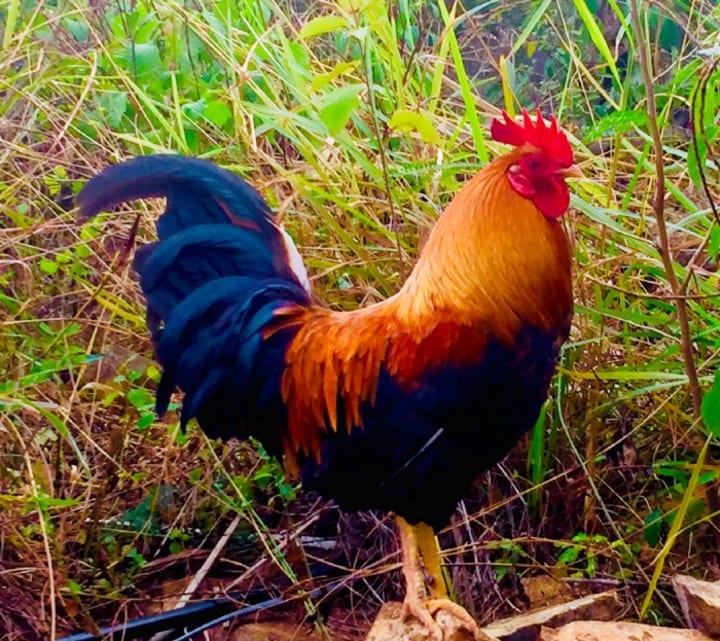 We looked at each other wide-eyed. A minute or so later, the girl crossed back in front of us, now with a headless dead chicken in hand.
We smiled.
Now, of course, we knew that chicken was just killed for us to eat it. We were both a bit shocked and tried to laugh it off. We hadn't expected that at all. We then wondered if our choice of chicken was the best one after all.
Either way, the damage was done, and we had no choice but to sit and wait for our meal.
As you may expect, our meal didn't come quickly. I think it took about an hour to finally get a huge steaming bowl of chicken soup placed in front of us.
By then we were hungry and this bowl of soup looked simply amazing.
And let me tell you, it was THE BEST CHICKEN SOUP that I have ever tasted! It was so fresh, and the flavor was out of this world!
We ate it and giggled, looking out at the view.It was one of those moments of disbelief. Do you ever get those? Where you sort of have an out-of-body experience.
I was thinking; Are we really sitting on somebodies patio on the Li River in China right now? Are we really eating the most delicious bowl of chicken soup that we have ever had, that was just cooked fresh this minute?
It all seemed so surreal.
We sat in silence, ate our delicious soup, and watched the world go by on the river below us. It was just one of those magical and profound travel moments.
After we were finished, we asked her how much.
Of course, this was a while ago, but I think she wanted the equivalent of $10 each for the soup. This was expensive in comparison to what we had been paying for food elsewhere, but we paid it without hesitation. We knew that not only had a chicken been sacrificed for us, but we had just had a quintessential, rural China experience.
Sometimes you just can't put a price on these sorts of things!
Knowing what I know now about how these things work, I assume that most of the chicken was later enjoyed by the family and neighbors. So, in essence, we probably bought them a nice meal, or two, as well.
We rounded up our time in Yangshuo and then hopped the train to Macau, our next destination on the way to Hong Kong.
China was an interesting country to visit, that is for sure. There are many parts that I still would love to see, but with the state of the world these days, we may never get there. I guess only time will tell.
Thanks for joining me in recalling my profound story from Yangshuo. It is a stunning part of the world, and well worth the visit if you are ever in the area.
Happy travels!
xo Jill

Hi there, we are 2 Canadians, Jill and Chris from Artistic Voyages. We have been nomadic since 2017 living in numerous different countries, and experiencing the life and diversity of our planet on the ground and firsthand. We have now been on the African continent for over 2 years!
Join our adventure by hitting the links below!
Website | Instagram | Facebook | Twitter | Patreon| YouTube | Medium
About the Creator
Hi there, we are Jill and Chris from Artistic Voyages! We sold all of our possessions in 2017 and have been traveling ever since. We paint murals as we travel, and aim to spread love through our art. We have now been in Africa for 2+ years!
Reader insights
Be the first to share your insights about this piece.
Add your insights