Chapter 2... The Making of #WestwardFro The Saga Continues
A Guidebook... WestwardFro's Oregon Trail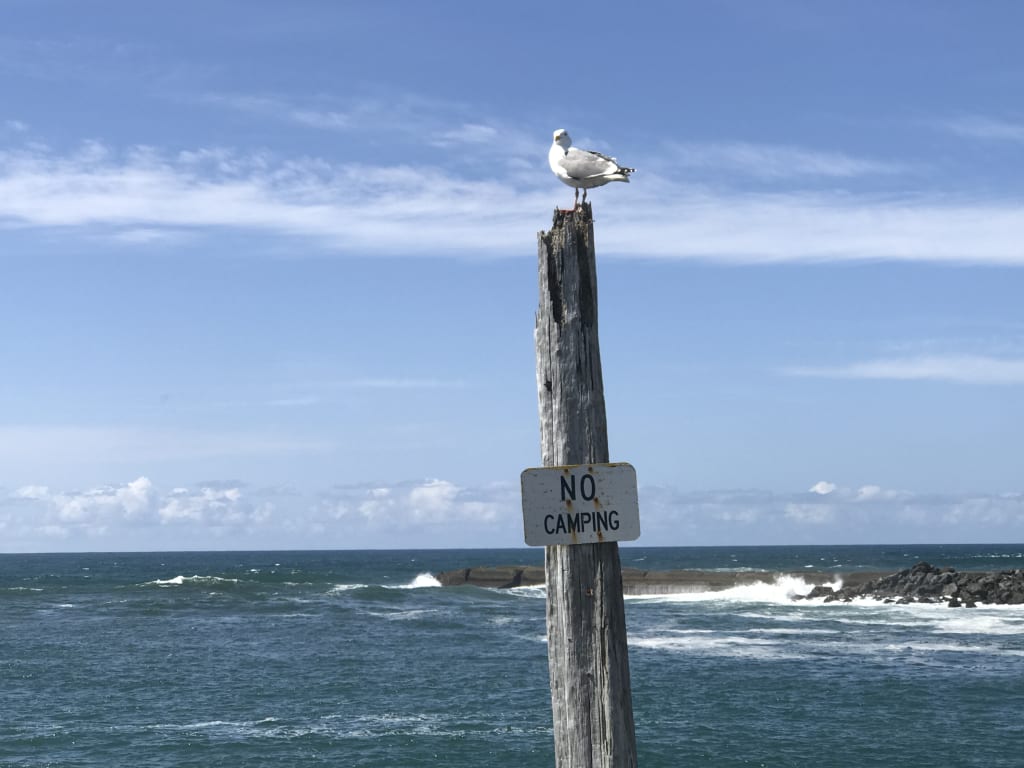 Windy Day on Coos Bay
Felicia, Felicia, where do you roam
Felicia, Felicia, far, far from home
Have gas will travel, reads the card of a chick with a Fro
A woman without armor in a savage land
Her fast truck for hire, heeds the calling wind
A woman without fortune, is chick called—West-ward-Fro!
Felicia , Felicia, where do you roam
Felicia, Felicia, far, far from home _ The Ballad of WestwardFro Edited from the Ballad of Paladin
After you stop laughing, little fun nerd fact, The Ballad of Paladin is from a 1960s Western series called Have Gun Will Travel. Either hit play in the above video, or navigate to YouTube to watch and listen (https://youtu.be/tgvxu8QY01s) to the above edited lyrics for the introduction to this the second installation of WestwardFro!
I am so excited to share this experience with all who choose to read it.
I wanted to start with a misty sunrise from North Bend, Oregon. This is a reminder that clear days can be few and far in between. So, always maximize your time in the sun.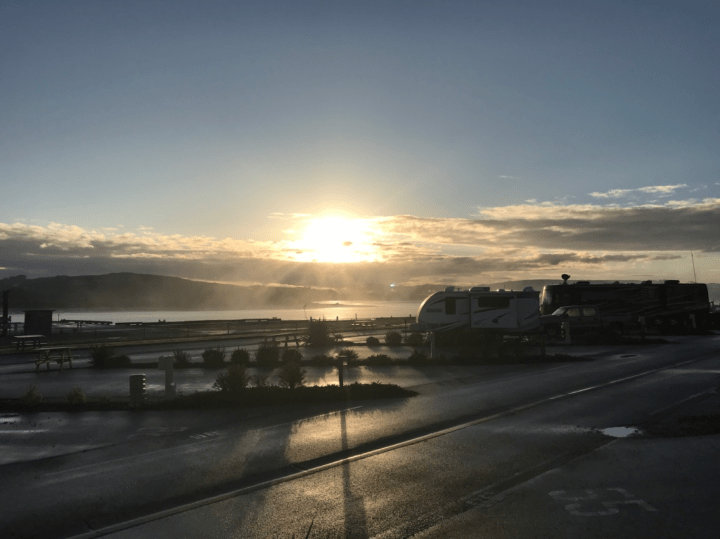 A reader, my cousin Drac, gave me some constructive criticism and details on how to best frame this piece to give the reader an idea of what to expect in the narrative. So along those lines, what you can expect in this piece is tips on traveling through Oregon. There will be comments on the people and the places that you will go. There will also be comments on the environment, and how it was extremely unexpected to be in the center of a rainforest right in the United States. And as an African American woman with natural hair it is a cautionary tale of how to enjoy this environment on your own terms. It is not a guidebook on extreme sports, best hiking trails, and backpacking across the mountains, I think Patricia Cameron's website, Black Packers, is better for that—she started in Colorado and does all of that. Nah girl, that's all you. This is a story of how a middle age African-American woman can Glamp in the Oregon rain forest.
I actually received a lot of positive feedback from the initial chapter of #BecomingWestwardFro that was very encouraging for me to proceed with my tales of glamping across the United States, and my time in Oregon in 2017. In fact the past weekend, I was able to meet up with some really good Oregon friends in Savannah, Georgia of all places. I'm thankful to Tricia, Jen, and Angela, because of their grace and friendship, and they also have given me another idea for a story or a series of my time in Savannah, Georgia. Those of us from the South know that there's only two times a year that are actually comfortable being in Savannah, Georgia; early spring and the fall, but I digress… Oregon's best seasons are July through October. Peak season for amazing vegetables and flowers at the farmer's market, and the harvest time for the wineries and rain-free days to dry out and get out, and enjoy the beach, gardens, and waterfalls.
INSIDE OUT
I first arrived in Oregon after my trek across the US. A single African American women, pulling an aged RV by herself, causes side eye glances. After several quick trips to Fred Meyers, I bought supplies and extras to set up my outside space to maximize my time outdoors.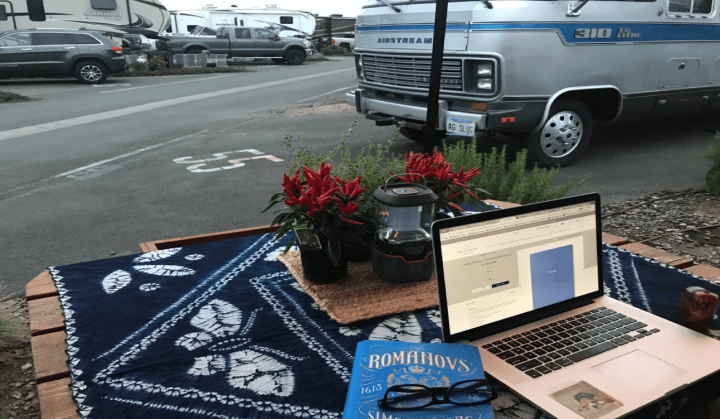 I am an African-American who doesn't like getting wet, even with natural hair. I wasn't prepared for constant moisture—three months of pouring down rain. Working nights was also very difficult for me to adjust to, but helped immensely when dawn came and arose clear, which I found to be absolutely gorgeous. Working at night had its benefits, because I did get to see some of the most beautiful sunrises coming up over the bay.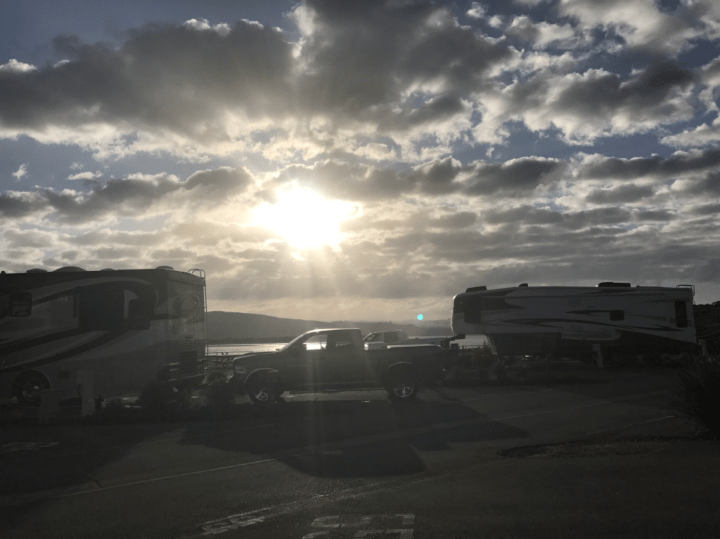 Pick Your Campground, Pick Your Battles
The best campground with the best real estate that did not have an age limit on RVs was The Mill Casino.

and RV Park:

It was owned and managed by the Coquille Indian Tribe of North Bend. Great views and it was safe. I also won 800 bucks one night at the giant Buffalo slot machine that paid my camping fees for one month! They had full hookups with sewage, WiFi, and cable at each site. Gas was pretty high at that time in Oregon, so that 800 dollar savings was key to being able to travel, make other creature comfort purchases, and explore on other weekends.
Inside Life in an RV
Space is limited in a 26 foot travel trailer, so fill it with beautiful flowers.
Fill it with funny books.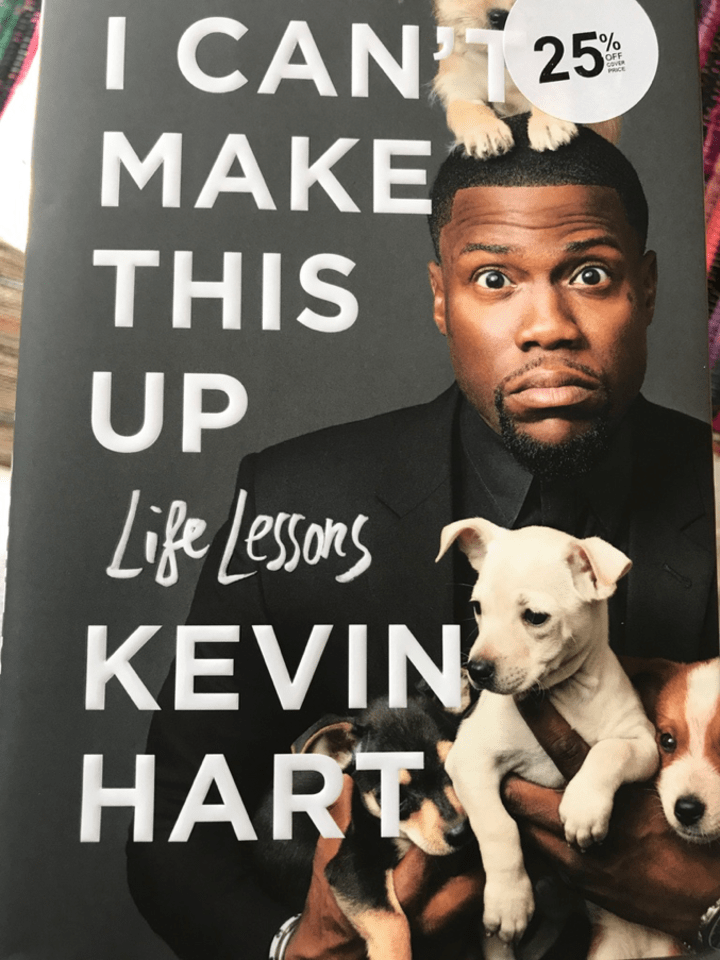 Or fill it with books gifted by East Coast besties.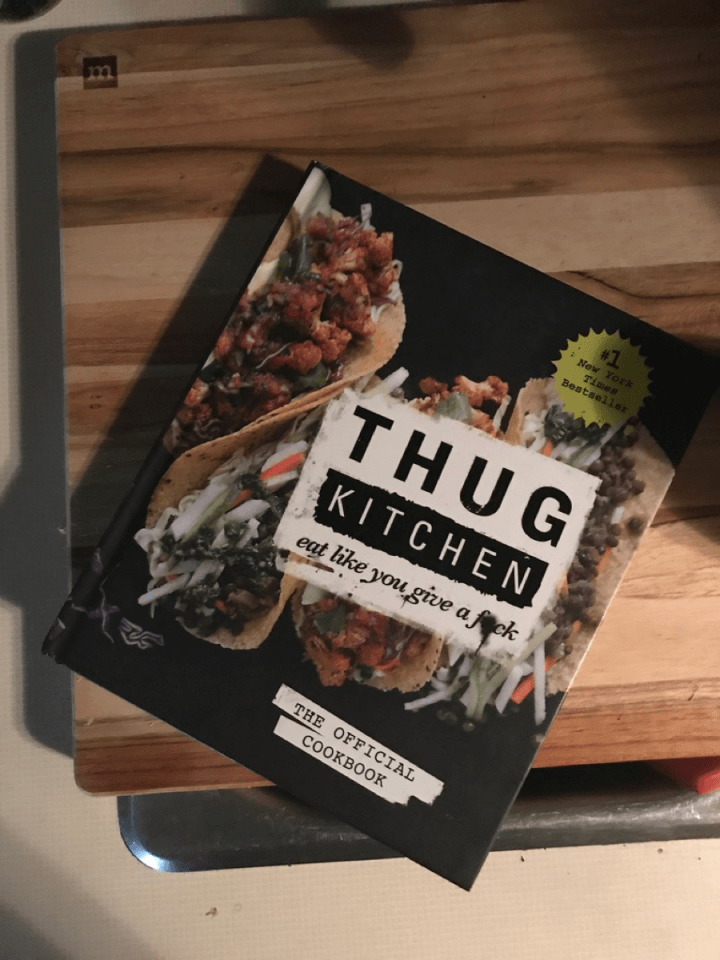 Fill it with sound with classic RnB music on a turntable purchased also from Fred Meyer .
Marvin Gaye's Album recorded after Tammy Terrell's Death.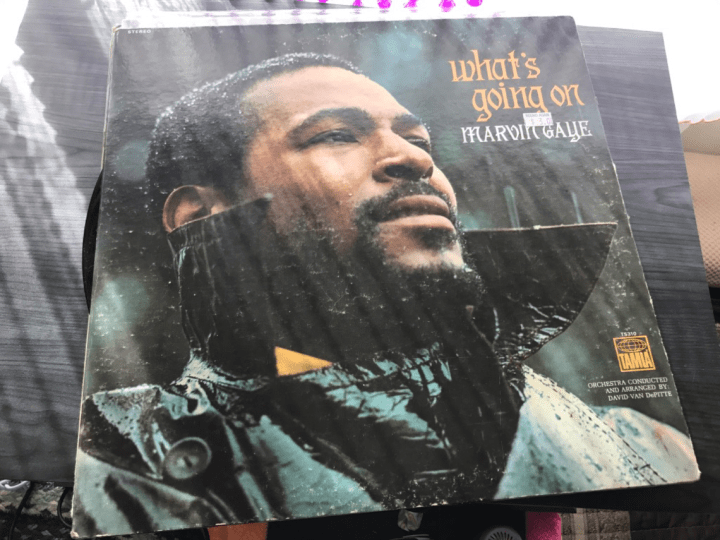 Comfort Inside of a limited space requires flowers, great food, and a dehumidifier. Comfort means you actually rest to rejuvenate to plan shenanigans for upcoming weekends. I lived for my weekends off, because that was the only time I got to experience the vastness of Oregon. The next photo montage is one weekend; can you imagine if I stayed longer than eight months?
NOTHING VENTURED NOTHING GAINED
I had no idea what this meant until living in Oregon. Getting back to this story if you won't go or can't go on an adventure yourself, I'm hopeful you will immerse yourself in my adventures. The world is vast, and you actually have to go outside to get to all of these places. You may have to wait in line to sit in the natural hot springs on busy weekends in the northeastern part of Oregon.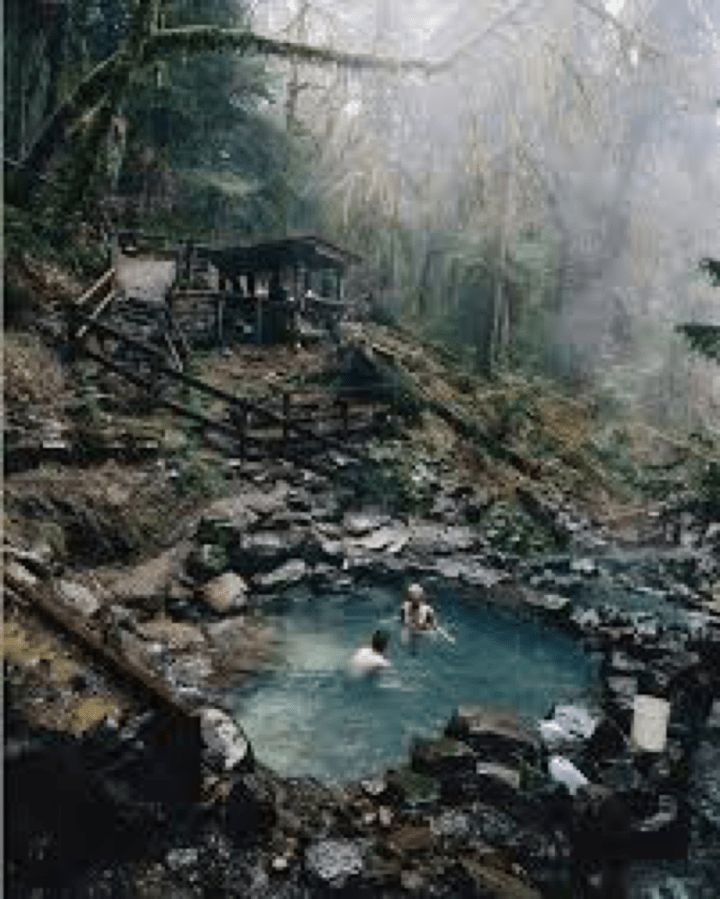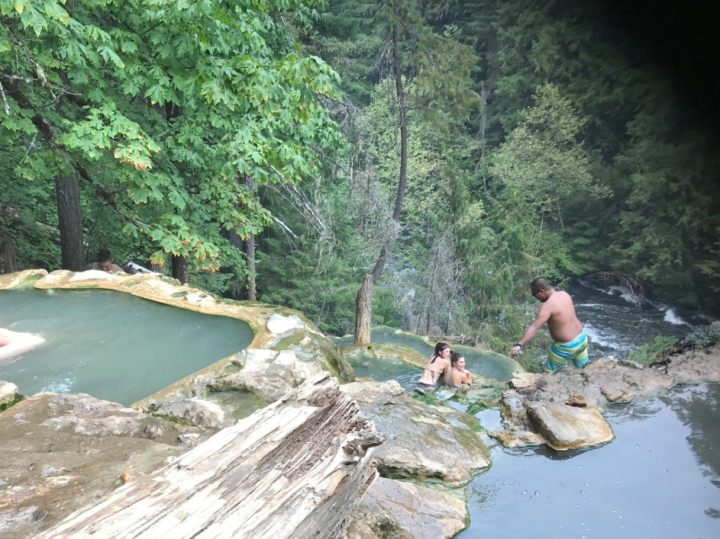 After spending time in Hot Springs of Arkansas and North Carolina and West Virginia, the Hot Springs in Oregon were something to behold. Or plan a soak in the state run resorts on the McKenzie River also in Oregon.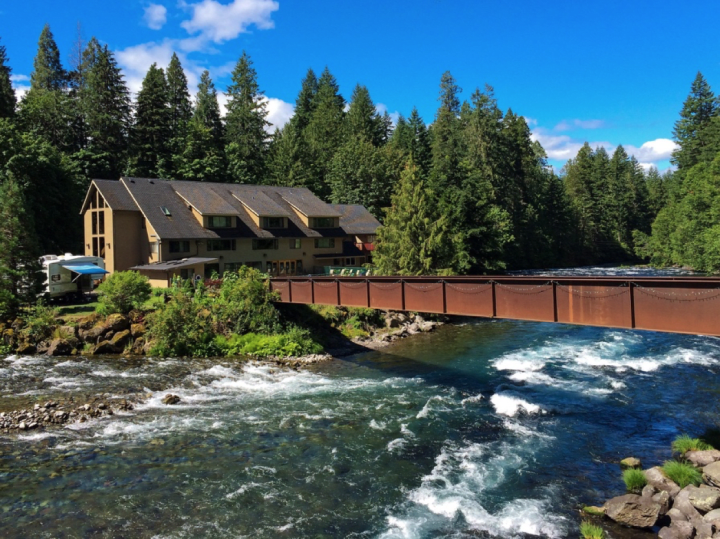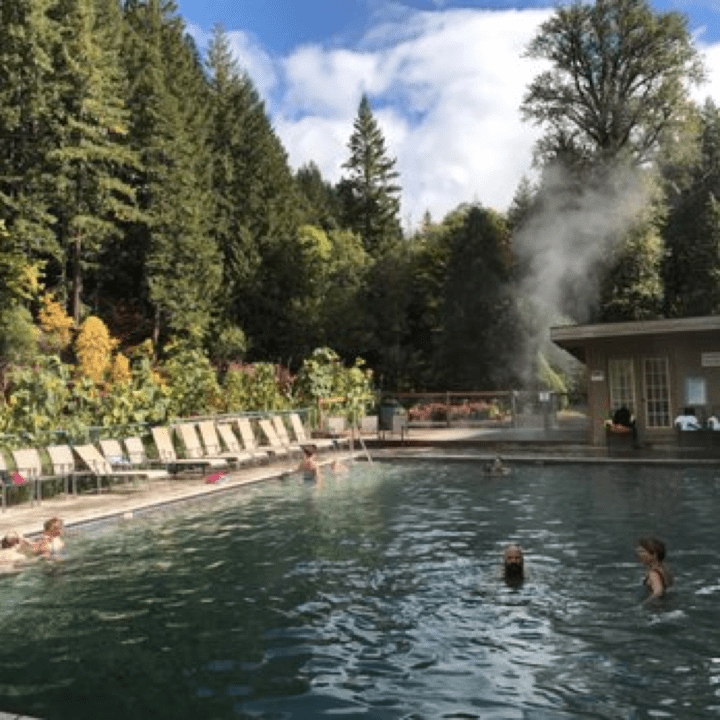 The Tamolitch Blue Pool is something out of a dream. You'll have to walk maybe one to 1.5 miles to get to what they called the Blue Pool at Tamolitch.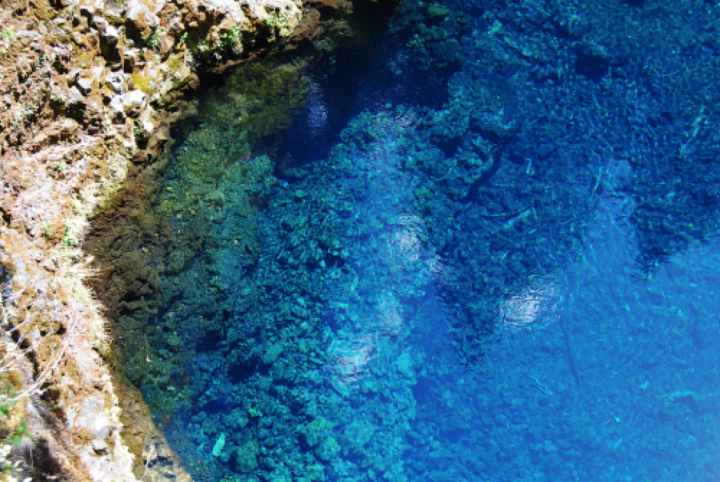 Crystal blue water at a whooping 35 degrees all year round and 30 feet deep at the center.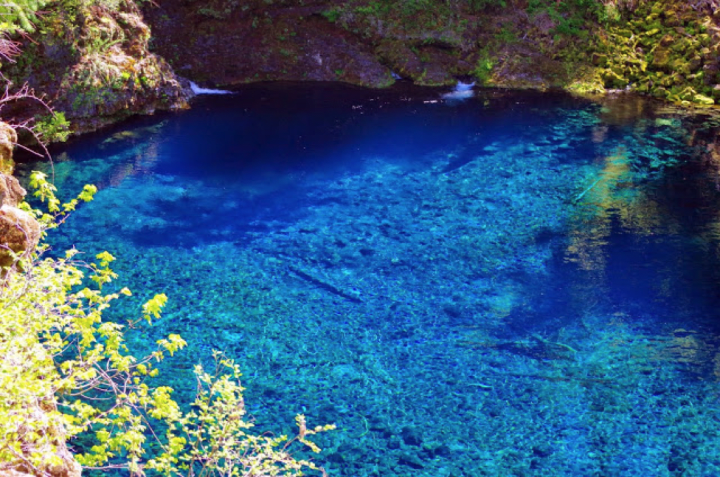 There are no pictures of me standing or diving into said water, nope not doing it! Great photo op, then get the hell on!
Chase Waterfalls… TLC May Not Have Been Completely Correct
You can't experience Oregon without experiencing a few of the 200+ waterfalls scattered throughout the state. There's the Golden Silver, Tullahoma, and Multnomah.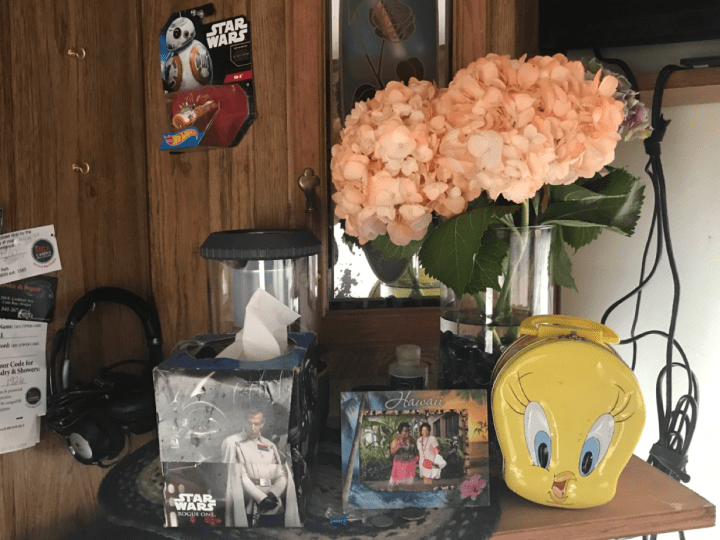 This excursion was against the advice of TLC, but so worth it! I visited Golden Silver Waterfalls at the height of a prolonged dry spell when the water levels were unexpectedly low. But, I was floored coming from the East Coast.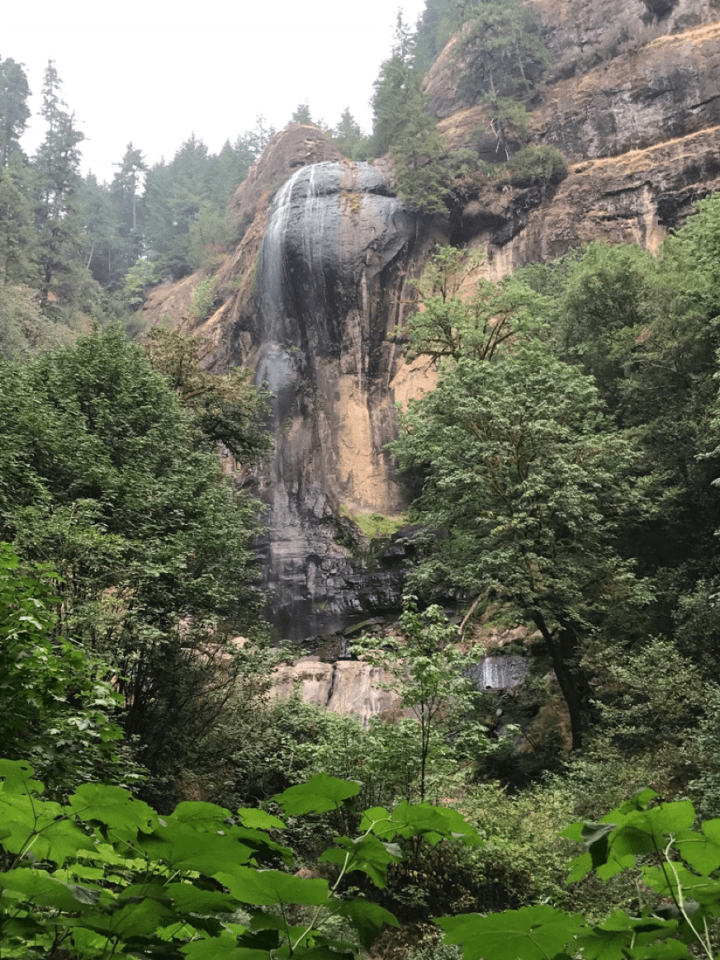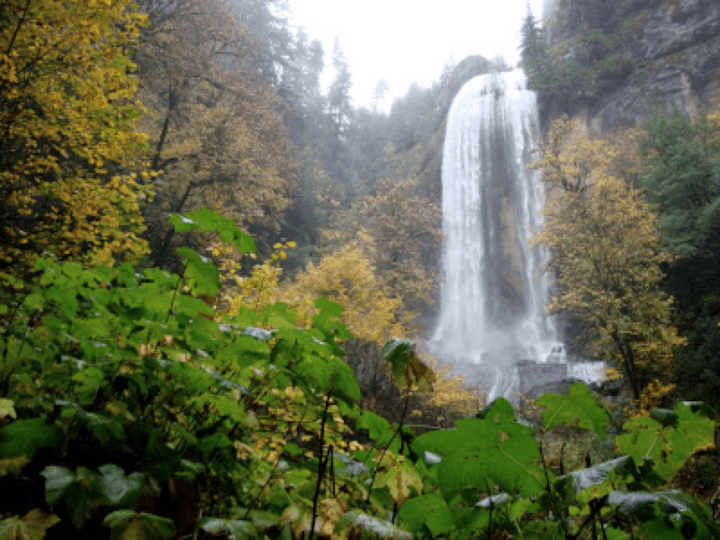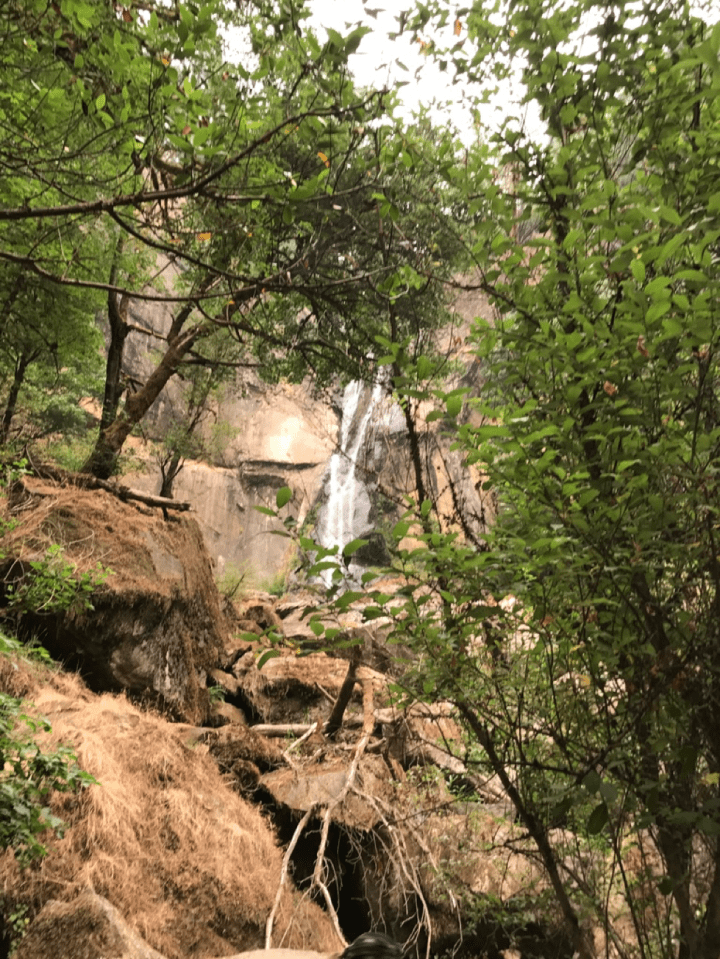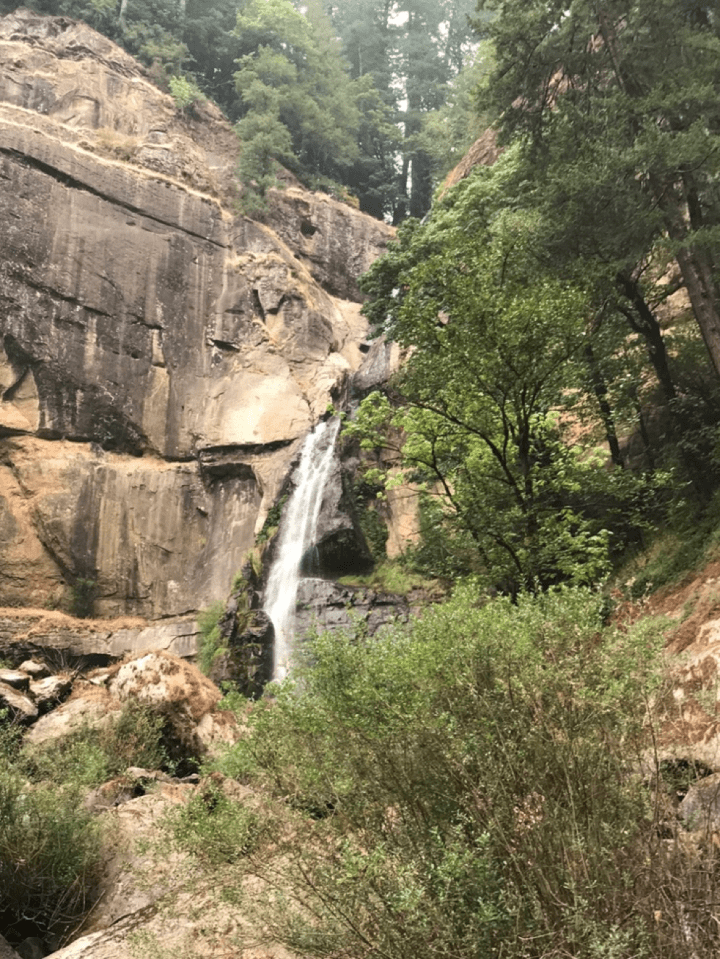 The falls here are very close to Coos Bay. And they are a short hike from the parking area, you cross creeks.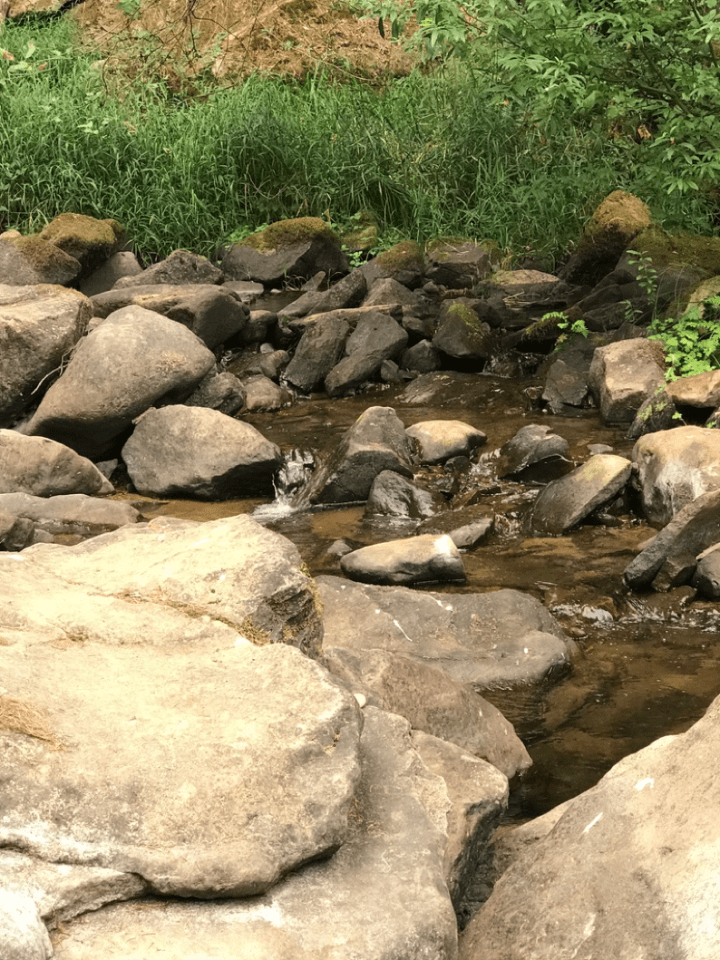 Take selfies with trees expanding your hair…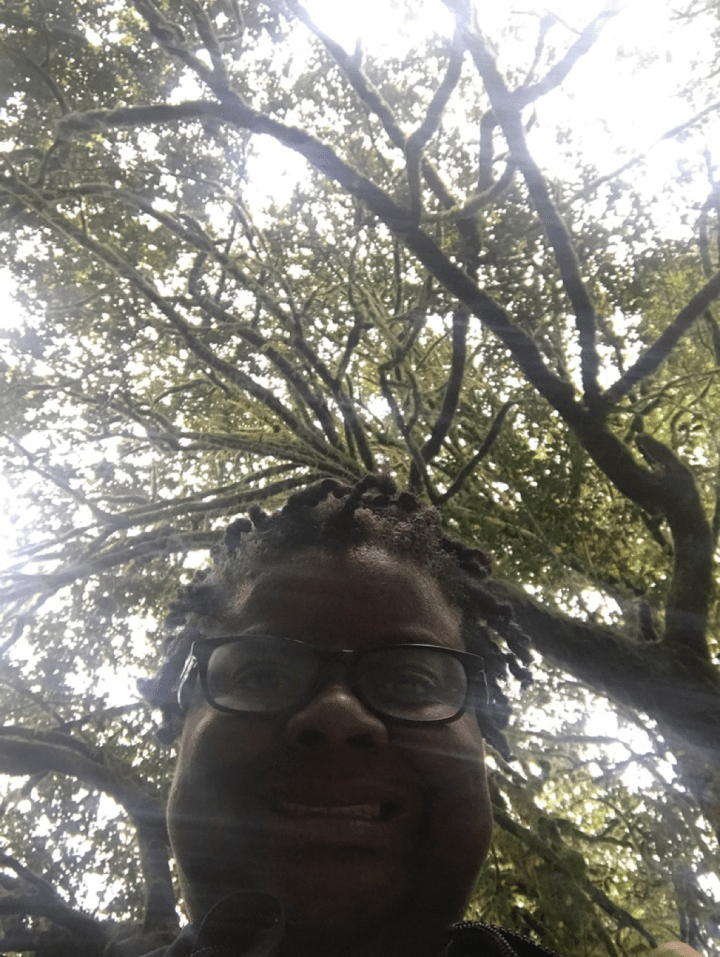 And snap amazing pictures next to streams that will become runs for salmon in October, I'm told.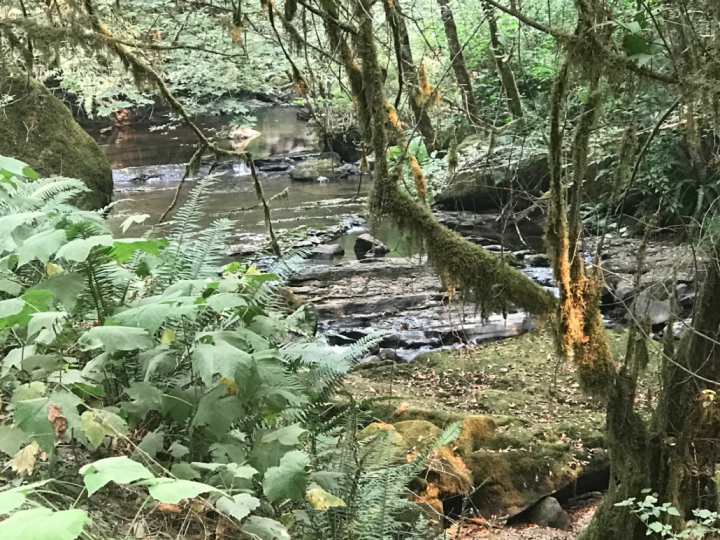 Steps Ordered
If you believe in something greater than yourself, you know or believe our experiences, our successes are more than just fate, but our steps are ordered. To a connection to more adventures ,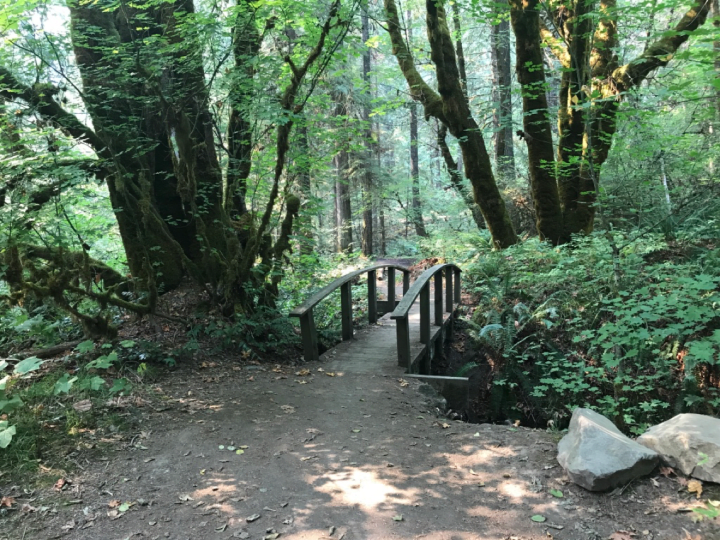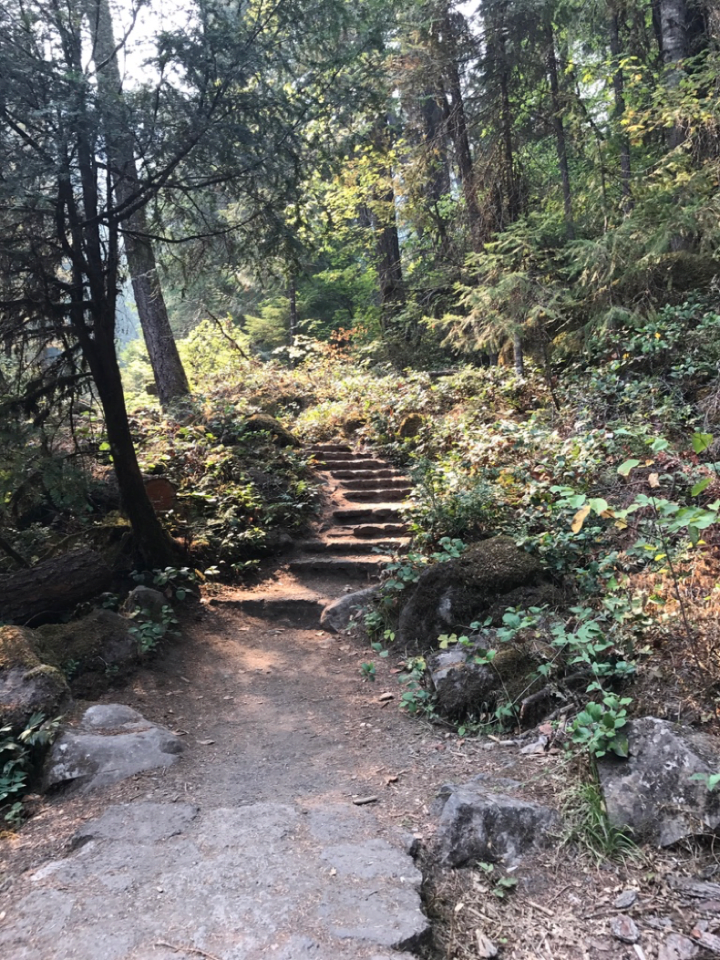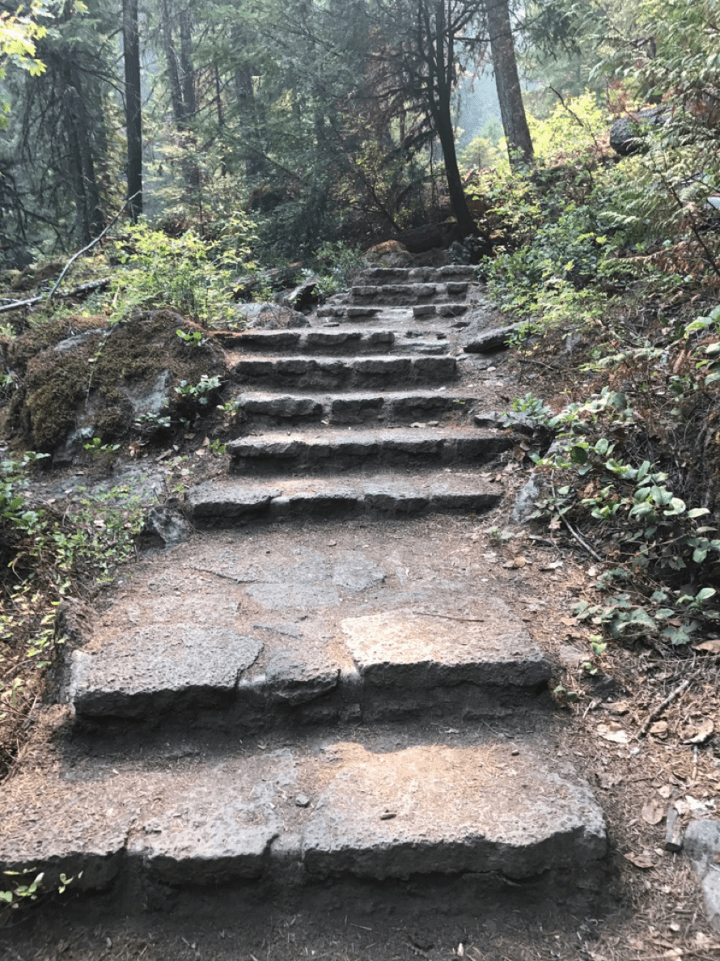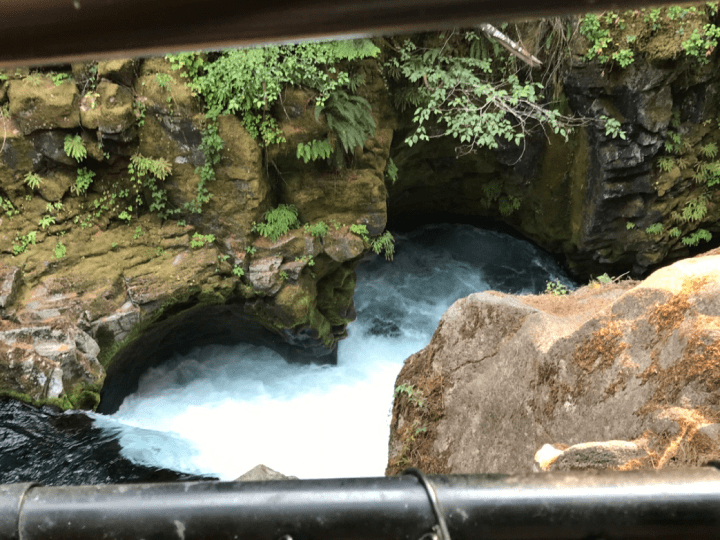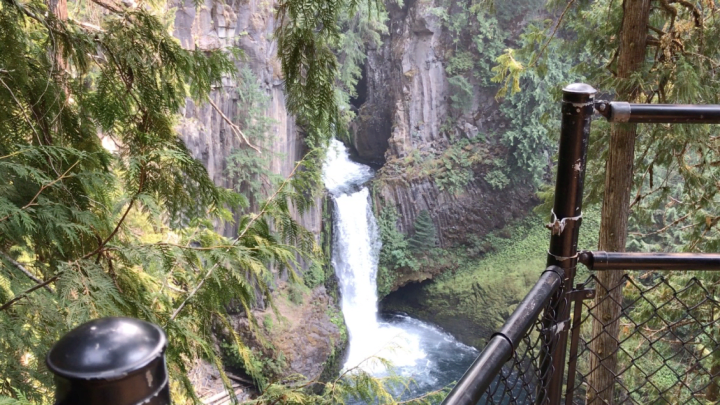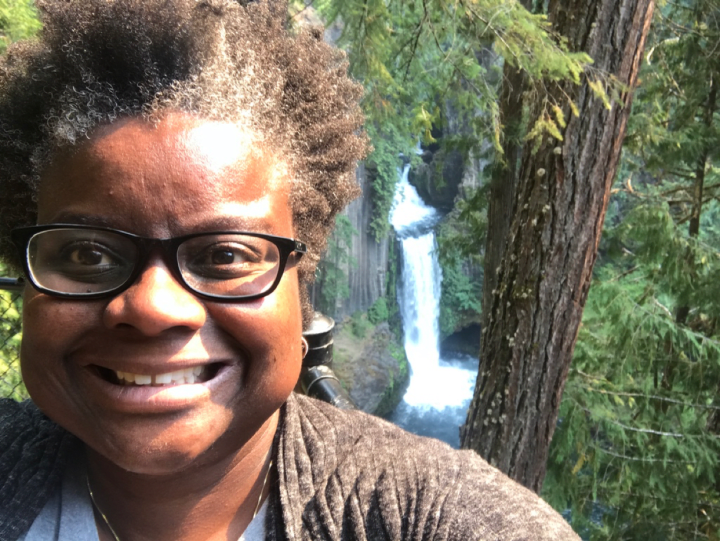 And again more selfies with trees extending my Fro.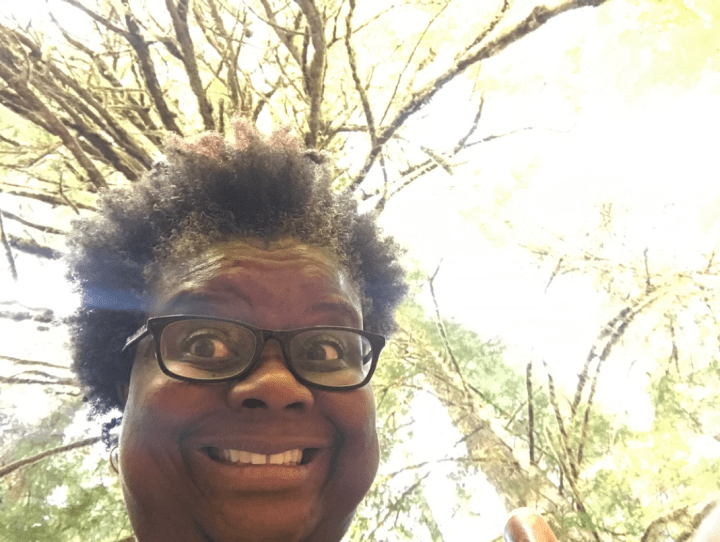 Multnomah not only was I able to experience this great wonder, I actually went old school camping, cooked out over the campfire, and I experienced this before a great fire changed this beautiful landscape and natural wonder.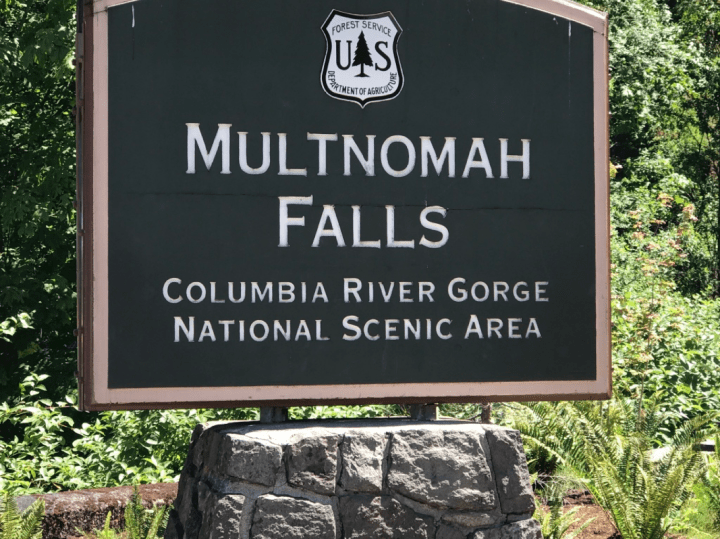 I would visited the fall just a couple of weeks prior to a some juvenile delinquents throwing bottle rockets over the side, sparking a wild fire that would shut it down for months, and threaten surrounding properties. Where were their parents?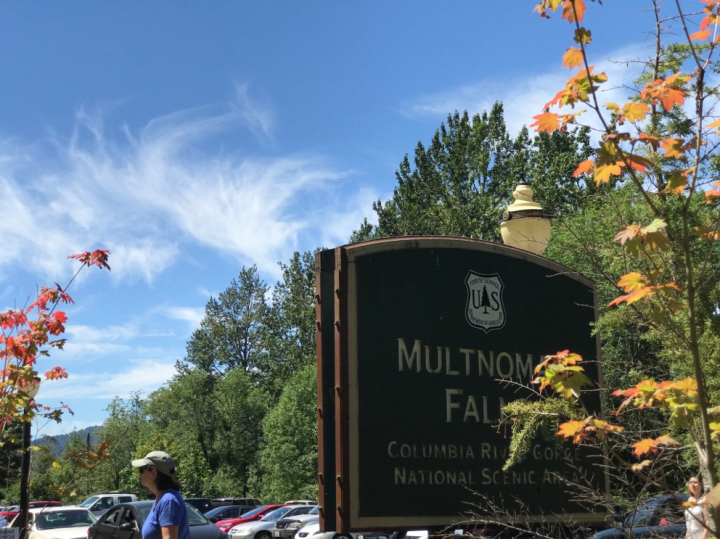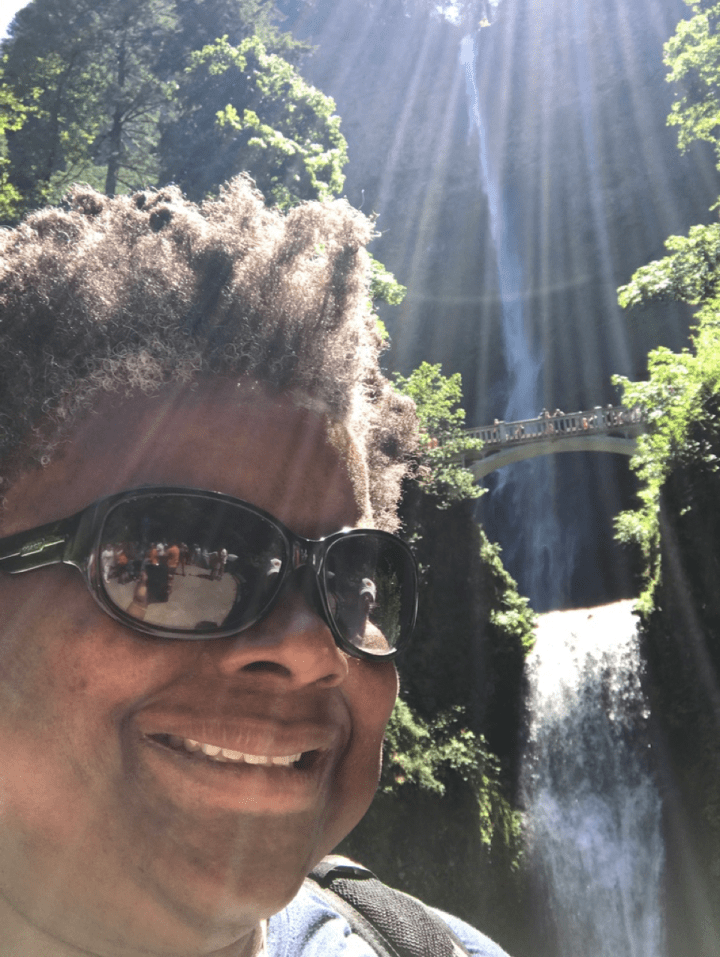 Truly magical Multnomah
One of my only tent camping experiences was actually while I visited the waterfalls over many weekends. I actually stayed up there overnight, because this was one of the many times that my 30-year-old RV was actually in the shop for something else. There is always some type of maintenance a rig this old needs.
I decided to utilize the tent that I had bought a number of years before when I camped with my dog Fred at the Cape Hatteras KOA in North Carolina.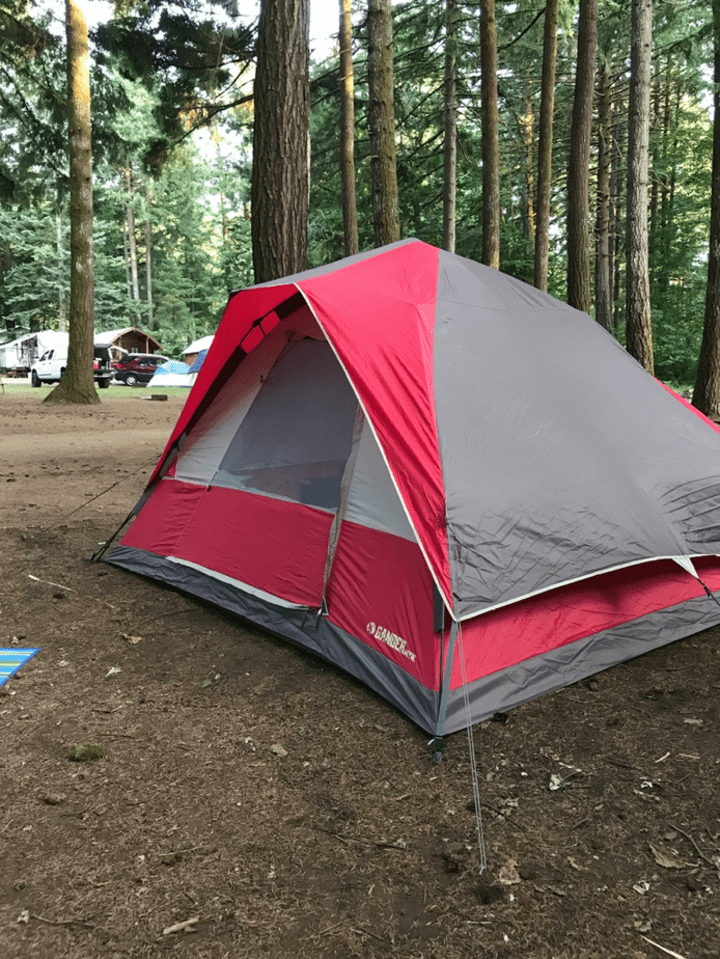 Nah girl! There was no sleeping on the ground. There was a Gander Mountain Cot padded with sleeping bags. The campgrounds in Oregon are also electrified so I had a fan and I could charge the very laptop I am typing on now. And in the morning I had my scrambled eggs seasoned with dill weed and Himalayan salt-and-pepper. I hooked up a coffee grinder to my truck, and I have fresh ground coffee cooked over the propane grill.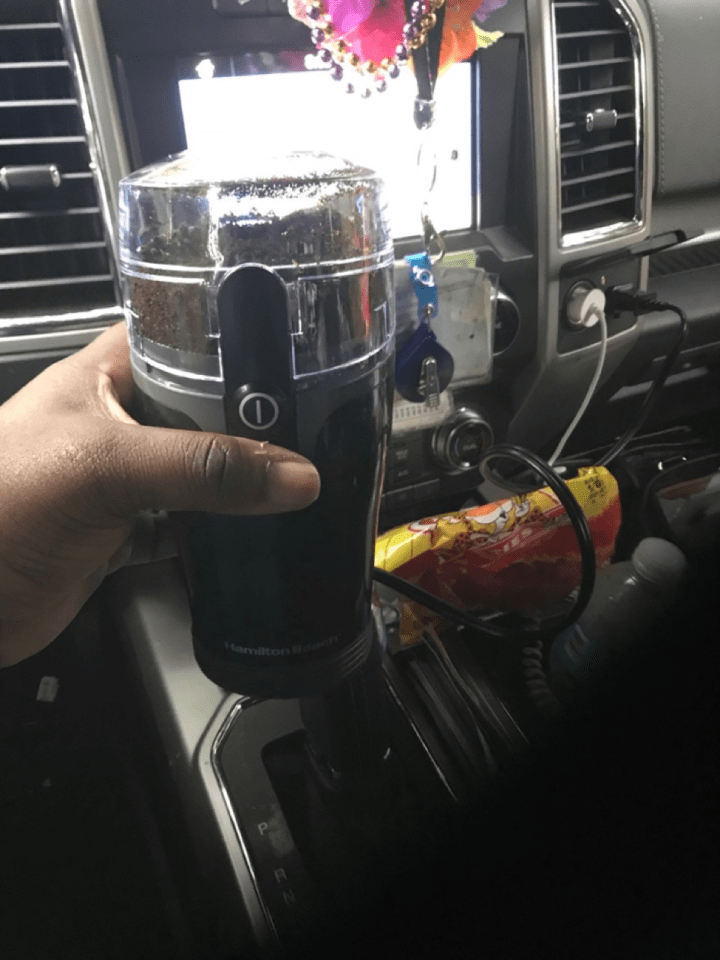 To properly Glamp, you do not sacrifice creature comforts in order to be outside. You have to conform yes to nature, be mindful of noise levels, clean up behind yourself, but there no instance where you cannot have fresh ground coffee in the morning just sayin'.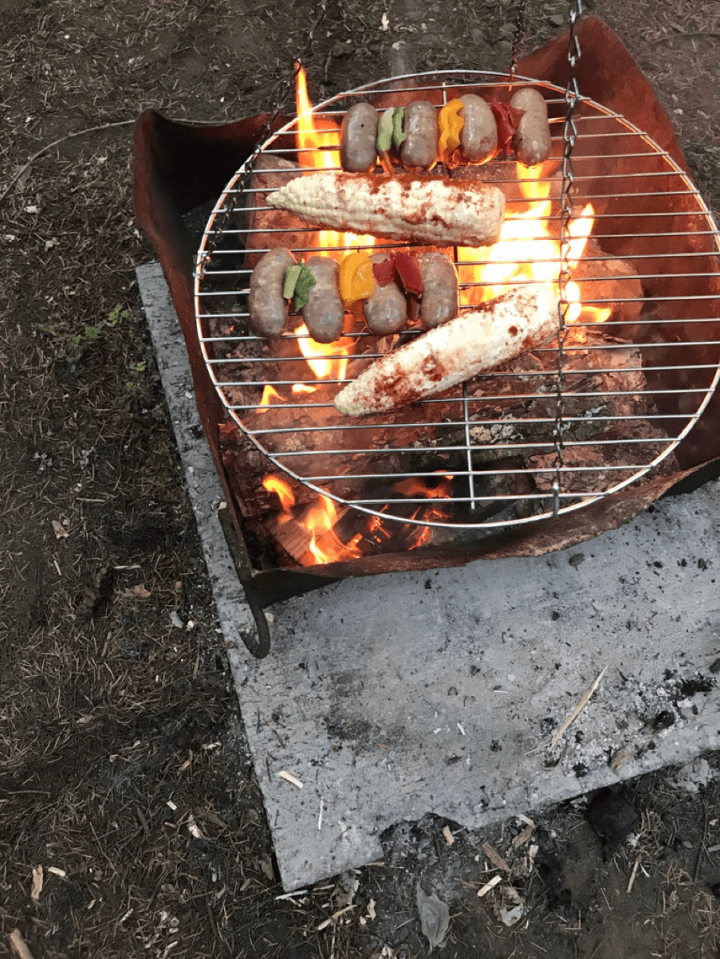 I built my campfire using wood purchased locally—transmitting parasites is a real thing—and I had an amazing fire-roasted meal with cold Michelob Ultra, for you see, I hadn't discovered the 200 wineries or the craft breweries yet.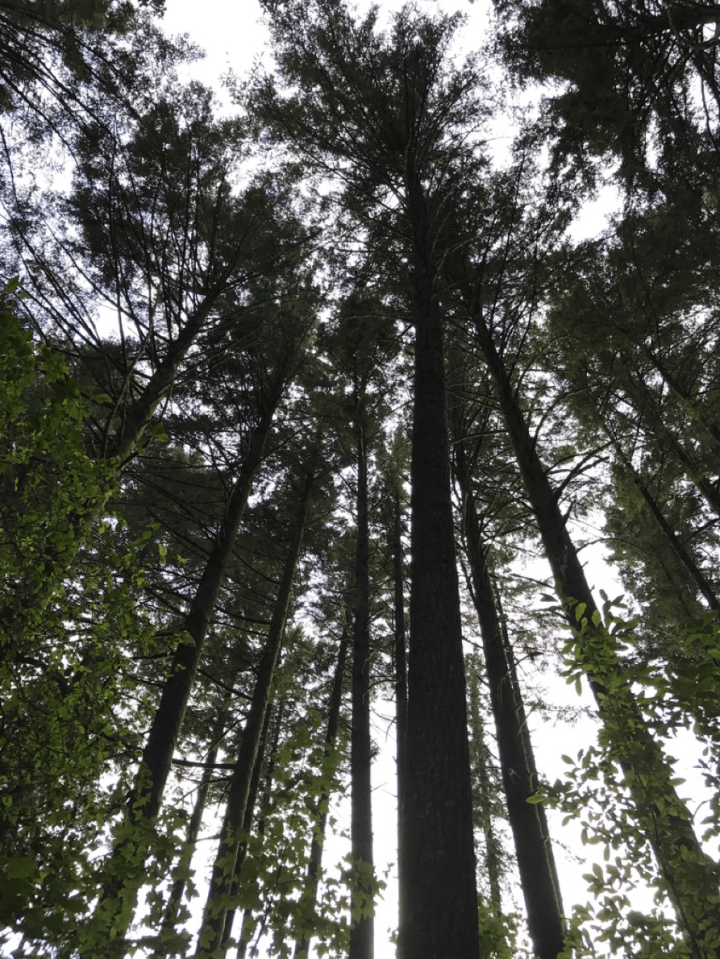 The trees are like skyscrapers in Oregon, all seem to be mini-Redwoods to me, very medieval, very mystical green canopy.
DAY AT THE BEACH
All of my walks up and down the Pacific Coast, for rock and shell collecting was nothing on par to anything I've yet experienced on the East Coast. A day at the beach in Oregon could mean fleeces and British Wellies, there were very few flip flop days.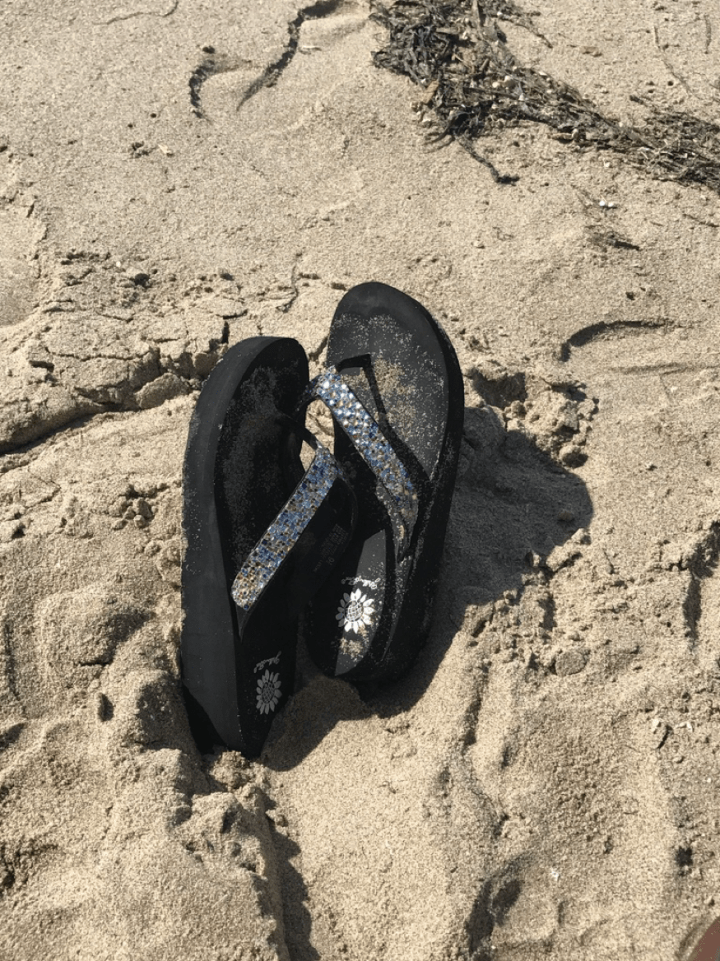 These extra layers in the summer were completely foreign to an East Coast girl from North Carolina.
So much of the Oregon Coast is untamed and seemed to be a throwback to prehistoric times. It reminds me of the wildness and the openness of Ocracoke Island, and the strip of sand near where Hatteras Lighthouse stood.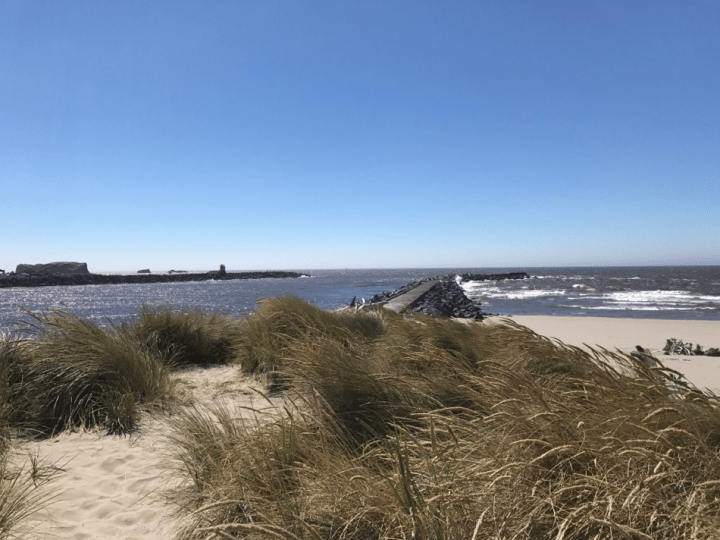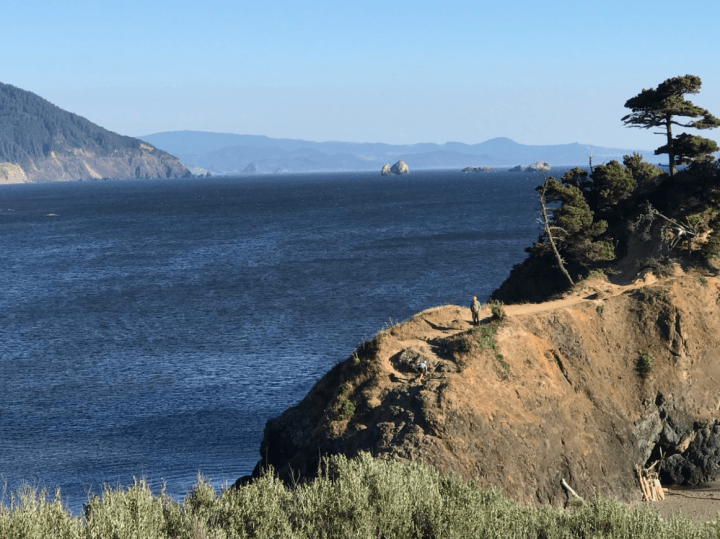 The cliffs have miles of views on a clear day.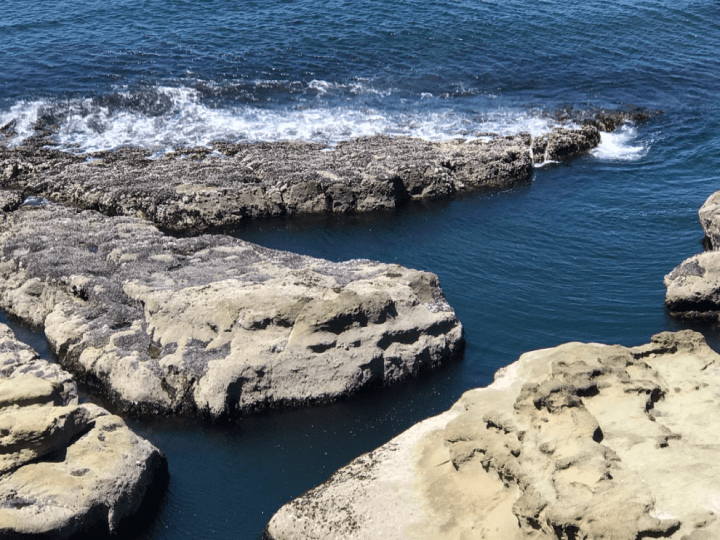 Short walks lead you to tidal pools .
You can also see seals sunning themselves on a distant rock with their honking voices carried back to you on the breeze.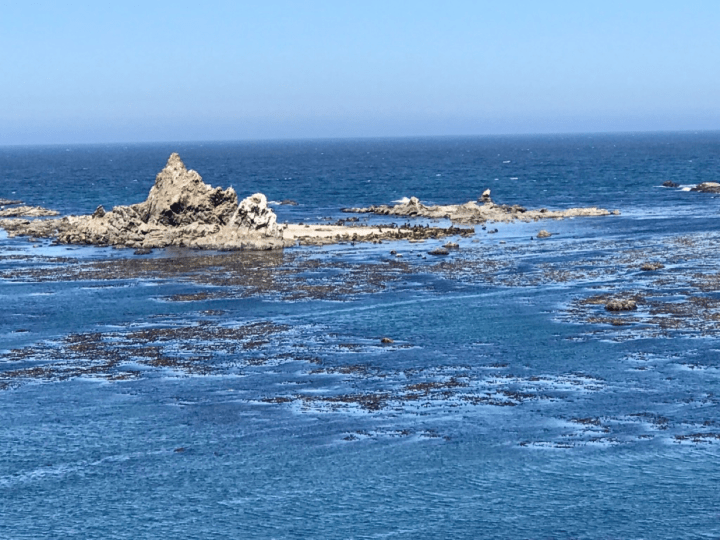 Fighting sand and wind most of the day leads to other points with beautiful views Pacific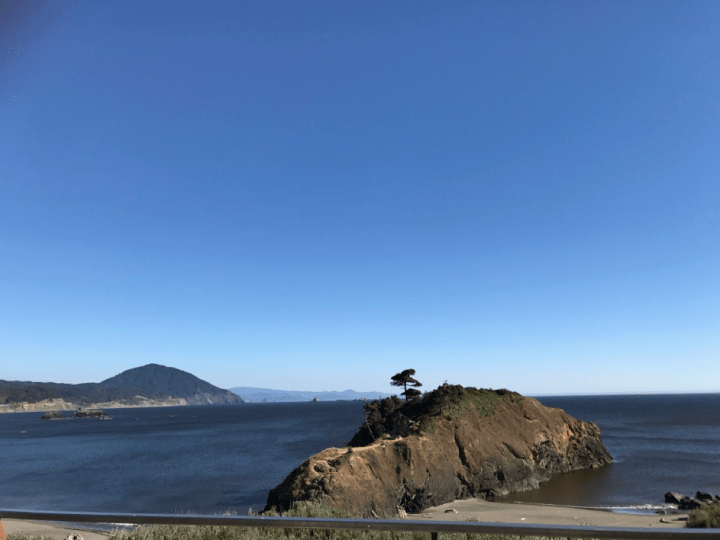 To seaside restaurants with a Oregon Viognier or Pinot Gris .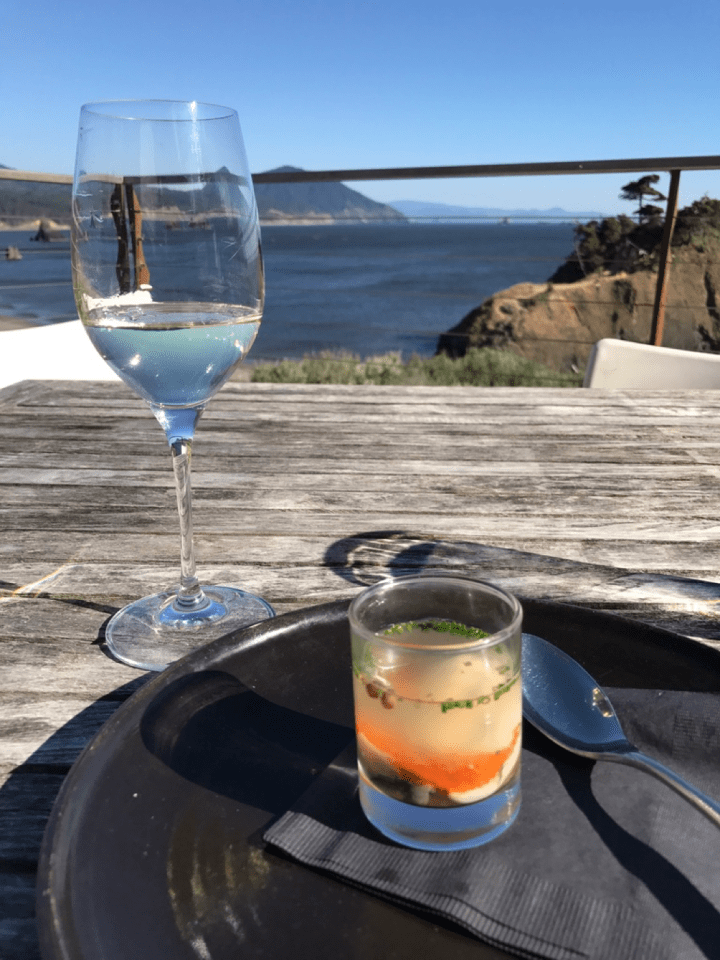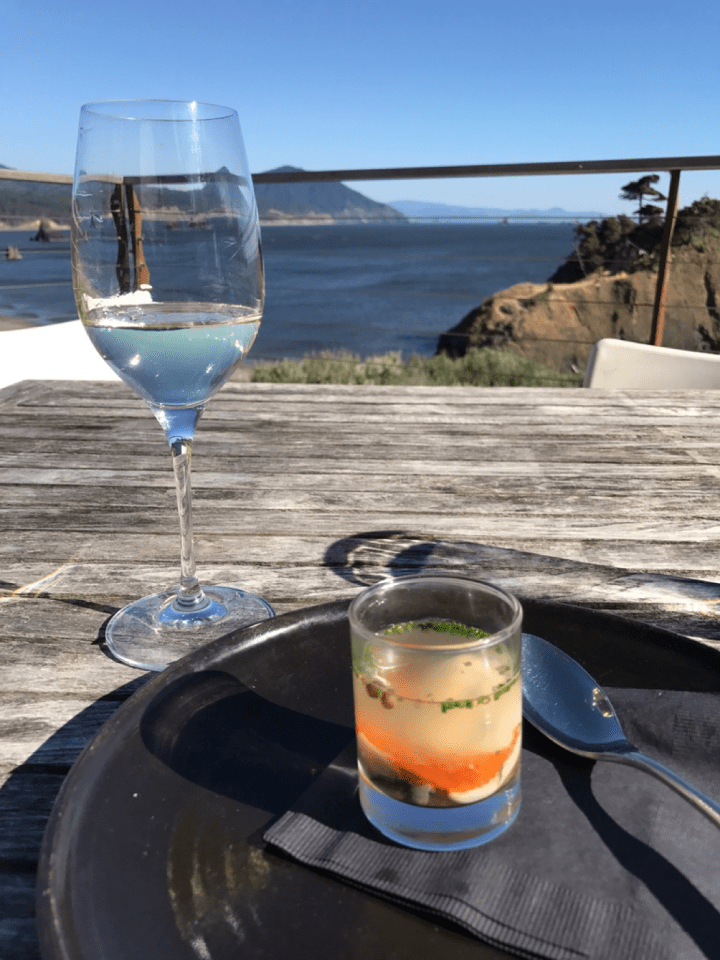 And end with the best dessert .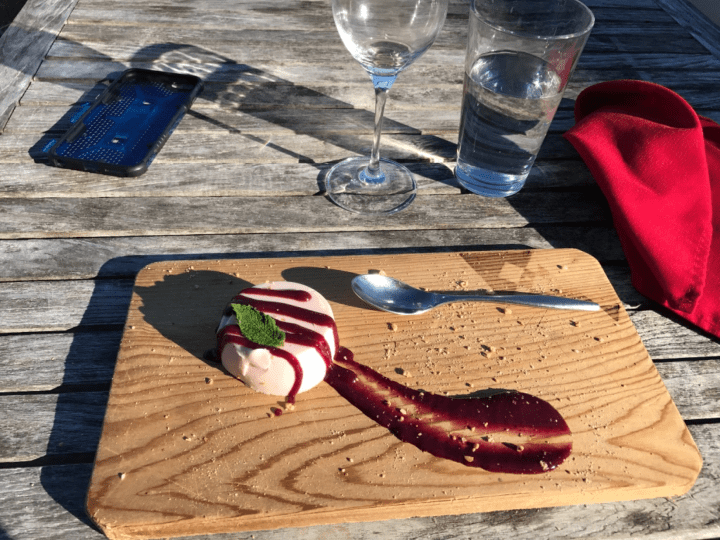 Lighthouse Passport Book
With my thing for waterfalls and lighthouses, I was determined to see as many I could see, and get my Lighthouse Passport book stamped.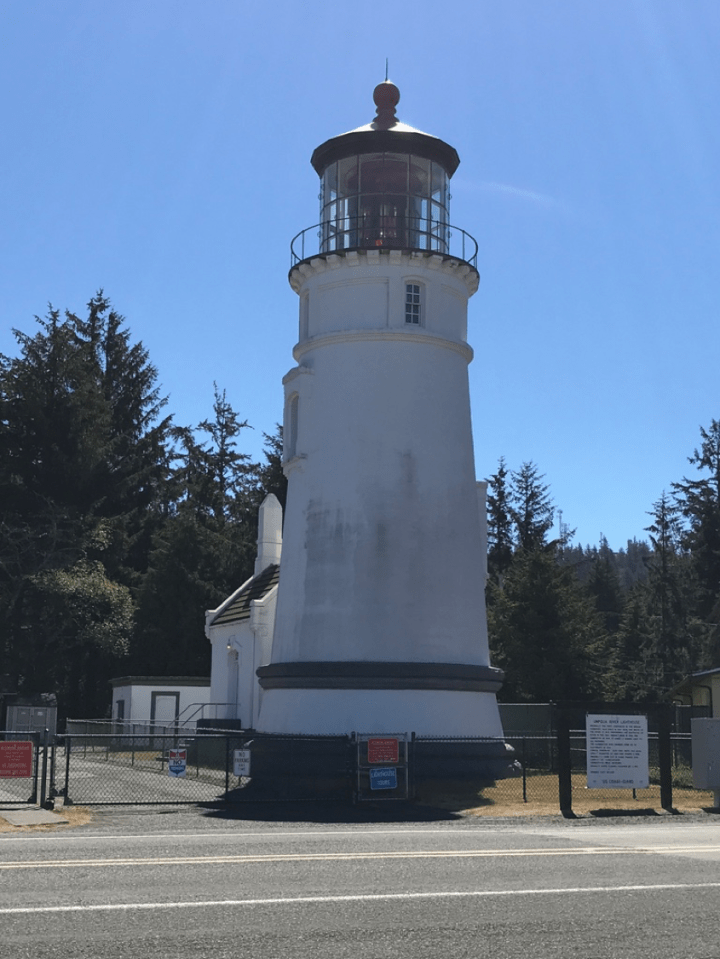 What is even more crazy is that the lighthouses also stand sentinel over the rivers in Oregon in Coquille.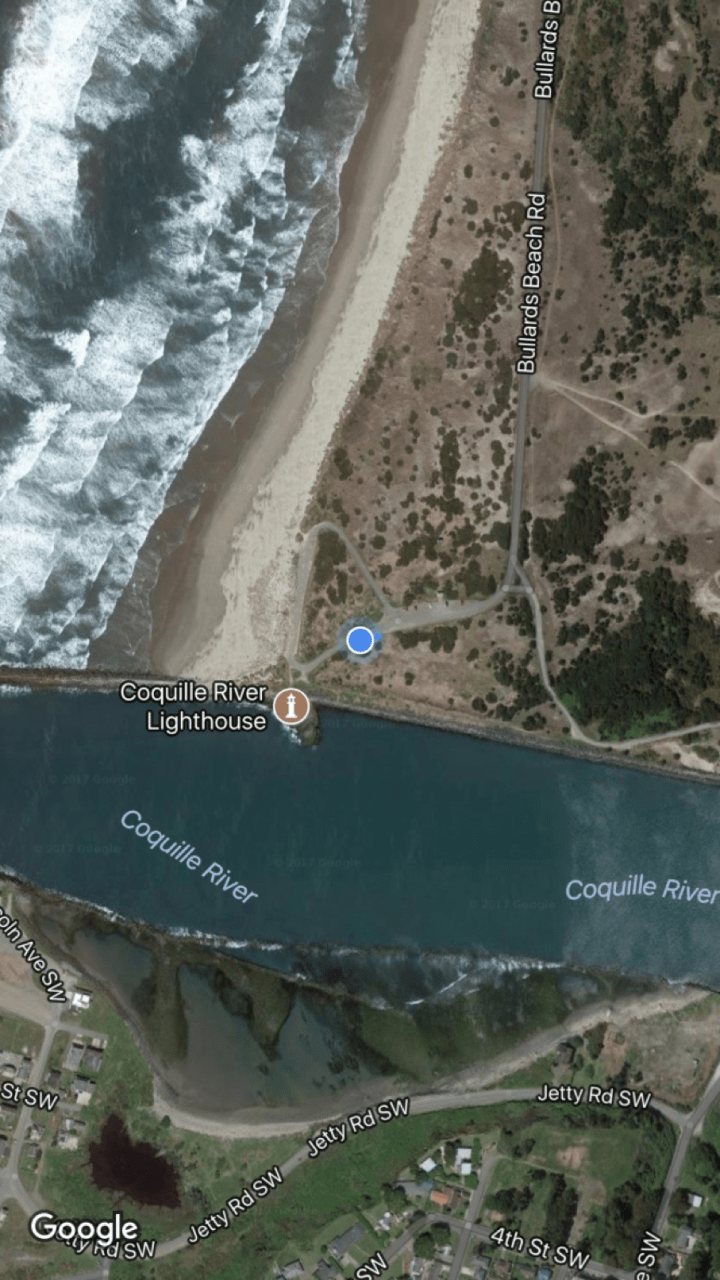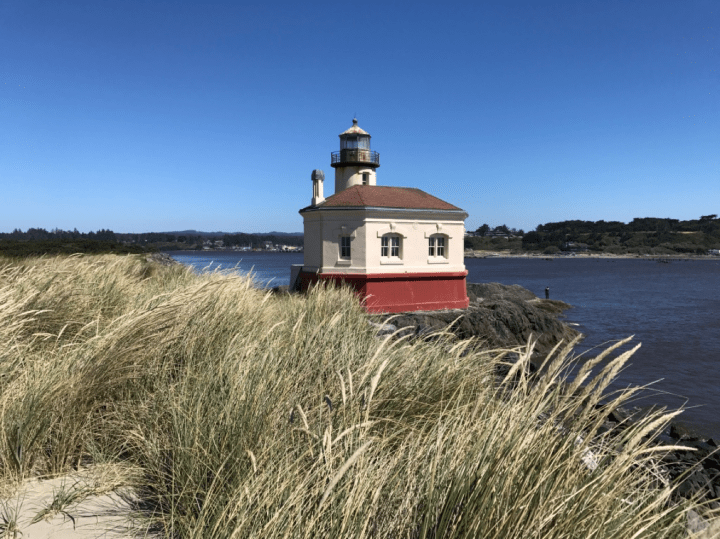 I bought my passbook here, and there is a part time Lighthouse keeper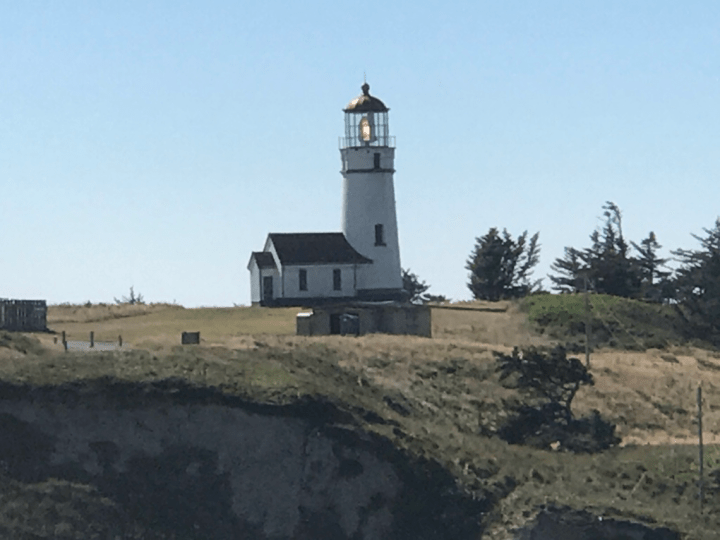 The wind off the water was very unforgiving, but it chased the fog away that would start my day. The fog was so thick you could actually see it rolling over the hills.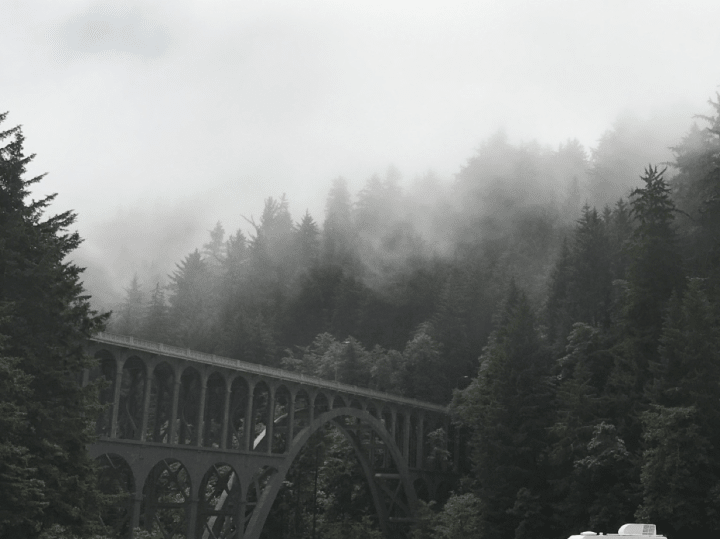 The Fog Rolling over the hills would eventually burn away to reveal Lighthouses with a clear blue Pacific backdrop.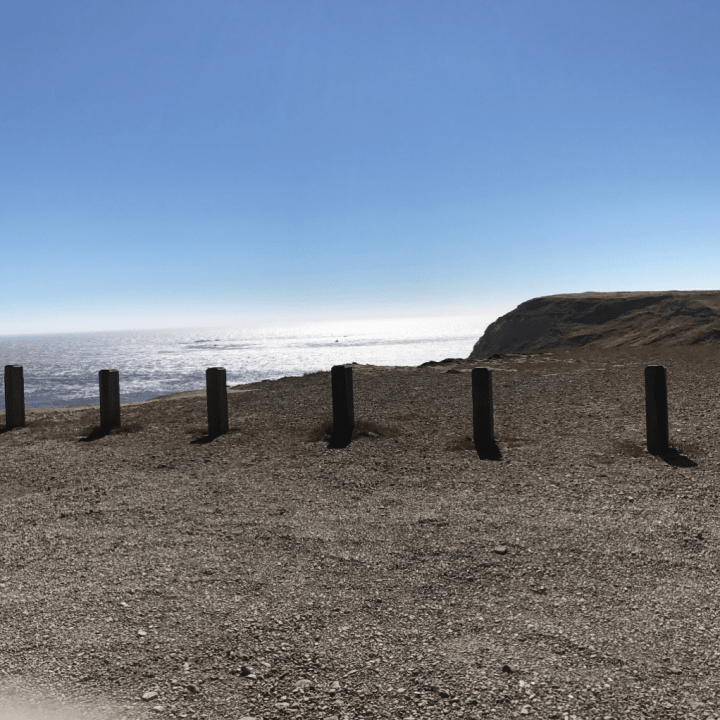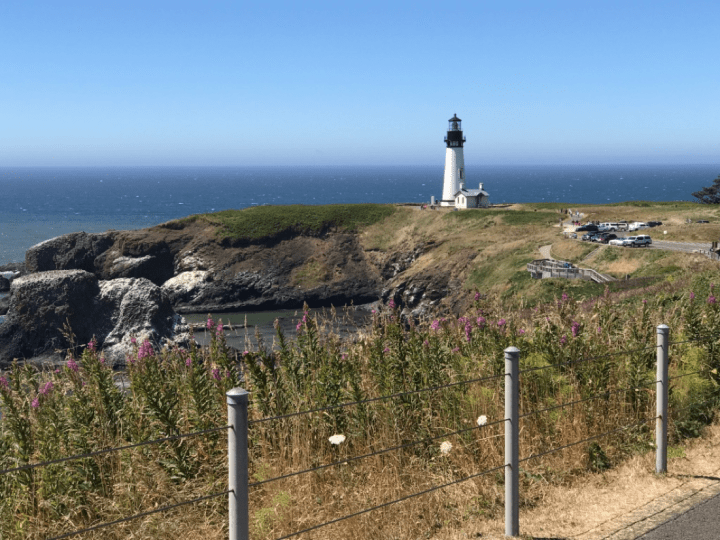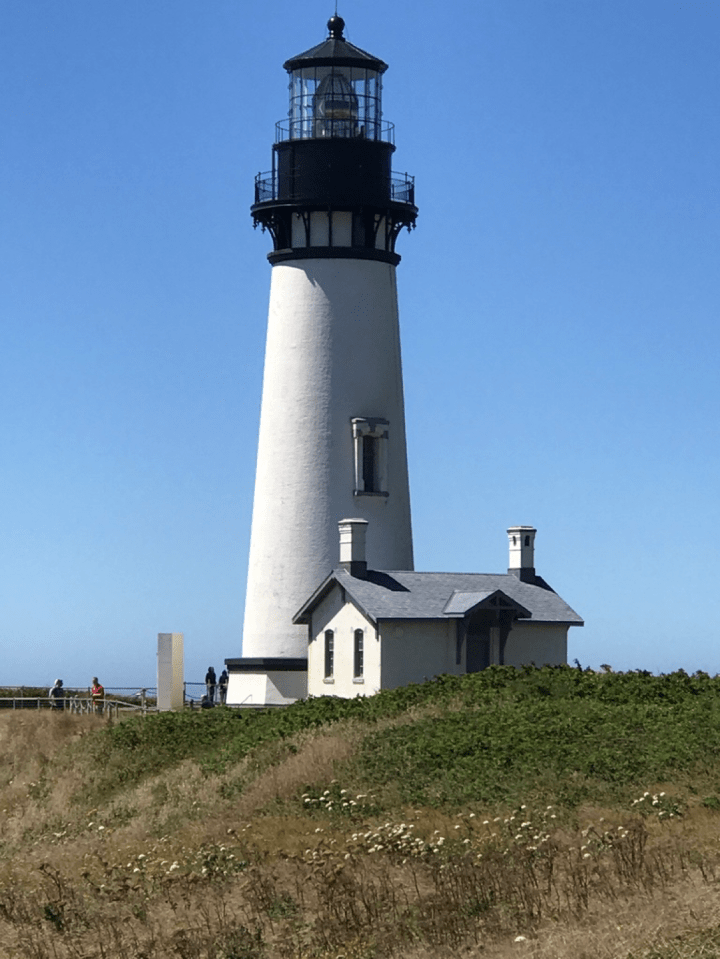 Lighthouse, Newport Oregon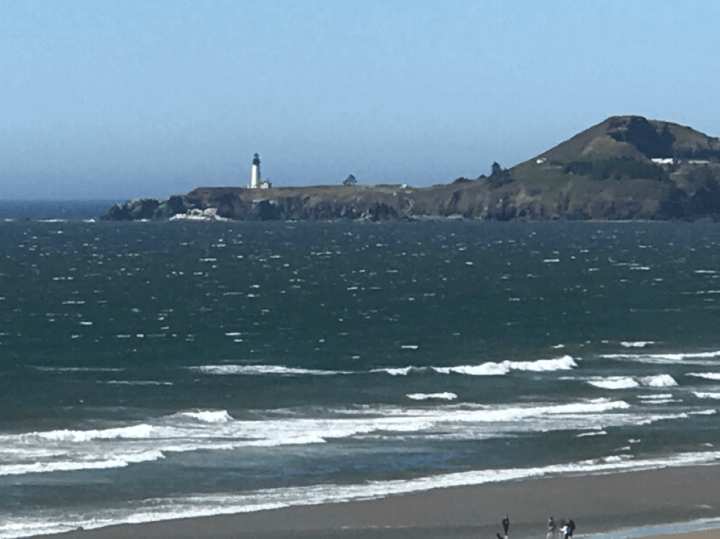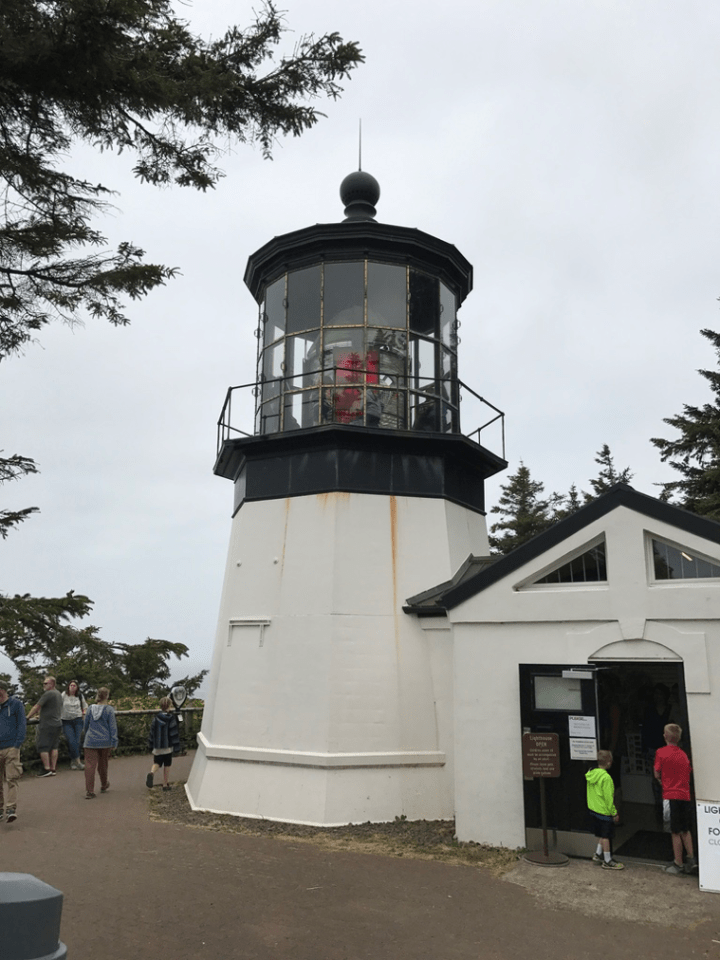 The state park system was staffed and on point most days. I really like walking the paths around Cape Meares where…
Even presumed weeds had their own beauty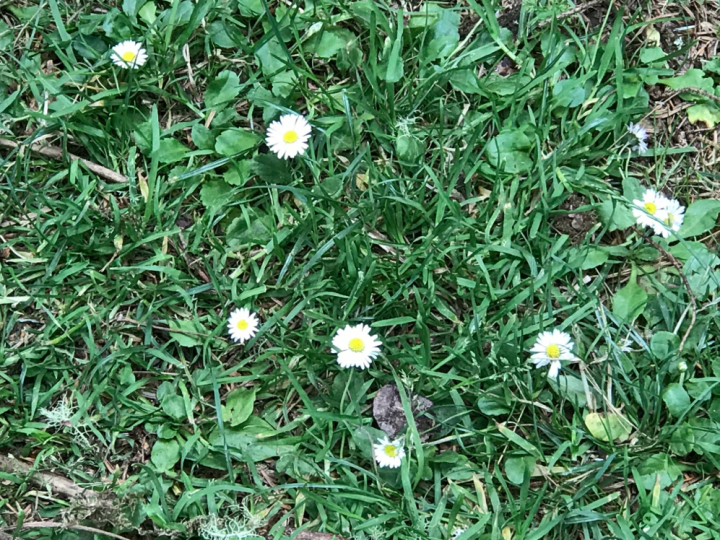 Fog had its own surreal quality, and cloaked the seaside in a veil of mystery. These places seemed to be the stuff of dreams, or the backdrops of horror movies, but they're still beautiful to me.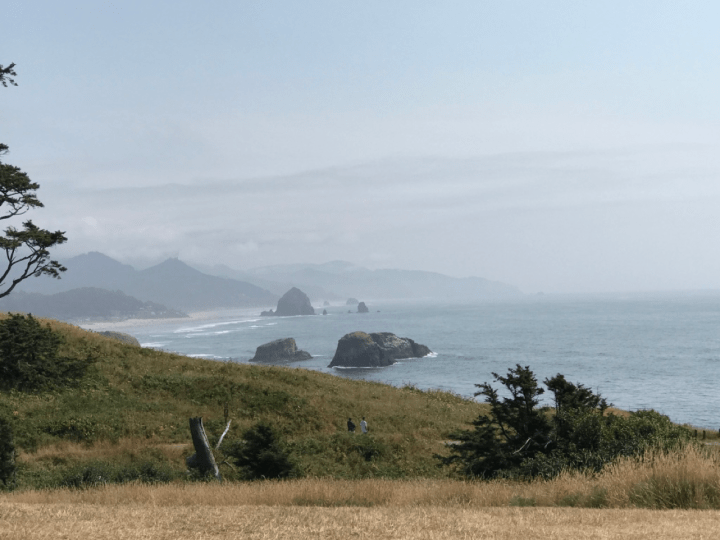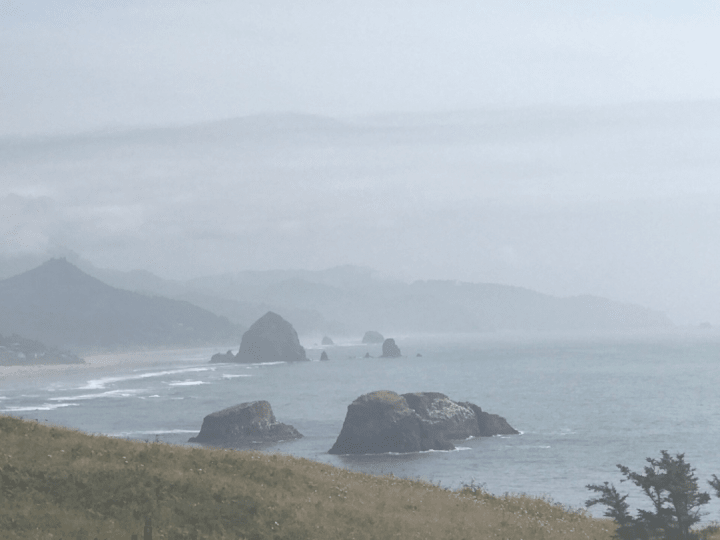 Ok start humming again the Ballad of Westward Fro…
She travels on to where ever she must
Her MacBook of silver is her badge of trust
There are campfire legends that the plainsmen sing
Of a chick with a Fro , called --- West-ward-Fro.
Felicia , Felicia, where do you roam
Felicia, Felicia, far, far from home.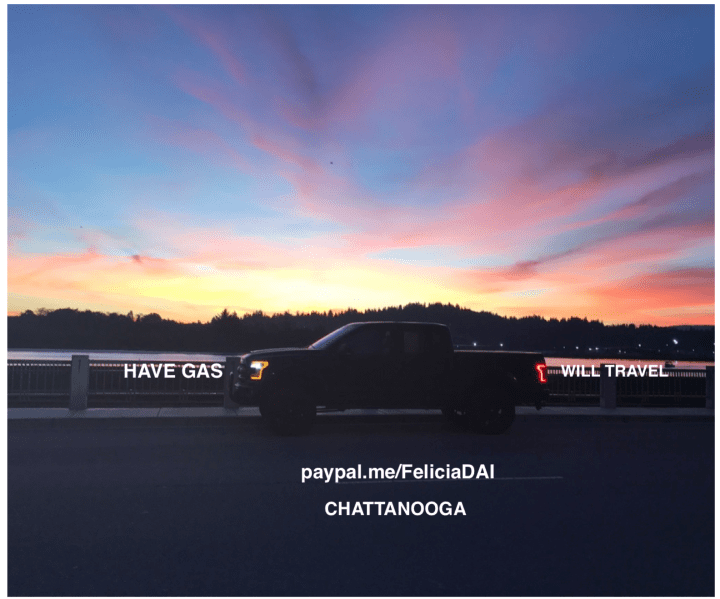 Not all of my experiences were positive, but I admit that I didn't maximize my time there. I was old and had to sleep, and I tried to work another job that required lots of uncompensated time.
I want people to know that the state is more than old white dudes wearing torn wife beaters, with straggly beards, having greasy stringy hair with a whiff of weed, and who were never hippies. And no, not everybody is a part of some hayseed militia. There is a culture and welcoming people of Oregon, you just have to take the time and be open enough to experience it. You have to learn how to entertain yourself with books and vintage vinyl. Life goes by too freaking quickly, you could blink and miss it. You have to have an openness to your spirit to accept and experience Oregon to the fullest.
Next chapter… Bridges and Wine Country of Oregon.