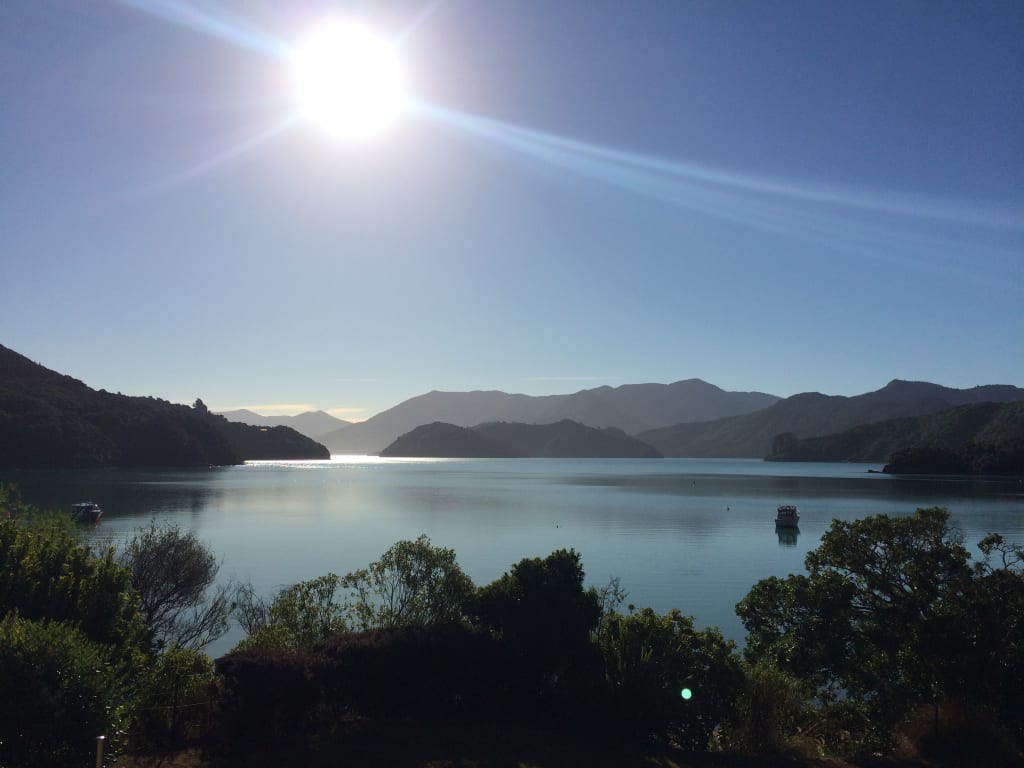 Malborough Sounds, New Zealand
I've woken with a wandering eye.
Wandering, because change is coming: unstoppable change.
Wandering, because I'm looking for something: something familiar and new.
Wandering, because I don't know how to feel: feel about myself and others.
Wandering, because it gives me sea legs: tummy like jelly.
Wandering, because I want to wonder still.
I began this year over a year ago (1 year, 1 month, and 21 days ago to be exact). I say "this year", because it was never meant to be more. But all this time has been is more: more experience, more love, more life. It hasn't been about seeing the world, although this is where the concept of travel always begins. It's been about finding homes and finding what is important, through special places and people.
I'm writing this on the brink of change, with just over a week before I return home. I know what I want to do next, but I know how others will feel about it. I'd like to think I'm independent enough by this point to follow my gut, but I also know that if I didn't consider how my family might feel, I'm not the person I want to be. I want to be kind, thoughtful, and loving, but also excited, challenged, and full of the energy that comes with the new. At times, the decision seems simple – when dreams and reality meet in the middle. But at others, the concerns of parents, the feeling that the only place I can be ambitious – and successful in those ambitions – is in my home environment, simmers to the surface.
Can't decide how you feel? Because each different mood, setting, change in the sun, makes you feel differently. This is normal and necessary, where only time can give you the answer, because whatever is, seems then the only possible and true course. For the moment, keep enjoying the swim… Dive into waters touched by rays of sun; find a peace that only you know; hold onto moments of clarity which keep the dream awake.
Part of my dream includes writing, but the biggest thing I've learnt is to keep learning, and that inspiration only comes with change and action. This means, that to find beauty and inspiration in small things – to be easily pleased - is a gift to oneself and to others. It isn't about moving to the other side of the world, but about finding that point in your everyday life where excitement and contentment link hands.
∞
I wrote this piece in December last year after twelve months in New Zealand and five weeks in the Philippines. Me and my friend Hayley were staying on Siquijor Island in a lovely little cabin by the sea. I had a few sleepless nights on that trip, worrying about where the next year would take me; worrying that my family and friends would think I loved them less because I wanted to try living somewhere new. This was the product of one of those nights, where writing became my best release.
I'm now living in Australia, after going back to the UK for Christmas. Some of these fears were realised when I went home: I hurt members of my family by trying too hard to protect myself and them; by being apologetic about my decisions and dreams, I made things worse for everyone. Of course, I still have fears about the future – about how I'm going to make a living so that I can live happy. But I only have one regret, and it's that I hurt the people I love because I was scared of doing exactly that. Last night was hours thinking about this still.
Living in a different place gives you space to realise who you are now, beyond the influence of people who've known you a lifetime. It isn't some kind of reinvention, it's simply a process of finding your own way amongst new people, and discovering what really makes you tick. These few months in Australia have been completely different again. Circumstances have meant that, for the most part, I've been living with my boyfriend's family, compared to last year where I was moving from place to place with a friend. But it's still about the people – even more so, because they've let me be part of their home, where I've grown to love and feel safe. Though we haven't had much distance with five of us living under one roof in isolation, there's still that special kind of space to be enjoyed.
I don't doubt that I'll settle permanently in one place at some time, hoping that what I've learnt from living in different places stays with me. Like I said before, it isn't all about grand adventures and foreign places, it's about trying to make sure that during the everydays, there's a little something to be remembered. Reading this again, I'm only more sure that life has time for it all.