Cerro Gordo - A Love Story
The morning finds us heading toward Cerro Gordo.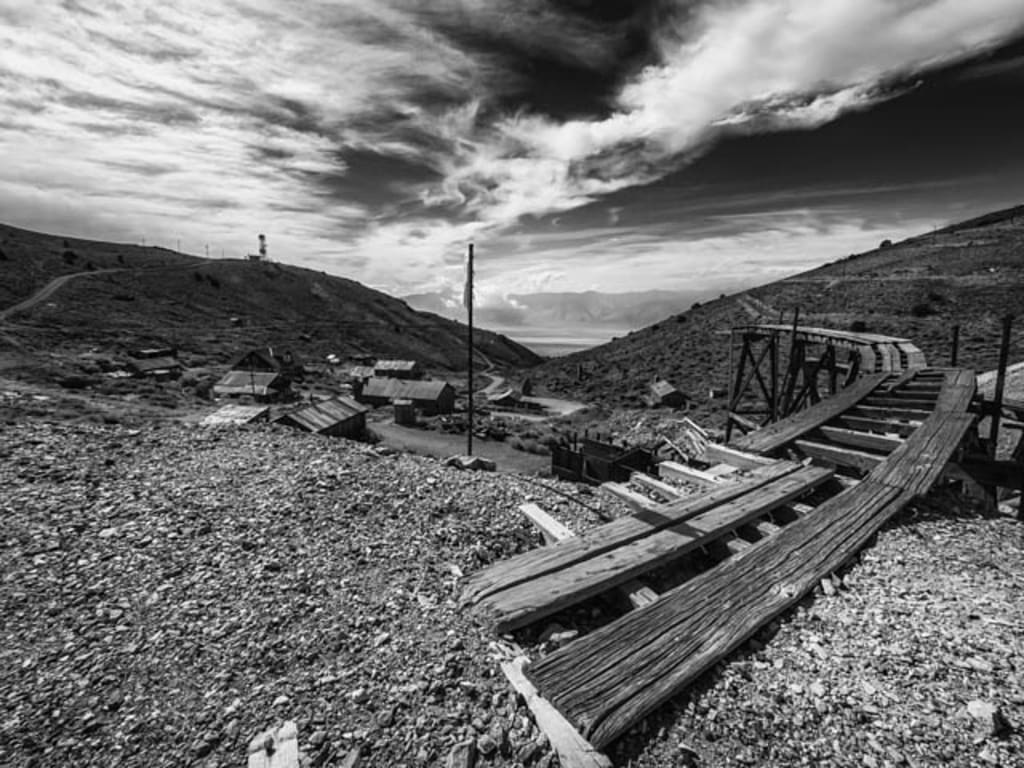 In the late 1800's, Cerro Gordo was one of the biggest producers of silver and lead. It was also one of the wildest mining towns around. Plenty of lawlessness (one murder per week) and brothels. A man's town in my opinion!
I don't know where to begin as far as the love story about the town and the two owners. The town had fallen into disrepair in the 80's. The owner contacted his niece, Jody Stewart, to help out financially by buying a portion of his share. Jody, originally from Lone Pine, had become very successful in Los Angeles. She eventually bought out her uncle and moved to Cerro Gordo in 1984 to begin the restoration process. In 1985 Mike Patterson, who had a love of the wild west, moved to Cerro Gordo to assist Jody.
A true love was born. My research shows that they were married in 1999. Unfortunately, Jody became ill and died in December 2001 from cancer. Mike continued the restoration process, even restoring one of the buildings as a chapel in Jody's honor. Mike died in September 2009.
We had obtained permission from the current owner, Sean Patterson, to go and visit. He told us the care taker would meet us and show us around. I totally fell in love with this man! His family had been in the area forever and they had even worked the mines at Cerro Gordo. The knowledge this man had of the town was absolutely amazing! His loyalty to the family, especially Jody, was very touching. His dedication to the town was impressive to say the least. He feels a need to protect the town and the heritage for the future to see. He takes no pay for this job. He's a retired teacher writing a couple of books about the local area. The stories he could tell!
To get to Cerro Gordo you have to traverse a seven mile dirt road.
The road is in amazing shape. It's all uphill. Lone Pine sits at 3727' and Cerro Gordo is at about 8500' We finally got there and the wind was howling and it was cold! We met with the care taker Robert and his sweet wife. The owner Sean, caretaker Robert, and a handful of volunteers are trying to restore it the best they can with the funds they have. They survive off donations only.
After talking with Robert, Mike and I explored and photographed to our heart's content. They have a museum of things that have been found at Cerro Gordo. I was amazed and in heaven! Mike and I both agree that we will go back and explore more. There was so much to the town that it can't be explored in one day.
Our trip to Cerro Gordo was amazing. I encourage people to research the history of the town. It is much too lengthy to put in a blog! I learned so much doing the research of Cerro Gordo and have a new appreciation for the previous owners and their dreams. I completely appreciate and respect Sean, the current owner. I know that I have pestered him with my questions but he is always sweet and provides an answer and sends me photos of what the town used to look like.
To set up a visit you can visit their website http://cerrogordo.us/.
As I mentioned, the town survives on donations only. If you happen to visit them, show your appreciation with a donation in the jar. If you can't visit and would like to make a donation you can go to http://friendsofcerrogordo.org/.
DIRECTIONS:
From the intersection of HWY 395 to HWY 136 and go east approximately 15 miles until you reach Keeler. There is a historical plaque on the left (north side of HWY 136) with information regarding Cerro Gordo. The road on most GPS's states this is Cerro Gordo Road. Follow that and it runs right into the town.