Campsite #5, Haboro: Hitchhiking with a Beekeeper
13/08/2018-14/08/2018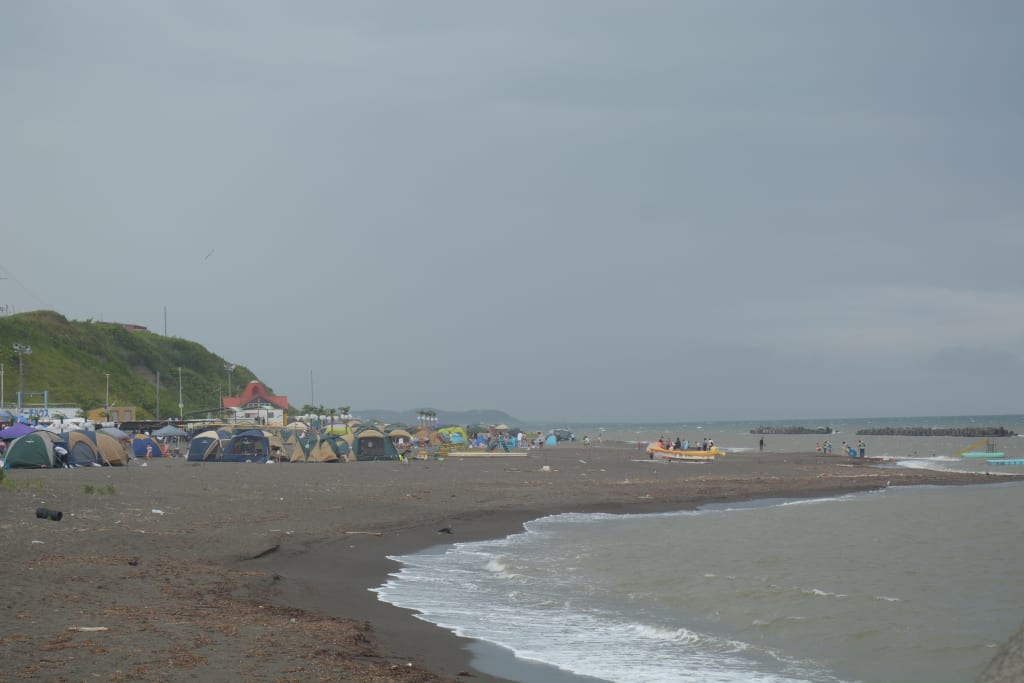 Before we get into the article, here is a link to donate to support my writing. Otherwise you can follow me on my blog or social media (links at bottom of page).
My main goal after Asahikawa was to get to the northernmost point of Japan, Wakkanai. There is a main highway connecting the two towns, and it can be driven in a few hours directly.
However, while I was camping at the Michi no eki in Asahikawa, I ended up chatting with a guy who was also staying there in his truck. I'd seen him multiple times over the days I'd spent in the town, having friendly chats with fellow campers. Naturally they were curious about the only person at the Michi no eki who was staying in a tent, rather than a vehicle, who also happened to be a gaijin (foreigner).
For those that aren't aware, gaijin are still something of an oddity in Japan, at least outside the large metropolises of Tokyo and Osaka. If you choose to come to Japan, the country where "the nail that sticks out gets hammered down," you'll get plenty of stares for looking un-Japanese.
But not to worry, you won't get "hammered down," as despite the rarity of foreigners in most parts of Japan, there's still an awareness that you exist, and you're not expected to understand, or fit into Japanese society unless you're one of them. This could be a good thing, or a bad thing, depending on how you look at it.
If you're only traveling temporarily, I'd say most of the time it is going to be a good thing. You may find it more difficult to travel discreetly, but people will often offer to help you out when you need it, and make exceptions for any silly mistakes you happen to make while trying to decipher the codes of the country.
In any case, I sure as heck wasn't being as discreet as I'd have liked while staying in Asahikawa. But in the end, this too turned out to be a good thing, as it led to a conversation with this man with the truck, who offered me a ride up north... though it was via a very different route than I'd planned to take.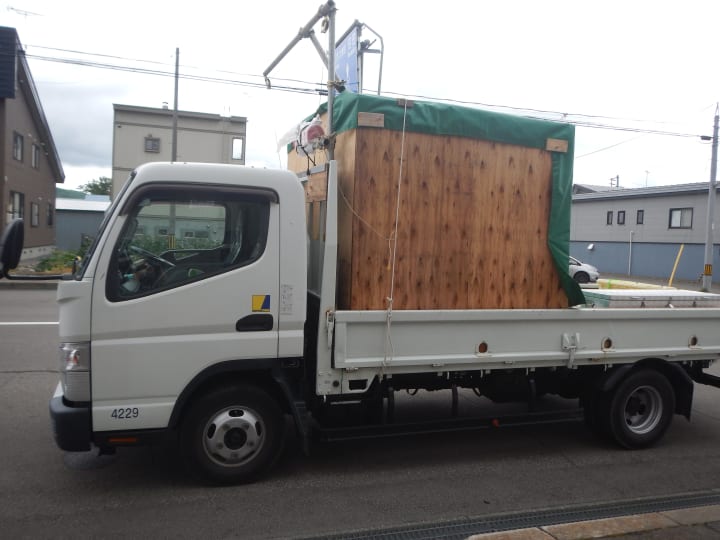 I believe this mysterious box on the back of his truck was what he used to sleep in. The man was a beekeeper, and the smaller containers you can see at the end contained his beekeeping equipment (whatever that might be).
He said he could give me a lift towards Wakkanai, but he wouldn't be taking the main highway. He had several hive locations to visit and tend to, in places called Horokanai and Haboro.
I didn't know anything about these places, but I was naturally curious, and wanted to avoid taking too common of a route. I'd thought about stopping somewhere before Wakkanai, but I didn't really know where would be a good place to go. So when this guy offered a route of his own, I was only too content to go along. I said I was in no hurry to get anywhere, and would be interested to see some different, off-the-beaten-track places.
So off we went. The guy was a great and enthusiastic conservationist, and we had no end of things to chat about, so it was quite an entertaining ride. This was only made more entertaining when he invited me to come beekeeping with him at one of our stops, a little ways before Horokanai.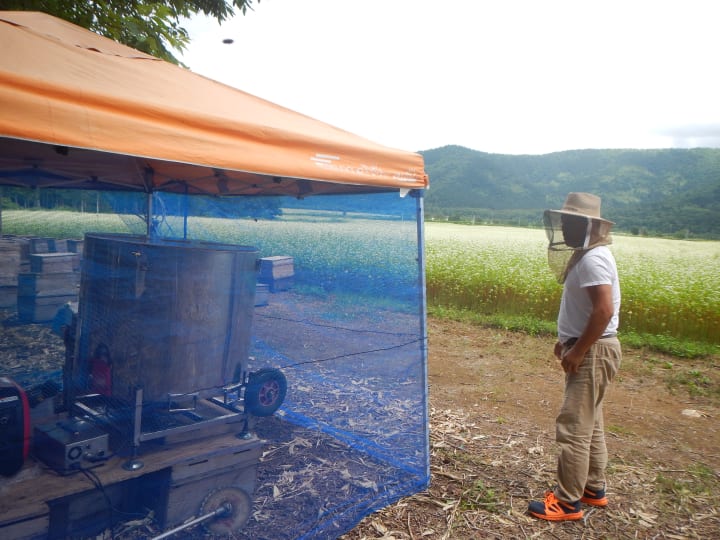 I plan to write about that in another story, so stay tuned.
From the hives we continued to Horokanai, which turned out to be a dead-looking town in the middle of nowhere. Here we discovered a ramen restaurant, which made its own special flavour, which I can only describe as Italian ramen—it was like pizza in a ramen bowl. It contained pesto, tomatoes, salami—that sort of thing. If you're familiar with ramen you'll know this is pretty wacky—the usual flavours of ramen, a Japanese noodle, are soy, miso, and salt.
Unfortunately I don't have the name of the restaurant or precise location, but Horokanai is a pretty small town, and it was somewhere along the main central road. There can't be that many ramen places around there; and if you sneakily check out the menus of each one, maybe you'll find it. If you do, let me know the name, cause I'd love to go again someday!
We stopped again briefly in Tomamae, to see a museum about the Hokkaido brown bear. Tomamae was a coastal town, as was the next one where I would make my camp: Haboro.
The man eventually dropped me in Haboro, located right on the west coast of Hokkaido. This north west area of Hokkaido seems to be little known to foreign tourists. Bordering the Japan Sea, it's not as beautiful as the Pacific sided east coast, the waters rougher and murkier.
But there's something to be said for the aesthetic of rough, choppy coastlines as well, at least in my opinion.
Something not quite so appealing was the amount of rubbish that I found on one of the local beaches, which was supposedly the most popular one. This was a reminder that the mostly clean, deserted beaches back home were not to be taken for granted. I'd hate to see what might become of them if we had a population the size of Japan's.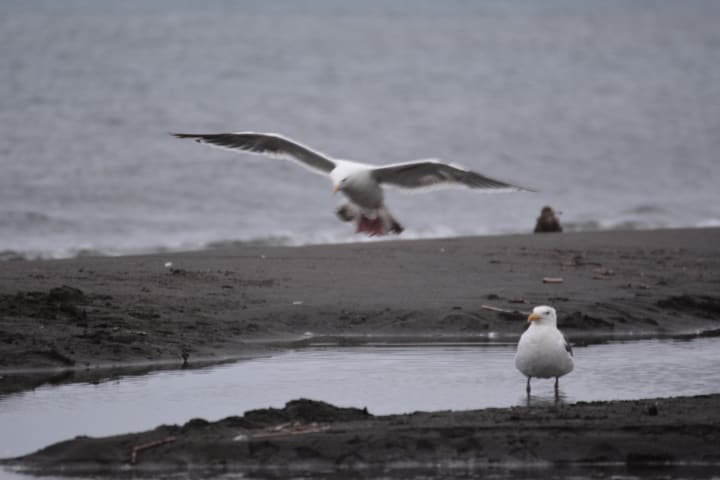 The beach close to where I camped was a bit nicer. The sand was grey with iron, there were rocky outcrops, and a cool wind sliced through the air. There was an official camping ground here, stretching from the grass nearby right onto the sand. And it was packed (as you can see in the featured photo up top). Foreign tourists might not be drawn to these spots, but it seems plenty of Japanese people were. They were mostly families from what I could tell, parents making fires in their enclosed barbecues, and kids running wild on the beach, or swimming. I was tempted to go for a swim myself, but in the end I didn't.
I wanted to avoid camping in these packed conditions if possible, so I ended up pitching farther away, not within the official grounds, but on the other side of the Michi no eki building, in a quiet, enclosed grass area that was out of plain sight.
This worked well and was much like camping at the Michi no eki in Asahikawa. I had all the same facilities close by, and as others also stayed there, it wasn't going to be a problem to camp there.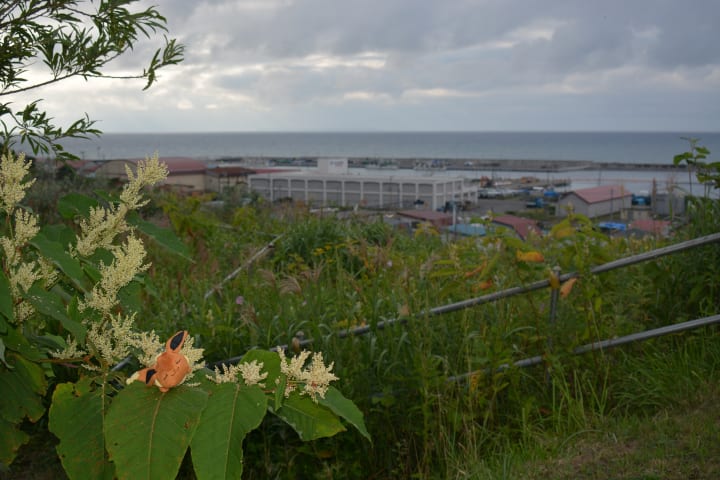 This was my view.
There was also a nice onsen (hot spring) by the Michi no eki, so I enjoyed a good soak before making my way onwards to Wakkanai the following day.
About the Creator
Read my articles or tip to support!
Blogger, Writer ✍️・Wildlife photographer, Bear Conservationist 💚・Adamant traveler ✈️・ Hiking, Camping・Getting amongst this crazy world 🌍elisooker.wordpress.com
Reader insights
Be the first to share your insights about this piece.
Add your insights