Boat Dwelling, A New Lifestyle Rather Than Just a Place to Live
(And in the Process, it Will Simplify Your Life.)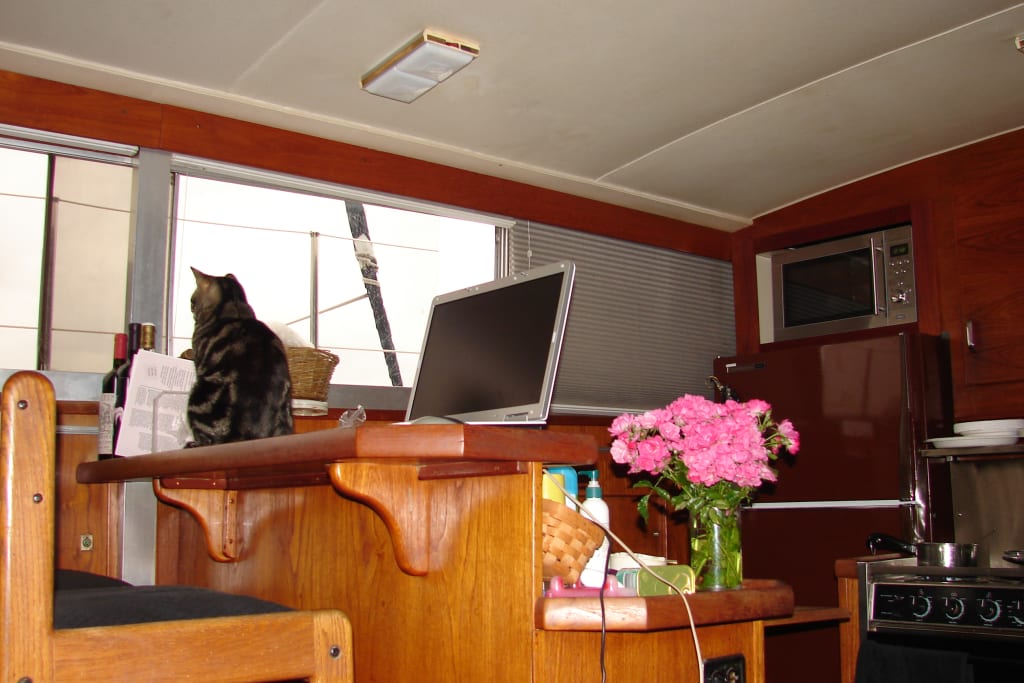 Facing the current challenges, more people are seeking ways of simplifying. Simpler living is beyond just living with less. It can stimulate creativity in how you live and expand your enjoyment of life.
Thirty years ago, my husband and I and moved from a 2500 sq ft tri-level to a 42' X 15' powerboat. Our move onboard wasn't made to simplify our lives - but it did. We had fallen in love with the boating lifestyle. When life around the dock began to appeal more than life in our suburban neighborhood, we made the transition. Beyond changing the view from our windows, our cost of living and demands on our time diminished.
The comprehensive book on simple living, Simple Living Guide by Janet Luhrs, can open your mind to all kinds of alternative living options that you might never have considered. Over the years, given the lifestyle I've chosen, I've made other changes toward simplicity I may never have considered in a suburban neighborhood. They were not done consciously to live more cheaply and, in fact, they have made life more interesting.
Bartering - Why Not?
Bartering always seemed like a New Age or hippie thing to do. Then I stopped to consider, I've got great skills sought by others and I have needs for which I don't have the skills, why was I hesitant to make a trade? With Internet sites like Craigslist.com, or neighborhood sites, it is easier to connect with others. For my first foyer into bartering, I created a professional business brochure for someone in trade for maintenance on an outboard motor. We have successfully offered psychotherapy sessions for website development and for some boat maintenance. These were win-win opportunities.
Estate Sales for Shopping Fun
Love to shop? Why not enjoy the "shopping experience" estate sales offer? You won't believe the prices. Estate sales were never on my radar. A dock-side friend invited me along one day, though, and I found they are fun.
Walking through the homes, you never know what you will encounter and it's all for sale at very, very reasonable prices. Currently most estate sales are held virtually but browsing is fun and the lower prices for things are a benefit. Google estate sale companies and get on their mailing lists. I replace things I have with better things. My "finds" have enhanced my creativity. I have unusual items like a pair of bronze herons on my coffee table and a wicker chair on my back deck that I never would have considered in a retail store. They were so inexpensive I could give them a try and get rid of them if they didn't work. We now have amazing kitchen gadgets and cookbooks I never would have bought at retail.
Grocery Staples and Your Freezer
My husband loves to cook. He has a habit, though, of buying what he needs for a meal rather than thinking ahead. He forgets that we already have 5 cans of clams from other cooking adventures and buys two more. I don't want to discourage him, but by getting more involved in the kitchen, I've cut down on grocery expenses. I now stock up on staples and stay aware of what we have. I, also, keep an eye out for good buys on meat and other interesting ingredients keeping them on hand to tempt my husband to use them rather than buying things when his fancy hits.
A friend, Deborah Taylor-Hough, mother of three and expert on simple living, is the author of books on once-a-month cooking, a phenomenon new to me. In Frozen Assets: Cook for a Day, Eat for a Month, she even has a two-week plan that works for people with only a refrigerator top freezer. It's amazing how easy and inexpensive it can be to cook food ahead in larger batches and freeze it. My culinarily creative husband requires more diversity than the "systems" employ, but I have I've learned how to freeze leftovers effectively and save on grocery bills.
I always keep good freezer bags on hand. Now I double dishes. When sirloin is on sale I make a double batch of beef stroganoff and freeze half. A huge pan of lasagna freezes easily into numerous servings and is much cheaper than those ready-made portions we used to pick up for quick meals. Now our freezer is more organized and filled with tasty options often precluding the desire for take out pizza or eating out. And, definitely give some thought to purchasing and educating yourself in use of an Instant Pot (there's a Facebook Page). I use it now more than a stove or oven and it takes up little space.
Indian Food and Other Adventures
In never considered the benefits of learning to cook a new cuisine until a friend began teaching me her favorite Indian dishes. I would bring ingredients to her home where she would teach me how to make biryanis, pulaos and masalas. It became an enjoyable new hobby that was inexpensive and rewarding.
Indian cuisine does amazing things with vegetables. I grew up with peas or corn as a side dish. I now make a dish with onion, green pepper ginger and garlic fried with some mustard seeds to which is added diced tomatoes and sliced zucchini and two aromatic Indian spices and after sautéing, dried yellow peas cooked with onions are stirred in. It's vegetable dish far more exciting in smell and taste and creation than plain peas on a plate. I now experiment with many vegetable dishes that are inexpensive and freeze nicely. Indian marinades and spice mixtures I now use with chicken and meats add dimension to our meals. It's more fun than eating out.
Learning a new cuisine from friends or taking classes could excite you about cooking at home and help you stock your freezer with intriguing and tasty dishes. And, living a simpler lifestyle, you'll have more time to engage in fulfilling adventures because of not having to maintain such a large space.
Neighbors and Friends and the Joy of Tea
While teaching me the recipes, my East Indian friend shared her tradition of teatime. I learned to enjoy tea with milk and sugar, English style. Never having slowed down enough before to enjoy a quiet cup of tea with a friend, it's now something I value.
I've learned to make chai (spiced tea) from scratch, now a Sunday morning tradition replacing expensive coffee house mochas. Brewing the tea with cloves, cinnamon sticks, brown sugar, fresh ginger and cardamom powder is truly aromatherapy. And, because of my unique neighborhood, I can grab my steaming Chai, take a couple steps down the dock and hop on the ketch of a 30-something fellow neighbor with other dock dwellers for his "open to all" Sunday morning "Coffee Cruises".
Our Lifestyle Expanded Opportunities Rather Than Limiting Them
Simplifying your life doesn't just require making "have to" or undesirable changes. I lead a simpler, less expensive and yet very enjoyable life. It's all about thinking more broadly and creatively about simplicity.
And two final notes on choosing to live on boat…a young gal discovered us on the internet and 'picked our brains" about the reality of moving aboard a boat (which she finally did) One day she offered, incredulously, after returning from a party one evening. "I just discovered, now that I'm a liveaboard, I'm interesting!" And sage advice from my husband about the lifestyle, "If you don't like your neighbors, you can leave!"
Reader insights
Be the first to share your insights about this piece.
Add your insights