Bird Eye Shot
1st pic of Bald Eagle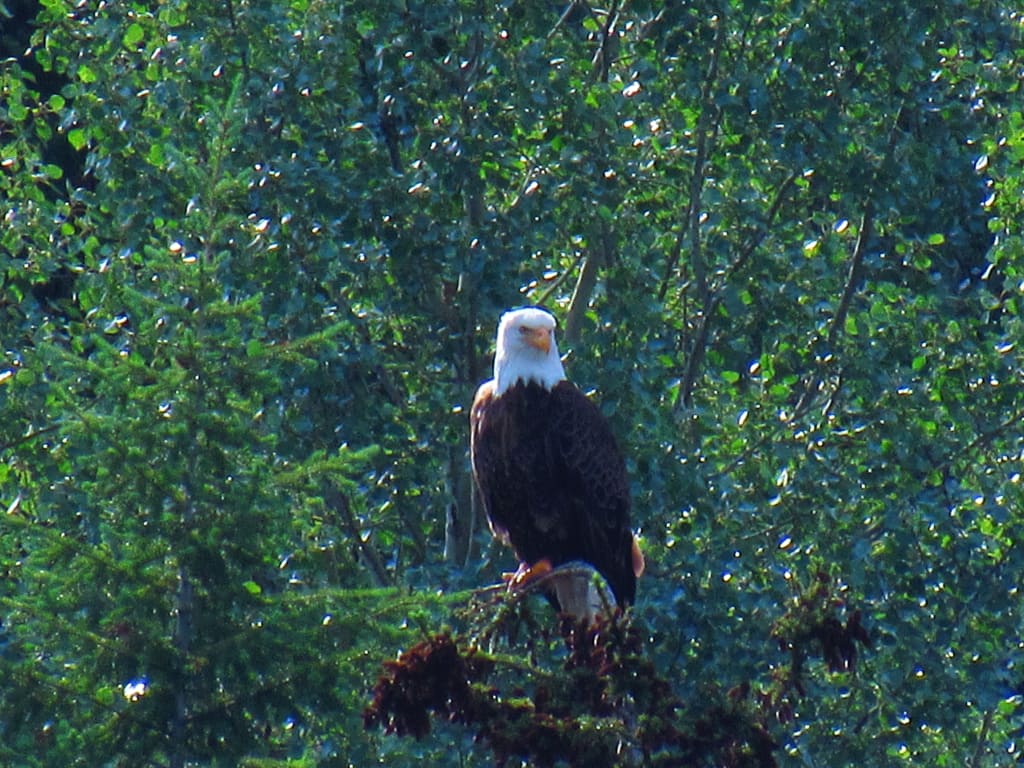 White Swan Lake Bald Eagle
During our vacation in 2016 t0 one of our favourite campgrounds by Radium BC there is a log road you can turn down the brings you to the most beautiful natural Hot Springs you'll ever be too. There are 3 different pools ,all different temperatures as it gets closer to the river. There is no light pollution there since it is so far into the bush and stargazing well soaking in the hot springs is just an awesome experience.
This logging road one of the craziest roads I've ever driven down , is an active logging road that at one point comes to single lane on the side of a crazy high cliff .Lots of people use this road to get to natural Hot Springs (Lucier Hotsprings) .It's a cool drive down the logging road about half hour back you will start to drive down beside that crazy cliff ,about halfway down that cliff you will reach a parking lot to go down to the Hot Springs.After passing the Hot Springs you then hit the campground we stay at .
We heard there were even more campgrounds further down the road .We stopped at a boat dock at the clearest lake I've ever seen just up a bit from our camp.It was so clear the people at the campsite beside the lake go spot fishing is what they called it because you just drop the fishing line right in front of the fish since you can see them right off your boat and the dock. As we stood around looking at the scenery we noticed a huge bird swoop down and grab a fish right out the water. I needed to get a picture of the bird since I just recently bought a pretty nice camera . We had lost sight of the bird so we hung around a bit and while I was standing there I noticed a white dot far down the lake .At this point it had started raining and the girlfriend wanted to go back to the camp.We drove down to where I could see the dot. When I got a good close up with my camera I knew it was the bird .I Had to take quite a few shots before getting the picture I did since he was a fair distance away.My patients definitely payed off because that's how I got that shot of my first Bald Eagle .What an amazing bird .I've got a pretty good eye that's for sure the girlfriend said she couldn't even see it, but I'm happy I did .I love taking pictures of birds and this is my favourite one I've taken.
There is all kinds of beautiful scenery to take pictures of and lots of wildlife and plenty of hikes to do. And it is super quiet and there's a park ranger that comes by with firewood .All of the campsites or very private and they aren't too close together this is why it is one of our favourite campsites.This is also the spot where I got quite a few good pictures of my first bear that I continue to see year after year. You don't have to worry about not getting I campsite when you visit because there are about six campsites down the logging road and lots of them are almost empty so you don't need to worry after driving down logging road .You never know you might catch and even more epic photo of an eagle or bear because I know they're out there.So for everyone who goes camping Lucier Hot Springs or White Swan Lake is definitely a place you should check out.
Reader insights
Be the first to share your insights about this piece.
Add your insights