Best Ferris Wheels Around the World
Enjoying a City from the Sky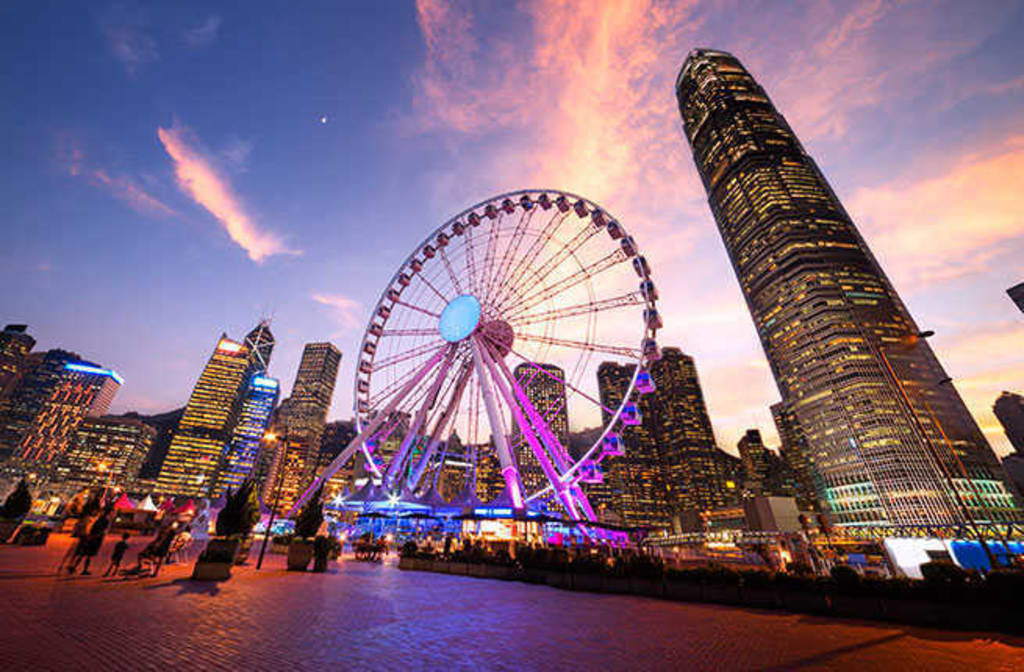 Confession time: I'm a girl that loves a ferris wheel and have found that the best are those that overlook a beautiful cityscape. With famous wheels in cities like London, Santa Monica, and Seattle, here are my choices for the best observation wheels around the world!
10. Niagara SkyWheel in Niagara, Canada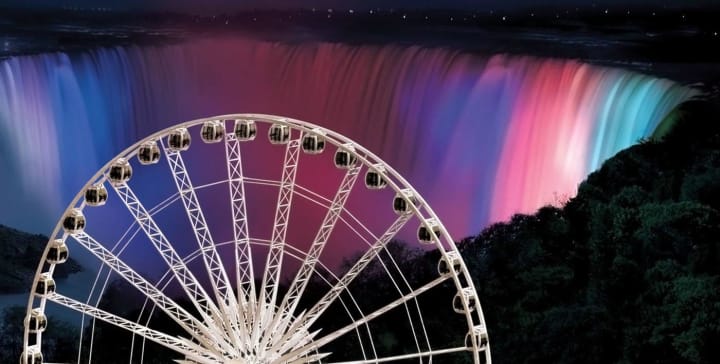 Found inside of Clifton Hill, the Niagara SkyWheel rises 175 feet over Niagara Falls, giving you an amazing view of both the Horseshoe and American Falls as well as the Niagara River and several other landmarks.
The ride lasts between eight to 12 minutes and is open day or night, all year long. All gondolas are heated and air conditioned to keep you comfortable, no matter the weather.
You are able to access the wheel by purchasing a Fun Pass at $29.95 for an adult and $19.95 for a child. The pass gives you access to 5 other attractions ranging from a Wax Museum to a roller coaster.
9. Navy Pier Ferris Wheel in Chicago, Illinois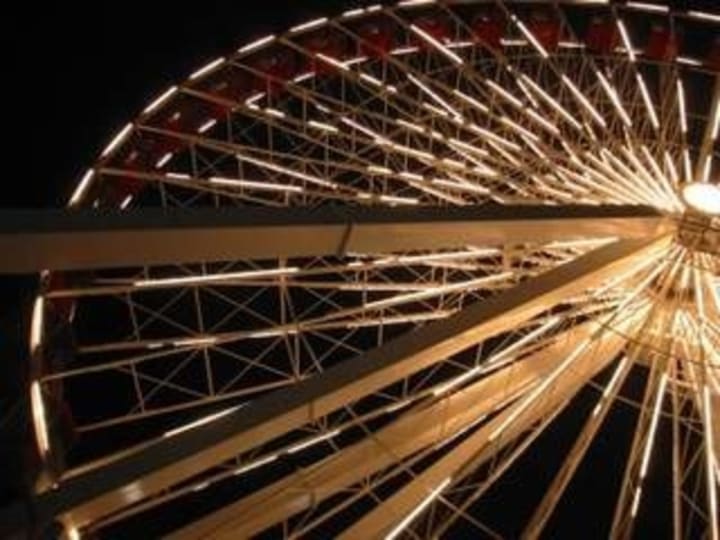 Recently replacing the original wheel (which was a replica of the world's first ferris wheel), the new 196 foot tall Centennial Wheel is a beautiful centerpiece to Navy Pier. Boasting a 360 degree view of the Chicago cityscape and Lake Michigan, this is definitely the best way to experience the sights of the Windy City.
Tickets range from individual tickets at $16 for an adult and $13 for a child to Premium Wheel Experience at $50. There are discounts available for military, Illinois Residents, and groups of 20 or more. Children up to two years old are free.
8. Melbourne Star in Melbourne, Australia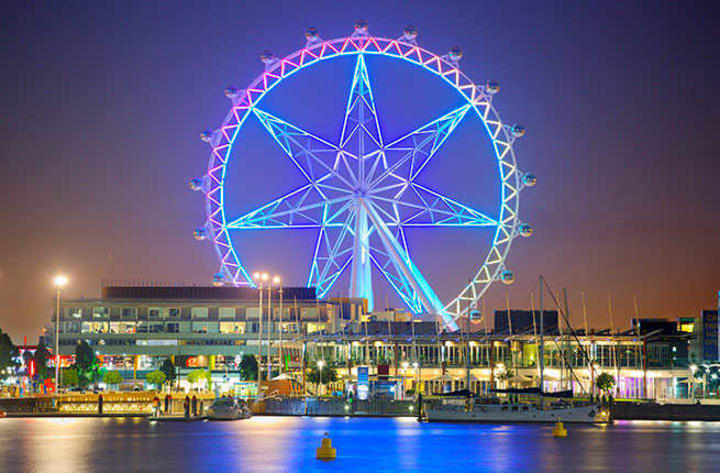 Reopened in 2013 after improvements to the wheel, the Melbourne Star is the pride of the Southern Hemisphere! Standing at 393 feet tall, you can see some incredible sights from the tippy top including: Arthur's Chair, Port Phillip Bay, and a beautiful panoramic view of Melbourne. Its 21 cabins are air conditioned to keep you comfortable even during the hottest Australian heatwave.
The options are endless when it comes to the experiences available at the wheel. A single ticket starts at $16.50 while a family ticket starts at $33.75 (keep in mind, kids under four years old do not need a ticket.) After that, you can shop for great packages on private cabins, a romantic night out, sights & lights, all the way up to planning your wedding! And for locals, you can buy an annual pass for just $72.
7. Canton Tower Wheel in Guangzhou, China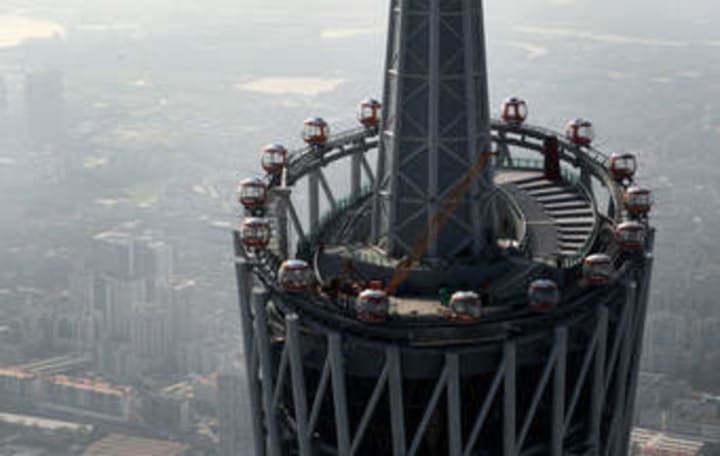 Nestled at the top of China's tallest skyscraper is the Canton Tower Wheel. With 16 pods circling 1,480 feet about the city, you get a unique view of Guangzhou's greatest landmarks. In a city made up of contemporary architecture along side of 2000 years of history and culture, it is a sight that can't be missed.
Ticket prices are based on altitude so they range from ¥75 to ¥398.
6. Wisener Risenrad in Vienna, Austria


This is one of the most beautiful wheels in the world, not just because of its history, but because it offers gorgeous luxury cabins. Originally built in 1897 to celebrate Emperor Franz Josef I's golden jubilee, it was burned during World War II and was rebuilt between 1945 and 1947 with another revamp in 2002.
Tickets for a regular ride start at €10 for an adult and €4.50 for a child but children under three years old ride for free. There are family tickets; the largest being for two adults and four children for €28. After that, things get interesting! There are several combi-tickets to choose from that give you access to the wheel and other attractions like Madame Tussauds, Danube Tower, Schonbrunn Zoo, etc. You can also rent a cabin by the half hour or hour, allowing the option to have a romantic dinner, cocktail hour, family brunch, or gourmet meal while overlooking historic Vienna.
5. Eye of the Emirates in Sharjah, United Arab Emirates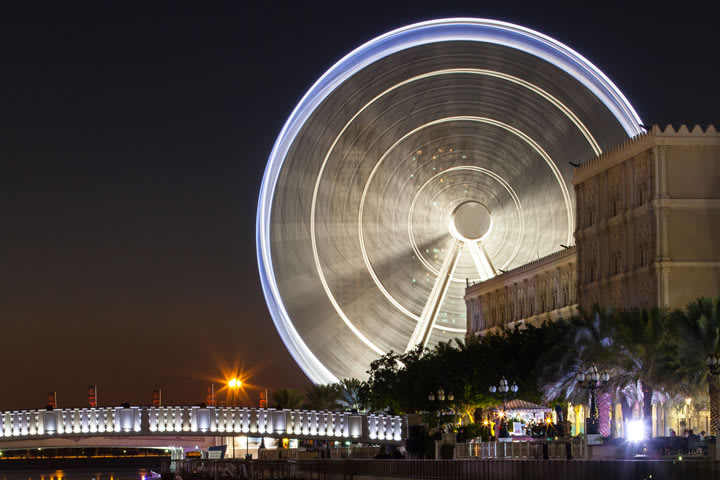 Overlooking the beautiful Gulf Coast, the Eye of the Emirates is found inside of the Al Qasba theme park. Though this wheel is found outside of the main city, you are able to enjoy the view of bustling Dubai in the distance. At nearly 200 feet tall, this ferris wheel is one of the most visible landmarks in Sharjah.
You can beat the heat in these air conditioned cabins for AED 30 for an adult and AED 15 for a child.
4. Texas Star in Dallas, Texas

Everything is bigger in Texas...even their ferris wheels! The Star, standing at 20 stories tall, is a must see when visiting Dallas.
The Italian-built wheel first opened at Fair Park in 1985 and has been the most popular ride at the Texas State Fair ever since. It is said that, when the weather is clear, you can see views up to 40 miles away!
Tickets to this wheel give you access to the whole Texas States Fair and start at $16.50 for an adult and $12.50 for a child under 48 inches tall. Family 4 Packs start at $105 and include food/ride coupons. Also check out the Season Passes that cost between $45 and $115.
3. Edinburgh Festival Wheel, Edinburgh, Scotland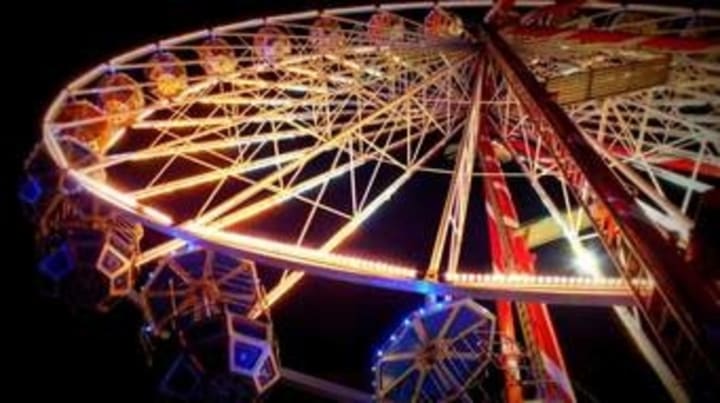 I have to admit, I am partial to the Festival Wheel because Edinburgh is one of my favorite cities. It is a wonderful city full of culture, history, and art and they host some of the most amazing festivals in the whole world!
The wheel is up from June/July to September and can be found on East Princes St Garden. The view is incredible, overlooking beautiful public gardens, Old Town, and historic landmarks like Edinburgh Castle.
Tickets are purchased at the ride for £9 for an adult, £7 for children under 14, seniors, or students, or £27 for a family of four. Remember your ID for discount prices.
2. Moscow-850 in Moscow, Russia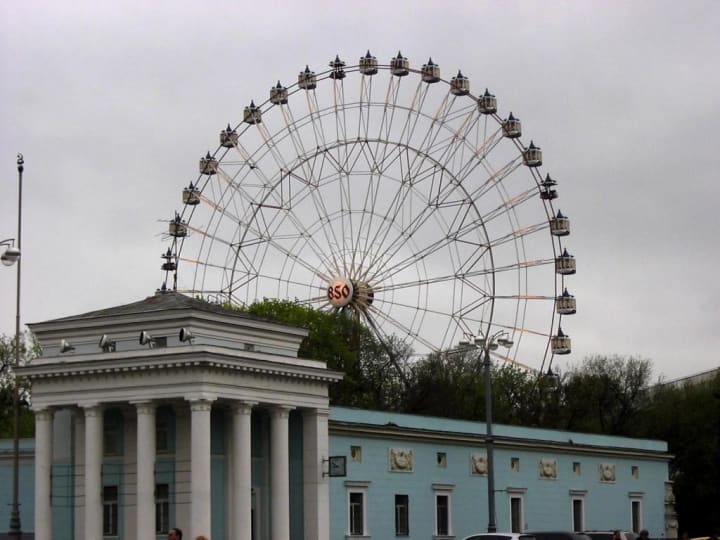 The 850 was opened in 1997 for Moscow's 850th anniversary. At the time of construction, it was the tallest ferris wheel in Europe, standing at 240 feet tall, but it has subsequently been passed. The ride lasts about seven minutes and you are able to fit up to eight people in each of the cabins. It is only open during the spring and summer... because... you know... Russia can get cold in the winter.
Prices for tickets are based on the type of cabin, so it is RUB300 for closed cabins and RUB350 for open cabins.
1. The High Roller in Las Vegas, Nevada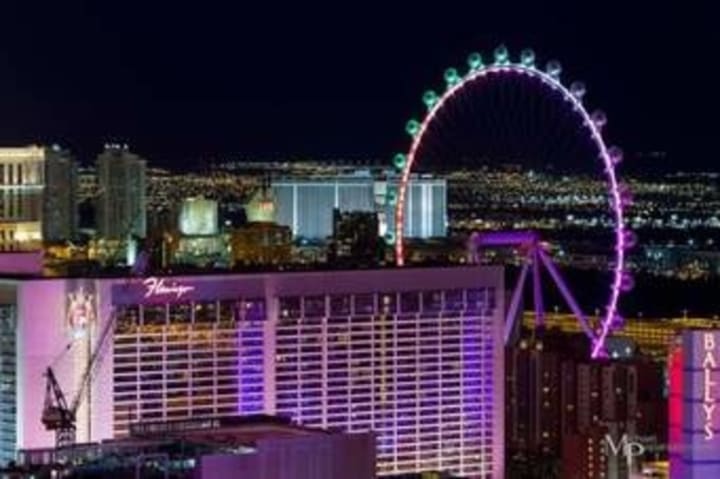 Towering at 550 feet tall, The High Roller is currently the tallest ferris wheel in the world. Found overlooking the Las Vegas Strip, a single ride on this wheel takes 30 minutes, giving you plenty of time to take in the lights and sights of Sin City.
With cabins that can hold up to 40 people, there are endless possibilities for your next ride on The High Roller. Everything from an open bar cocktail half hour, yoga in the sky, chocolate tastings, business meetings, or even a small wedding.
Ticket prices change depending on the time of day. Day: $22 for an adult, $9 for youth, and $35 for open bar. Night: $32 for an adult, $19 for youth, and $47 for open bar. Booking and pricing for any other event must be done directly with Caeser's.
list
About the author
Reader insights
Be the first to share your insights about this piece.
Add your insights