Best Adventure Loving Travelers to Follow on Instagram
Want to meet Instagrammers who love adventure and exploration? Here is a list of the most experienced, must-follow adventure travelers with the best photos to boot.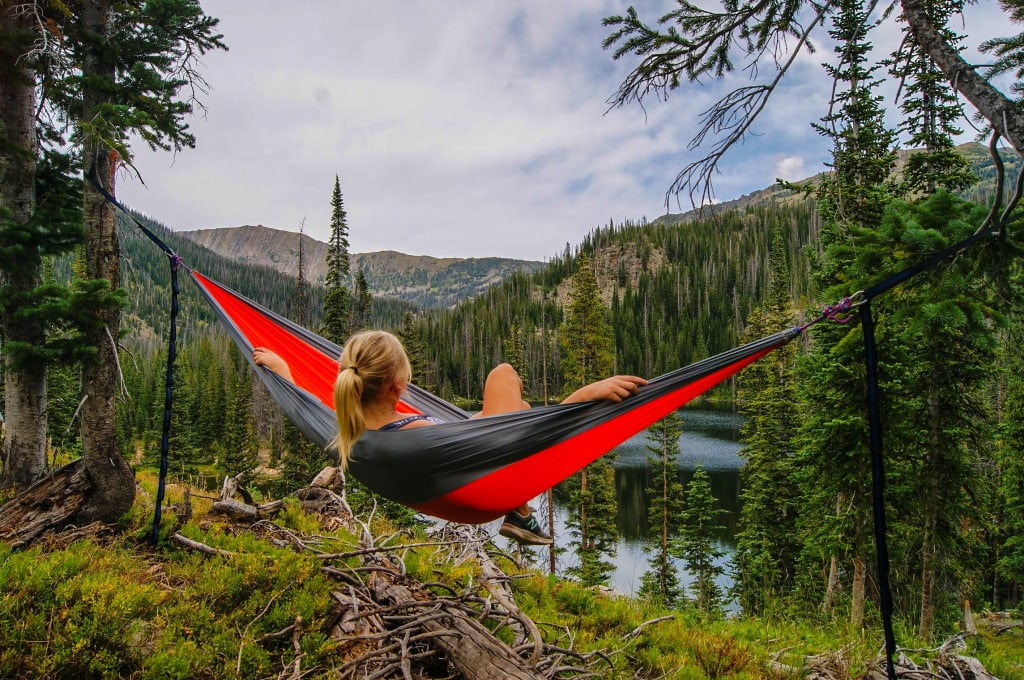 Want to go on an adventure? You definitely do.
Did you know there are experienced adventurers exploring the most beautiful parts of the world, so that we can live vicariously through them? They are currently devoting their lives to traveling and taking photos. Lucky us! While us regular folk are toiling away at work or at home taking care of our kids–all the while adding vacation destinations to our ever-growing bucket lists–these travel extraordinaires benevolently provide us with the next best thing.
Usually accompanied by nothing but backpacks, these brave adventurers explore every nook and cranny of planet Earth. They post pictures of everything from the hills of Ireland to the ice of Greenland to the hidden treasures of the United States.
And suffice it to say, the views from here are jaw-dropping.
Here is a list of the most experienced, must-follow adventure travelers with the best pictures to boot.
Matt Karsten at @expertvagabond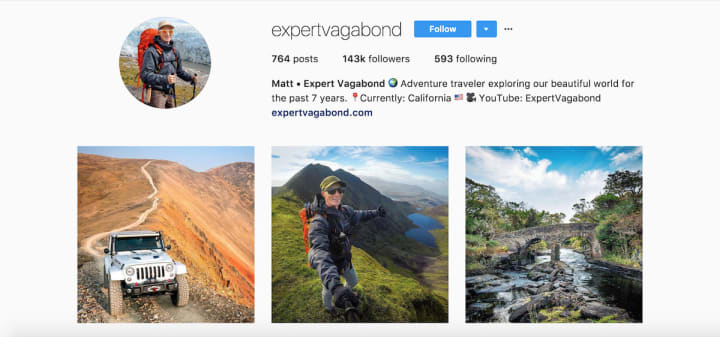 Matt Karsten has been a professional travel photographer for over 6 years! A self-titled expert vagabond, Matt explains that he travels because he, much like the rest of us, is curious about our planet. He wants to take risks, meet people, challenge himself, and learn as much as he can.
His advice for the rest of us? Travel doesn't always have to be expensive, adventure is worthwhile and the world is less dangerous than you think.
Recently, Matt has been on the move from Colorado to California. You can follow Matt's adventures via his blog, which he frequently updates with beautiful photos, engaging stories, and useful travel tips.
Follow Matt on Instagram at @expertvagabond, on Facebook, and on Twitter @ExpertVagabond.
Quin Schrock at @everchanginghorizon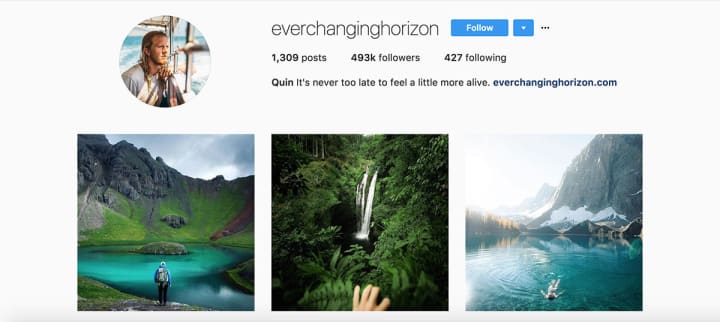 Quin Schrock is an adventure and lifestyle photographer based out of Southern California and Hawaii's island of Oahu. He has a distinct photographic style that echoes a general theme of 'the path less traveled.'
His adventure-ridden nature has enticed sponsorship from some of the best companies in the exploration industry including Go-Pro, Travel Channel, and Outside Magazine.
Quin has a blog that houses short excerpts and a collection of the best photos from his travels.
Follow Quin on Instagram at @everchanginghorizon.
Kirsten Alana at @kirstenalana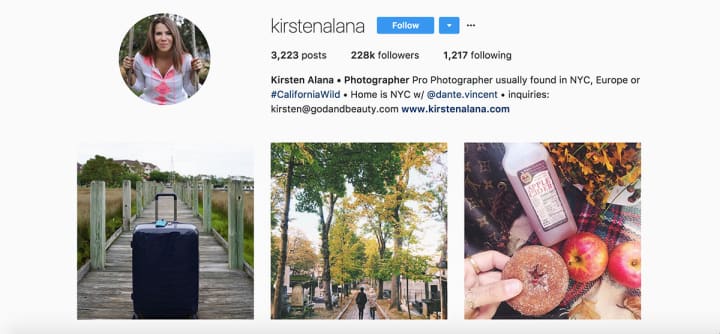 Kirsten Alana has been to Morocco, Egypt, Jordan, Tanzania, and Italy, to name only a few. She has had a camera in her hand since childhood, and began devoting her energy to travel photography full time in 2010.
Visit Kirsten's blog for more information about her time spent in each of these places, and more! The best part of Kirsten's travel blog is that it's catered to the soon-to-be traveler. The site is broken up into detailed categories like "Hotels and Resorts," "Spas," and "Food and Drink," so that her followers can build off of her experiences! It's hard not to love how organized it is.
Follow Kirsten on Instagram at @kirstenalana.
Daniel Kordan at @danielkordan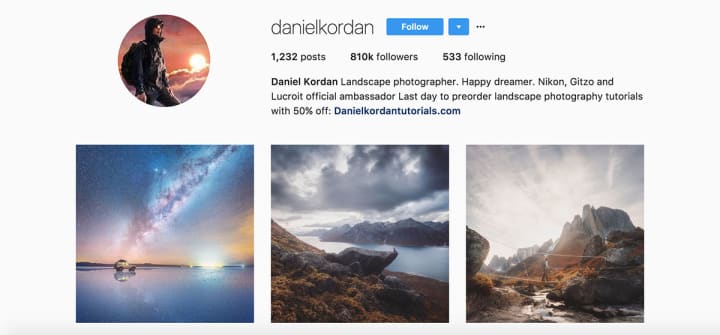 Daniel Kordan has been photographing landscapes since early childhood, and has risen to become one of the best at it. Daniel likes to say that he "lives in the world" today, but that certain places are attached to his soul, like Villa Gaia in Tuscany. He loves the Lofoten Islands, which is where he spends the most of his time.
Looking for a noteworthy photographer? Kordan has won many awards for his photos, like the Golden Turtle' 13 Nature, the National Geographic Russia Contest 2013, and the Trierenberg Super Circuit award for best landscape photographer. He offers workshops to those who want to learn to take photos that are of the same caliber as his.
Visit his website for a more detailed display of his work.
Follow Daniel on Instagram at @danielkordan and on Facebook.
Travis Burke at @travisburkephotography
Travis Burke is in love with the edge. Looking for him? Find him slack-lining over canyons or backpacking all 210 miles of the John Muir Trail. He is also one of those few Instagrammers who can capture a perfect picture of the Milky Way.
Travis is known to break boundaries during his travels: redefining a simple adventure as something way more extreme. He can tell you more on his blog.
His client list is full of world-renowned outdoor and extreme sports sponsors, such as Red Bull, National Geographic and Jeep.
Travis's Instagram feed is chockful of incredible photos that will make you wish you weren't on your couch right now.
Follow Burke on Instagram at @travisburkephotography, on Facebook and on Twitter at @TravisBPhoto.
Chelsea Yamase at @chelseakauai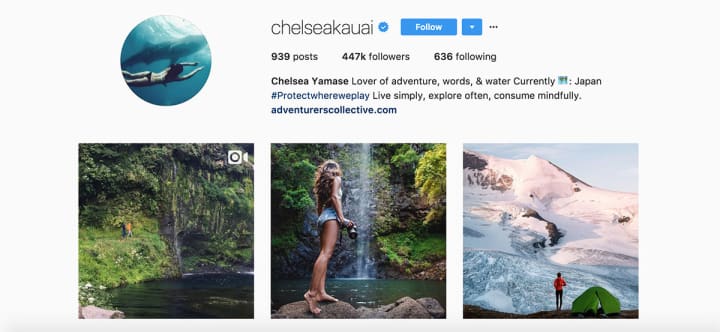 Chelsea is a Hawaii based traveler, athlete, model and writer. Her social media feed tells you more than her destinations. It tells you what's on her mind and how she feels.
Chelsea has a more raw and personal blog than do most other Instagrammers. She shares personal thoughts and more unpolished tales from her travels. The full list of tags from her blog includes: Random Thoughts, Travel, Road Trips, Hiking, Backpacking, and Underwater.
Being such an experienced traveler and athlete, she has been featured in campaigns for companies like UnderArmour, Billabong Women's, and GAP-Athleta.
Follow Chelsea on Instagram at @chelseakauai and on Facebook.
Kristin Addis at @bemytravelmuse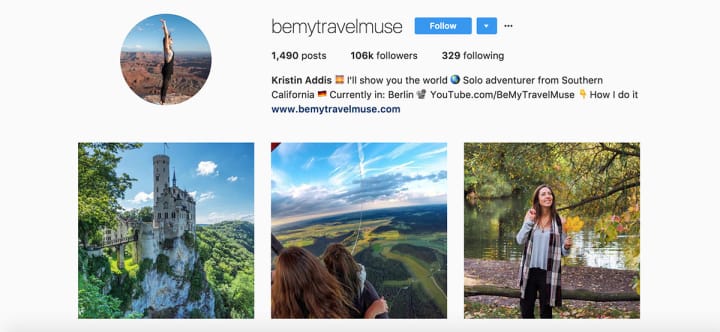 Kristin is an off-the-beaten-path type of Instagrammer. Her entire goal is to make her audience feel more comfortable traveling solo. You will love her Instagram and blog if you've been considering traveling solo but have been held back by fear and hesitations.
Kristin's site has an entire section devoted to female solo travel. Her newest article is called "25 Reasons Why Women Should Never Travel Solo" (pure sarcasm). Kristin starts this piece by saying, "Things happen to women who go out alone." While she admits this a genuine concern, she offers solutions, based on her personal experience, that make it an issue of the past.
Want more of Kristin? Check out her books. Kristin wrote one recently called Conquering Mountains: How to Solo Travel the World Fearlessly. This book will save you time by helping you avoid sweating the small stuff.
Follow Kristin on Instagram at @bemytravelmuse, on Facebook, and on Twitter at @bemytravelmuse.
Chris Burkard at @chrisburkard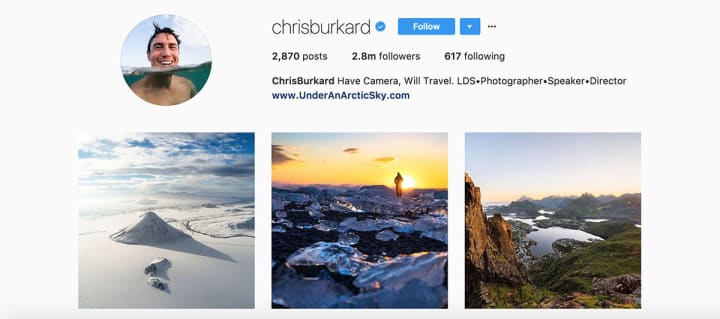 Chris is an adventure-loving explorer, photographer, creative director, author, and speaker. His photos focus on powerful landscapes. His goal is to inspire people to go out there and travel. Chris is based out of his production studio and gallery in the Central Coast of California.
A visionary among Instagrammers, he has worked on world-wide campaigns with Fortune 500 clients and product design. He has even has a TED talk on "The Joy of Surfing in Ice-Cold Water!"
For Chris, storytelling is an expressive tool that stretches beyond blogs like Instagram. He has published five books over the past ten years, including an award winning children's book. A full list of his books can be found on his personal site.
Follow Chris on his Instagram at @chrisburkard.
Ryan Gargiulo at @pausethemoment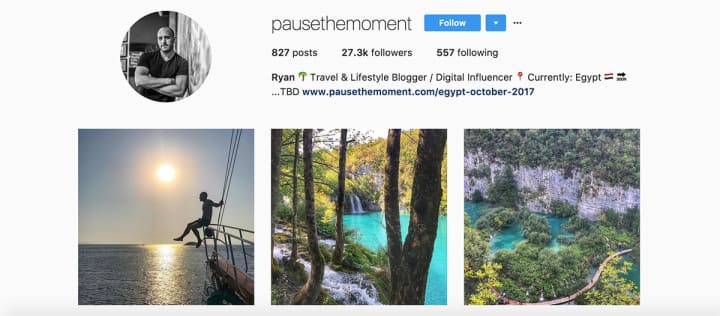 Ryan Gargiulo is a solo world-traveler and lifestyle blogger. He says he has a serious passion for the sun, the sea, and adventure. He spends a large part of the year in Playa del Carmen, Mexico, a small fishing village.
Currently, Ryan is in Greece before he moves onto Egypt for the month of October. He says that traveling matters and invites you to join him in Egypt while he enjoys himself and meets new people.
His tour is limited to ten guests so please be sure to lock in your spot as soon as possible! For more information, visit his personal site.
Follow Ryan on Instagram at @pausethemoment, on Facebook and on Twitter at @PauseTheMoment.
Gareth Leonard at @tourist2townie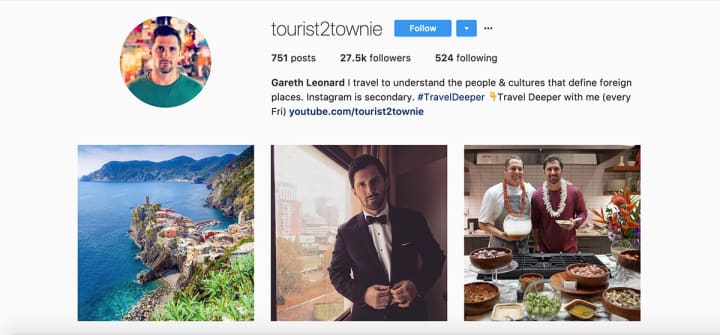 Gareth Leonard travels the world and keeps moving because he wants to understand the people and cultures that define foreign places. He left behind his comfortable life in search of his dream.
Gareth has a popular YouTube channel, probably because everybody is in love with his exciting personality and gorgeous footage. He coined his own hashtag #traveldeeper and invites you to check out his new footage every Friday.
Follow Gareth on Instagram at @tourist2townie.
Alyssa Ramos at @mylifesatravelmovie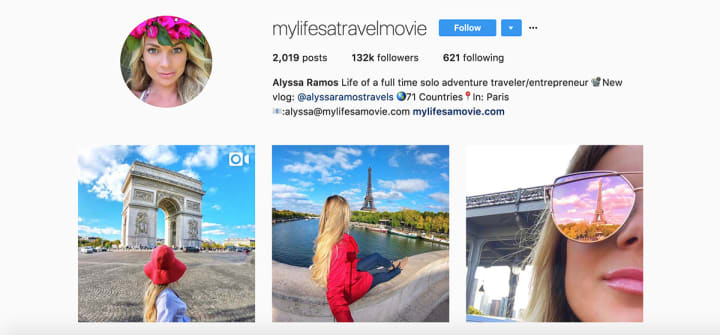 Alyssa Ramos' life really is a travel movie, and you can watch all of it on her Instagram pages and her blog. Unlike many other grammars, she has an additional account devoted to video blogs.
Her blog features destination travel tips and info, travel hacks, interviews and collars with other travelers, and videos. It also her own authored, published articles on Huffington Post, Matador Network, and more.
Alyssa has devoted her life to solo world travel. She has been to a whopping 70 countries. She is currently in the Bahamas.
Follow Alyssa on both of her Instagram accounts; you can find her at @mylifesatravelmovie and @alyssaramostravels.
Lee Abbamonte at @leeabbamonte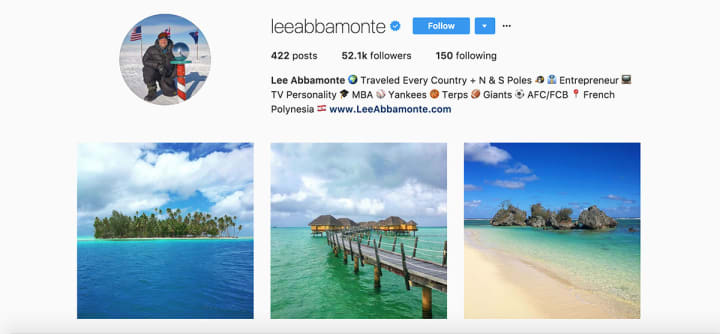 Lee Abbamonte transferred his adventurous and explorative nature into the business world. He is, after all, an entrepreneur and television persona.
He appears regularly on Fox News Channel and FOX Business, Travel Channel, Sports Illustrated, and ESPN.
Lee has been to every country on Earth and is the youngest American to do this. He has even gone a step further and visited the North and South Poles. He says the most difficult places to get to were Wake Island and the British Indian Ocean Territory because of their military-government status.
Lee has recently been bungee jumping at Victoria Falls on a bridge between Zimbabwe and Zambia.
Follow Lee on Instagram at @leeabbamonte and on his personal page.
Alvaro at @wanderreds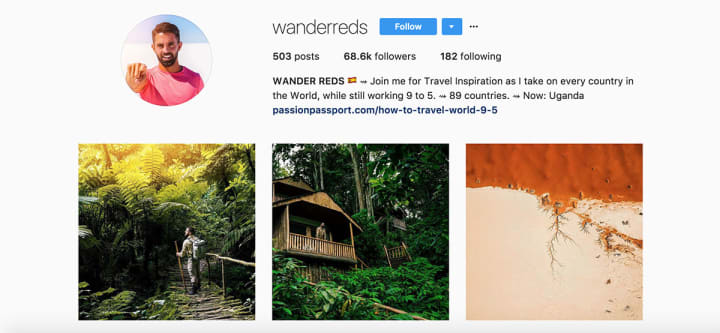 Alvaro takes on every country in the world while still working 9–5. How does he possibly balance all this? His schedule is already full working as a CFO in Europe and Africa.
He has done an interview that is currently on the Passion Passport page. In this interview, he makes recommendations for places you may love to travel. He also recently traveled to North Korea which is rare for any traveler.
Alvaro has been to 88 countries and is currently in Nambia and Botswana. His goal is to cover 100 countries before he turns 30, and you can adventure with him by checking out his photos.
Follow Alvaro on Instagram at @wanderreds.
Drew Binsky at @drewbinsky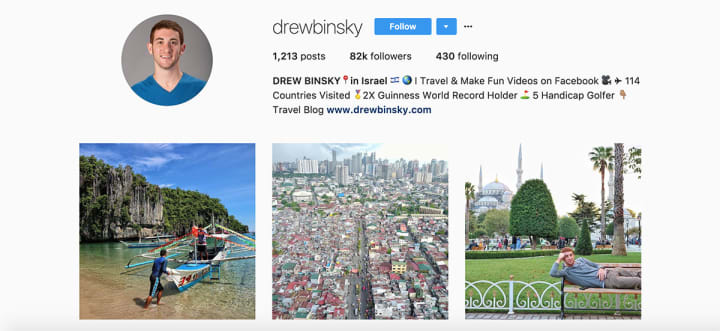 Drew Binsky has been to a total of 114 countries so far! Believe it or not, he is also a two-time Guinness World Record Holder. He plays golf, as well.
He has worked with companies like Expedia and Lonely Planet.
Drew is currently in Germany! His most recent picture is of him at the second biggest beer drinking festival in the world, Cannstatter Volksfest in Stuttgart, Germany. He refers to it as an "adult playground." Time to head over there!
Follow Drew on Instagram at @drewbinsky, on Facebook and on Twitter at @Drewbinsky.
Clint Johnston at @triphackr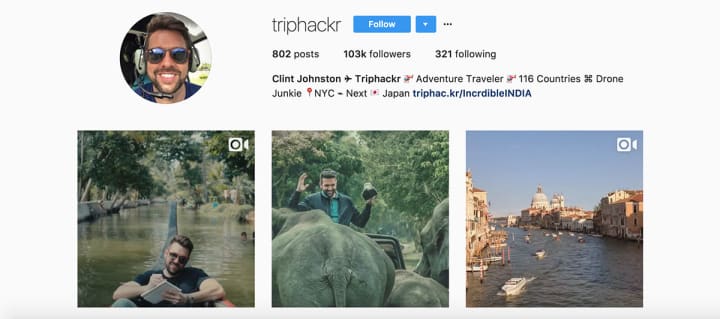 Clint is not just a traveler, but a gorilla trekker as well. He says gorilla trekking in Uganda had been a lifelong dream of his. Mission accomplished! To learn more about this experience, check out his personal page.
Clint traveled to East Africa to also climb Kilimanjaro and a volcano in the DR Congo. He has been on an adventure in 116 countries total, with incredible photos of all these places.
Clint is currently in the beautiful county of Italy and will be visiting Zimbabwe afterwards!
Follow Clint on Instagram at @triphackr, on Facebook, and on Twitter at @Triphackr.