Berry Bear Hike
Shouldn't Hike at Sundown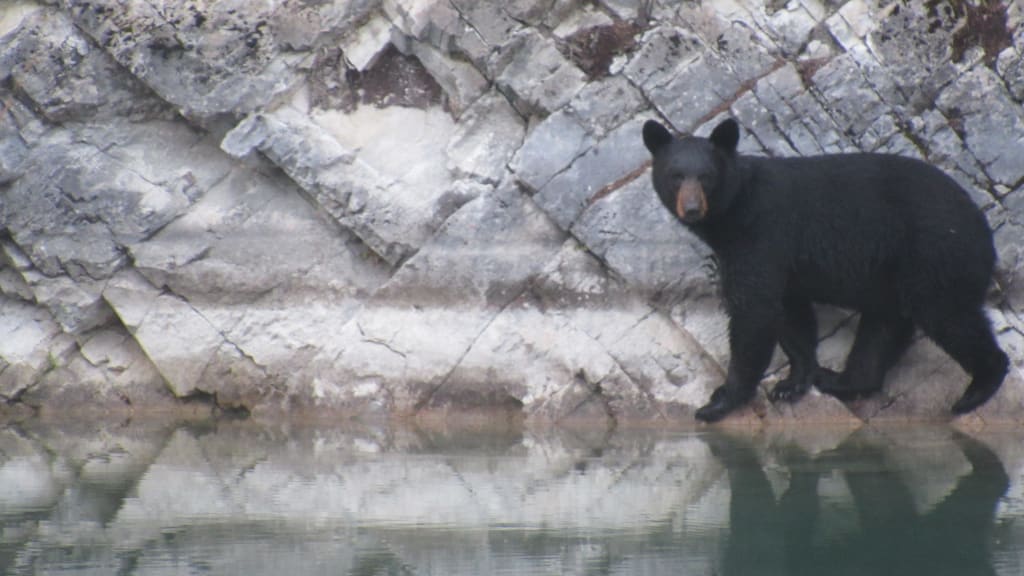 Bear on cliff
Just outside Radium Hotsprings there is an active logging road. If you drive down it for about half hour you reach a big hill on the side of a cliff that goes into a one lane spot for just a second .There is also a Blindspot pretty scary when it's an active logging road but as soon as you get past there, there is the nicest natural Hot Springs off the side of the road .Just down the hill there's even a change room at the top .There's absolutely no light pollution there ,we always used to stop there after Shambhala. There was always the same meteor shower going on every year which was amazing because it was pitch black except for some glow sticks in the little pools. These are some of the best Hot Springs and most remote that I've ever been to. Right past the hotsprings you can go to any of the Six or seven campgrounds that are just down the road around two pristine lakes.
The one year that we never went to Shambhala which is a music festival with over 100,000 people located in between Nelson and Salmo B.C most amazing experience ,its a must have on a bucket list.Anyway thats a different storey to be had all on its own.
After setting up camp in one of our favourite campsites it was getting near dinner.We decided to go for a hike around White Swan Lake. This lake is so crystal clear that some of the campers at the campsite beside the lake asked if we wanted to go spot fishing .They call it this because ,all you need to do is throw your fishing line in front of the fish, because you can see them plain as day it's amazing there's. All kinds of wildlife pulling fish out of there .As we walked around the lake there was sheer signs of their being some kind of wildlife somewhere around ,as we were walking on the path I kept hearing a chipmunk go crazy and just jokingly I said "he's probably trying to warn us about a beer or something ",and then we walk down this hill that lead to a bridge to go to a gravel road to swing back to our campsite. Sure enough on the other side of the bridge was a big bear just sitting there eating berries.The girlfriend backed up and went back down the pathway and I decided to snap a couple shots of the bear for some reason i just felt safe enough to snap some photos I thought he was way to into the berries to even notice me .So we had to go back down the way we came through the woods back to the site ,then we drove back down the road to get the picture of the bear reflecting in the water. When we were looking at the pictures that we had taken we noticed different markings on the Bears which means there was two of them .Kind of scary when we thought we only seen one and went back down that path . That means there was another bear close by probably in the woods we went back into .This is how I got these great shots and learned walking around water at sundown is not a smart idea in bear country.
The next year we went out there we seen a fish and wildlife officer or parks person right by our campground and asked about the bear and she actually said there were no bears around there I laught and asked if it was her first year working there and then I continued to tell her about what happened and showed her pictures . She was a little surprised she could tell the pictures were from there ,all she said was and so there is I guess .I know I've seen the same bear a couple years in a row I actually got pictures of him more than just this one time. This is a very good vacation destination for anyone to go check out especially if you want to take a dip in some nice Hot Springs this place is one of my favourites and has all kinds of camping so you dont have to worry about finding a spot so check it out Lucier Hotsprings.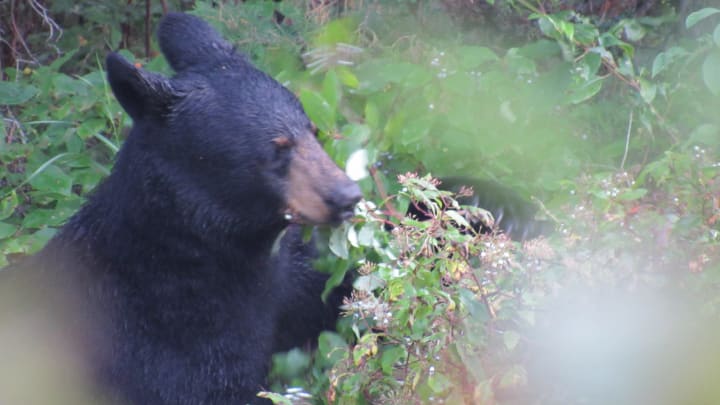 Reader insights
Be the first to share your insights about this piece.
Add your insights