Bermuda Cruise Part One
Bon Voyage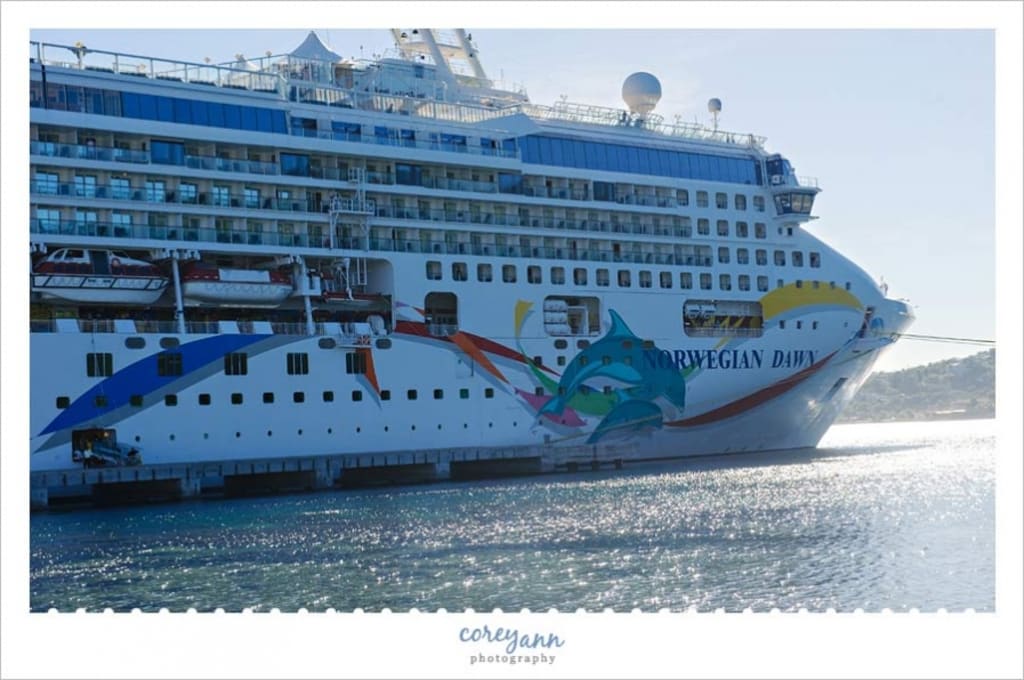 I would not necessarily call myself a superstitious person, but I have some faith in good and bad omens, mostly because they tend to be self-fulfilling. A good or bad omen can affect your mood for the rest of the day.
Before Mom and I boarded the Norwegian Dawn, we were given these cards which act as our boarding passes, the keys to our stateroom, and a sort of credit card to use while we are on board ship. By the time we made it to our stateroom, I had somehow managed to lose it already. We had to go to guest services and wait in a long line to get another one. Mom and I were more than a little irritated with one another as we went up to Deck 12 to have lunch in the Garden Cafe. Things did not improve when after lunch, there was a mandatory safety drill. It must have taken forever for everyone to file into their seats and for the cruise director to drone out the safety instructions over the loudspeaker. When we were finally freed, Mom and I returned to our stateroom, changed into our bathing suits, then went back up to Deck 12, where the pool is.
The words I would use to describe sitting by the pool are "crowded" and "loud." There was some sort of send-off party by the pool and pretty much the entire ship was there. A band played and the cruise director was introduced to us. Finding a spot to sit and put down our stuff was nearly impossible since they were all taken. The hot tubs were nearly filled to their capacity and I would not move very far while swimming in the pool without bumping into someone. It was difficult for Mom and I to talk to one another because the music was so loud.
At 5:30, we went back to our stateroom, where I took a shower and dressed for dinner. Our stateroom is on the cheaper end of the scale, so the bathroom resembles the Cabinet of Dr. Caligari. Mom informed me that one of our excursions was rescheduled and conflicted with another, so she had to go and sort this out. She changed the time of the glass bottom boat tour from Monday morning to the Monday night.
We took a look in the duty-free shops, where I bought a postcard, before our 7:30 dinner reservation at the Aqua Dining Room. Mom and I each had a glass of white zinfandel, which was sweet, smooth, and superb. I started off with the chicken caesar salad. The chicken was cooked with some sort of lemon sauce and was nice and juicy. Chicken is my favorite meat, though it can often be dry and bland. For my entrée, I had beef meatballs served with steamed broccoli, which was delicious. My dessert was a butterscotch brownie served with vanilla ice cream but by this point, I was too full to eat much of it.
At 8:30, there was a welcome aboard show in the Stardust Theater. The ship's production cast did a few musical numbers; the cruise director introduced the ship's officers and asked if anyone was celebrating a graduation, birthday, or anniversary. Among those celebrating their anniversary was a couple who had been married for sixty years. They also featured a pair of aerial acrobats and a comedian. My favorite joke of his was that he had a bottle of the ship's finest champagne in his mini-bar and was going to convince a woman to come back to his cabin with him and convince her to pay for the champagne.
Mom and I woke up early and went up to Deck 12 to claim a spot by the pool. Then we had breakfast in the Garden Cafe, where I started talking with a woman whose name I found out was also named Rachel.
We spent most of the day by the pool. I went into the hot tub and then, after applying the first of many coats of sunscreen, I went into the main pool, where I played with an adorable three-year-old named Jacob, who I nicknamed Spider-Shark because he was wearing a floaty vest with a shark fin and a pair of Spiderman goggles. After getting out of the pool, I had a frozen strawberry daiquiri and read my book for awhile.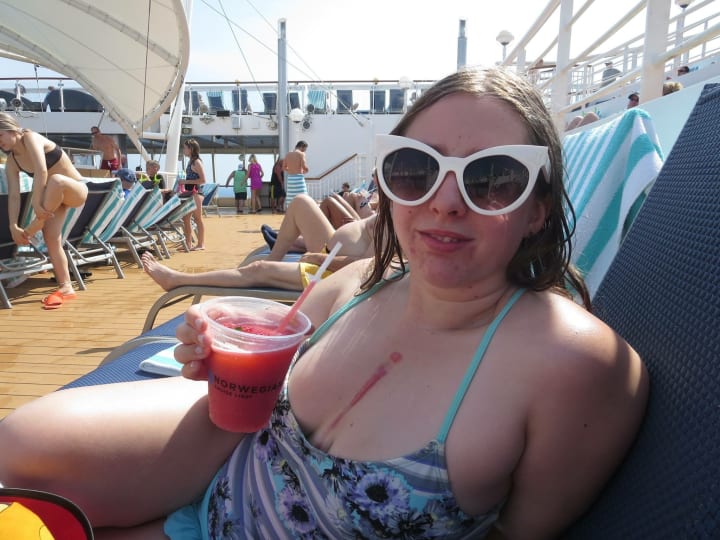 By eleven o'clock, music was playing, which started off with a sing along of Sweet Caroline, and the pool area was crowded. Mom wanted to get out of the sun for a while, so we went to a shopping seminar in the Stardust Theater, where a woman named Hannah told us about shops in Bermuda where we could get good deals. For attending this seminar, we received a voucher for a free charm bracelet at Diamonds International, which comes with a special Bermuda charm.
We had lunch at Bimini Grill, which is on the topmost deck of the ship and has a fantastic view, before going back down to the pool area. I sat down next to a cute guy in the hot tub and since the hot tub was crowded and I turn into a blithering idiot around any attractive male, I felt awkward. He had a tattoo of Korean characters on his chest. I asked him what they meant and he said "indomitable spirit." When I was finished in the hot tub, I continued reading my book until three o'clock.
Hannah had another seminar in the Bliss Lounge on Deck 7 about jewelry. She gave a presentation on gemstones, particularly tanzanite, which is one of the rarest and most popular gemstones right now. We were also instructed on how to judge the quality of a gem and how to save money when you are choosing the cut, clarity, color, and carat. For attending this seminar, we were given vouchers for a pair of tanzanite earrings from Diamonds International as well as a Norwegian Cruise Line bracelet charm. I also learned about how I could get a palm tree charm at the shopping desk at 5:30. After getting this charm, Mom and I went back to our stateroom to shower, change, and pretty up before our seven o'clock reservation at Le Bistro. Decor wise, Le Bistro was my favorite restaurant so far. The walls are hung with copies of French Impressionist masterpieces and our table by the window had these adorable basket chairs. I ordered the coq au vin, which was fantastic, and had the profiteroles for dessert, which were positively sinful. For a special treat, Mom and I each had a glass of Veuve Cliquot. We sat in the lounge near Gatsby's Champagne Bar and listened to some live music. Mom got excited because they played "Born to Run," the unofficial anthem of her home state of New Jersey by one of its favorite sons, Bruce (The Boss) Springsteen.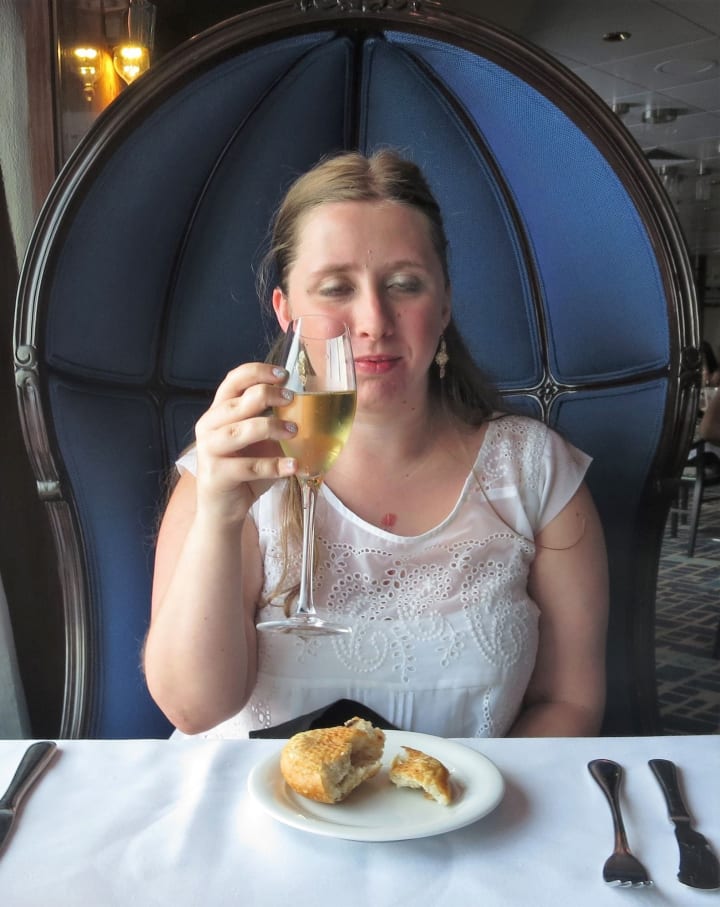 At nine o'clock, there was a show in the Stardust Theater called Band on the Run. Mom and I arrived early and caught the tail end of the Newlywed and Not So Newlywed Game Show. One of the questions the contestants were asked was about the strangest place the couple has had sex. The elderly couple who were the pair from last night who had been married for sixty years, had sex in both a Ferris wheel and a roller coaster. Band on the Run was a review of funk, rock, and disco songs from the 70s which included tribute numbers to bands like The Village People and Queen. The Village People number included a dance a long to the YMCA. Mom wanted to return to Gatsby's after the show because there was going to be a tribute to John Denver. I only stayed long enough to have a nightcap and then went back to the room. Mom followed me shortly after, deciding not to stay because the tribute to John Denver was going to only be instrumental piano.
caribbean
travel photography
About the author
New England Native; lover of traveling, history, fashion, and culture. Student at Salem State University and an aspiring historical fiction writer.
Reader insights
Be the first to share your insights about this piece.
Add your insights