Behind Bedworth
Hidden gems of an old midlands mining town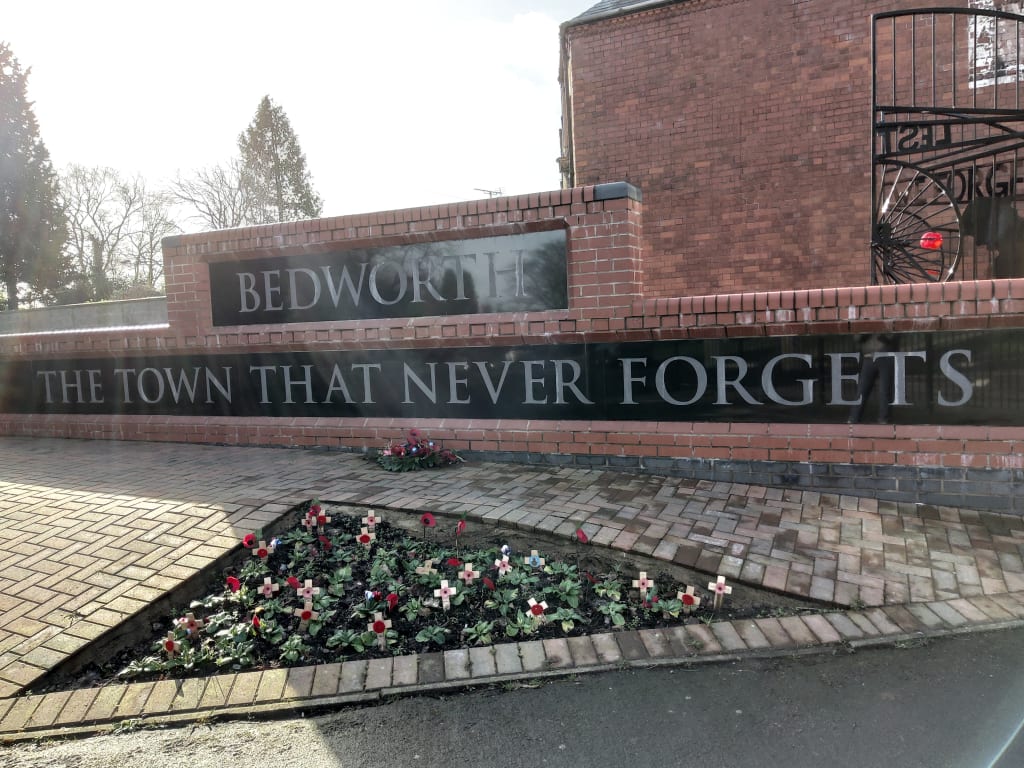 Installed in 2018 to mark a proud Bedworth tradition
Some residents and visitors will tell you the best thing about Bedworth is the ease of getting out. You might be forgiven for believing that. Admittedly, Bedworth isn't known for its tourism or night life or, well, much at all. We do have good transport links with easy access to motorways. Regular buses and hourly trains run to our nearest town and city, with some buses going further afield. From the neighbouring town and city, commuters can travel on to Birmingham, England's second city.
To the south, our nearest city is Coventry, a large city famed for its cathedrals, Tudor buildings, museums, and its historic car industry. Coventry is the birthplace of two-tone music, and has connections to Doctor Who - Coventry-born Delia Derbyshire worked on the original 1963 theme tune, and scenes for the 2006 episode 'The Shakespeare Code' were filmed at the 16th century Ford's Hospital.
North of us is the large market town of Nuneaton, the largest town in leafy Warwickshire (Bedworth comes in at number five). Their claim to fame is writer George Eliot, to whom there is a statue dedicated at Riversley Park. As well as play areas and greenery, the park is also home to the local registry office and the Nuneaton Museum and Art Gallery. A room in the gallery is dedicated to George Eliot while other rooms display historical artefacts and art in the permanent and temporary exhibitions.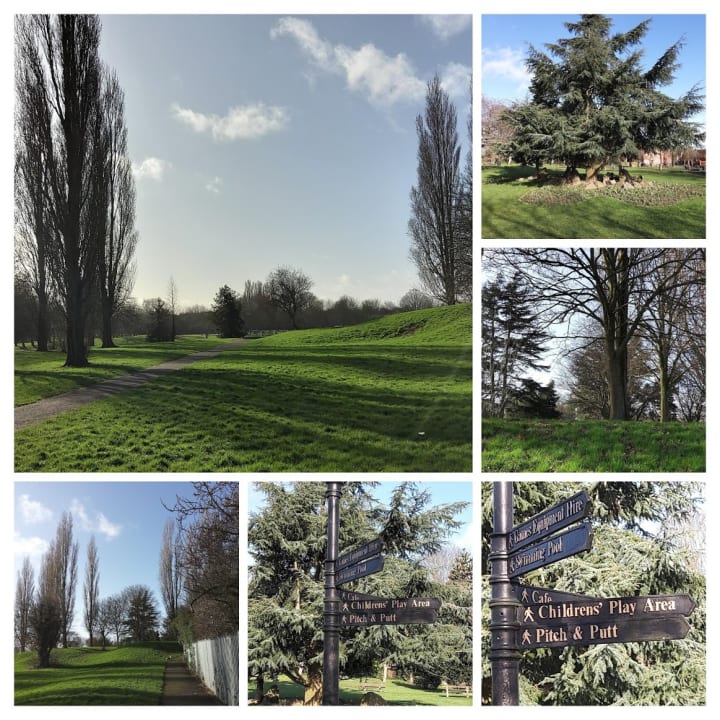 I'm not trying to put you off coming to my lovely little town, of course, but it is a convenient place to base yourself if you intend to visit. The only catch to that is that we only have a couple of places to stay, none of which is technically in Bedworth so you might have to make friends with someone with a spare room.
Our History
Originally a small market town with Saxon origins, Bedworth is mentioned in the Domesday Book - an extensive survey of England and Wales by order of William the Conqueror. Silk ribbon weaving came to Bedworth, some say, during the 17th century but there is evidence that suggests it predates the Huguenot immigration of the time.
Ribbon weaving thrived during the industrial revolution. Affected by a depression in the industry, however, mining and brick making became the staple trades of the town.
Bedworth Brick Works closed in 1939. It would be 43 years later, in 1982, when Bedworth saw the closure of its last colliery. The old pit bank and 'The Nook' - a Site of Importance for Nature Conservation, and other wild land now occupy the area that was once Newdigate Colliery.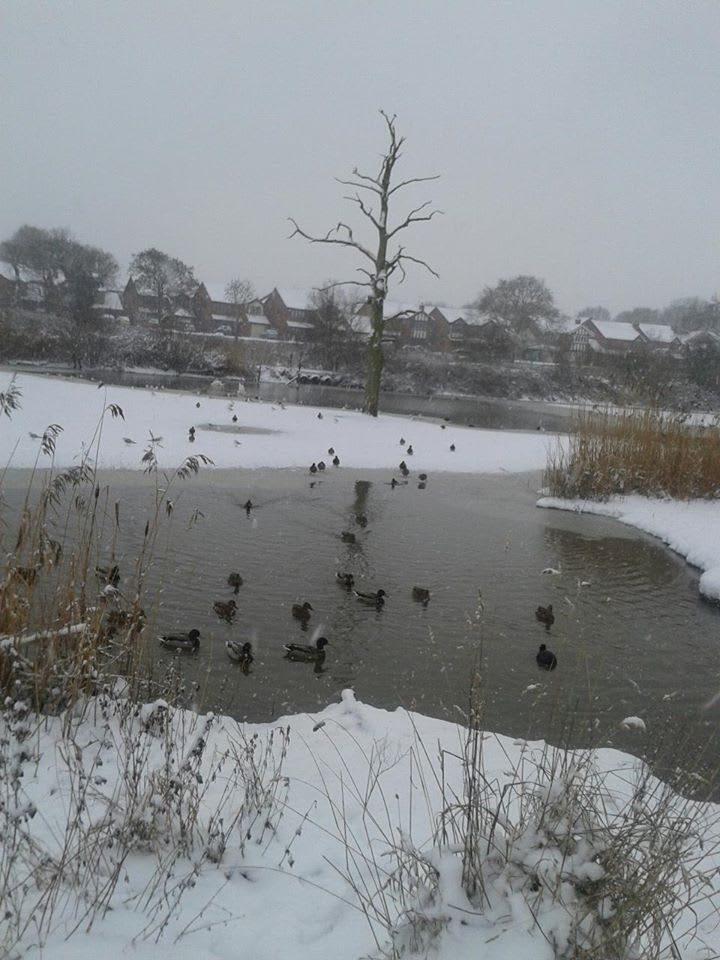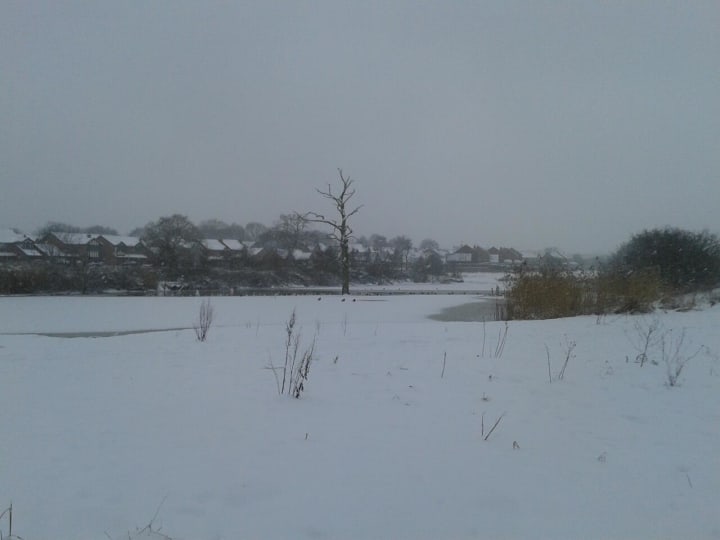 Bedworth town centre is exactly five miles from Coventry, and there is a plaque at the entrance of Nicholas Chamberlaine Almshouses. Its benefactor, the Rev Nicholas Chamberlaine, also left provision in his will to set up schools and apprenticeships. The cellar of the Almshouses is now home to the Parsonage Project. Officially opened by the town crier in 2000, the Parsonage Project was another beneficiary of the Nicholas Chamberlaine Trust with additional funds raised by The Bedworth Society. The small room holds changing exhibitions of Bedworth memories.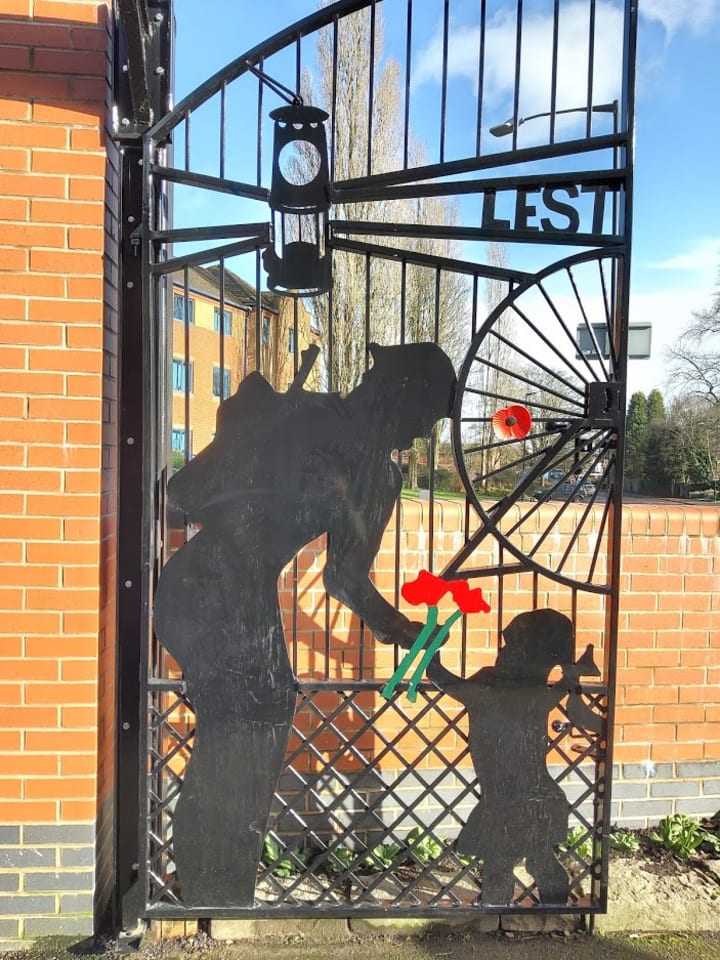 Bedworth may be less famous than some of its neighbours but we do have one claim to fame. People of Bedworth (or Bed'uthers as we sometimes call ourselves) are very proud to be the only town to hold an armistice parade on 11/11 every year. Many other towns and cities have their own parades and solemn occasions but they are generally held on the nearest Sunday. Since 1923, Bedworth has held the parade on the 11th November every year regardless the day on which it falls. Crowds can be seen throughout the usually quiet town as they watch serving military personnel and veterans march alongside cadets and Scouts.
In 2018, the anniversary of the end of World War II, new gates and dedication wall were installed at the entrance to the Miners' Welfare Park (more on that later).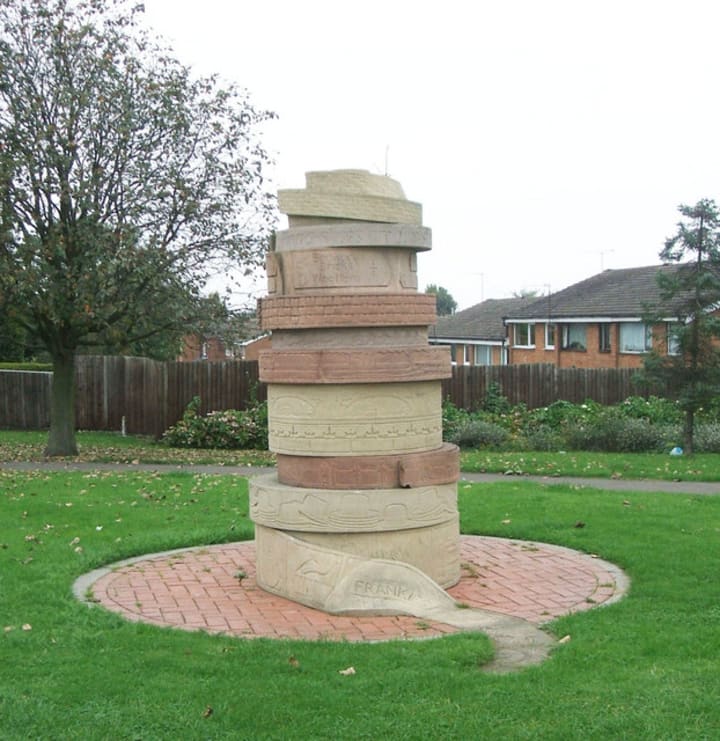 Bedworth and its adjoining village, Bulkington, has a number of pubs and cafes, social groups run at the libraries, and three Scout groups (1st and 4th Bedworth, and 1st Bulkington). There are also plenty of halls, churches, social clubs and other spaces for meetings and social groups. Our little town can offer dance groups, sporting activities, amateur theatre, children's play groups, and much more.
Furthermore, Bedworth has sculptures that celebrate industry. Just on the edge of the town centre, a stone monument styled to look like reels of ribbon represents the silk weaving industry. In the centre of town stands a 3 foot marble statue showing a stylised miner's grip.
Town Centre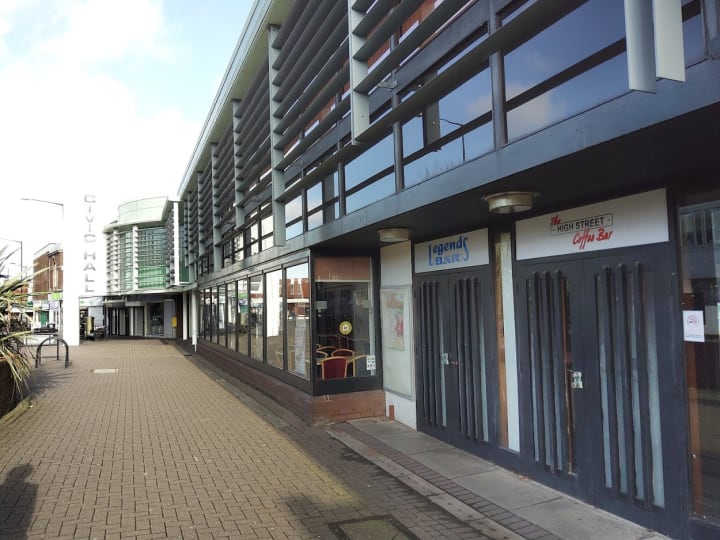 The Civic Hall in Bedworth is our local theatre. Opened in 1973, the 763-seater venue is a popular place to see plays, music concerts, sports, and other local events. It is also home to meeting rooms, galleries, a bistro, and a coffee bar.
In years past, The Civic Hall has hosted acts including Luciano Pavarotti, Morecambe and Wise, Jimmy Carr, and Showaddywaddy. Many local groups as well as high quality tribute acts are shown here.
While locals and visitors alike may be familiar with The Civic Hall in Bedworth, they may be less familiar with the buildings that it conceals.
Coming out of town from the Civic Hall, you will pass, among other things, a pharmacy and a gym before reaching the end of the terrace. Go straight on, by all means, as there you will find the library and, a little further on and across the road, our most prized park. But you would miss out on a little gem that is tucked away. Behind the library and attached to the back of The Civic Hall is Bedworth Arts Centre.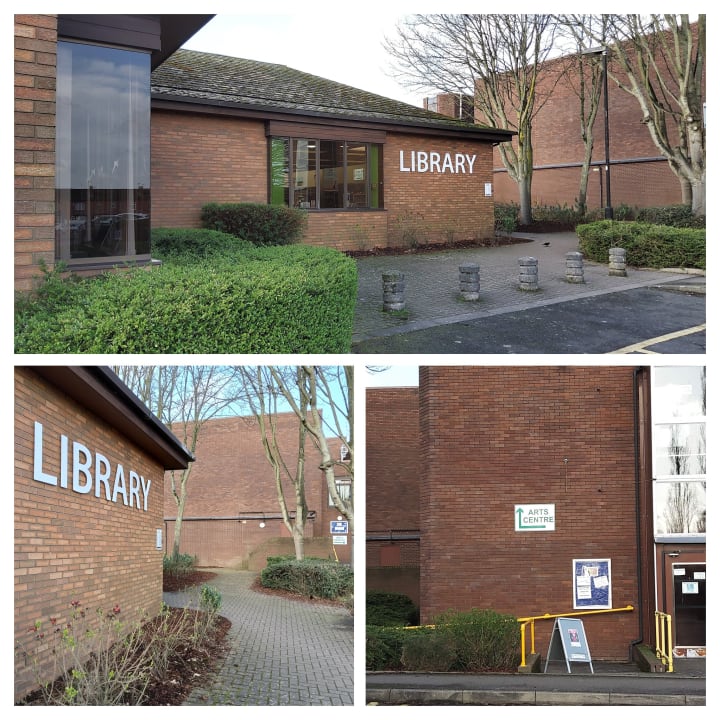 Part of The Civic Hall, Bedworth Arts Centre has been home to amateur theatre companies, including youth theatre groups, for over 30 years. The Arthur Wilson Gallery and Coffee Bar displays exhibitions from local artists as well as hosting classes in arts and history.
The small Watson Studio, named in honour of a couple instrumental in its success, welcomes four drama groups each week. Labyrinth (Youth Theatre) and Bedworth Theatre Company put on at least one play each year as well as improvisation nights and quizzes.
Founded more than 20 years ago, Labyrinth has seen hundreds of members come and go, the majority making a commitment to the group until moving on for work or university. It is now seeing a second generation as children of original members follow in their parents' footsteps.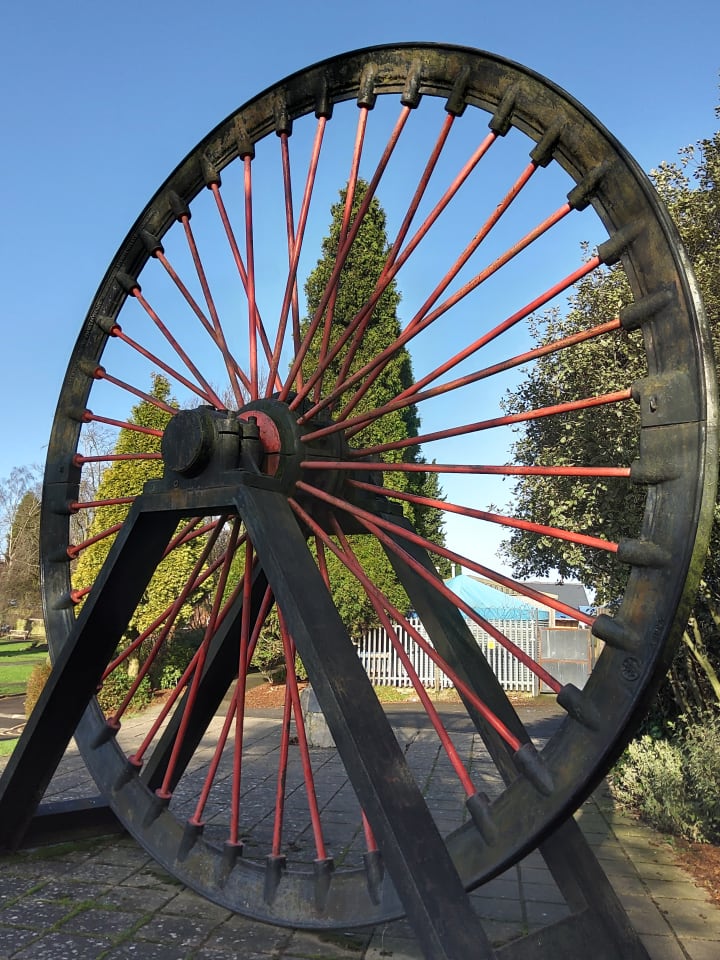 Perhaps our most prized feature is the 'big park'. The Miners' Welfare Park - sometimes called simply Bedworth Park - is situated just on the edge of the town centre. Changes have been made over the years to this park which spans across an old colliery.
Younger children can enjoy swings, slides, and sand in a fenced off area while older children and teenagers can make use of the skate park in another area of the park. Not just for children, the park boasts a small outdoor gym, a disc golf course, tennis courts, and a cricket pitch. Away from the activity, visitors can enjoy a walk around the lake and enjoy the green space.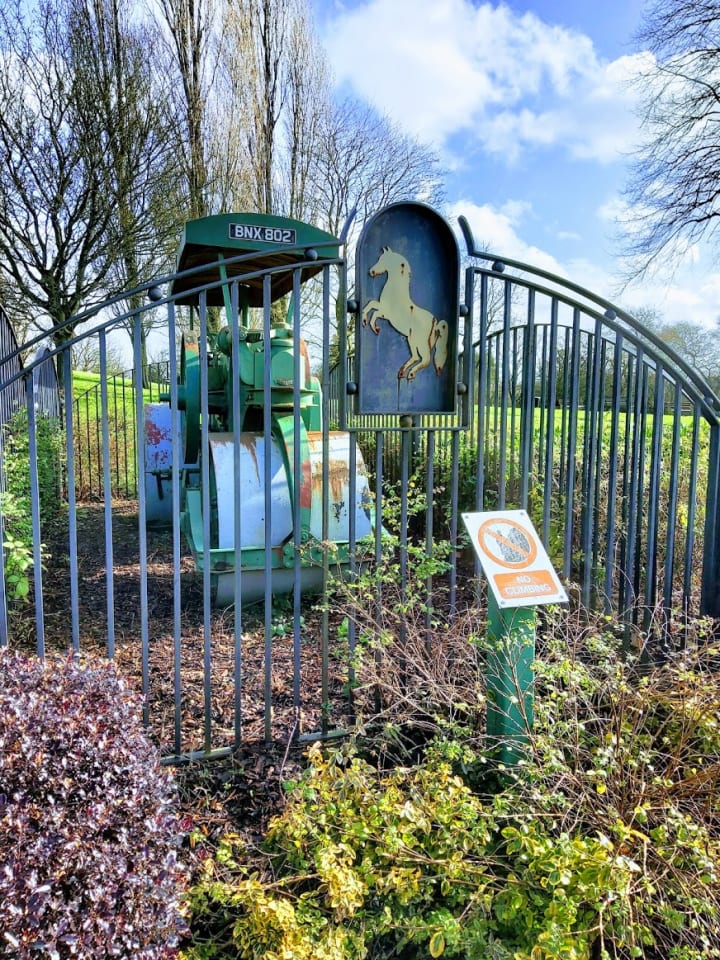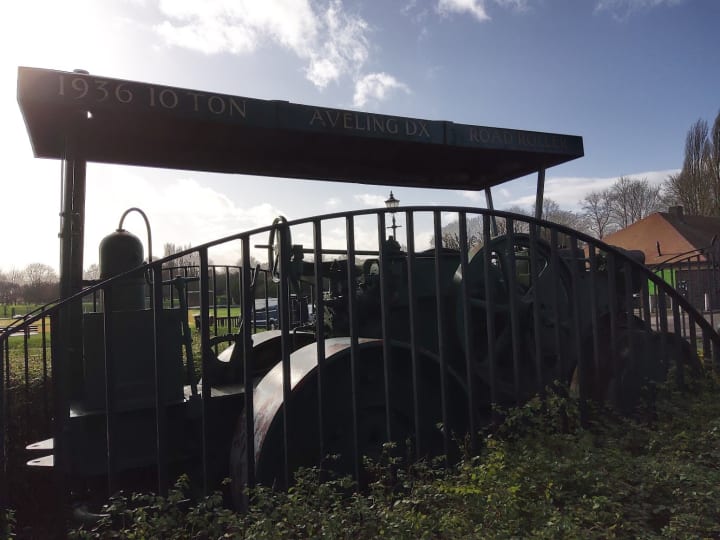 While talking about the park, it is worth mentioning The Mayor's Cafe. This is a project run by People in Action, a local charity that supports people with learning disabilities, autism, dementia, and mental health conditions.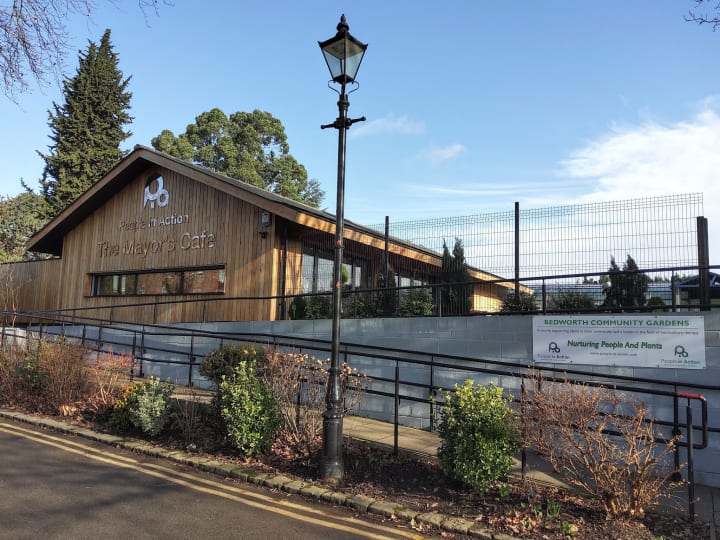 Food and Drink
At the Mayor's Cafe, you can enjoy a variety of vegetarian meals made using the on-site Community Gardens. Visitors can enjoy the view of the park while sipping on a hot drink, sampling the homemade cakes, and enjoying the 'Meal of the Day'.
A more recent addition to the town is The Latte Artist. Formerly a bakery and cafe, this little shop was taken over and re-branded as a coffee shop in mid-2019. An inspection in October 2019 gave The Latte Artist a 5-star hygiene rating.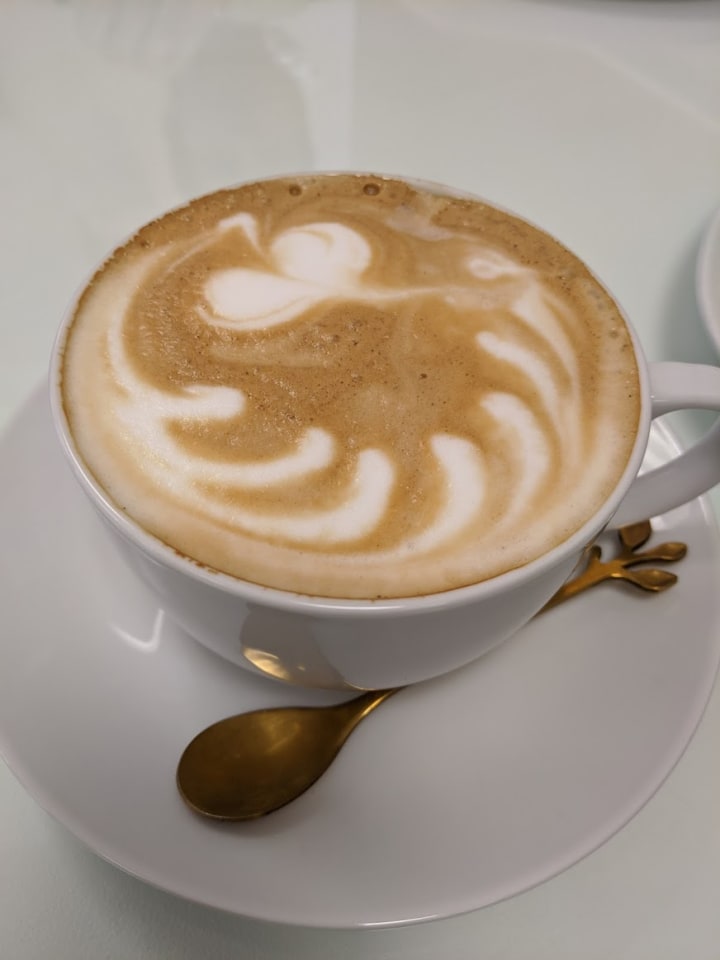 Offering snacks as well as hot and cold drinks, The Latte Artist rewards regular patrons with a loyalty scheme. Customers receive a stamp on a card for each visit, in order to receive a free drink once the card is full.
If a coffee shop is not your thing, there are other options as long as you are prepared to travel a little out of town. Bedworth train station is just a few minutes walk from the centre. Along the same road, you will find a number of shops including a vet, barbers and hairdressers, and three takeaways (one chip shop and two Indians), as well as two churches and two pubs.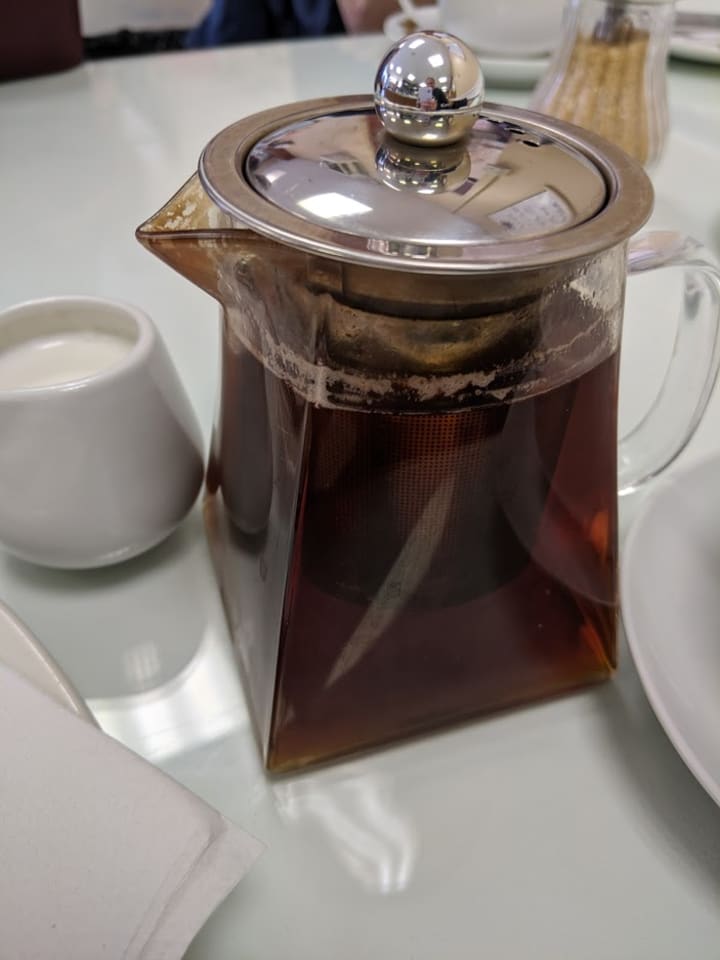 The town centre is not far away from the station but, if you're prepared to do so, it is worth travelling away from the town, towards the village of Bulkington. As you travel towards the border between Bedworth and Bulkington, there is a school. The only reason I mention that is because you would notice that but would, perhaps, not spot the small cafe that sits just across the road.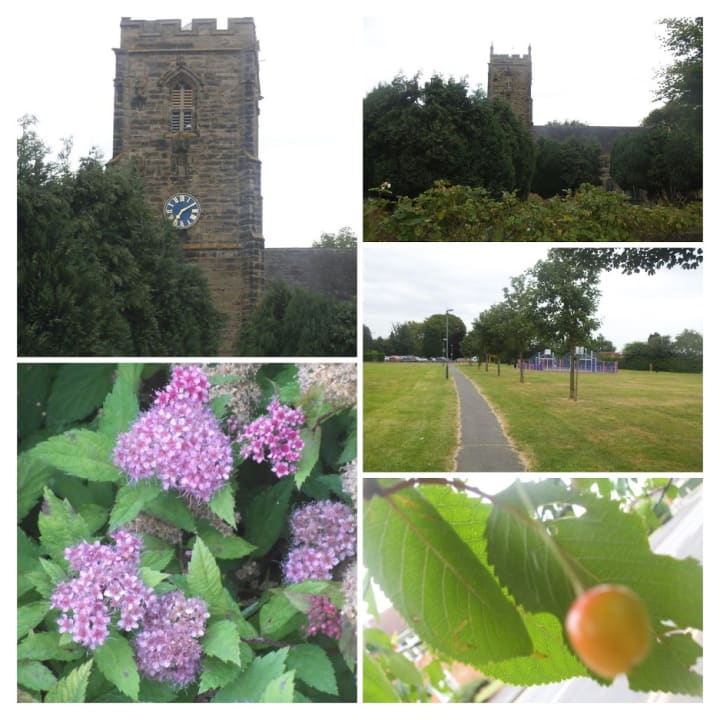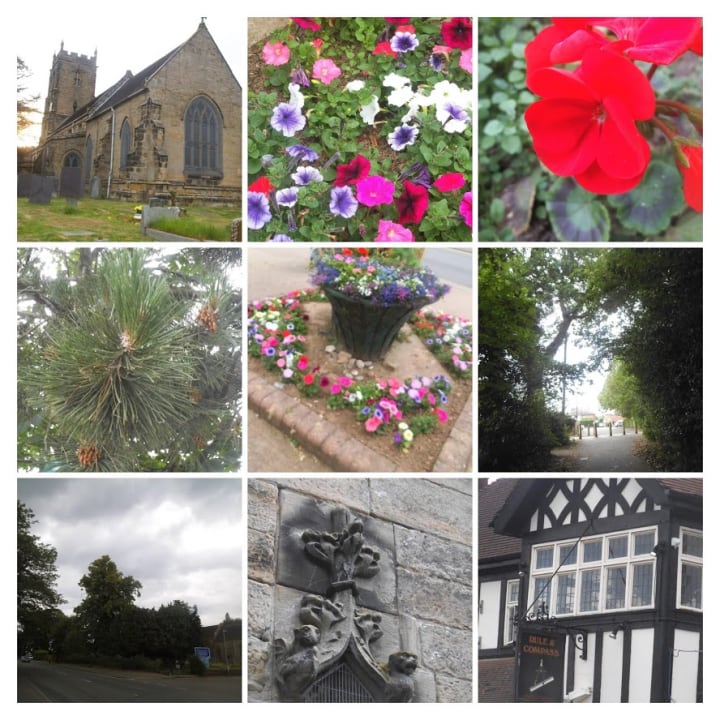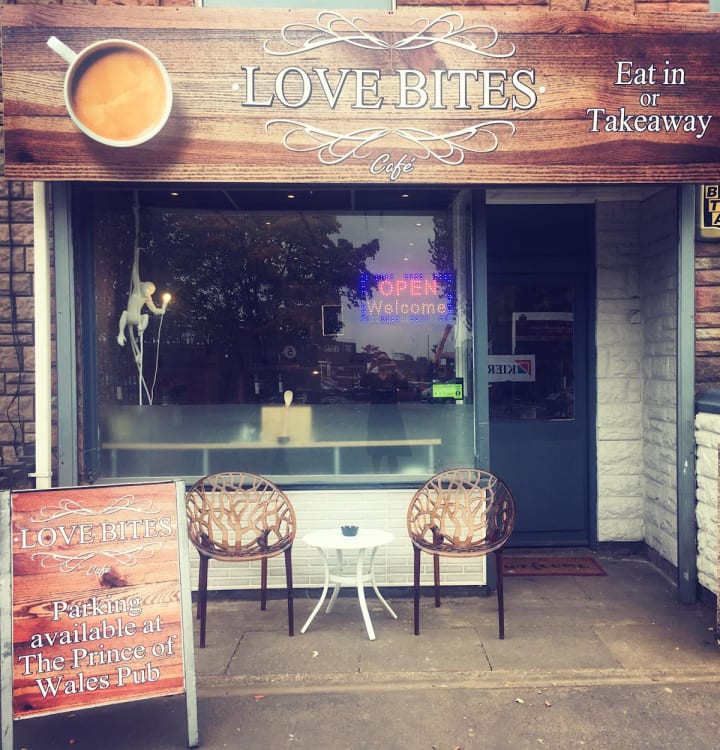 Love Bites Cafe is very small but definitely worth a visit. As a breakfast and lunch cafe, Love Bites is open 9am to 3pm Monday to Friday, and 9am to 2pm on a Saturday. Opened in 2018, Love Bites has been a big hit with locals enjoying a delicious selection of bagels, baguettes, and breakfasts. They also serve batches - a word of some controversy! It is important to know that 'batch' is a local word for what you might call a bread roll (or a multitude of other words, depending on your dialect). It is worth noting that parking for Love Bites is at the Prince of Wales pub about 100 yards away (the pub is quite nice too).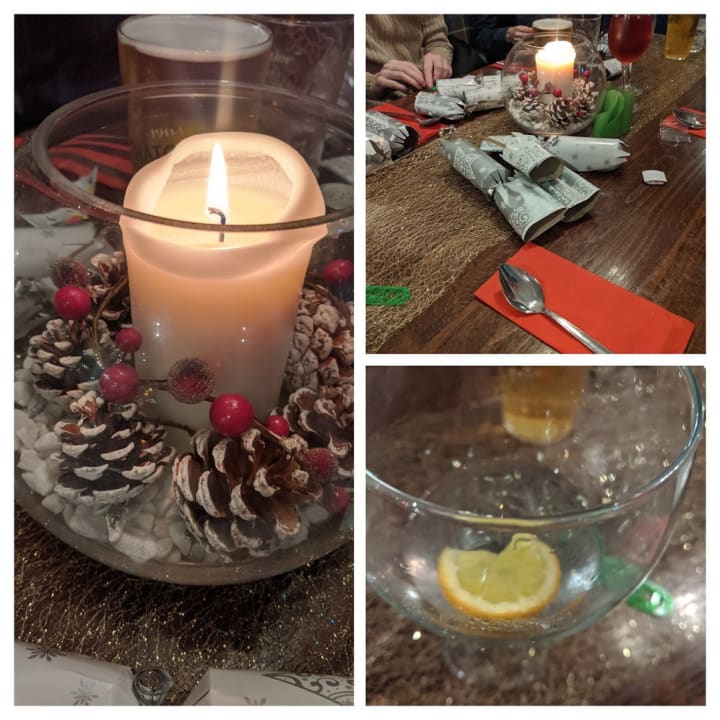 If a pub is more your scene then there are a few options. Bedworth used to have pubs around every corner. Sadly, we have lost some over the years but other favourites remain. One that has been through changes in its lifetime, the Newdigate Arms is in the Mount Pleasant area of Bedworth. A little out of town and tucked away from main routes, the Newdigate serves meals as well as drinks.
You can book a table or just drop in. On the menu, you will find steaks and grills, salads, pies, and burgers as well as pub classics such as roast ham, scampi, hunters chicken, and chicken curry.
The Newdigate Arms offers a lunch time special and other deals. There is a selection of alcoholic and non-alcoholic drinks. Their hot chocolate is delicious and comes served with a caramel biscuit.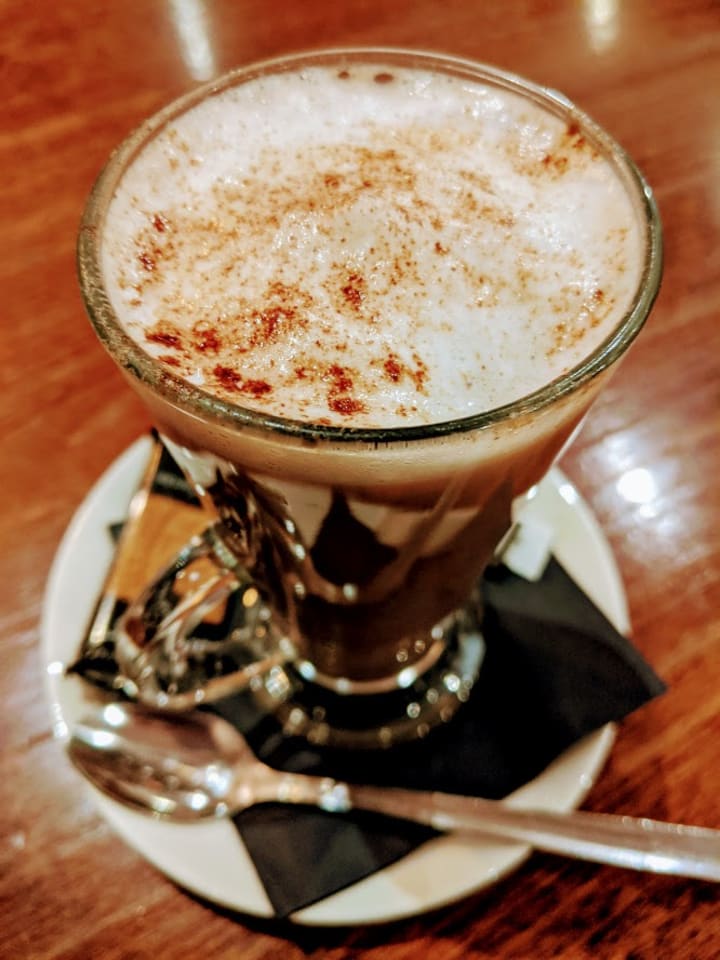 The pub has two rooms - a sports bar and a restaurant area - and a small anteroom where guests can wait for friends as they look out onto the patio. In the summer, visitors can enjoy the patio as well as a rear garden. Charity quiz nights are held regularly too.
Something Different on the Outskirts
If you're looking for something a little different, and you're prepared to travel a little out of town, there is Astley Book Farm. Driving is recommended to get here as it is located in farm land along a country road, 40 minutes walk from the nearest bus stop. Although there is not much else around there, it is worth the drive out (or the walk if you're feeling fit enough - but I would only recommend this during day light as there are no footpaths for much of the way).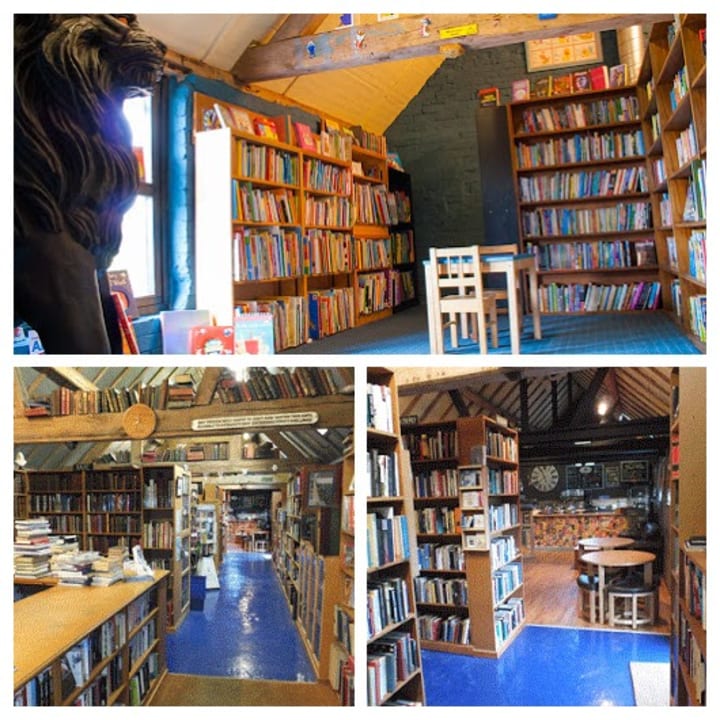 At Astley Book Farm, customers can browse the books which are arranged in sections by genre. The largest second-hand book shop in the midlands, you can find rare books, fiction, non-fiction, and antique books. There is a children's section upstairs in the 'Hayloft', and a second building is home to the 'Ten Bob Barn' where other pre-loved books are on sale for 50 pence (around US 65¢).
More than just a second-hand book shop, the 75,000 book collection separates a reading nook and a cafe. There is also a small garden that is sheltered by the building that surrounds it.
The cafe serves a variety of hot and cold drinks and sandwiches (we sometimes refer to a sandwich with a hot filling as a 'buttie'). Other meal options and locally sourced cakes are also available. It is a very cosy place to enjoy a snack after (or before or during) you have browsed the books. A popular place, it is easy to spend a couple of hours getting lost in the books, enjoying the fire in the winter or meeting up with a friend in the cafe.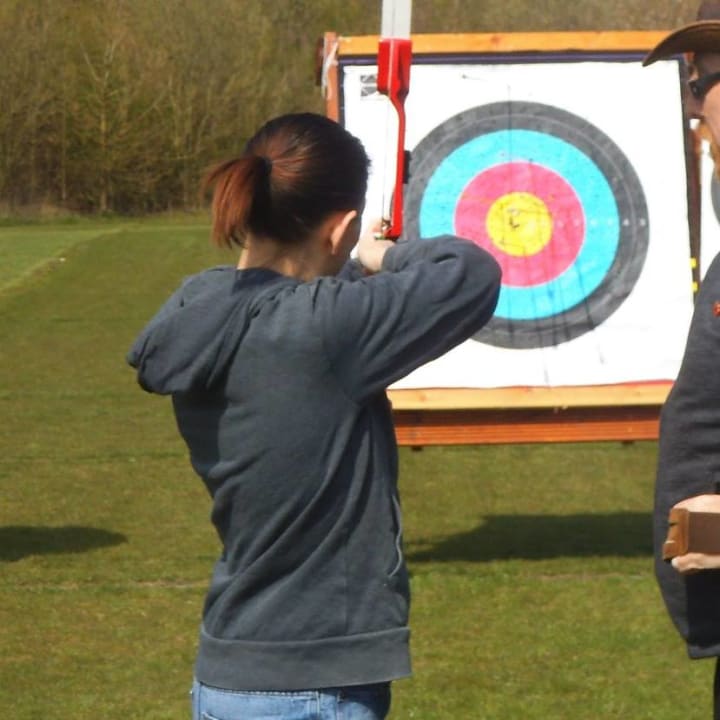 For something a little more active, let's go back the other way. Weston Lawns offers cabins and three fishing lakes, while an adjacent field is home to Nuneaton Archers and Arbalists. Offering training for beginners during the summer, the field is open - weather permitting - to members from 8am to 8pm every day. Visitors are often welcome and it is worth checking out their page for special events and open days.
On the surface, Bedworth might not seem like a place you would choose to visit. In fact, many online searches for 'things to do in Bedworth' result in things to do in places that aren't Bedworth. Perhaps this little peak into our town will entice you if you're thinking of visiting middle England.
Image are my own except where otherwise stated

Sapphire Ravenclaw
I am, among other things, a freelance writer and mother. I enjoy writing poetry and articles. Currently, much of my spare time is spent working on a book about Paganism (one of many subjects which interests me).
More of me:
See all posts by Sapphire Ravenclaw →