Another Side of Dubai #4 Super Japan
21 days in transit picture #4 A discussion on Globalisation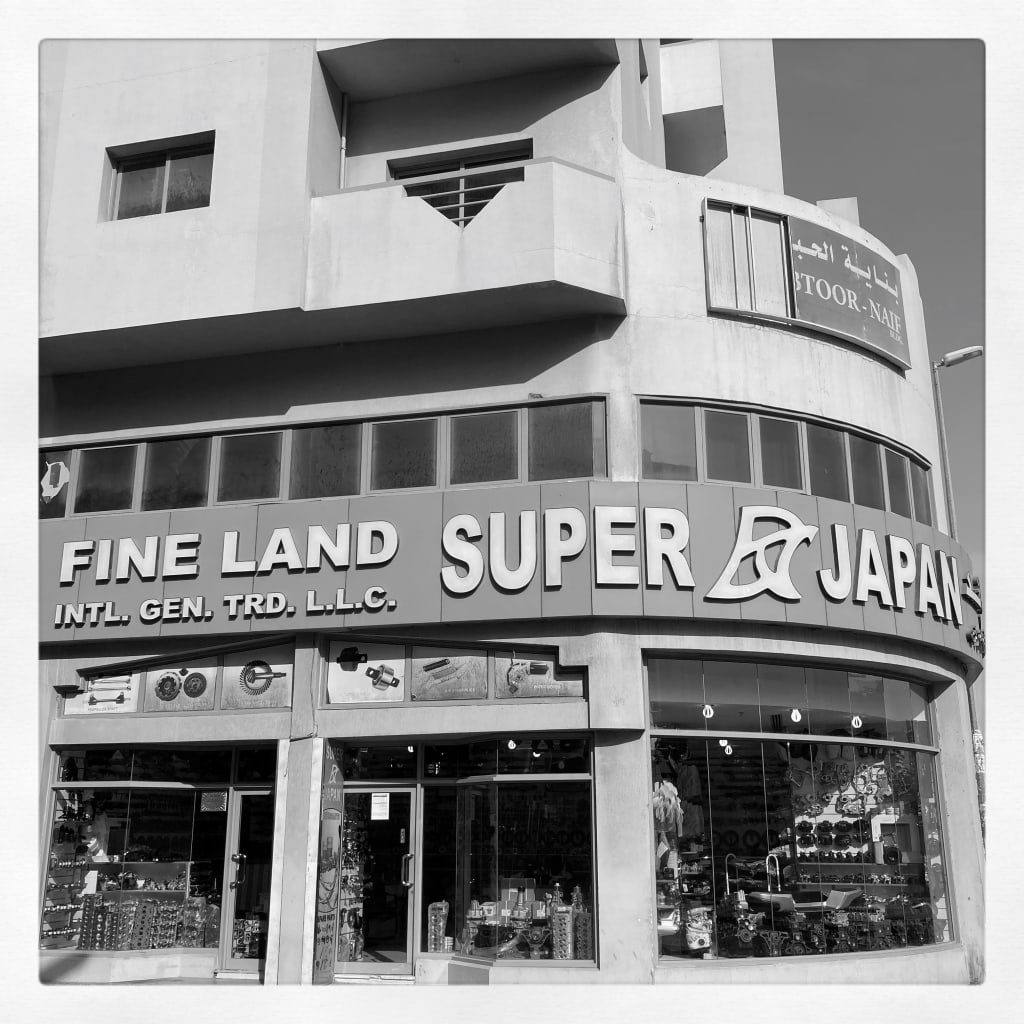 Super Japan(2021)
Hello world, my name is Matthew Baker and you can call me Matt. I'm a artist who lives in Hong Kong on a little island called Lamma. But that's a story for another day.
Currently I'm spending 21 days in transit in Dubai. I can't renter Hong Kong for 21 days because I've been in England and it's the middle of the pandemic. The reasons for this I will explain in another article but now I going to tell you the ideas behind the image Super Japan (2021).
I'm fortunate enough to have traveled to Tokyo and it is a stunning and wild place. A feast for the senses. But nothing in Tokyo looks like this shop incredibly call Super Japan in Dubai.
I firstly loved that there is absolutely no Japanese on the sign. It states in English 'Super Japan' mysterious yet nonsensical.
I just thought that the shop was really funny. What is a 'Super Japan'. Is it simply a statement that Japan is Super. If so I heartily agree with that. Or is it a play on Super Mario, but rather than Mario it is now Japan.
Then the style of the lettering is like something out of an American 50's dinner the circular front of the building illudes to this kind of style of architecture too.
I sort of expect to be able to walk in and get a milkshake. But I can't image an American 50's diner caller 'Super Japan'. I'll leave you with that one.
It also just says 'fine land' on it. I'm again unsure what this is referring to. The land of 'Super Japan' maybe a fine land and an upgrade from the original Japan and is a premium version of it. Or is Dubai the Fine land in which the shop of 'Super Japan' sits. Or does it sell fine land as well as car parts?
The scene just really caught my eye. I love that it's an engine shop with parts placed in a shop window like that. In England this probably hasn't been common since the 1970's. It would be totally unusual to see a shop like this now in the UK. But here in Deira in Dubai where the picture is taken there is maybe fifty or so shops like this but none with such a bizarre name.
I like how the engines line the window and the different parts sit neatly stacked next to each other. It's amazing all the component parts that make an engine, I think, as someone whose not a mechanic. It's sort of magic and seeing the parts sitting like that just makes me wonder and marvel at engineering. It's something I could never do and I really like that feeling because I think it's amazing that someone can go in to the 'Super Japan' shop, buy a part and make a car move. Modernities a madness.
The image also speaks to me about rapid globalisation. In Dubai someone is buying singular Japanese cat parts in a shop that looks like an American dinner via Arabia called Super Japan. The signage is all in English but the street name is also in Arabic. There is a window feature above the sign which has a 60's noveaux arabian style to it and that's before we've even started to think about where the glass and metal from the parts have come from. Weather they were actually made in Japan or made they made somewhere else and just designed in Japan. All mysteries to me.
I celebrate globalisation generally. An unpopular open I know but it gives me belief that although cultures can see so different we are all the same. When we collaborate great things can happen. Like 'Super Japan' and it can create new narratives. The stories we tell are maybe one of the only things we can ever truly own. This story of Super Japan is pretty ridiculous.
You can follow me on Instagram @artistmattbakerphotography
For an archive of my work check out www.matthewbakerphotography.wordpress.com
Or on twitter @mattbaker133