Annapurna Base Camp Trek
Annapurna Base Camp Trek joins the magical viewpoint Poon Hill which offers panorama Himalayan ranges and golden sunrise views.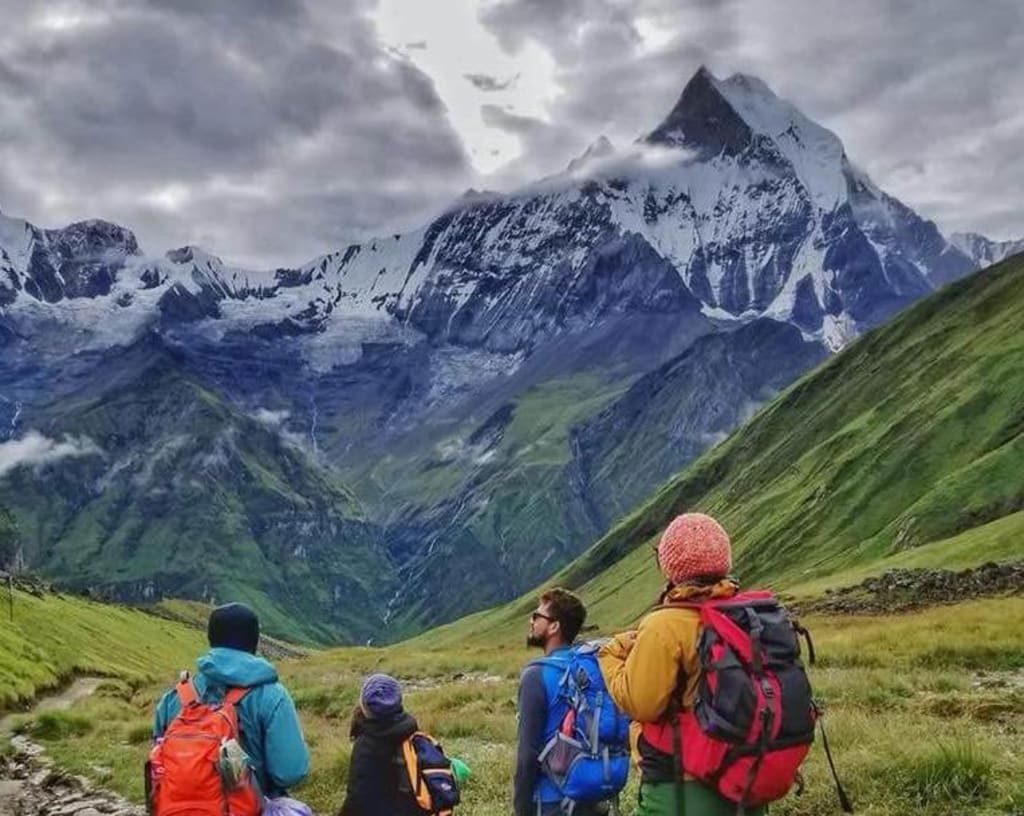 The world-famous trekking route Annapurna Base Camp is the perfect destination for natural and adventure lovers trekkers, this trek is a superb one that gets you right into the heart of the mountains in a relatively short space of time, The journey up to the high glacial basin known as the Sanctuary after leaving the Himalaya Hotel is magnificent and the Sanctuary itself will leave you speechless. This Annapurna Base Camp Trek leads you to the foot of the world's 10th peak Mount Annapurna, it provides a great opportunity to witness the natural and cultural diversity of the Annapurna Sanctuary in the shorter time frame, lush green rhododendron forest, flora, and fauna, and many more.
Annapurna Base Camp Trek joins the magical viewpoint Poon Hill which offers panorama Himalayan ranges and golden sunrise views, you will not just get to touch base with the untouched nature of the remote Himalayan regions, but will also be able to experience the warmth of the local Nepalese culture, soak in the spectacular panoramic views of Annapurna and Dhaulagiri range and get a close-up look at massive peaks which are amongst the famous 'eight-thousanders. This Annapurna Base Poon Hill Trek is also the perfect trek option for those on a tight schedule, as long as you don't mind a bit of snow and the cold, it is possible to undertake this walk anytime during the regular trekking season (October to May).
Itinerary
Day 01:
Arrival in Kathmandu
Day 02:
Kathmandu to drive Pokhara [827m, 7-8 hrs drive]
Day 03:
Pokhara to drive Nayapul & trek to Ghandruk [1940m, 5-6 hrs]
Day 04:
Trek Ghandruk to Chhomrong [2170m, 5-6 hrs]
Day 05:
Trek Chhomrong to Bamboo [2310m, 4-5 hrs]
Day 06:
Trek Bamboo to Deurali [3230m, 3-4 hrs]
Day 07:
Trek Deurali to Annapurna Base Camp (4,130m/13,545ft) via MBC [3700m, 5-6 hrs]
Day 08:
Annapurna Base Camp to Bamboo [2310m, 7–8 hrs]
Day 09:
Trek Bamboo to Jhinu Danda [1760m, 5-6 hrs]
Day 10:
Trek to Nayapul then drive to Pokhara [830m, 6 hrs trek] & [1 hrs drive]
Day 11:
Drive to Kathmandu [1350m, 8 hrs]
Is Annapurna Base Camp Trek Difficulty?
This trek is easy than Everest base camp trek, Annapurna Base Camp Difficulty is classified as moderate, who has good healthy fitness, perfect training, and already has done trek above 3000m, those trekkers can do easily this trek. The trek high elevation is base camp (4,130m). All of the age people can enjoy this trip.
Is it necessary to need travel Insurance for this trek?
The travel insurance will cover emergency evacuation as Helicopter rescue and the hospital charge. If you fell an accident and Acute mountain sickness then, at this condition, your travel insurance will immediately provide the helicopter.
Electricity does available on Annapurna base camp trek?
Yes, electricity is available in the lower region of Annapurna trek, where you can get to charge your camera and mobile batteries, etc. But high elevation there has a solar system power so it's not enough for the charge. So we suggest you take some extra batteries for this Annapurna base camp trek.
Is possible to take my children to Annapurna base camp trek?
Of course, all of the age can do it but before goes trekking, you have to give training for your child.
Is possible to get a hot shower the trekking?
Yes, the hot shower is possible to get many lodges and teahouse but above the 4,000m is not available and not good for your health.
Can I found Wi-Fi through the trek?
Of course, Wi-Fi is available many lodges and teahouse, but you have to pay extra.
Is it safe for a solo female traveler?
Of course, the solo female traveler is fully safe, Himalayan frozen Adventure is responsible teams, who leading many solo trekkers through the Himalayan and made successfully.
How can I respect the culture?
During the trekking, we can get amazing Gurung and Magar culture, there we can see some notice, we have to follow that notice rule and regulation.
Is possible to get ATM through trek?
No, is not possible to get ATM and bank through the trek, so you have to takes Nepali money from Pokhara and Kathmandu.
Do I have to take sleeping bags on the trek?
Yes, is necessary to take sleeping bags on the trek because the lodges don't have enough blanket.
activities
About the author
Himalayan Frozen Adventure one of the travel agency company in Nepal, the company got the best award for adventure achievement, where has perfect packages for Nepal, Tibet, and Bhutan. For more info - www.himalayanfrozen.com/
Reader insights
Be the first to share your insights about this piece.
Add your insights