African Twitter User Claims All Africans Live in Villages & Africans choose to be homeless
He also laughed at countries wasting money to make areas uncomfortable for the homeless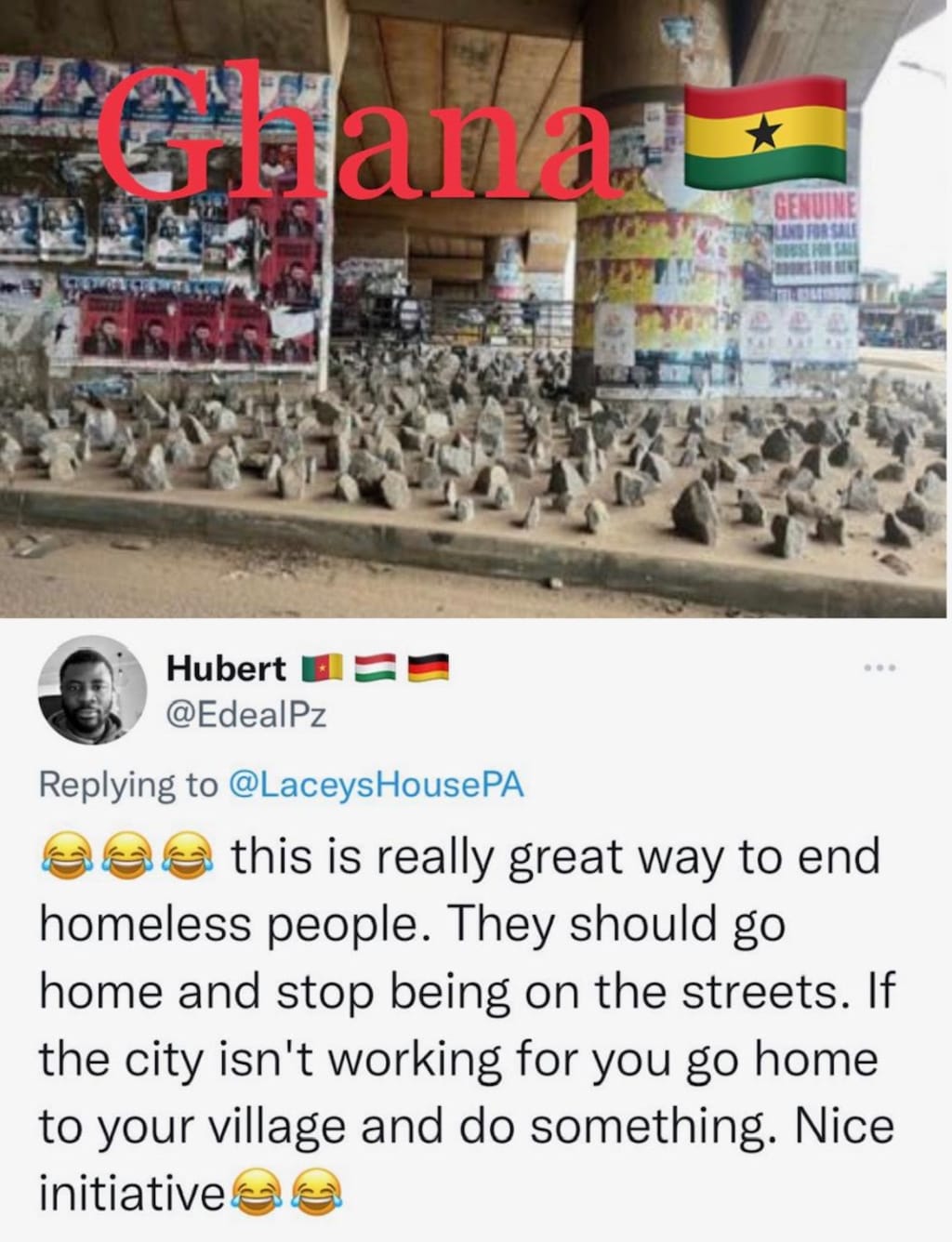 Screenshot from Twitter with Authors Photo from Accra Ghana (Author Created)
On Twitter someone took it upon themselves to reply to something I posted. It is a public account, I was posting in support of Burkina Faso, a nation that has been for 7 long years fighting terrorists who continue to invade their borders.
He said that Americans should worry about their homeless people, I have no idea where this line of thought came from.
He applauded African countries like Ghana, spending money making spaces that provide shelter from the sun & rain inaccessible. Ghana cements stones to the ground making these places difficult to lay to get sleep or rest.
Above he laughed thinking this was a great idea. He then goes onto say that they (homeless people) should return to their home villages and do something.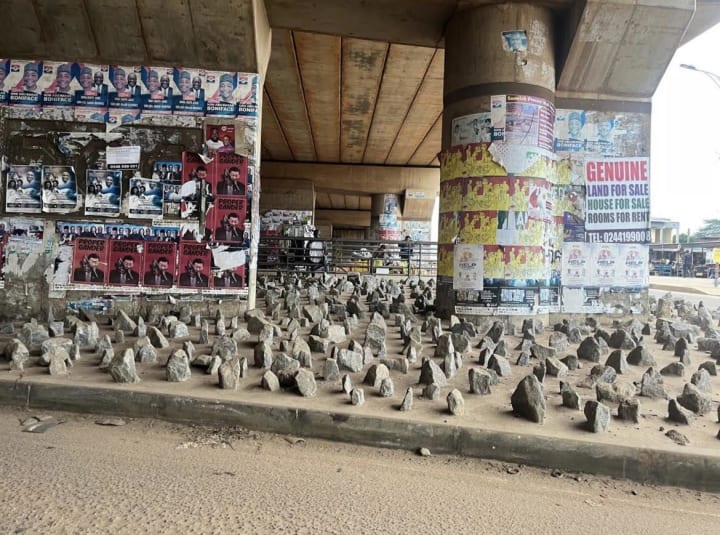 The man who's tweets location is tagged from New York City in the United States, seems to believe all Africans grew up in villages. He also believes that they can travel throughout their countries without money, in cripplingly harsh economic times.
When many are struggling to feed themselves a few times a week, let alone find a safe place to sleep at night. Living in countries with various socio-economic issues, along with added violence and crime.
What this man doesn't seem to understand is that NOT all Africans were raised in a village. Or can go back to any particular village either.
Accra, Ghana is the capital city, one that was named the most expensive city in the world, comparable to the average income of Ghanians. This is also the historical home of Ghana's Ga tribe.
Accra the capital city is their village, an overpriced village where they're being forced out by high prices and Chiefs selling off land to developers. As well as the government displacing them.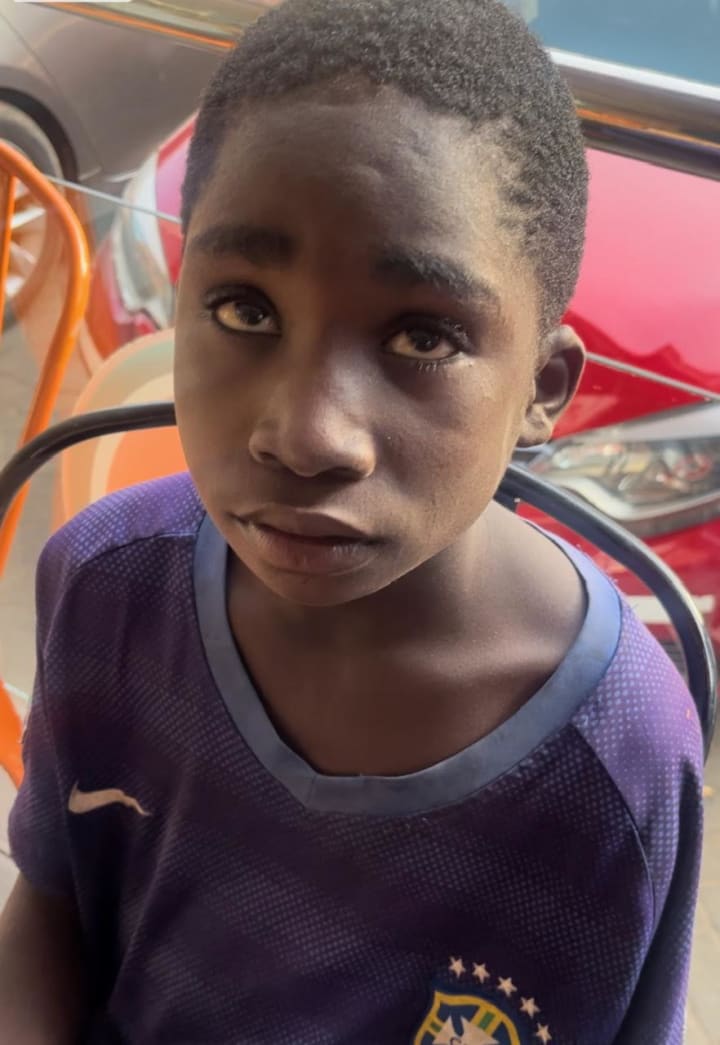 I met this child in East Legon, he was living on the streets of Accra, Ghana. He told me that he was from an area near Takoradi Ghana 4 hours away from the capital. He said he has a home and mother but his step father beats him severely, he couldn't take the beatings.
I was out with someone else, I wish I had done better to stay in contact with him. I didn't carry any business cards but I gave him money. I then told him that I would come around that area to meet with him. I went often but had to leave for a trip, I haven't found him since.
There are around 100,000 or more street children in Ghana, there is no exact record keeping, a 2019 number was over 90,000.
In Accra there are thousands of children living on the streets.
Some have lost parents and no family members want to take them, most are fleeing rape, child abuse, and severe poverty.
Parents have even thrown their children out of their homes, some seek relationships pretending they don't have children.
This man's ignorance was an example that made me believe he's not actually African or since he's in New York City he's never lived in an African country. Again I can't assume this but his comment was very odd to say the least.
I have met many people from Africa whom have grown up i living in cities. One man from Kenya said his father always lived in the city and refused his paternal land from his father. Therefore there was no village land or home to go to for him and his 11 siblings.
Social media spreads a lot of misinformation as well as hatred. This man was clearly just trying to argue.
Sadly the situation is overpriced housing, economic relief with higher wages. The more foreigners move into African countries the higher housing prices are, the higher commodities go up as well.
Thank you for reading 🙏🏽 Please consider buying a coffee for Lacey's House efforts in Gender Equality & Children's Rights as it tries to move international.
©️TB Obwoge 2023 All Rights Reserved
About the Creator
I'm the president of a nonprofit. I've lived in 3 countries, I love to travel, take photos and help children and women around the world! One day I pray an end to Child Marriages, Rape and a start to equal Education for ALL children 🙏🏽
Reader insights
Be the first to share your insights about this piece.
Add your insights