Abu Dhabi in the Persian Gulf
The capital of the United Arab Emirates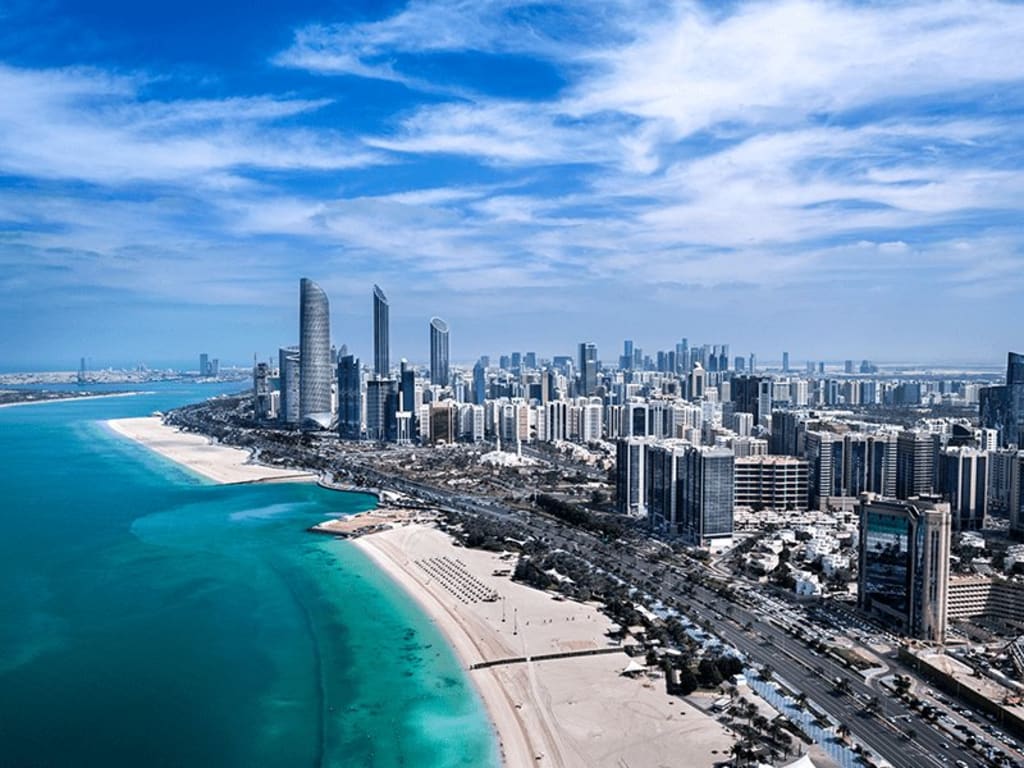 The impressive and modern capital of the United Arab Emirates, Abu Dhabi sits off the mainland on an island in the Persian (Arabian) Gulf. There is much to delight the eye here and is one of those cities where as you see one site you want to see so much more. So get comfortable and sit back in your armchairs and let's begin the tour.
Set among lovely gardens and visible from every one of the bridges that join Abu Dhabi to the mainland is the Sheikh Zayed Grand Mosque. It was the idea of the first president of the UAE, Sheikh Zayed, and is also his final resting place. This is an incredible mosque that can accommodate 41,000 worshippers and is among the few that is open to non-Muslims. It was built of Macedonian marble and has become one of the most popular tourist sites in the city. The mosque combines Mameluke, Ottoman, and Fatimid design elements. After 20 years of construction, the mosque was finally opened in 2007. It is the biggest mosque in the UAE.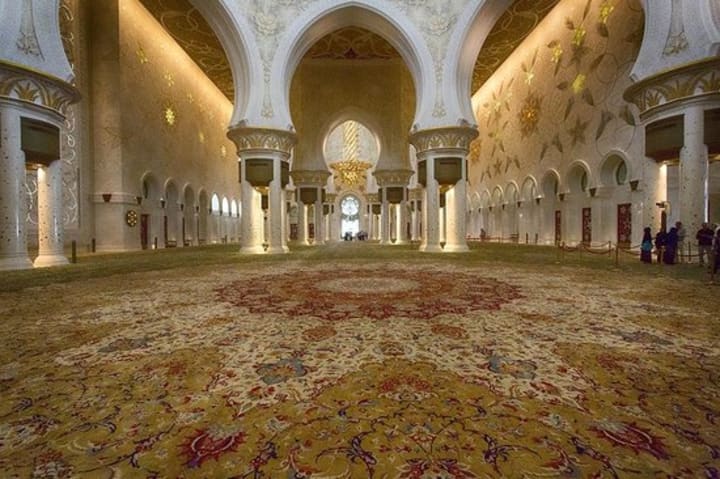 The Prayer Hall features the world's largest loomed carpet. Its medallion design with intricate arabesque motifs took 1200 craftsmen two years to complete.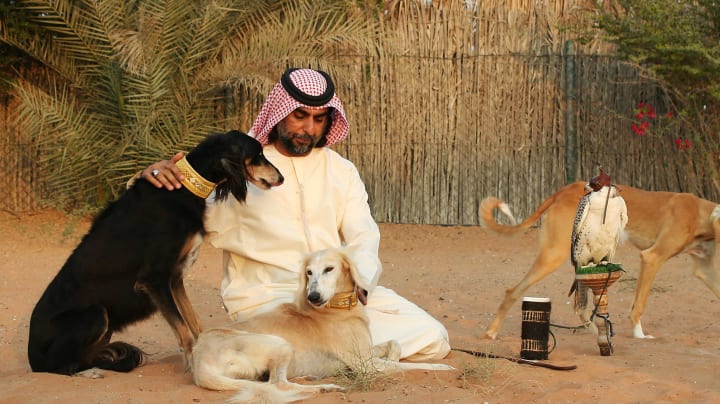 Arabian Saluki Center is the place where you can see these amazing dogs that originated in China. The saluki is thought to be one of the first breeds of dogs to be domesticated. They are prized for their hunting skills and speed over distance. For centuries saluki's have been man's best friend to the Bedu. Many of these dogs are bred to race and according to the Guinness Book of Records, a saluki holds the record for four-legged speed clocked at 68.8km/h in 1996. Salukis are also prize winners and you can see these wonderful, shaggy-eared dogs in action by visiting the ten-day Al Dhafra Festival. This breeding and training center is in the Falcon Hospital Complex.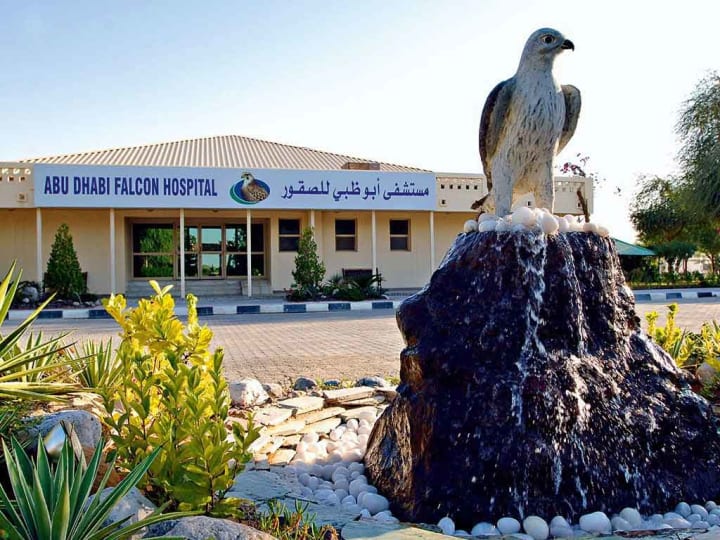 The Abu Dhabi Falcon Hospital is a working veterinary hospital for injured and ill falcons. There are guided tours available. You can get up close with these birds of prey in the wards and an on-site museum explains the history of falconry. You can even have the chance to take a photo with a falcon perched on your arm or you can feed one.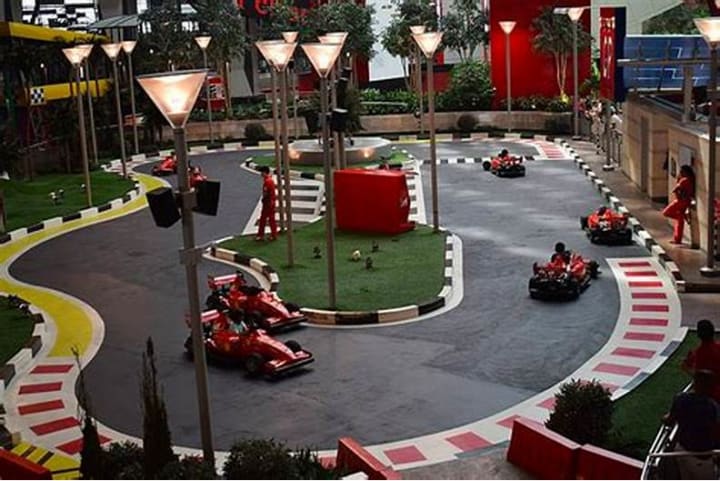 Ferrari World is a theme park that brings the thrill of Formula One racing to Abu Dhabi. This is a must for thrill seekers. Children can test out their driving skills on the Junior GT track.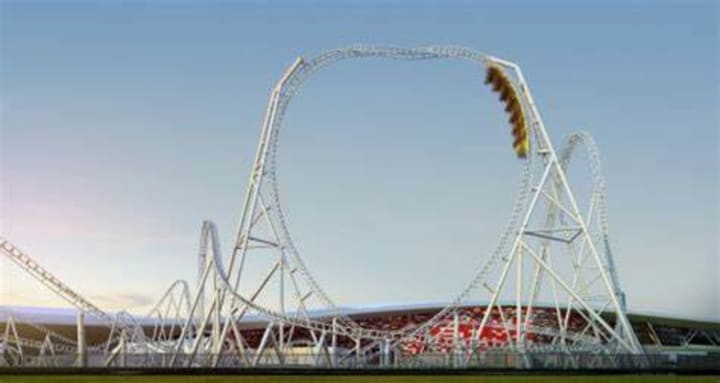 You can thrill on the Flying Aces Rollercoaster; clocking speeds of 120km per hour on a 52-meter loop (the world's tallest). Visitors can see a collection of Ferrari cars, take a Ferrari factory tour, and learn more about this car.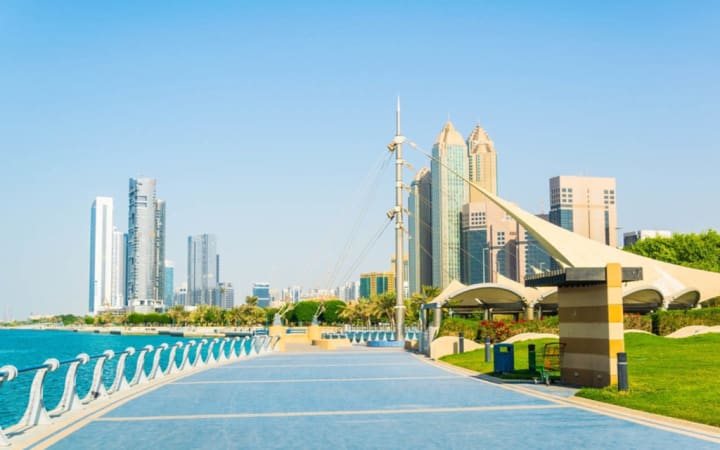 The Abu Dhabi Corniche is a waterfront that always impresses with its white sand beaches and great promenade for strolling. It stretches the entire length of the northwest shore of the city. From the waterfront, you can have iconic views of the high-rise tower blocks lining the seafront. Here you can also find cycle paths and landscaped gardens to walk in. On the public beaches are refreshment stands. During the day you can explore the various parks and at night enjoy the cafes along the waterfront.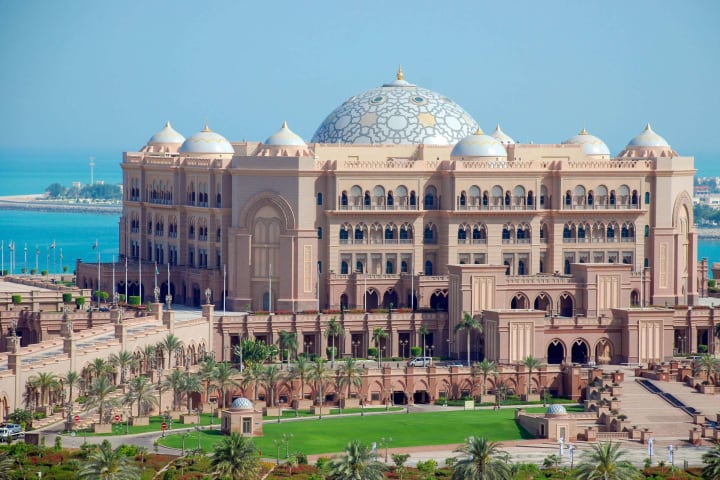 You'll be amazed by the luxury hotel the Emirates Palace with its domed gatehouses and flying ramps. There are 114 domes and a 1.3km private beach. It has 1002 crystal chandeliers and 400 luxury rooms and suites. It also doubles as the city's cultural hub. It hosts opera and renowned orchestras during the Abu Dhabi Classics concert season and show screenings during the Abu Dhabi Film Festival. In the Barakat Gallery, you can see excellent fine art from ancient China, Egypt, Africa, Greece, and Rome. In the foyer, they serve the ever-popular afternoon high tea, and as amazing as it might seem there is an ATM that dispenses gold bars.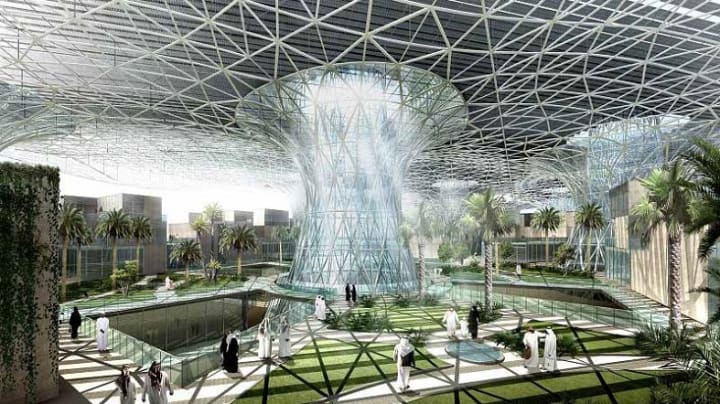 Near the airport, you'll find Masdar City which is the world's first carbon-neutral, zero-waste city powered completely by renewable energy. This is like a science community with a graduate-research university and companies, focusing on sustainability, clean tech, and renewable energy. You can see some impressive architecture here. You can ride in a pod-like driverless Personal Rapid Transit or PRT vehicle. You can relax at the cafes and restaurants.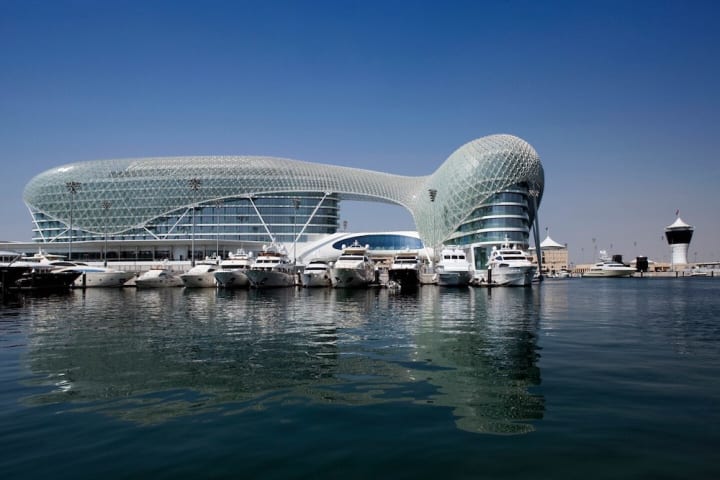 Yas Island is one of Abu Dhabi's top luxury hotel destinations. Here you can see stretches of sandy beaches. This is also home to the Yas Marina Circuit where the Abu Dhabi Formula One racing takes place every year.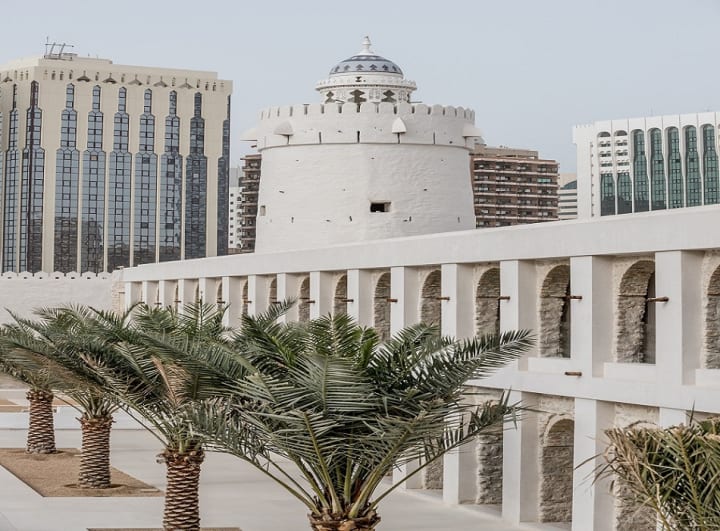 The iconic Qasr Al Hosn Fort is featured on the back of the Dh1000 banknotes. It is the oldest building in Abu Dhabi. It dates back to 1760 as a watchtower that safeguarded a freshwater well. It became the ancestral home of the ruling Al Nahyan family in 1793 and remained as a royal residence until 1966. The interior has been renovated and modernized and is used as a museum. Here you can find an exhibit of photos, archeological finds, models, and other objects charting the history of Abu Dhabi and its people.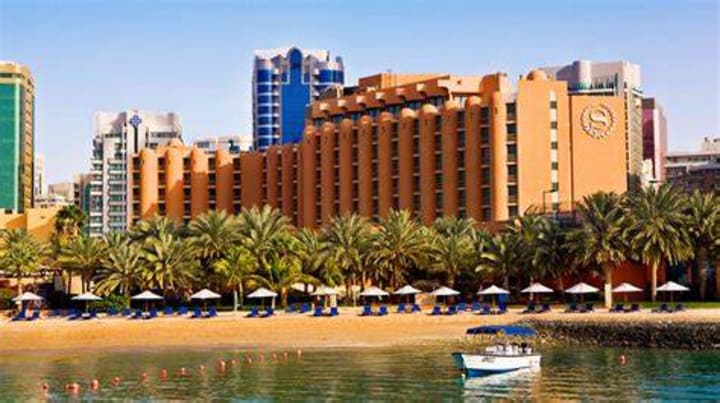 Corniche – Al Khalidiyah is a lovely beach for strolling, sunbathing, and swimming. It is hard to believe that at one time this was a dhow-loading bay for cargo and passengers until the 1970s. Today the western end of this corniche offers the most facilities. Along the waterfront are parks, fountains, cycle tracks, walking paths, and beaches. You'll find plenty of benches and shady spots even exercise stations. For refreshments there are cafes.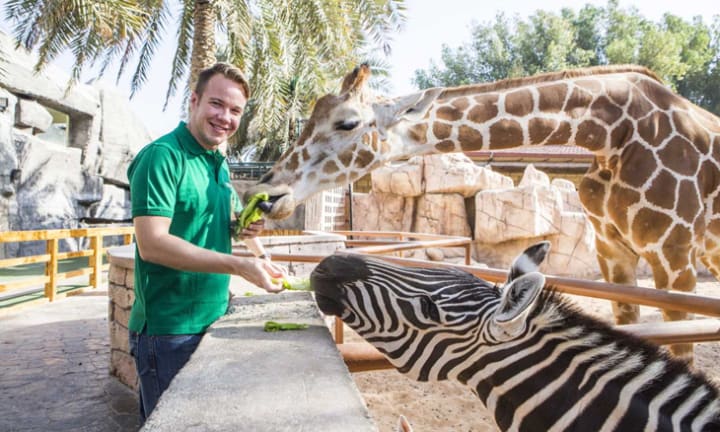 Emirates Park Zoo is well worth a visit especially if traveling with children. It is about thirty minutes from the city. Here you can see a variety of animals including rare white tigers, giraffes, elephants, a herd of zebra, and a Siberian bear. There is also a primate section with lots of different monkeys and a flamingo park with a sea lion enclosure. Children love the petting zoo.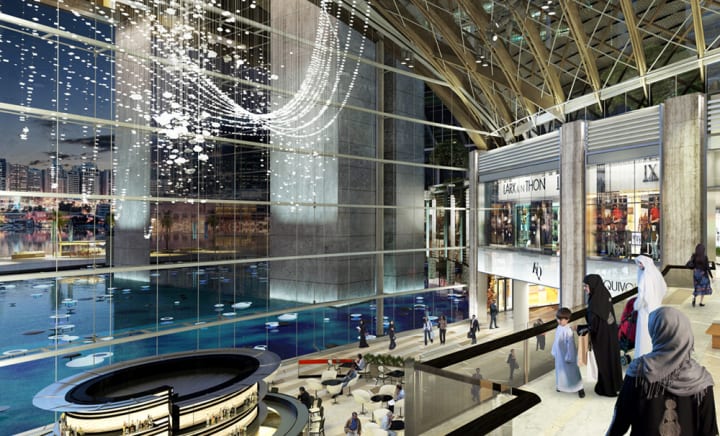 Abu Dhabi Global Market is home to more than 40 international companies. All of them clustered in this glass-and-steel monolith on Al Maryah Island right in the heart of Abu Dhabi's new financial center. Here is also the Galleria Mall and a couple of five-star hotels. From the waterfront, you can get spectacular views of the city skyline.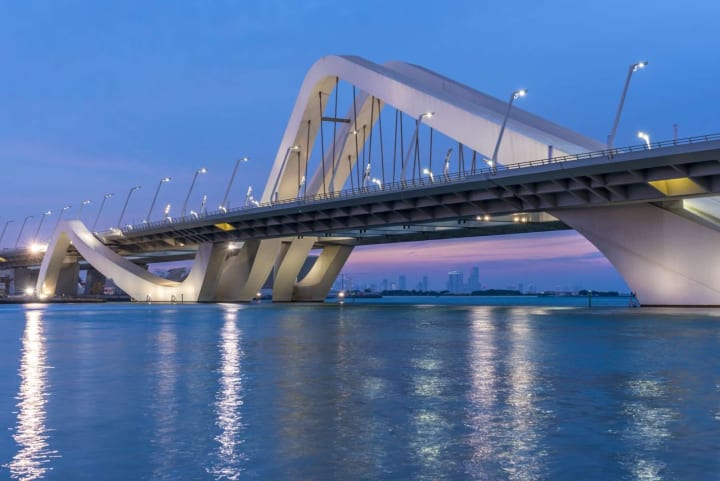 Points of interest are the Cleveland Clinic with its catwalk podium and a suspension bridge the Sheikh Zayed Bridge.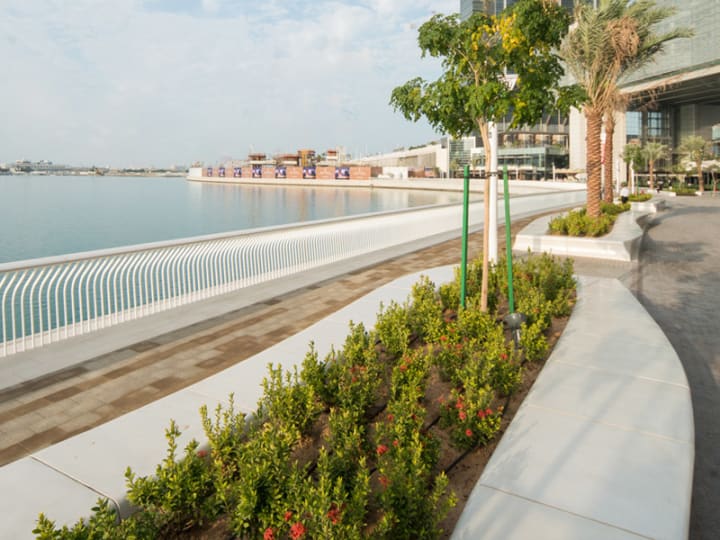 Al Maryah Island Promenade stretches for 5.4km along the western shore. This is the place for the lavish Christmas market and New Year's fireworks. There is an assortment of bistros and cafes.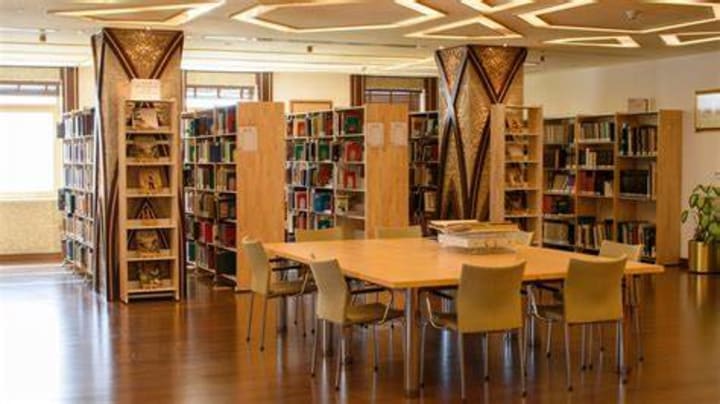 Sheikh Zayed Grand Mosque Library has rare collections of Arabic calligraphy and copies of the Quran dating back to the 16th century. The collection is in the mosque's minaret, giving great views over the magnificent domes and outlying islands.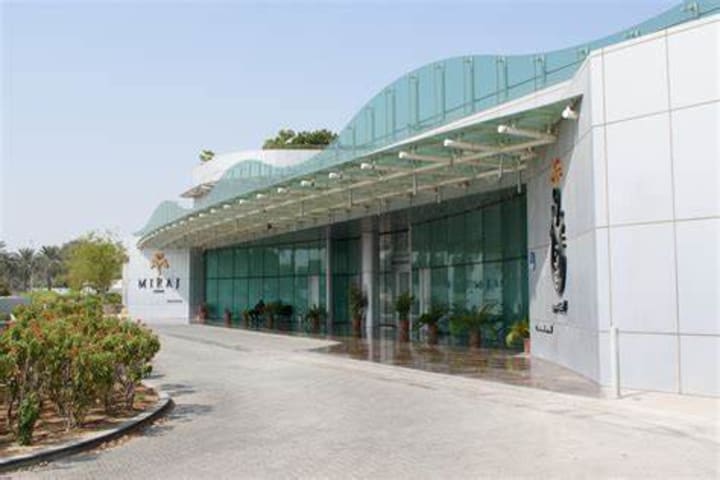 Miraj – The Museum offers visitors a look at lovely objects from around the Islamic world, including Persian carpets, calligraphy, ceramics, and textiles. This is a private collection that also has some pieces for sale.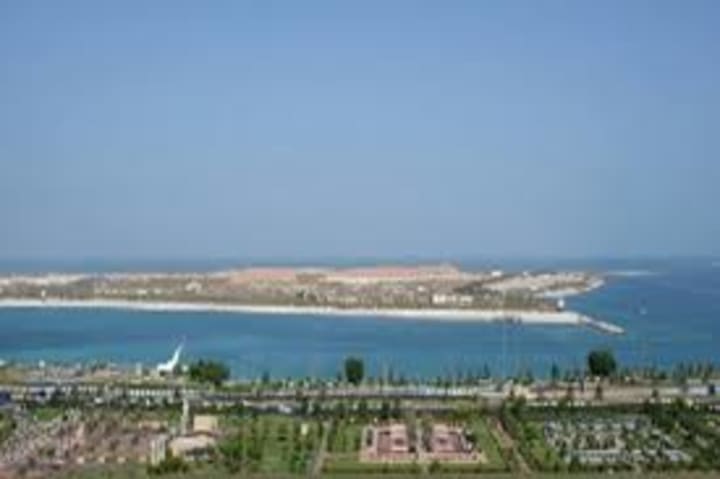 Lulu Island is a magnificent man-made island with sandy beaches, date palms, and dunes. It is just a short boat ride away from the marina on Breakwater.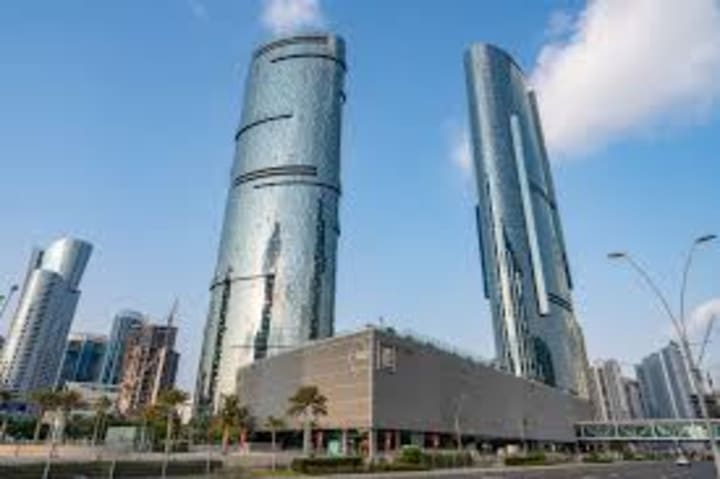 The Sky Tower is an observation tower that offers 360-degree panoramic views. At the top is the Colombiano Coffee House and Tiara a revolving restaurant.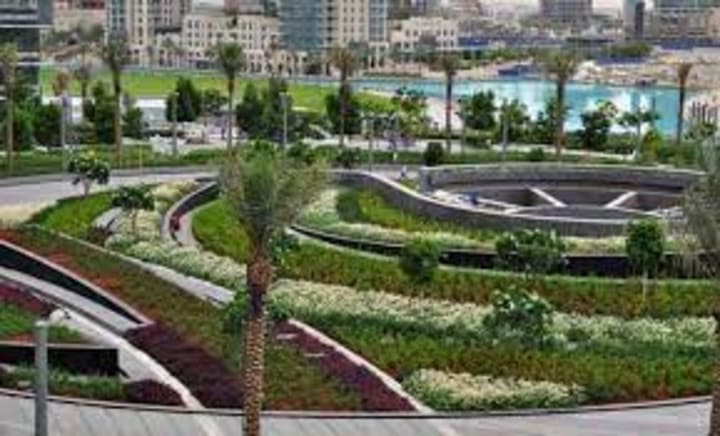 Khalifa Park is a large and leafy park that offers people different kinds of attractions. There is a football field and there are fountains, ponds, and waterfalls. For children, there's an amusement park and a small train to take them around.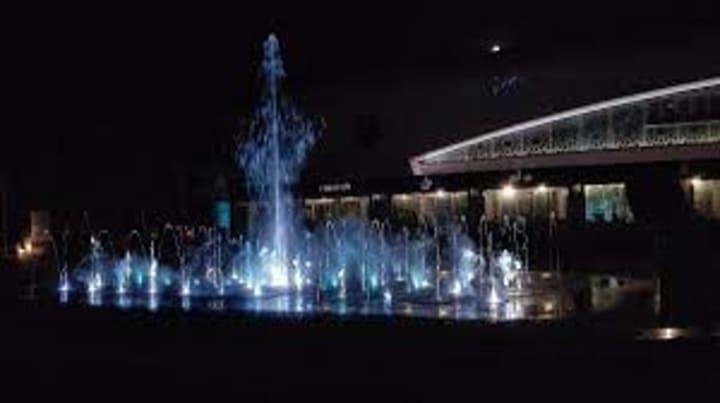 Musical Fountains on Yas Island are enjoyed by everyone especially at night when they are set to music.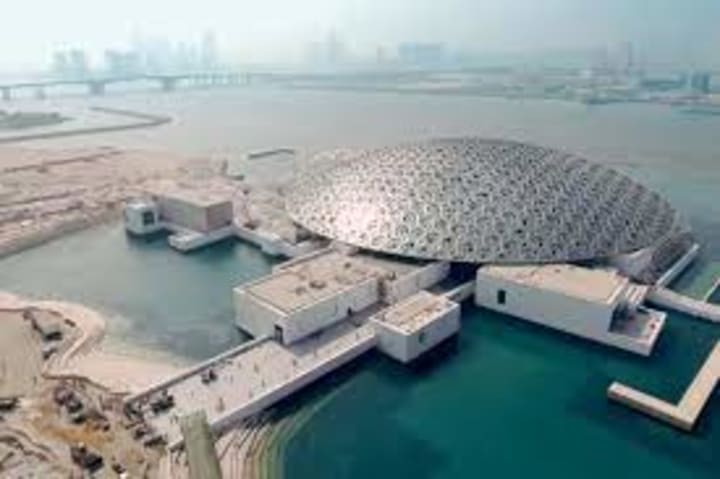 The Louvre Abu Dhabi was designed by Jean Nouvel. It was set in the shading of palm trees. It has a filigree dome with geometric openings meant to represent interlaced palm leaves, used in traditional roofing. The gaps are meant to create a shifting "rain of light" in the galleries that display world-class collections of paintings, sculptures, and objects from antiquity to the present. Artwork will be coming from the Louvre's vast repositories and other loans from other leading French museums.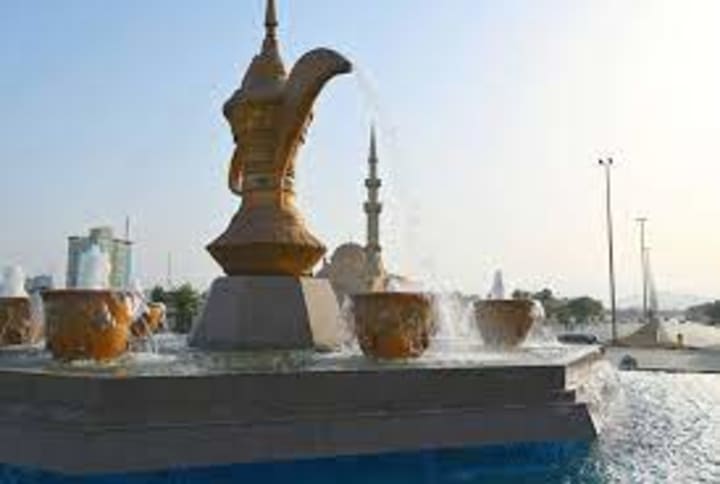 Street Sculpture's five concrete monuments can be found on a traffic island between the World Trade Center and Etisalat Buildings. They are a date cover, incense burner, rosewater shaker, coffee pot, and fort, symbolizing the traditions of hospitality and Bedouin culture.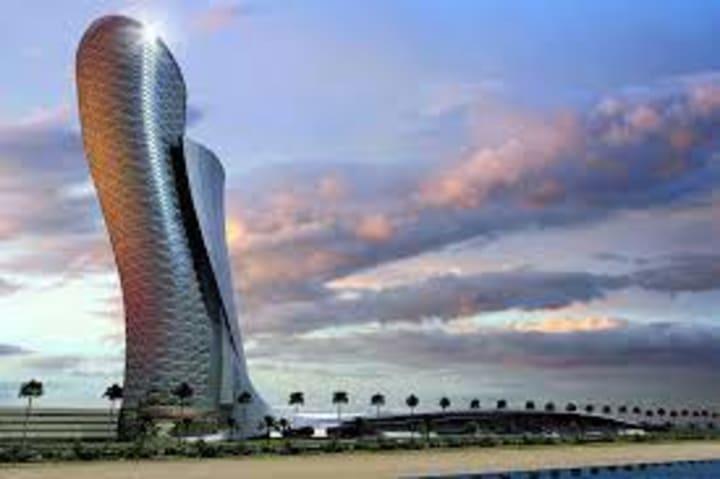 Capital Gate looking skyward toward the southeast you'll notice a 35-story, dramatic listing skyscraper. It holds the Guinness world record as the world's most-leaning building (18 degrees westward). It is home to the Abu Dhabi National Exhibition Center and a Hyatt Hotel.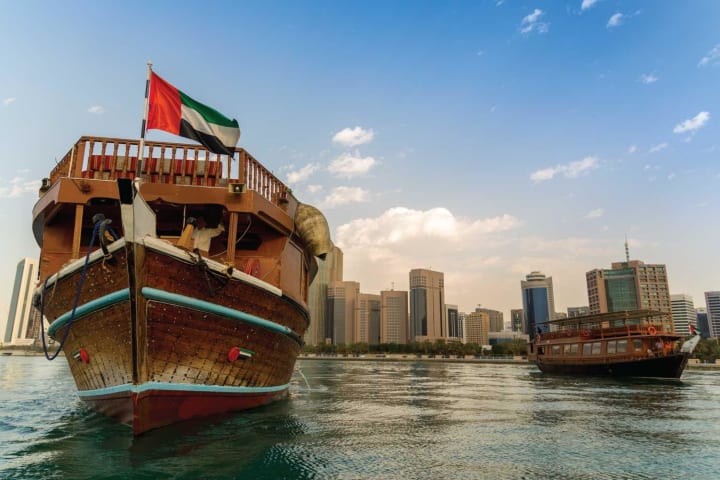 Dhow Harbor is a great place to sit and watch the lovely dhows or traditional wooden cargo boats go by. You can watch fishers mend their nets, pile up lobster pots, and unload fish. This is the spot where you can even imagine being in a small fishing village if you forget about Abu Dhabi's very modern backdrop.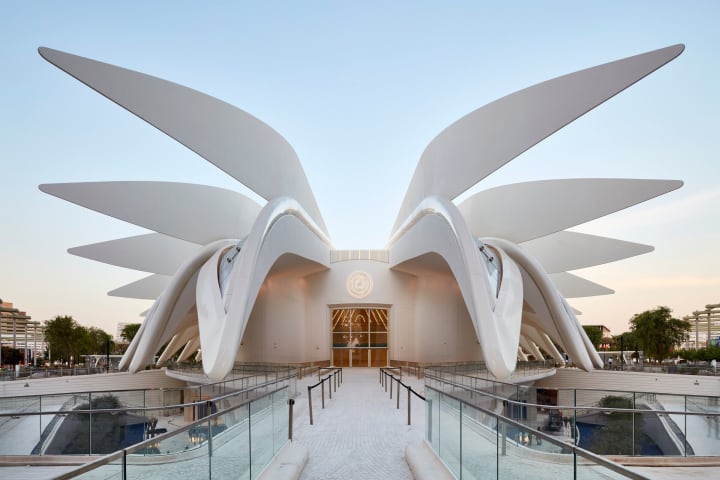 The UAE Pavilion is shaped like two parallel sand dunes. This is an award-winning building that was designed by Sir Norman Foster and partners. It was designed for the 2010 Shanghai Expo. It is used as an exhibition space for touring cultural shows. Every November it hosts the Abu Dhabi Contemporary Art Fair.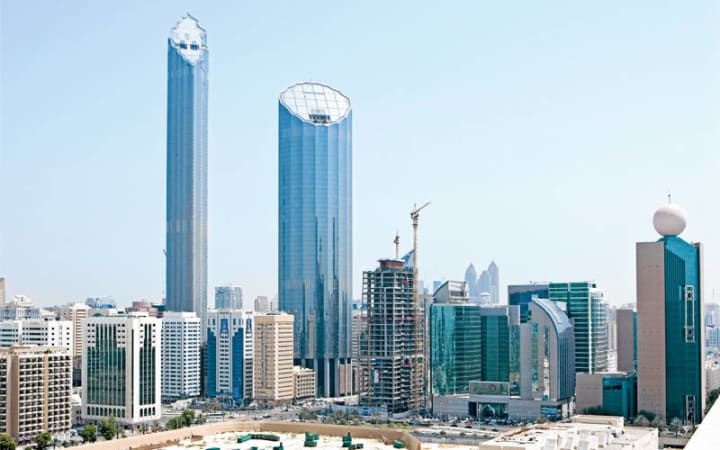 Burj Mohammed bin Rashid is a 92-floor, 382m giant tower block that is part of the World Trade Center and has become an important landmark. It is the city's tallest building and has an indoor terraced garden on the 90th floor. This is the tallest of two matching towers that look incredible when lit at night.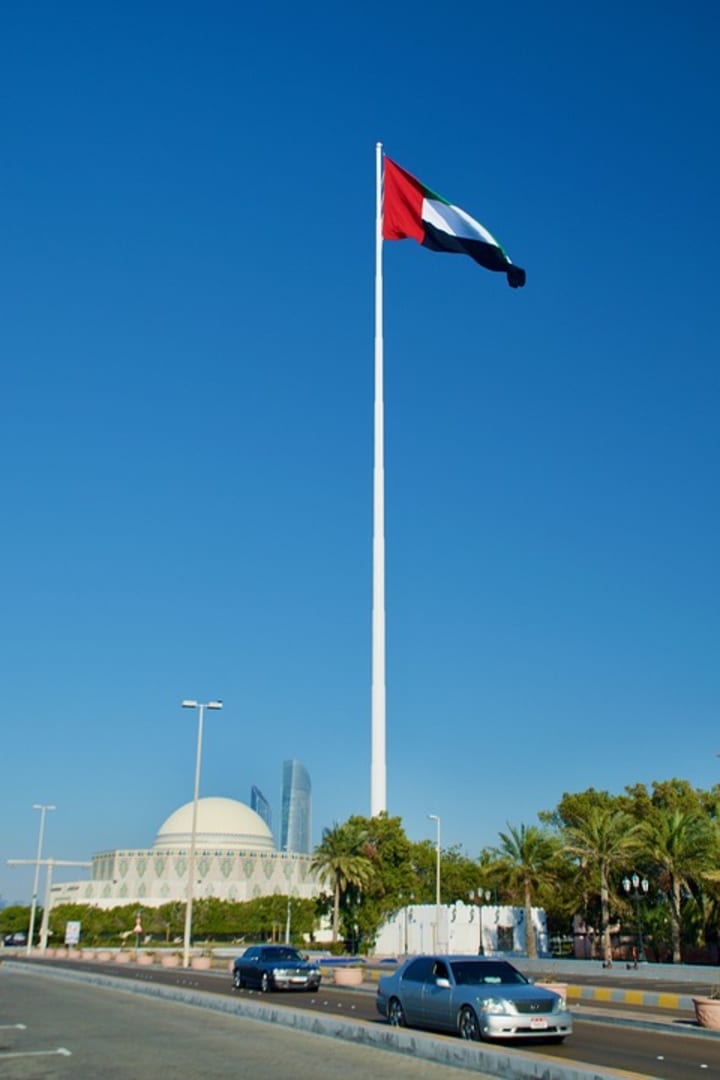 UAE Flagpole is a giant 122m flagpole. The Emirati flag makes a great landmark. The small promenade beneath the pole is a great place for taking photos of the surrounding skyline.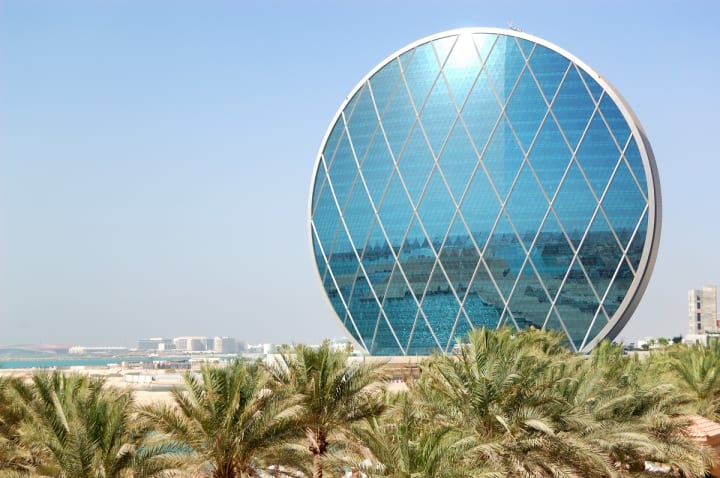 Aldar HQ is a futuristic landmark building that is referred to as "The Coin" due to its distinctive penny-shaped architecture. It is the world's first circular skyscraper and home to the modern design house Aldar, one of the largest property developers in the Emirates.
About the Creator
My passions are writing and creating poetry. I write for several sites online and have four themed blogs on Wordpress. Please follow me on Twitter.
Reader insights
Be the first to share your insights about this piece.
Add your insights