Guides
Abu Dhabi: Desert Rose or Just Dust and Rocks?
A popular destination for ex-pats and tourists alike, the UAE capital city, Abu Dhabi, is certainly an experience. Depending on what you're after, it can either be luxurious or an eye-opening experience.
Fifty years ago, Abu Dhabi was not much more than empty desert punctuated only by the occasional palm tree. Bedouin tribes still roamed, sustaining themselves by harvesting dates, pearls and fish. Then oil was discovered and everything changed. Ten years later, the United Arab Emirates was born, forged from seven territories – called emirates – including Abu Dhabi and Dubai.
Contrary to what many still think, Abu Dhabi is actually the capital city of the UAE, not Dubai. In fact, mentioning that other city is a surefire way to upset the natives, such is the competitive nature between the two emirates.
Dubai was constructed at an unprecedented rate never before seen anywhere in the world. So awesome was the expansion that the emirate's economy couldn't sustain it. Abu Dhabi on the other hand, is being built at a substantially slower pace. Consequently, the city is not as developed as its Emirati adversary.
Wandering the streets there is little to suggest that Abu Dhabi is the richest city on Earth. It actually looks quite shabby, with many tower block exteriors exhibiting aging concrete and browning mirrored glass. But, most of the oil is here and so this is where the money is. So much so, that it recently had to come to the financial rescue of its rapidly expanding emirate neighbor. Add all this up and you have an almost adolescent-like rivalry.
The city of Abu Dhabi itself is an archipelago; it's made up of a series of islands interconnected by fast-flowing eight and ten-lane freeways. There is no city centre as such, but the moment you drive onto Abu Dhabi Island the more familiar sights of a Middle East metropolis become visible. Most tourists and many residents gather along the public beach along the corniche at weekends. Located at the northwest end of the island, this popular stretch of sand has recently undergone a much-needed face-lift, as the only alternative is to pay some frankly extortionate fees for the privilege of using a private beach area belonging to one of the many hotel complexes.
However, a day spent soaking up the sun, occasionally dipping into the pool to cool off, enjoying the luxury of a lengthy lunch with a waiter to service every whim is a special treat that can be justified on occasion. The best hotel complex beach club is The Hiltonia – part of The Hilton International Abu Dhabi, on the Corniche Road West. Not only are prices a little more reasonable here – relatively speaking – but the beach club also offers the best views over the breakwater and there are a number of good bars and restaurants to visit once the sun has set.
Within the city you can find almost any international dish imaginable, except oddly, traditional Emirati food. Consequently, the closest thing to local cuisine is freshly caught seafood from the Arabian Gulf. One establishment that offers an impressive marine menu is The Fish Market, located within the grounds of The Intercontinental Hotel. Here you can look over the impressive array of seafood available and construct your meal under the supervision of helpful staff who happily offer guidance on what flavors complement which fish.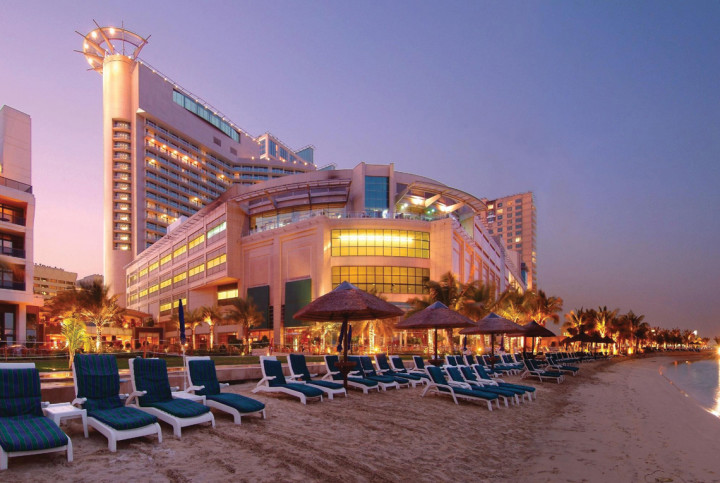 Another outstanding aquatic eatery is Finns, which can be found at the Beach Rotana Hotel. This is also by far the best quality five star hotel in Abu Dhabi within the price range of mere mortals. But if unlimited opulence represents an irresistible urge, a visit to the Emirates Palace is a must. Not only is this a very, very exclusive hotel, it's a national landmark. Inside, the décor is dazzling, with a prominent theme of gold running throughout. Regardless of whether you decide the interior is artistic or excessive, sitting in one of the bars gently sipping coffee and people watching is a pleasurable and entertaining experience.
Most of the easily identifiable western retail outlets can be found here, predominantly located within sizeable shopping malls. As a result, brand names tend to dominate and markets that might offer anything away from the mainstream are few and far between.
Getting around Abu Dhabi is reasonably straightforward, although it might alarm the unprepared. The UAE is a nation that loves its cars. Public transport is virtually non-existent; there are a few buses dotted about, but trains have yet to arrive. Thus the easiest way to move around is by taxi or renting a car – if you have the stomach for it. It's no secret that most drivers here have yet to learn the basics of road safety. Accidents occur almost daily on the big, 10-lane super highways, and you'll regularly see cars weaving through traffic speeding in excess of 120 mph.
Towards the centre of the city a different challenge awaits. Due to the high number of vehicles, the roads are jammed for much of the day. On Abu Dhabi Island the layout of the city loosely resembles that of New York, for example: a grid-like road structure with many lanes on either side. Paris, Rome and even London have legendary reputations for being a nightmare to negotiate the traffic, but that pales in comparison to Abu Dhabi. However, with a little common sense and heavy use of your indicators when changing lanes – again, something many drivers simply decide not to do – survival can be ensured. Or you could just get a taxi.
Two types of taxi exist; one is a silver-coloured, up to date-looking saloon car, the other is an older, dilapidated-looking, white vehicle with gold front and back side-panels. The former has a clean, modern interior with leather seats and is driven by a gentleman wearing a shirt and tie. The latter might typically sport leopard skin seat covers, a fur-lined dashboard and a variety of ornamental objects dangling from the rear-view mirror. It will also be driven by a more enterprising individual who'll probably insist that the car is filled – with other passengers – before he begins his journey. And he may or may not start the meter, instead deciding on the fare based on whether you're a tourist, blissfully unaware of how much it should actually cost.
Needless to say, it's important to insist on having the meter running before letting any taxi driver pull out.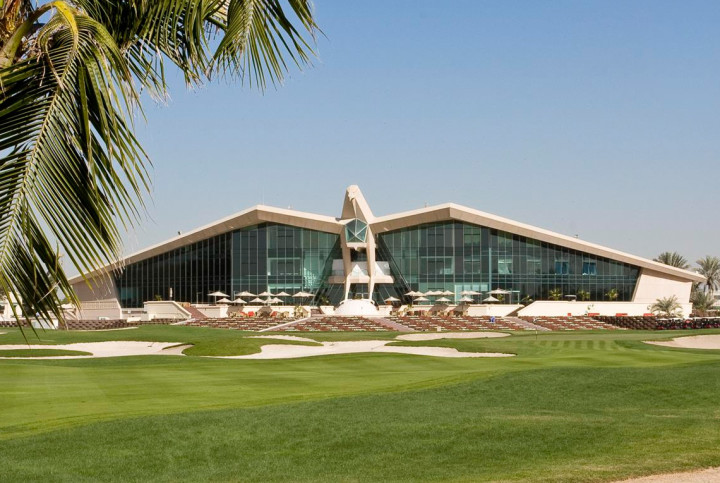 One thing this country is not short of is space; this becomes apparent outside of the more condensed city limits and it's been fully taken advantage of in the form of some quite stunning golf courses. Two exist within easy reach of the centre with a third being built on Yas Island. Abu Dhabi City Golf Club is a slightly odd affair; a virtually full-size 18-hole course has been crammed into the centre of a horseracing track. Consequently, the fairways are quite tightly packed together and narrow, making accurate tee shots crucial and this course a challenge to play.
Somewhat larger and off Abu Dhabi Island, onto the mainland, is the Abu Dhabi Golf Club. A number of international competitions are held here each year and it features a luxury, albeit rather Third Reich-looking clubhouse, two 72-par, 18-hole courses and a glorious driving range. There is yet another, this one designed by Kyle Phillips, on Yas Island. This is also the home of the Yas Marina Circuit.
In 2009, Abu Dhabi campaigned hard to be included in the Formula One Grand Prix race calendar and now, every November, Petrolheads and F1 fans from around the world gather at the Yas Marina Circuit for a four-day celebration of music and everything race-related. Festival-goers are treated to open-air concerts and the Ferrari World theme park, located next to the circuit.
The impressive Yas Island project not only incorporates the racetrack and surrounding grandstands, but a purpose-built marina and a number of hotel complexes, including the truly unique Yas Hotel. This futuristic-looking building actually sits across the racetrack and has a glowing LED-covered exterior that gently changes colour throughout the evening.
The national need for speed has a much more appropriate outlet in the giant sandhills about an hour outside Abu Dhabi. At weekends, as dusk approaches, convoys of four-wheel-drives can be seen sneaking off into the deep desert, as obsessive off-roaders race their specially modified Jeeps and newcomers to the scene prepare to be taken dune-bashing.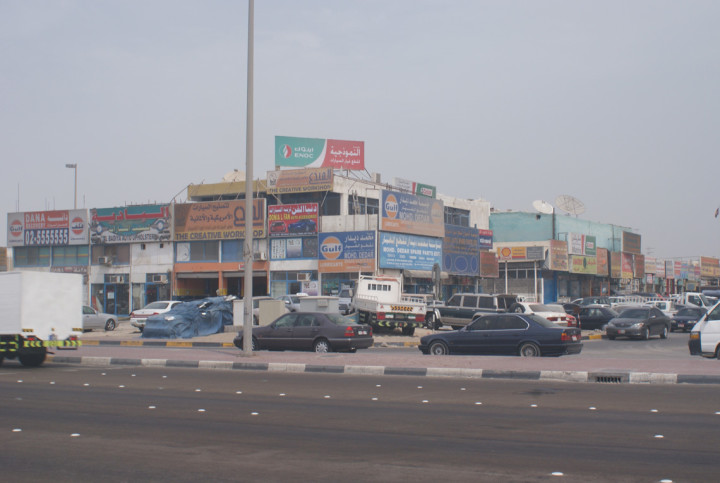 Generally speaking, this involves bouncing around in the back of a 4×4 as it hurtles up, dives over and slides across massive sand dunes. Many packages also include a night under a Bedouin tent complete with camp fire, barbecued food and a little traditional entertainment.
Let's face facts, Dubai is the real draw of the UAE. But Abu Dhabi is trying hard. However, if you spent more than… say, five days in Abu Dhabi, you'd be bored senseless. Not the case in Dubai. The shopping is better, there's more to see and the city doesn't look like a building site – well, not all of it anyway.
Dubai is very roughly 10 times the size of Abu Dhabi, and consequently there's at least 10 times as much to do. However, if you fancy a glimpse into what life was like in the UAE about 20-odd years ago, then spend some time in Abu Dhabi, 'cause the rate of development here isn't anywhere near as rapid as that of the metropolis next door and as a result it hasn't really changed all that much.