Guides
A Week in Amsterdam
Saving Money While Seeing It All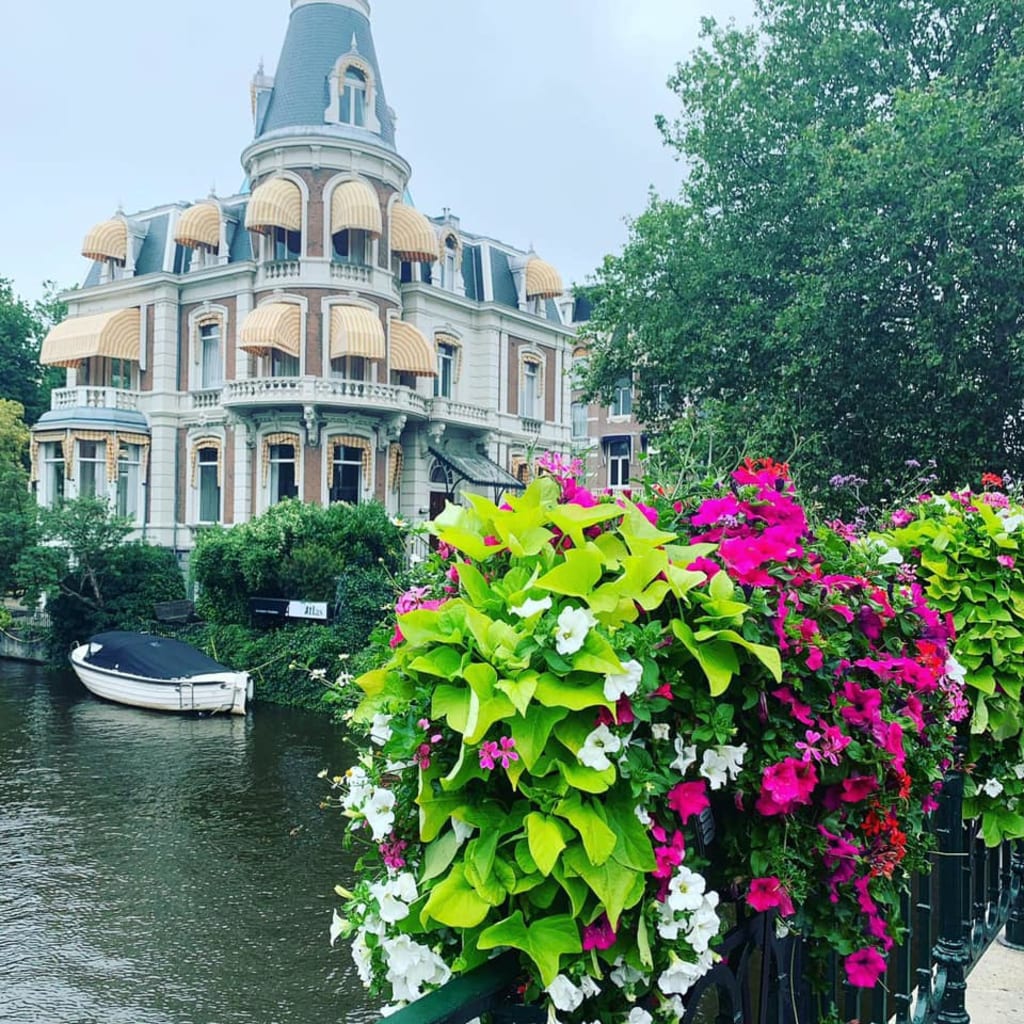 We arrived to Amsterdam on July 23, 2019 to spend a week before our 12 night Royal Caribbean Baltic cruise and had no idea it would be as hot as it was. (104 degrees!) Neither my husband, nor I, have ever been to the city so we wanted to take some time to really enjoy it and take in as much as we could. We have come to learn that once we get off a cruise we are ready to head home and have no desire to explore. Anyone else feel that way too?
Packing for this trip was a bit of a challenge for us as we knew we would be on the move for over 3 weeks. After looking up the weather for this trip we discovered the weather would be warm in most places but cool in several others. Thankfully we managed to find a HomeExchange home to stay in that had laundry facilities we could use. HomeExchange has been great for us with traveling. We used points to stay in this home instead of swapping homes, which is always a nice option, and that alone saved us quite a bit of money.
Technical Difficulties
Once we arrived at Schiphol Airport, we opted to take a Tesla taxi to our home for the week, which cost us around 60 Euros. An Uber would have been cheaper, but then again, it was our first ride in a Tesla. We weren't aware that they were separate from the typical taxi's as that was all that was offered when we got in the taxi line. I would have requested the Uber but we had ZERO cell phone service and the WiFi was only inside the airport.
Not having cell service was something I hadn't anticipated. I didn't realize it, but we should have bought an international SIM card so we would have had service while there. You can buy them on Amazon easily and then you don't have to worry about international roaming or data. AT&T offers a $10 a day plan to use while in Europe but that would quickly add up and an international SIM card is much more affordable.
We Are Here, Now What?
Once we got to the house we opted to settle in and relax for awhile as we weren't quite sure where to begin. Our hosts left us a nice bottle of wine to enjoy so that was our first objective. After finishing the wine, we found a sushi restaurant close to the house with great reviews and made our way there for dinner. Dinner was great, but the best part of the evening was we met a local family and ended up spending several hours chatting with them. We aren't always great at this, so this was a great experience for us. We exchanged information and plan to see the woman again in France.
On our first official day out, we went to the Anne Frank Museum. It was a really interesting place to visit, especially if you read her diary. I got a bit choked up walking through the space and knowing what they had to endure - especially knowing the sad and tragic outcome of the Frank family. Make sure you buy your tickets ahead of time and typically a few months in advance. They do release a few more tickets the day of and sometimes a few days before. Originally we didn't think we would get tickets as they were showing sold out when I went to buy them. Thankfully I checked the day before we left and managed to get two for the 24th.
Tours For The Win
I won't bore you with the break down of our day to day activities but we did book several tours through Viator (don't forget to use Ebates for money back) that ended up being REALLY helpful and fun, not to mention affordable. We took several canal rides to get a better perspective of the city, plus it's just something you have to do. A few of our tour highlights were the Heineken Experience Museum, visited the Van Gogh museum, we tried some Space Cakes at The Bulldog, we took a tip based 3 hour walking tour of the city and one for the Red Light District. The walking tours may have been the most informative as we covered a lot of ground and learned more than we knew about the city. Plus, being tip based was very affordable.
The Red Light District was very interesting to see in person and different than what I had imagined. If you are easily offended then maybe skip that area, and the space cakes. However, my suggestion would be that both are a part of the culture and history so why not step out of your norm and see/experience it all. Make sure you don't take any pictures of the girls, you will get yelled at and it will be quite the scene.
Getting Out Of The City
To change it up a bit, we opted to get out of the city to see the Holland countryside to visit windmills and see how they make cheese and wooden shoes. That was an all day adventure and worth the trip as the countryside is very beautiful. We picked a trip that would include transportation and food so we didn't have to worry about any extra expenses. It wasn't a large group tour but the places we went were packed as it is peak tourist season, so take that into account.
It does appear they have bike routes from the city into the countryside so if you are truly adventurous, get a bike and head out on your own. Or you can sign up for Lime and rent a scooter and scoot your way out of the city. Knowing what I know now, next time I may just plan our own trip on a bike so we aren't held to someone else's schedule and route. It would be really affordable, fun and we can do whatever we want.
To Bike Or Not To Bike
Amsterdam is an amazing city that is really friendly and very progressive. It doesn't hurt that pretty much everyone speaks English, which makes communicating very easy if you don't know Dutch. The food was amazing and getting around was really easy to do, either by foot, Uber or bike.
Biking is something you have to be really comfortable doing as there are a million bikes and they can be pretty aggressive. We opted to walk as we found we were so distracted by everything we knew we'd get in an accident. All in all we walked over 35 miles and never once rode a bike, even though we had access to them through the HomeExchange. Next time we will give biking a try. Also, it's worth mentioning, Amsterdam had two of their hottest days in history which made for a few extremely uncomfortable days in a city with little A/C so walking allowed us to duck into cool places more often. (I wish we had brought this fan with us!)
A City Full Of Remembering
Going to Amsterdam, we knew the city had been hit hard during WWII by the Nazi's but we had no idea to what extent. Walking the city gave us the opportunity to find the many Stolpersteine's all over the neighborhoods in remembrance of the Jewish men, women and children who lost their lives during the Holocaust. Once we learned about the plaques we started noticing them all over and even started looking for them. We felt the need to stop and read them anytime we found one. This is a free activity that not only pays tribute to those who lost their lives but also gets you out and walking through several neighborhoods you may have missed.
We feel this as a city we would love to go back to and spend more quality time exploring as there is so much more to see. If you haven't been to Amsterdam, go, it's a great travel experience that anyone would enjoy. It's full of history, good and bad, artists of all kind and so much more. If you have been, please tell us what you loved and share any recommendations you may have for our next trip.
Happy travels!