A Week by the Beach
Sleepy Spanish Sea-side Siesta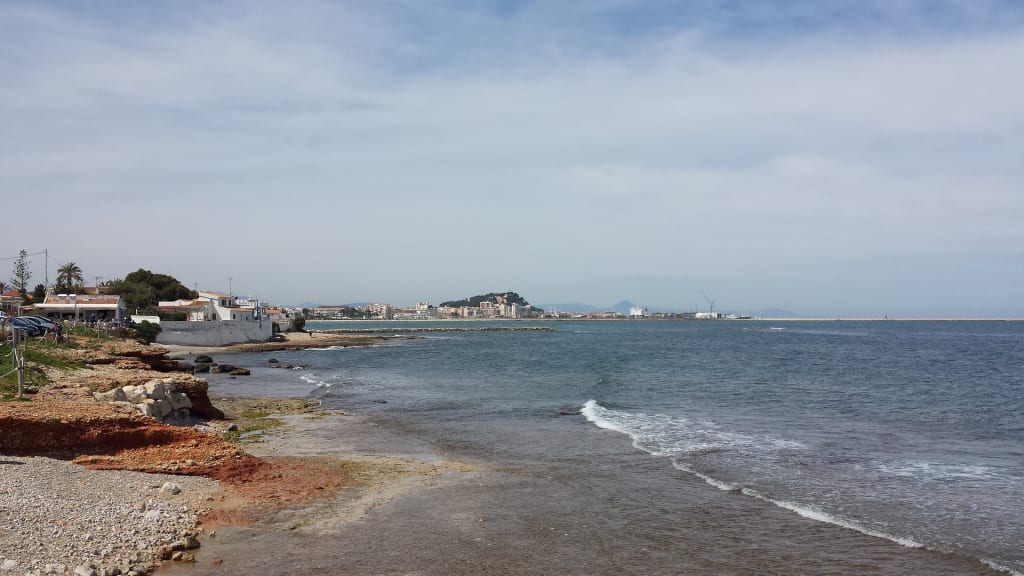 Denia, Spain (image: Pixabay)
I'm super-fortunate that my Aunty Jean and Uncle Mike (who live in Cardiff) own a flat in Denia — a Spanish coastal town between Valencia and Alicante.
They're happy for me to stay there anytime. August in London was proving to be a bit dreary, so my boyfriend Liviu and I packed our bags and headed to Denia.
We flew to Barcelona, picked up a hire-car, and started the vacation with a few days in Sitges. From there, we drove south to Denia.
It took about four hours, which is a long enough drive, so we were relieved to finally pull into the apartment complex and get out of the car.
While Liviu opened the flat up and unpacked, I made a quick dash to the nearby supermarket for some snacks for dinner. I like exploring supermarkets in different countries — lots of things that are familiar, but also lots of things that don't appear on the shelves of my local off-license in London. Bread, cheese, ham, aioli, red wine — dinner, done.
It's a pretty quiet part of the world — if you're looking for big nights out and lots of excitement, then Denia probably isn't the destination for you. It's particularly popular with families — often people who live in Madrid will come to Denia for their family vacation.
Our days followed a fairly steady rhythm — an early morning swim in the pool at the apartment complex, a lazy breakfast catching up on work and day-to-day life, a couple of hours on the beach, with an occasional expedition into town.
Here were some of the highlights of the week:
The Nude Beach
This trip saw my first visit to Denia's nude beach. This is definitely worth exploring, although it's a bit of a stretch to call it a beach — more of a secluded rocky cove.
To get to it, you should try and park as close as possible to Restaurant Mena. It's then a short walk south along the coastal path as far as you can. After about five minutes, you'll reach the end of the path, and you descend down some steep wooden steps to the cove.
The rocks aren't super comfortable for sunbathing, but the water is clear and the swimming is great. You'll get the most out of this place if you've got a snorkel and goggles and some protective shoes for your feet.
It wasn't particularly busy on the day that we were there, a few gays, a few straight couples. Nothing beats a bit of naked swimming and all-over tanning.
Les Rotes
On previous visits to Denia, we've always spent our beach time on the sandy stretch of beach that stretches for miles along Les Marines — this includes our local stretch of beach, which is Les Bovetes. However, on this visit, we explored the rocky stretch of coastline to the south of the town known as Les Rotes. The water here is crystal clear, and there are some fantastic rock pools which you can swim in. It's best to come equipped with some protective shoes for your feet, and goggles and snorkel so you can immerse yourself completely without injury.
Xalo
This is one of the villages that you'll find in the mountains overlooking Denia. It's about a 30-minute drive. I think there's a market on Sundays, but we were there for a mid-week lunch.
There's really only one main street in Xalo and a couple of different cafes and restaurants which are your options for lunch. But the action is all at Casa Aleluya. You couldn't ask for a better "let's drive somewhere and have a relaxed traditional Spanish lunch" scenario — friendly and efficient service and honestly one of the best dishes of paella that I've ever had.
A few doors down from the restaurant is the local wine cooperative, always a good chance to try a few local wines and stock up at very reasonable prices.
Wine
You don't have to pay a lot for good wine in Spain. In the UK, we see a lot of wine from the Rioja or Torres wine-growing regions, however, I'm totally in love with the red wines from Ribera Del Duero. Our local supermarket in Denia had bottles from Ribera Del Duero ranging from €4.50 to €7.50, and the wine was uniformly impressive — full of flavour and perfect with the ham, cheese, and bread that I could happily eat for every meal.
Food
There's a big focus on food in Denia. Promenading up and down the main street of Calla Marques de Campo and stopping for tapas is always on my list of things to do. We also had a great lunch at Restaurant Mena — a superb array of seafood matched with spectacular coastal views. But it's hard to beat our local La Chiringuito beach bar for coffee/cocktails/snacks at any time of the day.
Ferries
If you want to extend your expedition beyond the mainland, there are ferries from Denia that connect you with Ibiza or Mallorca.
Festivals
Fallas festival is big in Denia — it happens in March each year. It's a traditional Valencian festival of Saint Joseph the carpenter. What began as a contest among carpenters to create an effigy of the saint has over time escalated to see municipal districts competing for prizes for the best papier mache monument, all of which are spectacularly torched on the final night of festivities.
europe
About the author
A non-smoker who loves to laugh... (and binge on travel, food, movies, fashion, and theatre...). Find me on Twitter @gtvlondon
Reader insights
Be the first to share your insights about this piece.
Add your insights