A Travel Guide To The Charming Trip To Oklahoma
Travel Tips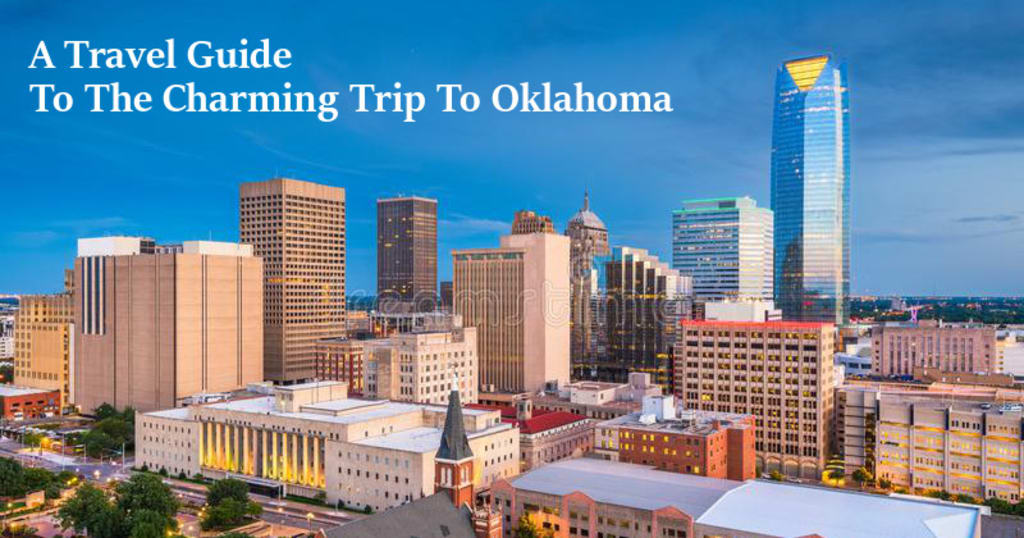 Oklahoma is a state in the USA known for its cowboy cultures. This is a beautiful place to visit and spend some time. It is culturally and historically rich. Along with historical heritage, it also embraces the future. It is a bridge between the past and present where history meets the western.
People from around the globe come here to experience a different town-side lifestyle. Oklahoma is also famous for oil wells. The streets are populated and vibrant with lights and art pieces, great places to dine and take a walk. The Plaza District and Uptown 23rd District are popular among the locals for an evening walk and long drives with food truck cuisines and a beautiful stretch of nature.
Best time to visit
For a vacation in Oklahoma, the best time is during the fall season. The weather is perfect in September and November for a vacation. Not too sunny or cold, the right amount of sun to go around on foot to explore beautiful Oklahoma.
Things to do
Most of the top attractions of Oklahoma are-
Oklahoma City National Memorial and Museum.
Washita Battlefield National Historic Site.
Gathering Place.
Lake Tenkiller.
National Cowboy & Western Heritage Museum.
Other activities
Oklahoma also has some outdoor activities to offer as well.
River sport- Kayak and Rowing in Boathouse District.
Skateboarding- Mat Hoffman Action Sports Park.
Hiking, Cycling, kite surfing- Lafe Hefner.
Golf Courses.
Fishing and Hiking- Stinchcomb Wildlife Refuge.
Food and lodging
Oklahoma has some significant food choices. People prefer more locally-grown food items; this shows their love for their land and is also very fresh. You must have already tried most of these cuisines but not as well as served in Oklahoma. Some of the best cuisines that you must try are-
Cowboy Caviar
Fried Okra
Chicken- fried steak
Tacos
Fried-onion Burgers.
Another big question that is most asked by visitors is which is the best place to stay? Worry not, here are some areas where you may choose your accommodations –
Climate
Oklahoma has very favorable weather around the year. It has a mixture of both hot and cold. Oklahoma experiences a sub-tropical climate. However, broadly, it can be divided into four seasons.
Summer (April- August).
Autumn (September- October).
Winter (November-January).
Spring (February- March).
The summer months during June and July are at the peak with scorching heat and winters in January become cold. Spring and fall seasons experience a moderate temperate with the bright sun over the head and cool breeze. The summer seasons also experience rainfall. Tourists should be ready to take some showers and follow the directions given by the National Weather Service of Oklahoma during hurricanes or storms.
Total Cost
Oklahoma is rated as the fourth most affordable state in the USA. The cost of living is very low and expenses for tourism are also moderate. Here is a brief on how much you would spend on your trip to Oklahoma for a 7-day trip, inclusive of the basic needs of food, lodging, flight booking and sight-seeing on average-
For Solo Travelers- $900-$1000.
For Couples- $1500-$1600.
For a Family of 4 members- $2380-$2440.
NOTE: This is based on a moderate 3-star hotel with decent restaurants and basic sightseeing plans of all the top attractions of Oklahoma.
Hotels of Oklahoma would cost on average from $50-$250 for a night. And rental homes would cost $190-$600 depending on the amenities and location of the home. This is an average range for the entire home.
As I am a travel lover and I have a good experience in traveling. I always book my flights with American Airlines Reservations for the low fare. I recommend you should also go with this.