A Symbol of Everything that is Good for the Soul. .
As you probably know, Costa Rica is known worldwide for its biodiversity.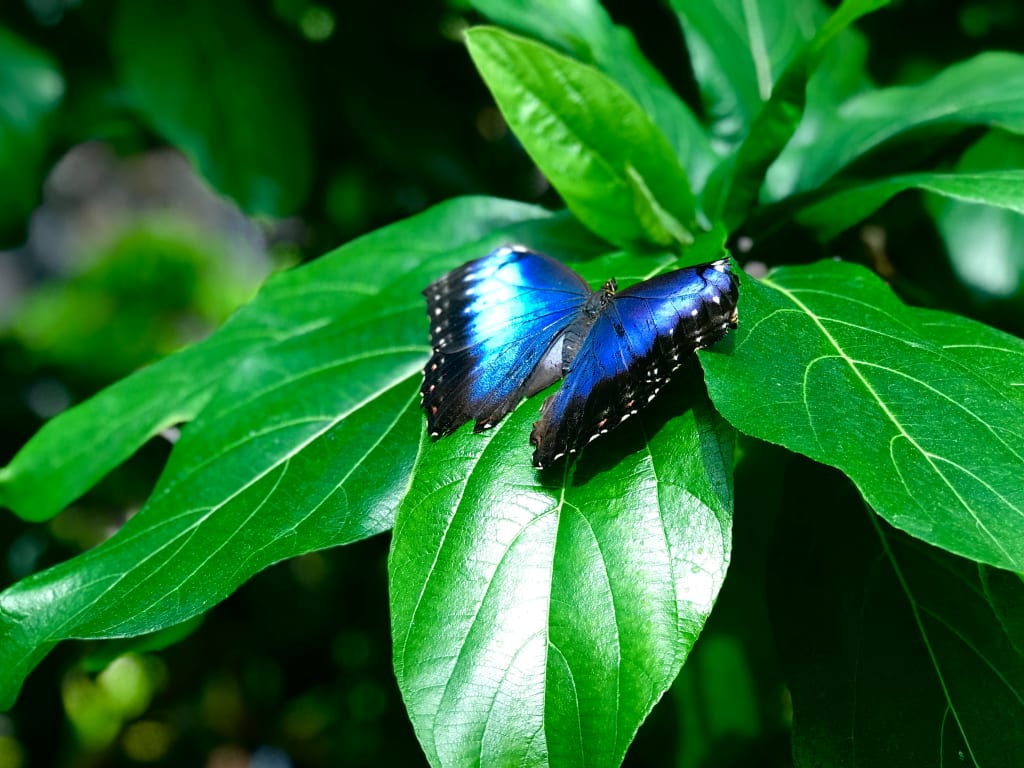 We hope you're fortunate enough to see the Blue Morpho Butterfly here in Costa Rica. .
As you probably know, Costa Rica is known worldwide for its biodiversity. Mother Nature has been very good to this country. . about the size of West Virginia (0.03 percent of the earth's surface). However, it contains over 6 percent of the world's biodiversity. An equation made in heaven for all of us who visit for the purpose of searching out these amazing creatures presented to us in such a glorious fashion.
Throughout history, crossing the path of a blue morpho butterfly promised us nothing but goodness ahead. Honor, great energy & calm enters the soul of the lucky ones who are able to allow one to land on their hand. . or perhaps their shoulder or nose! It is said that your future wishes will come true. . makes you want to get up close and personal with a blue morpho asap!
Costa Rica has over 1,000 species of butterflies. This represents close to 25% of the world's species. A hotbed of activity for Mother Nature indeed!
The Blue Morpho's wingspan can be up to 8"! That is much bigger that the palm of your hand. It is almost surreal if you ever get an opportunity to actually hold one. You only hope that your smart phone is close by so you can snap a photo! With that said, there are dozens of butterfly sanctuaries here. Also called "conservatories" or "farms", they are located in every corner of the country. They are set up as a huge "tent" with the sides and top usually made out of a mesh fabric. Of course, there is dense vegetation inside of the structure, with many of the plants growing that serve as food and shelter. You enter and stay on the winding pathways that bring you up close and personal with sometimes thousands of butterflies. You can see their life cycle, starting, of course, as an egg. Butterflies have four life stages: the egg, the larva (caterpillar), the pupa (chrysalis) and the adult butterfly. Each of the four stages are unique to individual species.
The Blue Morpho's life cycle is in the range of about 4 months. The female will use a variety of host plants and will lay a single egg on the underside of one of the leaves. When it hatches, the larva begins to eat its empty shell, which provides a source of carbohydrates and proteins. When the shell is totally devoured, the larva starts to feed on the actual host plant! It takes up to 12 days for the egg to hatch.
The larva transforms through a series of 5 stages. These stages are called "instars". The larva of the Blue Morpho is quite distinct in each stage. Growing bigger and bigger, the final "instar" is when the larva turns into a caterpillar. Then, the HEAVY eating begins. The caterpillar needs to eat a lot to survive and to make it to its final 'butterfly' stage.
To summarize the process, the caterpillar goes through a couple more stages of development and about 15-24 days later, a beautiful Blue Morpho emerges for all the world to enjoy!
When visiting Costa Rica, make it a point to spend a 1/2 day or so at one of these conservatories. If you have children, they will simply love their time spent inside the tent with all of the butterflies. Lots of nose landings, I am certain! Do an internet search and you'll find the hours of operation, pricing and directions on how to get there. I especially like the "La Paz Waterfall Gardens & Peace Lodge". You can actually spend a couple of days there and see everything! They have beautiful guest rooms, quite a few restaurants and bar areas and so many things to do while you're there! They are located close to the Poas Volcano. Their website has driving directions and all of the other pertinent information. Be sure to Google them and learn more about this MUST- SEE destination. You'll see a lot of Blue Morphos FOR SURE!
Butterflies are just one of the many examples of the total beauty of Costa Rica. Be sure to click on our Costa Rica Pura Vida Lifestyle Podcast link below. We'll tell you just about everything there is to do and see here in Costa Rica! We hope you can visit soon!
You're invited to visit our websites at www.costaricagoodnewsreport.com & www.costaricaimmigrationandmovingexperts.com
Also, please enjoy our over 2,000 episodes of our "Costa Rica Pura Vida Lifestyle Podcast Series". We are found on all major podcast venues, including iHeartRADIO, Spotify, Apple Podcasts, Google Podcasts, Radio FM, Anchor and many more. Here's our link: www.anchor.fm/costa-rica-pura-vida
If you like what you read, be sure to take a look at our other 100+ stories as well. You will learn so much about Costa Rica. Our only hope is to finally get you excited enough to visit! If you're here already, we hope we can introduce to you some additional GOOD NEWS about this amazing country!
nature
About the author
Costa Rica is a magical place. Since November, 2002, when I first visited this country, I have been in love with the people, the culture, its biodiversity, the food. . everything about it makes me happy! Now I share my excitement with you!
Reader insights
Be the first to share your insights about this piece.
Add your insights