A Spiritual Journey
A Week Of Synchronicities: Part 1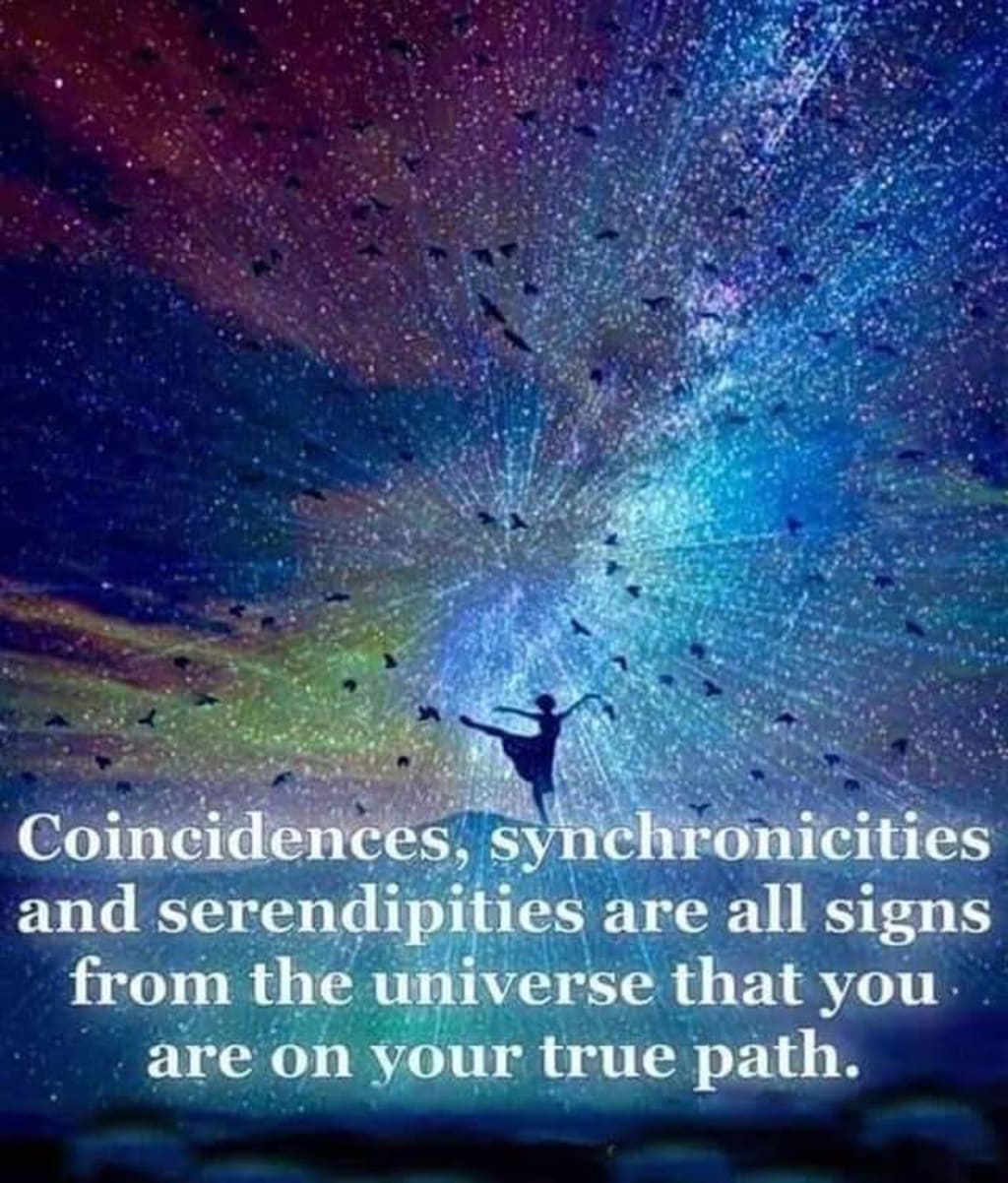 What you are about to read may help you begin seeing the synchronicities that occur in your life on a daily basis.
After travelling around with no direction, a few months after the death of my dear Mother, I noticed so many signs that she was still with me that I could not deny that everything I have thought about religion was true. Whicht is that they all speak a little of the truth, but there is a connection to them all which stems back much further than most people can imagine. This trip confirmed my spirituality and the truth that we are here for a reason.
I wrote this as a diary and because this is a short story platform I have had to break it down into a couple of days entry per part, this is partr one so search for more parts if you would like to read to the end of this short journey.
The Peaks.
8th Jan 2020
I travelled the two and a half hours from a friend's flat in Grimsby, I had been staying there the last few days, and arrived in Bakewell around half 2. Stopped at a local shop to get a drink and decided that I did not want to spend the afternoon in a town so got back in the van and drove. Within a few miles, just coming up to Chatsworth house, I noticed a sign to Youlgreave, but the L had been rubbed out so the sign read; 'You Greave'.
I followed the sign, found somewhere to park in the top of the village and started walking. I followed a path down to the river and came across this: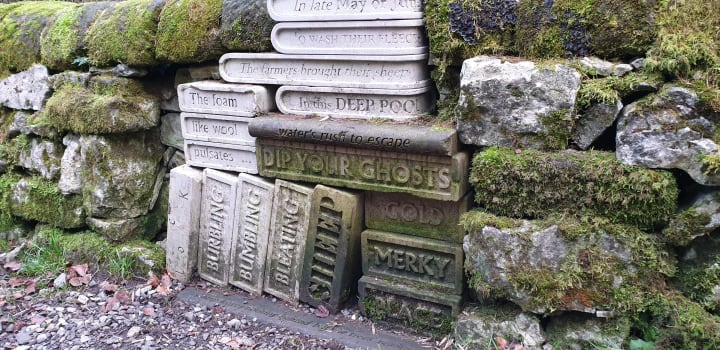 I continued walking along the river, crossed a bridge and listened to the sounds of nature. I could hear a very strange noise coming from the trees above and opposite so I went to investigate, it sounded like a boar running around snorting but I could not locate where it was coming from so I gave up my hunt and continued on the path until I arrived at a tee junction. Unsure of which way to go I stopped and silenced my mind, I noticed a Dipper on the rocks in the river to the left, so that's the way I went, as I approached it broke into song and flew further downstream.
The path was muddy and uneven and eventually went up and above the river into a field, I noticed something running above me at the edge of the trees, didn't quite get a look at it but imagined it to be a fox. I continued along the footpath over some stiles and eventually saw a campsite with some static caravans so decided to head that way, on arrival at the gate there was a no entry sign which I ignored as I wanted a rest and I could see a bench. After resting for a little while I moved on following a single-track road down the hill, where I came to another bench, this was next to a bridge where I decided to sit and watch the world go by. A few dog walkers, runners and ramblers were about and there were pleasantries said between us, good afternoon etc before I moved on and took the following pictures on my ascent back up to the village.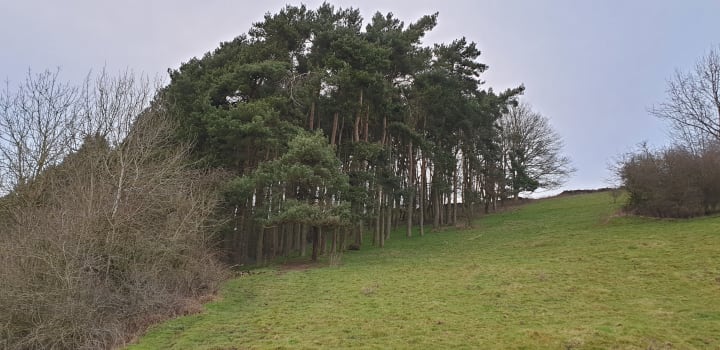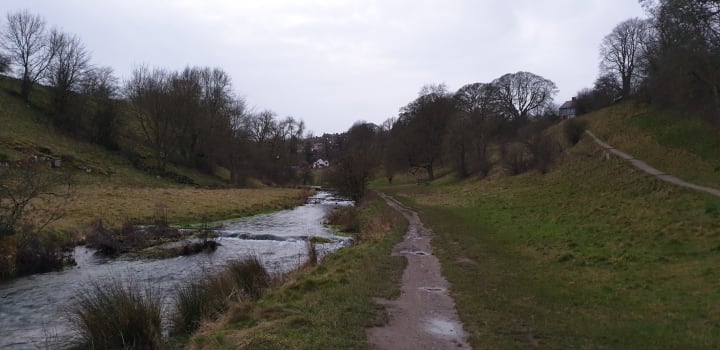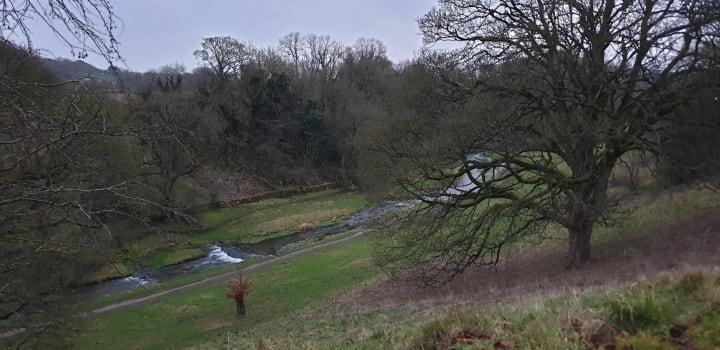 I arrived back at my van some three hours after I had parked it, which is quite amazing as I had no idea of where I was and believed I had walked in only one direction. I had actually walked a full circle and by this time I was quite hungry. I walked back down the road to the Farmhouse Inn, which looked quite cosy when I had passed it earlier, on entry I saw that there were three men of varying ages and a young lad sat by the bar. I ordered a beer from the landlady and started talking to the man sat next to me, his name was Al and I later found out he was 81 years old although didn't look a day over 60.
We got into a good conversation where he told me that he was one of the few people left that had been bombed in the 2nd world war, I fail to remember his location at that time but he was refuged somewhere in the South East of England. I was also told that after the war, maybe in the 50s, he had travelled to France from Southend airport in a friend's aeroplane. Turns out that his friend was one of the first travel agents of that time, Al had asked the friend if he could arrange accommodation and car hire for a two week trip to France, the friend could sort the flights and accommodation but not the hire car, so he suggested that Al used his own car as he had a transport carrier that had been acquired after the war. Al drove to Southend airport and drove his car onto the plane for the flight to France, he drove his car off the plane and around France for the next two weeks before returning. This trip cost him the princely sum of 45 pounds, which was about two weeks wages then. He was building bridges at the time.
I also learned that Al had been a surveyor before retiring, which was quite apt as I had been a surveyor earlier in the year, his expertise was structural engineering and he had done geological surveys on old bridges to determine the weight they would be able to support safely.
I asked the landlady if there was any food to which she replied that there was none on since she had only been there a week. I asked if there was anywhere to get food in the village and she directed me to the Bull saying they would be serving until 8, I finished my drink and headed there. The barman at the Bull told me they had stopped serving and the cookers were off.
Still Hungry I left and walked back towards my van. I looked in the window of the building next door, which was an old coop, I saw lots of people sitting around eating a feast and realised that it had been turned into a youth hostel so climbed the stairs and knocked on the window, I was directed to the side door where I waited for someone to come and open it. A man answered the door and asked what I needed. I said @I was a weary and hungry traveller with nowhere to stay and asked if there was room at the Inn?. Unfortunately it had been rented out privately and there was nowhere for me to stay. I got back to the van and returned to Bakewell to find somewhere to eat.
I stopped at the first place I found that served food, sat down and looked at the menu. There were no Vegan option on the menu, so asked the waitress if they had any, to which I was told they could make something up no problem, would I like something rice or pasta based? I replied rice based and said surprise me, after what felt like forever she delivered a risotto to my table, not my favourite dish but hey ho, it was food, which turned out to be quite delicious although I think I may have overdosed on garlic.
After eating I thought it would be a good idea to find somewhere to spend the night, got back in the van and started driving around Bakewell, I passed the church and ended up at the top of a peak looking down on the town, I parked up and decided to stay there for the night. It began to rain, ten minutes later it hammered it down, I was almost deafened by the sound of the rain on the top of the van, this rain continued until 8 oclock the following morning so needless to say I did not get much sleep that night.
9th Jan 2020.
I drove back down to Bakewell to get some breakfast and a coffee. I stopped at the church on the way and walked into the grounds.As I came to the end of the church facing down to Bakewell I saw a very large nativity scene still standing, which I thought would have been removed by now. Please see the photos of these and remember them for future reference, about a week from now.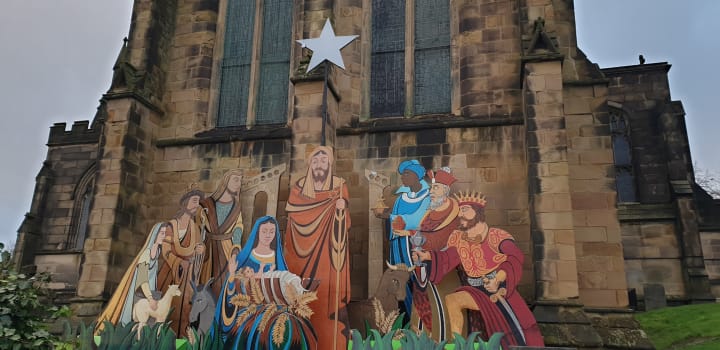 After having my coffee and some carrot cake I walked around Bakewell, I headed for the river rolled a cigarette and began to take in my surroundings. I continued walking along the river watching the wildlife and came across a bridge, hanging from two lengths of steel wire running the length of both sides of the bridge were thousands of padlocks, I was later to find out that it is a bridge of locks and there are lots of them around the world. Whilst looking at these locks I noticed that one stood out among all the others. This padlock had the word 'LOVE' engraved on it, so I took a few pics and moved along the bridge, looking at the wildlife either side and not taking too much notice of the locks bar the occasional look.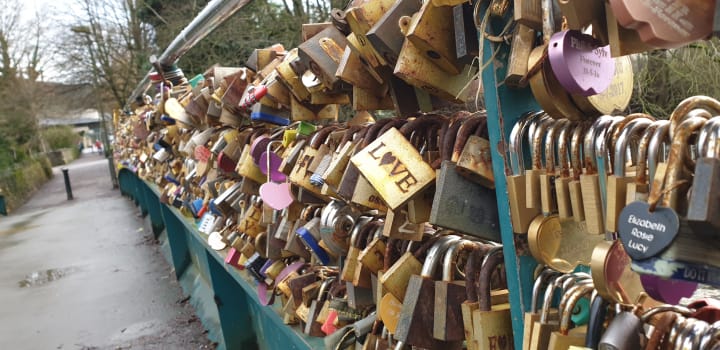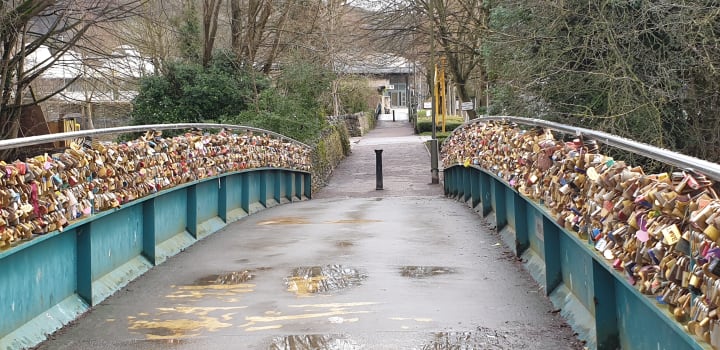 On arriving at the other end I walked to a notice board that had a map of the town with some writing on, I had a quick scan and decided to walk back over the bridge and have a look for a toilet as I was gagging for a wee. As I got onto the bridge I looked down at the padlocks to my right and there again was one padlock that stood out among the others. This one was kind of in a space not as crowded as all the other padlocks, so guess it was a little newer than the others further up the bridge, on this lone padlock was inscribed FAMILY.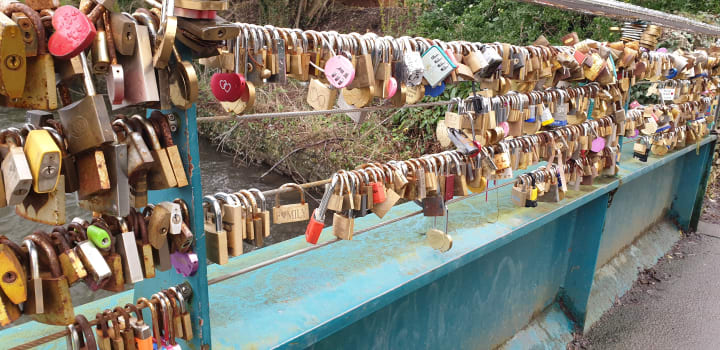 I continued into town and admired the architecture, found some public toilets which had a 20p entry, I only had a pound coin in my pocket so couldn't get in. As I turned around I noticed a man in a high vis jacket with what looked like some surveying equipment, I asked him what he was doing and was informed that it was testing some GPS equipment which I found quite interesting, after a short chat I moved on. Walking around the town, window shopping I noticed a few places that sold and engraved the locks, I decided not to have one made, but on retrospect I may revisit and place a lock somewhere.
I then decided to return to Youlgreave and look around a bit more, on the way I stopped at a bridge where I could see the river and went for a short walk. I passed some sheep and decided to stand and watch them for a while, watching them chew cud and be sheep, two of which seemed to be staring at me, not taking there gaze away from mine so I let out a loud bleat and moved on.
Walking towards me were a couple with their young child in an electric car, as we passed I said good morning and commented that it was doing quite well over the rough ground and that she was a good driver, smiles and laughs all round. I walked a little further and decided to turn back, as I was passing the sheep I met a couple and started a conversation with the man who said that they were strange looking sheep and he had never seen any like that before. I cannot say that I had noticed that they were strange but agreed with him, spoke a little more and went back to my van.
I drove up the hill into Youlgreave passing the couple with their child in the electric car thinking to myself that the battery had done really well to go that distance with the incline as well. I parked up outside the church and went for a walk around and inside.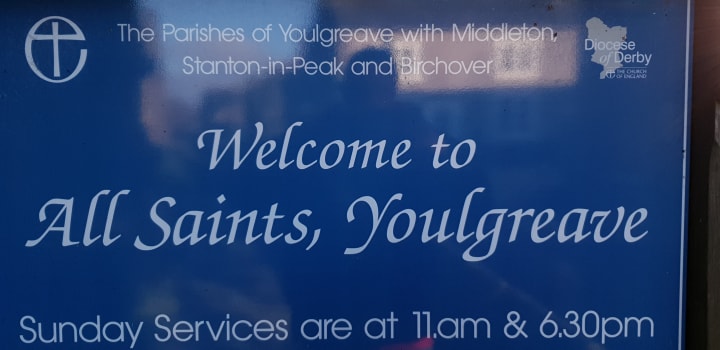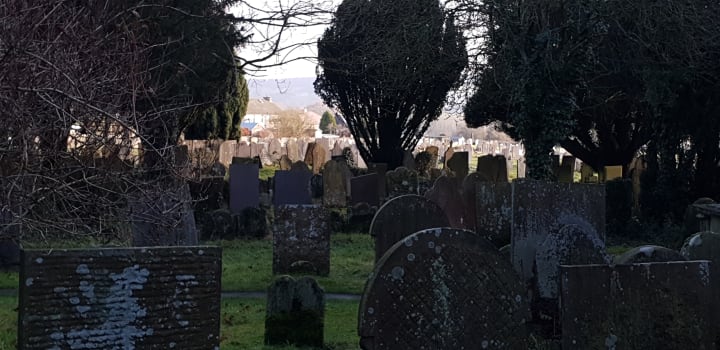 I then walked down to the river where I had been yesterday and admired the swimming area with waterfalls below, I was beginning to feel a hunger coming on so headed back toward the village, on the ascent I was going to sit on the bench half way up but there were three older ladies sat on it, I started a conversation with them and during that I was told they had had a run in with a pheasant. it had first begun what looked like an attack, but then moved in front of them and seemed to lead them in the direction it wanted them to take.
I bid them farewell after telling them about Steve's incident with the pheasant called Sue, (an earlier happening that I will write about soon), found a nice tea room that sold homemade pies, ordered one with a coffee and sat outside to eat it. It was one of the best pies I've eaten and had just come out of the oven which made it even better. I paid the bill went back to my van, stopping at the farmhouse inn to see if they had any rooms, I didn't want to spend another night in my van. I knocked on the door as it was locked and the landlady answered, I asked if I could book a room for the night and she politely told me that she could not give me a room and then added she had someone staying the next day, I thought this strange as I wanted to stay tonight but smiled and said ok. I went back to my van and decided to look on google maps for somewhere to stay that night. A list of hotels and youth hostels came up and I had a quick scan up and down and clicked on Hartington YHA, thinking any would do, if there was room that's where I would stay and look at the surroundings there. They had rooms so I booked a bed in a shared dorm for two nights costing £56 which I thought was quite good, so I drove straight there.
As I walked from the car park to check in, I noticed what a fantastic building it was and saw some glamping pods in the garden which looked like they would be a great place to stay. I went to reception and spoke to the young lady at the desk, she told me that I had booked a dorm and I asked if it was possible to change that to a single room so I could get a little privacy and lock my stuff up, she looked and I was in luck, there was a room with on suite and it was only twenty five pounds a night, result. Turns out that I had booked two nights for two people in the dorm which is why it was cheaper to have a private room. I put my stuff in the room and had a walk down to the village. After having a stroll, I decided to go into the tea rooms and grab a coffee, I ordered and said I'd be sat outside. I went and sat on the bench outside watching the world go by whilst smoking a roll up and as it was getting quite chilly out, decided to have my coffee inside. I went in as the waitress was bringing it out and told her I would now have it in.
I sat right at the back looking toward the front window so I could watch the goings on. There was a couple sat next to me waiting for their order and they both had their heads in their phones, typing away so I asked, 'Who was it that said phones would kill the art of conversation?', this led us to start up a very nice conversation within which I learned that the man had spent some time in Oundle at school while his parents were working abroad, they told me they had spent quite a bit of time in the peak district over the years and owned a property not far from where we were so I asked for a few pointers of nice places to visit. Several walks were suggested along with some other places that were a short drive away, one was near Buxton and I was told there was a cave and he had done some climbing in that area, this peaked my interest so I made a mental note of that. I was then told about a national trust house with some gardens that were quite nice, with some jumbled instructions of how to get there. Their food had come during the conversation and they were now ready to leave so I ordered another coffee and continued watching what was going on around me. I noticed a lovely painting of a cockerel and thought to myself what a lovely cock but decided not to blurt that out to anyone.
After a while I heard some laughing coming from a table and turned my attention to what was going on there, a young black boy was saying some funny things to the people he was with and I thought what a bright young boy he was, the family he was with were all white so I imagined they were looking after him after school. I finished my coffee and decided to head back to the hostel, as I passed the happy table, I caught the eye of a woman in her forties and we exchanged smiles, I paid the bill and left.
That evening I sat in the library and flicked through some of the local maps of walks that were printed out for visitors to use, also the newsletters that YHA supply to all their hostels. After perusing these for a while I got up and went to the bar, ordered a pint and looked at the signs that were on the wall about This Youth Hostel and noticed a smaller sign below which said Time Travellers Quest History Tour, this peaked my interest instantly so I went to reception and asked what it was about, reception told me that it was a kiddies quiz and tour of the house, I asked if I could have the information and was handed an A4 booklet with the history of the house, I put it with the maps and other information thinking I would do it later.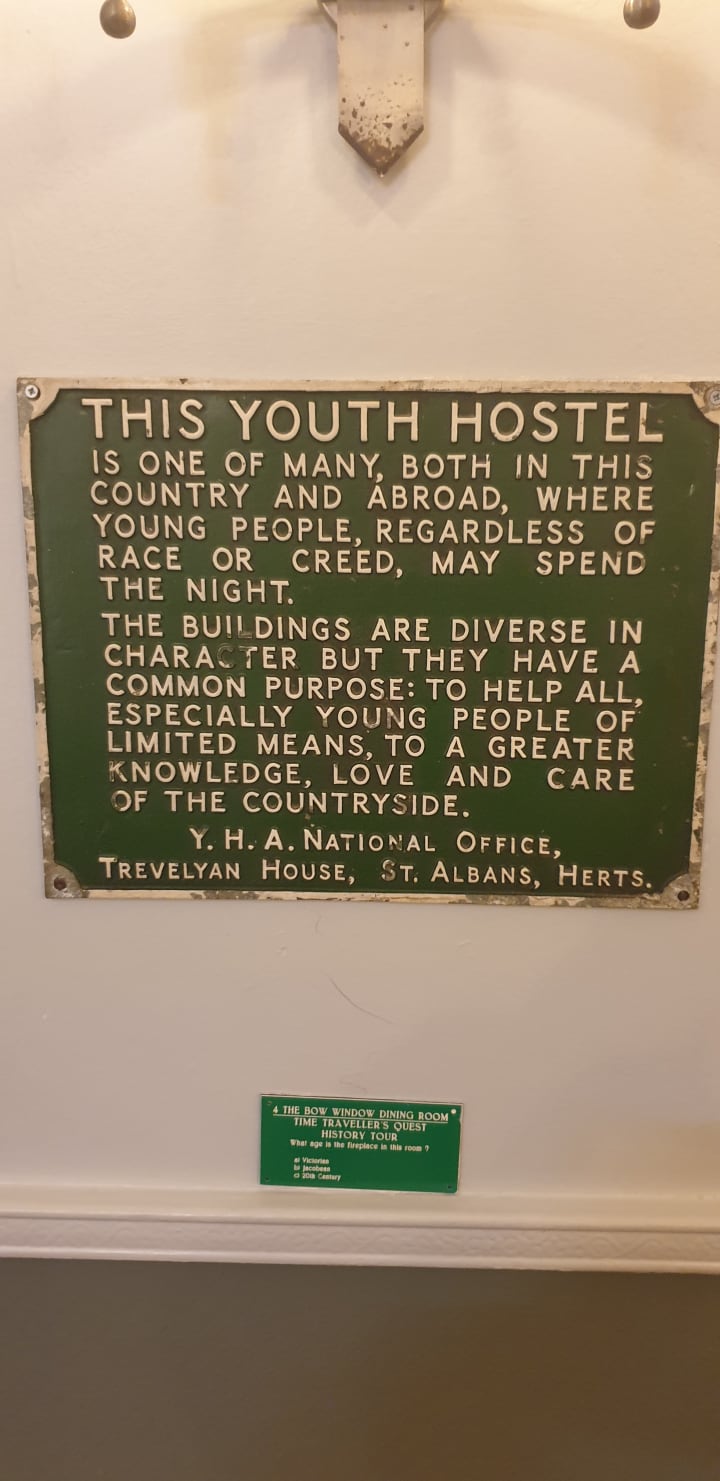 I was now hungry so took a look at the menu, I am a transgender virgin, sorry transitioning vegan and being a little naïve of this fair was unsure of what to order, so went for a falafel burger. After eating most of it I decided that it wasn't really to my taste, at least not tonight, although I may try falafel again at some point. After dinner I returned to the library and continued reading one of the newsletters, sitting not far from me was the lady in her forties I had seen in the tea room earlier so I struck up a conversation with her, turns out she was Australian and living in Uganda, running a school and training local teachers to teach local children better than they have been previously.
After our conversation she got up to leave and started chatting to a couple sat on a sofa on the other side of the room, they were talking about places to visit so I began listening for ideas of where I might like to go, during their conversation they talked about a national trust garden called Biddulph Manor, where the owner had made gardens that sounded amazing. They said that you walked in to a swiss cottage and then came out into a swiss garden, then went into an Egyptian house and garden and then a Chinese house and garden. I joined in with the conversation and said that someone had mentioned that very place to me earlier. I immediately decided that that was where I was going the next day and said so. The Australian lady said that it sounded nice and she would possibly go there too.
It was now 11pm and I was very tired having not slept for quite some time so headed up to my room and jumped into bed. I woke up less than 2 hours later and decided to go out for a smoke. I got dressed and headed down the stairs, walked out the exit and closed the door behind me. I smoked my roll up whilst walking around the building when I finished I headed back to my room. I tried the door back in to the hostel and it was locked, I remembered that there was a code I had been given on arrival to get back in when the staff had left, this was written on a leaflet that I was given on arrival, I had only dashed that on the window sill in my room and had forgotten to take it with me, damn it, looks like I am sleeping in the van again tonight then! Luckily the van keys were in my coat pocket so went to the car park got in the van and listened to the stereo for the rest of the night.
To be continued in Part 2, keep reading, it all comes together in the following days.