A Spiritual Journey
A Week Of Synchronicities: Part 2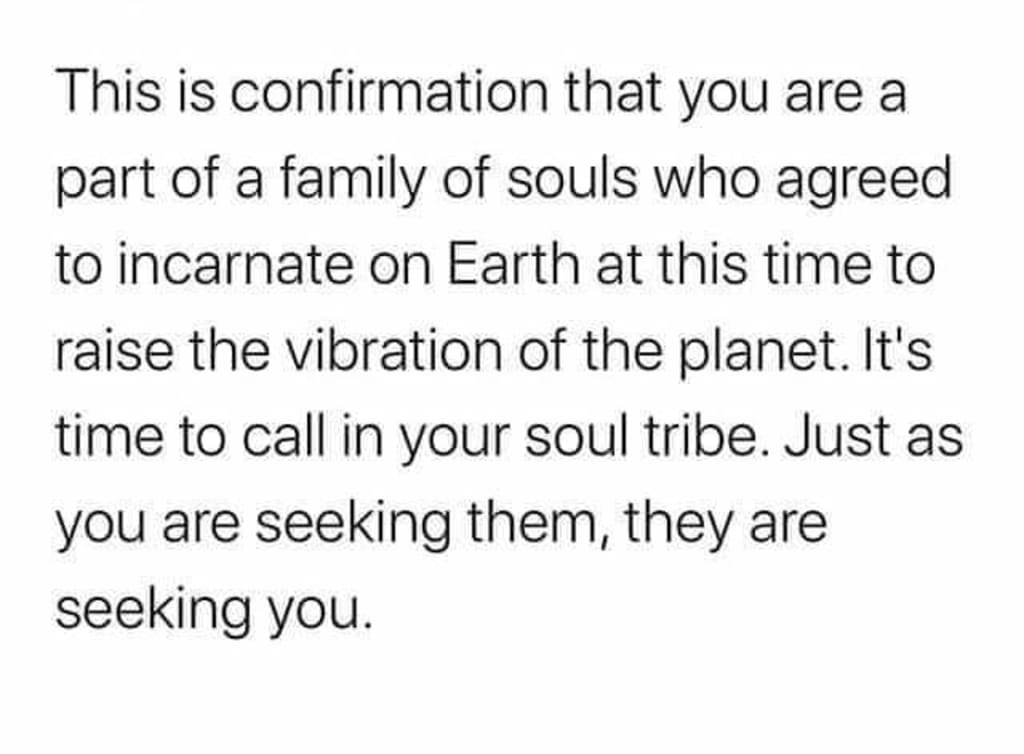 10th Jan 2020
I woke up around 8 and walked back up to the hostel to get some breakfast, sat at a table and ordered beans and scrambled egg on toast, while sat there the Australian lady came in with her husband and the young black boy I had seen in the tea room yesterday. We struck up conversation during breakfast where I got their names, Daniel, Jenny and Mylon. i could not get over how Mylon seemed to be in tune with everything and was much wiser than his years, one thing he said to me very early on in the conversation was, 'I see you'.
I finished eating and said I may see them later, went back to my room for a shower and then headed toward Biddulph Grange.
As I was driving over a peak and looked to the left, I am certain that there was what looked like a full moon, high in the sky. I couldn't believe what I was seeing so looked for somewhere to pull over to take a picture, I got out of the van with my camera in hand, looked again and got blinded by the sun!! I'm still not sure what I was looking at but there was a thin black cloud around so maybe the sun was behind that?
I arrived at Biddulph Grange around half ten and went to the entrance, I read the information board and began to get a little excited about walking around the gardens. I paid the entrance fee and added the charity donation before entering the gardens. I was amazed by the story of how and why James Bateman built his space to present his religious and scientific views and its purpose to educate visitors about how the Earth was created.
I first saw the well tendered bushes pictured below and the daffodil? Garden that obviously wasn't in bloom as its January, but I feel its much nicer to go places like this when there are few people around as I can take my time and am alone in a quiet place, I hate crowds.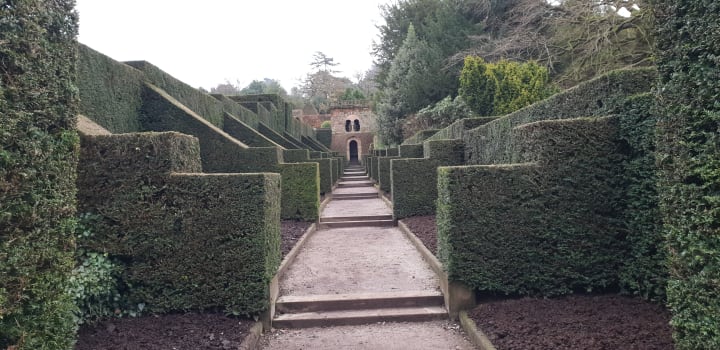 Then I entered what used to be the main entrance, before the house was turned into private flats, on the walls in this entrance hall are boards which explain what James Batemans vision for the garden was, along with a geological survey of the area which was undertaken by surveyors in the early part of this century. On the opposite wall it is labelled day 1 to day V1 with hangings of fossils of life that existed during these periods, allegedly.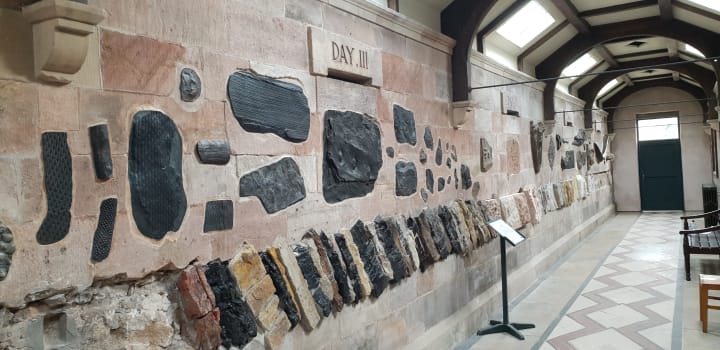 Next I walked up the long path and into the woodland walk where there are things for the kids to climb on and wear themselves out, I exited the woodland walk at the top of the long path where a large flower pot stands, the walk back down towards the house was lovely and I then turned off into the Egyptian house to look at the sphinx's that are scattered around the gardens.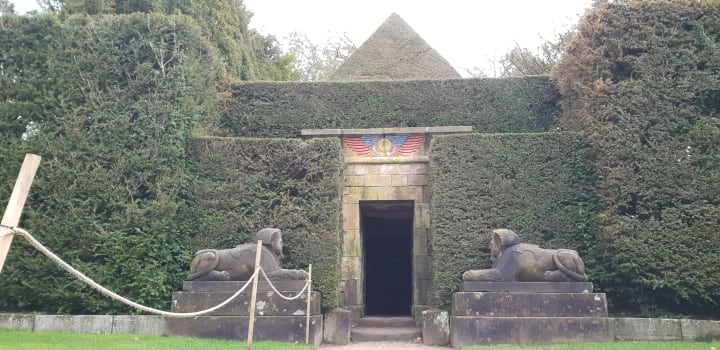 I then entered China, this garden was stunning as you can see in the pictures.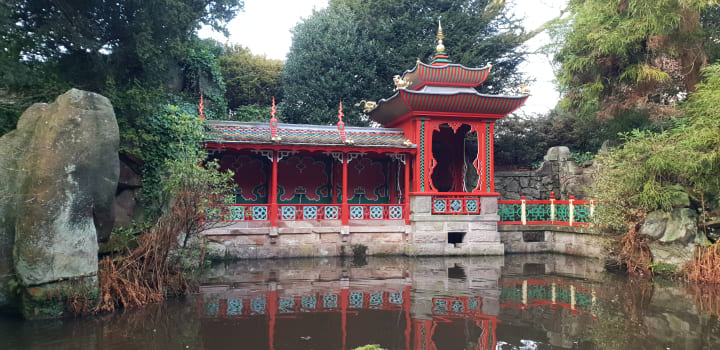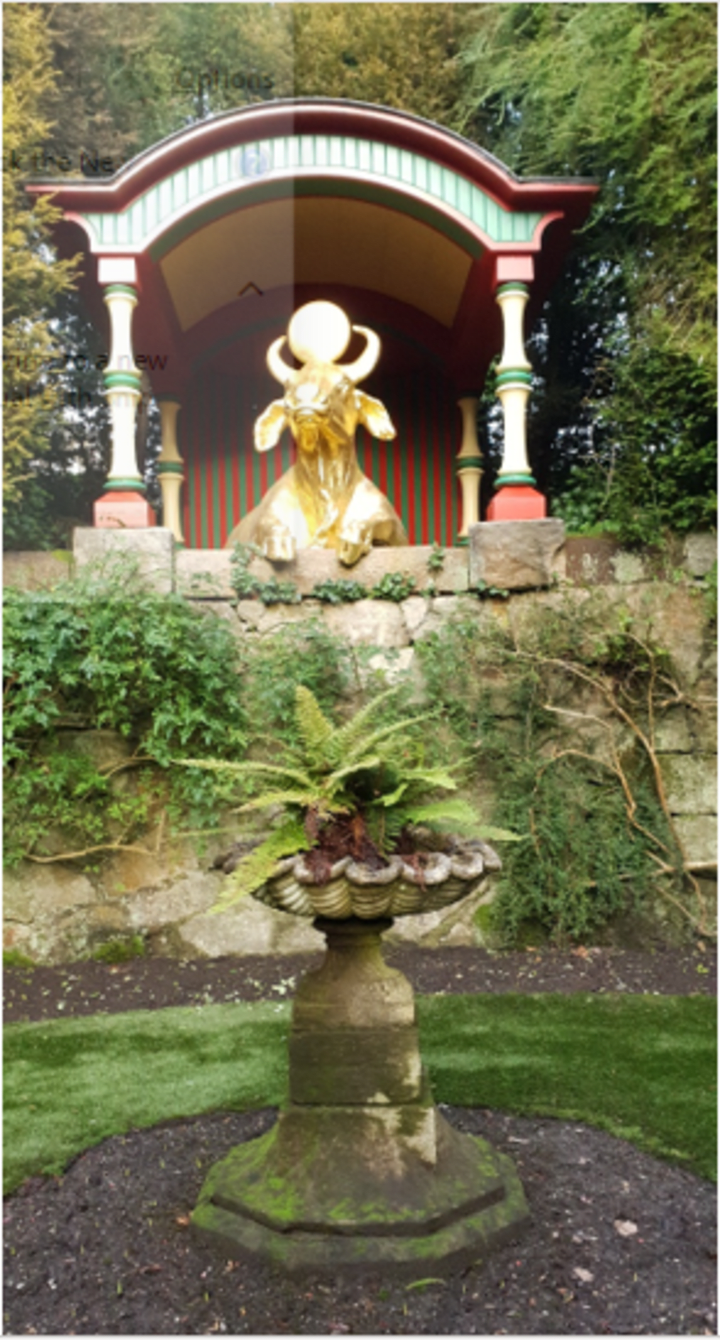 After leaving China I saw some Monkey trees and some very large trees that had a Latin name of Araucaria Araucana which I believe translates into English with a mention of gold, which is quite amazing as you can see in the pictures there appears to be gold within the leaves.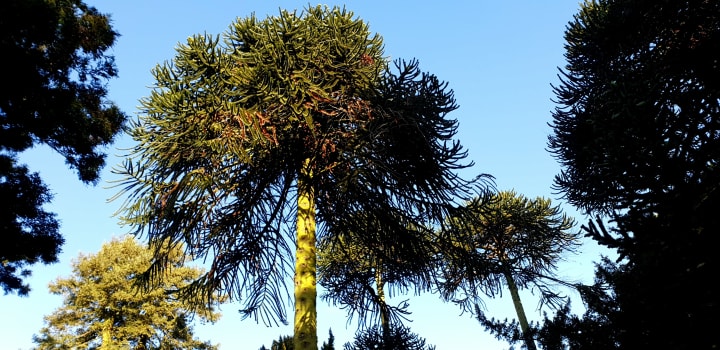 I then went to the restaurant to get some food where I found the Daniel, Jody and Mylon, I ordered and sat with them and we started talking. I told them about some of the things that had happened to me and that I was having a bit of a spiritual awakening. This peaked Daniels interest and we began speaking about that. I was eating and a little unsure of what to say, so said we would continue with our talk later. When I had finished my lunch, I bid them all farewell and went back to the gardens to see if I'd missed anything. I had and it was the library where they had loads of second-hand books that you could buy.
I perused all of these to see if there was anything I wanted whilst speaking with an elderly couple, they told me about the national park behind the house which used to be part of the grounds, so I decided to head there before it got dark. I chose two books and left, as I left the library, I saw the Daniel and told him about the national park and would see them there if they decided to go when they had finished in the gardens.
I went there and began walking up the Himalayan trail and by the time I got to the top I could see why it had that name. There was a small cave on the way that I ventured in to which used to be used for storage? Then I came across some steps carved into the granite rock which I climbed and had the most fantastic views of the surrounding areas, I rested for a while before walking down another path and coming across a lake just as the sun was setting. There were a few carp floating about a foot down around the edge, so I knelt and tried to tickle their bellies, but I was unable to pick them up.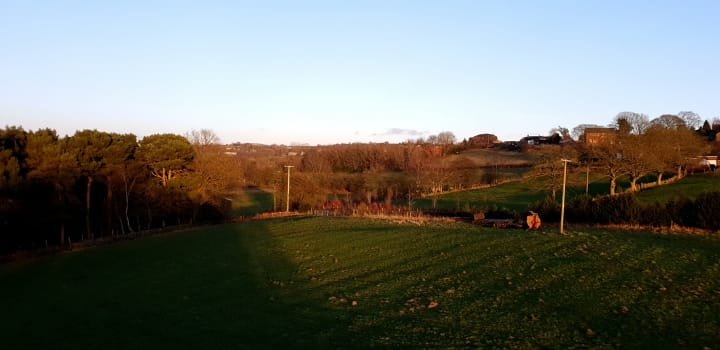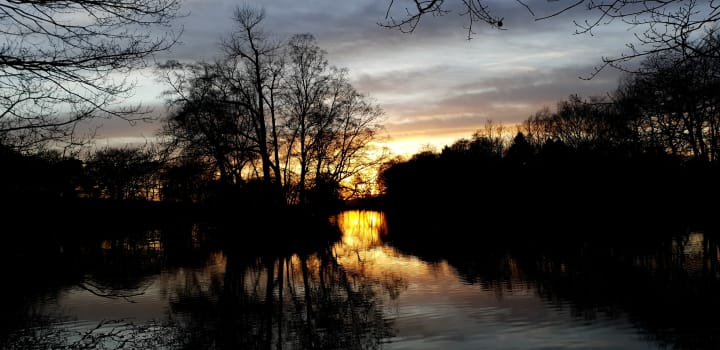 I descended back to the car park almost slipping on the wet mud as I went, got back to the van and started the drive back to the hostel.
As I rounded a corner onto an incline I saw the full moon about three quarters of the way past the horizon at the end of the road so it looked like I was driving to the moon, my mouth dropped open and I just thought wow this is amazing. So, in the last 8 hours I have travelled from the peak district, through China, Egypt and the Himalayas and now I'm on my way to the moon!!!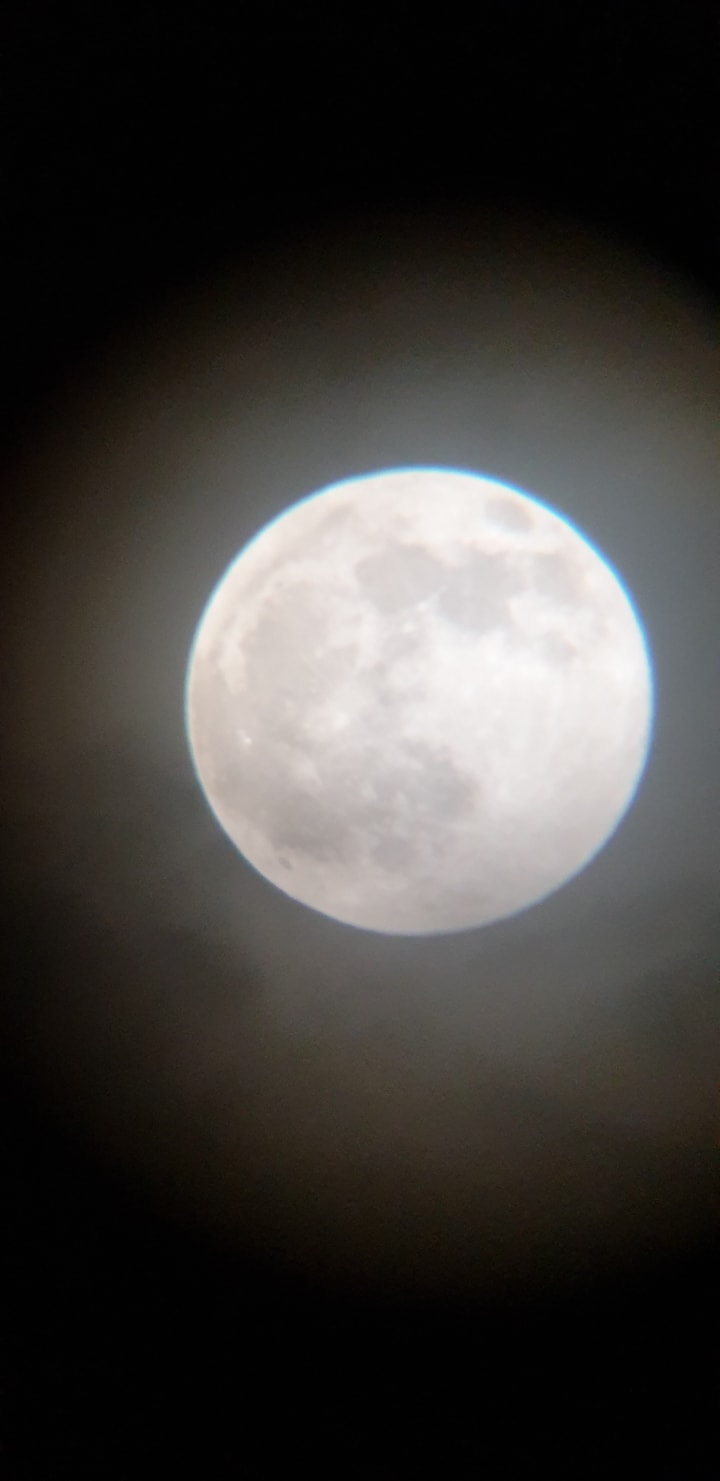 I got back to the hostel, showered and ordered food from the bar, after I had eaten I grabbed my telescope and took a few pics of the moon before heading back to the bar where I started talking to anyone that I could. I spoke with Daniel and learned that he worked in logistics, he also planted trees in a sustainable forest for charcoal use, as lots of charcoal is used in Uganda for the fires, which has decimated the trees out there.
After he had left, I read a little from some of the books that were available whilst having a few drinks, after a while I went to the loo and decided to talk a couple who were playing scrabble in the games room. They were in their early twenties and were there on a quick break before the lad went to Thailand on a retreat for a few weeks. He was going to Phi Phi so I asked if he was after a tattoo while he was out there, and said if he was to head to Mr Big on Koh Phangan. (Asia trip still to be written.)
It was now quite late, so I headed to my room where I slept all night in a bed, for the first time since I had arrived in the peak district.
11th Jan 2020
I woke up around 9, showered and headed down for breakfast where I found Dan, Jody and Mylon. He headed straight to my table and asked why he hadn't seen me at the lake yesterday. They had gone to the national park after Biddulph Grange as I had suggested, arrived after I had left and taken a different route to the lake, they left before I got there. I said not to worry, I would see him later and we would all go for a walk.
Talking to his parents I learned that he had some homework to do so they wouldn't be rushing out, I said not to worry I would wait for them as I wanted to chill for a while anyway.
I finished eating and went back to my room to freshen up before heading to the library where I sat reading a book, called the black pharaoh, that caught my eye. Daniel came into the library and told me that Mylon was having a bit of trouble with his work, just being a young lad not wanting to do as he was asked, I suppose. I said I was in no hurry and would wait so we could all go for a walk and have a chat as we went.
It was half eleven when by the time Mylon had completed his tasks so we decided to have a short walk toward Dovedale, as they were going to head to London in the early afternoon. The wind had quite a chill as we walked and talked and it began to rain, so we headed back to the village for a hot drink and a bite to eat in the tearoom. When we arrived, it was quite busy and there were no spare tables, so I asked a couple if we may join them as there were four spare seats at their table. We sat down, ordered and struck up a conversation with them. After eating we left and headed back to the hostel. I said goodbye to Dan, Jody and Mylon, wished them a safe journey and went back to the library. The weather was not the best, so I decided I was going to stay there for the day. I watched the comings and goings within and exchanged pleasantries with a few people as the day progressed.
In the evening I joked around with a few people and had something to eat after which I went out for a smoke, on exiting the front of the building I noticed a Chinese couple and two English guys laughing and joking in the lounge.
When I came back in I decided to join them, I sat on one of the sofas next to the older Chinese man who had his head buried in his phone, I introduced myself to the English guys just as the Chinese woman was excusing herself to powder her nose. We exchanged names. The English men were Andrew and Robert. I turned to the Chinese man and asked his name, he looked at me with confusion and tried to explain that he did not understand. I did the typical English thing and spoke louder in pidgin English. Robert laughed and asked why do all English do that? He then pointed at himself said Robert, pointed at his friend and said Andrew so I picked this up, pointed at myself said Gavin before pointing at the Chinese man and inviting him to say his name. It took a couple more times before he got the idea and eventually said Ting Taou, I repeated his name pitch perfect and he seemed surprised that I had got it correct, smiled and shook my hand. I laughed with Andrew and Robert saying by the end of the night I would be speaking Mandarin.
At this point his daughter, Rayne, came back from the toilet and sat on the sofa opposite, immediately looking at her phone so I turned my attention to Andrew, and we talked about where we were from and what our plans were etc. Andrew was from Cheshire but was headed to Cambridge for work on the Tuesday and he pretty much travels the country with his job. Robert was back in England for a holiday as he has been living in Thailand for the last 16 years, I learned that he lives in Bangkok only two streets away from where I stayed when I was there with Byron.
We all had a few drinks and had some great conversation, Andrew told us that he had learned a Chinese discipline like Tai Chi in Manchester. He stood up, asked Ting Taou to join him and began demonstrating what he had learned, Ting Taou did not really have any idea of what was happening and I thought it very surreal that an English man was teaching a Chinese police officer martial arts. This really piqued my interest as I had been thinking about learning something along these lines for a while, so I stood up and joined in. I learned a little as the evening progressed and joked with Andrew that I would see him in the morning around 7 to continue. We all spoke more that evening and I learned a lot about everyone, pictures were taken and when everyone left, I was on my own in the lounge.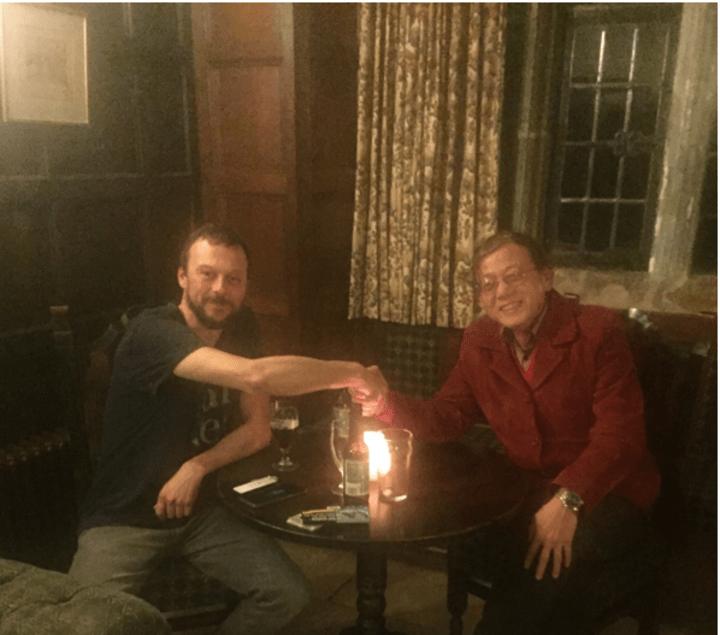 I got up to get another drink and as I came back from the bar I saw a lady sat on her own at the end of the room adjoining the bar area, I asked if she was alone and if I could join her, she told me her friends were outside smoking and I was welcome to join her. Her name escapes me, but she told me she was from Stamford and we discussed the area and what we did workwise. Her friends returned and we all spoke a little before they returned to their board game. I excused myself and went back to my sofa in the lounge.
At this point I received a WhatsApp message from a number I did not recognise but the profile picture was of a lizard, so I knew instantly that it was Coadi, my 15 year old son who I had had no contact with for three years.
His message read, 'Hi dad I hear you've been having a rough time lately. Are you ok?'. I started to reply, and my phone rang. I was unable to answer it, not sure why because I had a good internet connection, but it would not answer, so I ended the call and continued my text reply.
At this point I realised my phone was low on battery, so we arranged to speak tomorrow, as we were doing this, I received a text message from Viccay, wow, it said that although we haven't always seen eye to eye its about time we put our differences aside so that Coadi and I could have a relationship. I was dumbfounded and couldn't believe how things were happening at such an accelerated rate. I replied with, 'Thank you I'm sorry', she texted back with what you saying sorry for? And as I read it my phone died. (Many stories leading up to this book will explain the history behind our relationship.)
While all this was happening, the staff had shut the bar and left while also closing the door to the lounge, I decided to move back to the library. On entering I saw the lady from Stamford and her friends sat around a table by the fire playing their board game, I picked up the Black Pharaoh and sat in the corner to continue reading.
During this time I joined in with some of the conversation from the other side of the room and we all laughed at many points until they left. I moved from my seat in the corner to the sofa near the fire and noticed a book that had a plane white cover, I picked it up and took it with me, as I was getting a little bored with the black pharaoh.
I decided that I was going to make a fire so began building in the log burner, when that was done I stood up, smiled and began looking around, I began to breath deeply and did some of the things that Andrew had taught me earlier.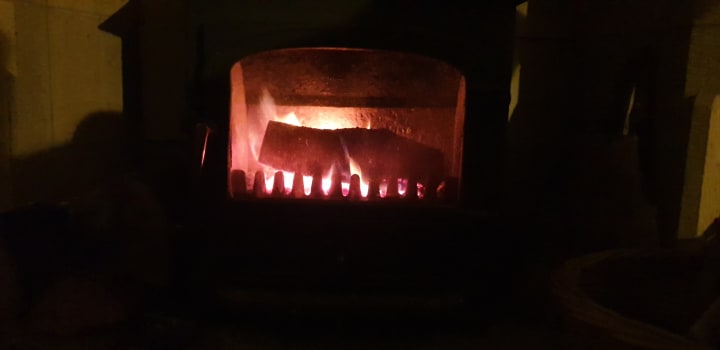 Feeling more relaxed I lay on the couch and concentrated on the wallpaper, a face began to appear within it, I could not quite make it out as it seemed to keep evolving into something else but remained a bit of a blur. I averted my gaze and looked at another wall. I could make out three faces and they began to become clearer, but I was still unsure of what or who they were, as I looked more intently I imagined one to be female and two male, they all seemed a little alien in appearance and felt that I had seen them before. I had a thought at that moment that said, 'I AM RA' and an immediate realisation that everything I had read, seen and learned throughout my life had been true!
I continued looking around the room and in total I could see six forms, mainly faces and shoulders and one that I could make out the whole body, but there was no definition in the face. I realised that these are some of my spirit guides, not always present and I know there are others. I believe that the ones that are needed are there when they are needed.
After what seemed like forever but was only a couple of hours I went outside and began to breath deep and again did some of the exercises I was taught earlier on that evening. Whilst doing this I could see wavy lines forming in my peripheral vision and as I continued, I began to see vibrations in the air. I completed what I believed to be my exercises and walked around the grounds of the house in amazement of the colours I could pick out, no not the colours, the definition of all I was looking at. I could also hear the birds sleeping in the trees and also some rustling in the leaves down to my right and when I looked, I saw a mouse moving through the leaves and under a bush.
I went back into the hostel and returned to the library, I noticed the book with the white cover once again and picked it up. The title read, 'Portraits Of Earth' and it was by Freeman Patterson. I opened it and the first paragraph of the first written page:
The rising sun makes no sound. As day breaks on the Great Sand Sea in Africa's Namib Desert, there begins a symphony of the purest silence I've ever heard. The notes are played out in hues, as the rising sun plays its soft tunes over the early morning dunes. At first the colour is imprecise, delicate. Suddenly a line of crimson appears, a dramatic major motif that lingers in the air. Then, like the string section awakening, the lesser dunes pick up the theme and toss it back and forth, in swirls of deepening colour. It's a moment of total, personal immersion in the world around me – a depth of involvement that produces a sense of oneness with the Earth itself.
Wow that's exactly as I felt while I was outside, but I would never have been able to describe it like that.
I turn the page and there is a quote from Christopher Newbert:
A VIEW OF EARTH
We are, each of us, passive participants in an explosion still in progress. The sparks continue to fly, and in its rhythm, the universe is still expanding from that ancient blast…… We are, as they say, star dust, by-products of the Big Bang. In this light, everything is connected, all creation evolving from the same source, in a process which continues. We are kin to the stars, part of a universal family.
I have nothing to add to that.
Continued in A Spiritual Journey, A week of synchronicities: Part 3