A Secret Sand Dune in a Green World
The wind plays at Lomas de Arena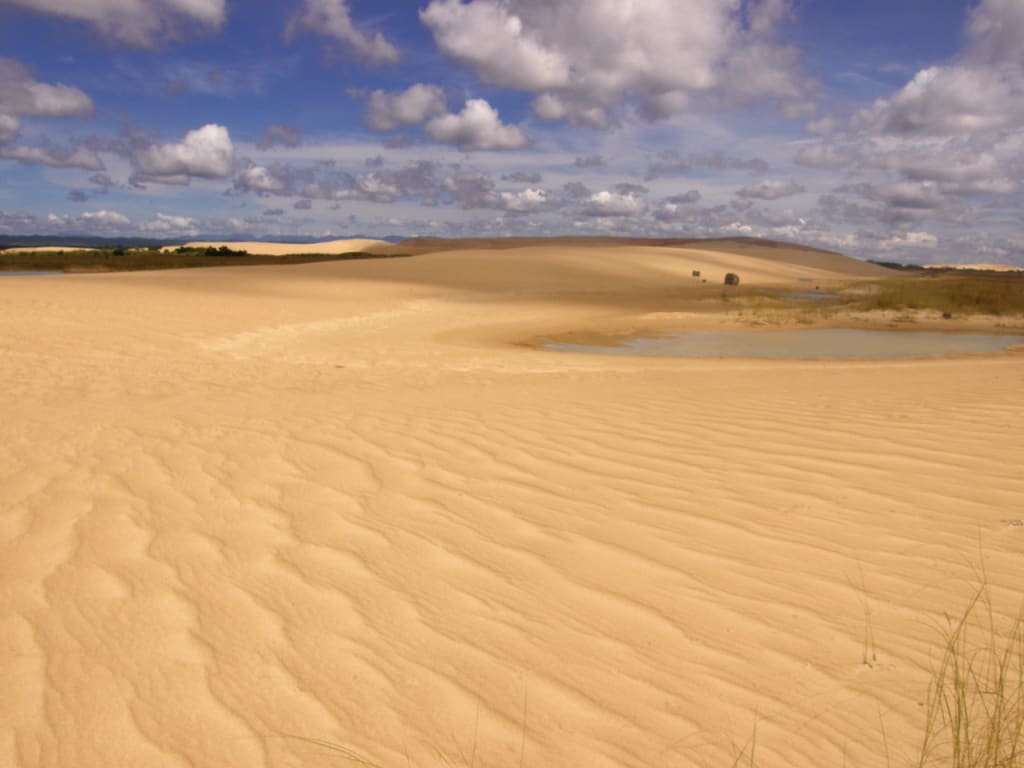 Lomas de Arena, Santa Cruz, Bolivia / photo by the author
When we turned in the direction of the sun and sand, a gust of wind blew two startled Burrowing Owls across the road in front of us. How we laughed to see their wide eyes as they tumbled head over heels before they caught themselves to fly back into the trees. Then the road opened, and our eyes went just as wide, albeit with a different kind of wonder.
Lomas de Arena (the sand dunes) are an unexpected find among the green lowland habitats that surround Santa Cruz, Bolivia's largest city. They provide scenic expanses for photography buffs, as well as green spaces for birders, picnic areas, and even a restaurant.
We came for the birds, of which we saw an impressive variety. Oddly enough, it's three common ones that stand out in memory — the above-mentioned somersaulting Burrowing Owls, a bold panhandler of a Red-Legged Seriema, and any number of confiding Guira Cuckoos.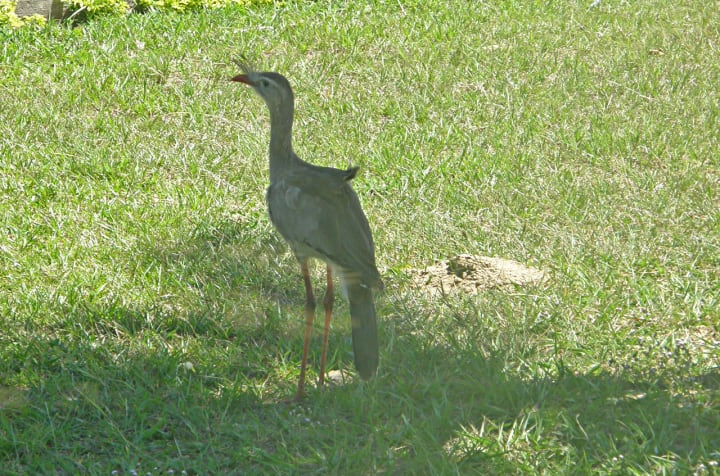 My online diary includes the story of our encounter that day with the Red-Legged Seriemas:
"[My guide] heard a Red-Legged Seriema, and [the Seriemas] did this whole drama thing where they called and hid and snuck away and called and hid and snuck away, and they lured us out into the hot sun, and it's probably a miracle we didn't all die of heat-stroke, much to the amusement of the Red-Legged Seriemas. Then, once we saw the bird [clearly enough to count on our bird list] and they had no more point to make by denying us their presence...well, let's just say that they hustle the restaurant."
Since it was so early in the season, I was the only tourist there. And, boy, did they know it.
They would stroll slowly by the plate glass windows, staring pointedly at my plate. I wasn't the only one eating, but the other guys were workers-- and a Red-Legged Seriema knows how to focus on a soft target.
What can you do? I left my French fries uneaten so a park employee could donate them to the cause. The Seriema in the photo is the one who ate most of them.
The park restaurant is also where I met the Guira Cuckoo who amused and amazed me most.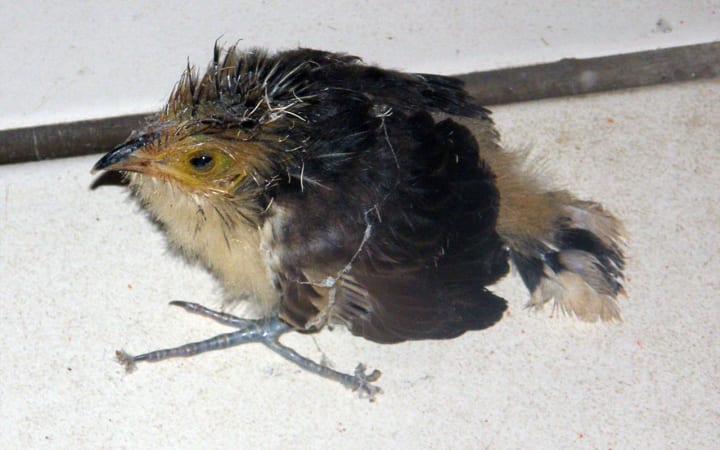 We all know Cuckoos are lazy birds. Some — most famously the Common Cuckoo of Europe — are brood parasites who shamelessly slide their eggs into somebody else's nest to let strangers do the job of raising their young. Guira Cuckoos do a little better than that, but you must forgive me for thinking this bird's a tad undercooked.
The park staff explained they'd been watching a nest near the dining hall. When they saw the young bird fledge — yes, that's an actual fledgling, not a hapless baby who tumbled out by accident — they picked it off the ground to be photographed. (Probably to be weighed and banded as well, but I no longer remember.) The little one wasn't much fussed about it and was soon returned safely to where its irritated parents could welcome it back.
Guira guira is a confident species, expanding while other species vanish. They like to be near people, or so it seems when you see them gossiping on a telephone wire lining a busy Santa Cruz street. The Latin name means, "Bird bird," in a local language — which means the Latin name isn't actually Latin.
It tickles me that, of all the birds in South America, they're the ones picked out to be the generic bird. Cheerful, lazy, a bit disreputable-looking, Guira Cuckoos seem somehow relatable. My goodness, I think as I watch the parents scold the park employee returning their baby. They seem so human.
Author's Note
A shorter version of this story appeared in For Awe, a Medium publication. I've added an additional photograph and expanded the text for this version. If you enjoyed this story, hit that <3 button. I also accept tips.
Here are a couple more of my nature stories from Bolivia:
About the Creator
Seeker, traveler, birder, crystal collector, photographer. I sometimes visit the mysterious side of life. Author of "The Moldavite Message" and "Crystal Magick, Meditation, and Manifestation."
Reader insights
Be the first to share your insights about this piece.
Add your insights