A Man By The Sea
On my island, peaceful and free.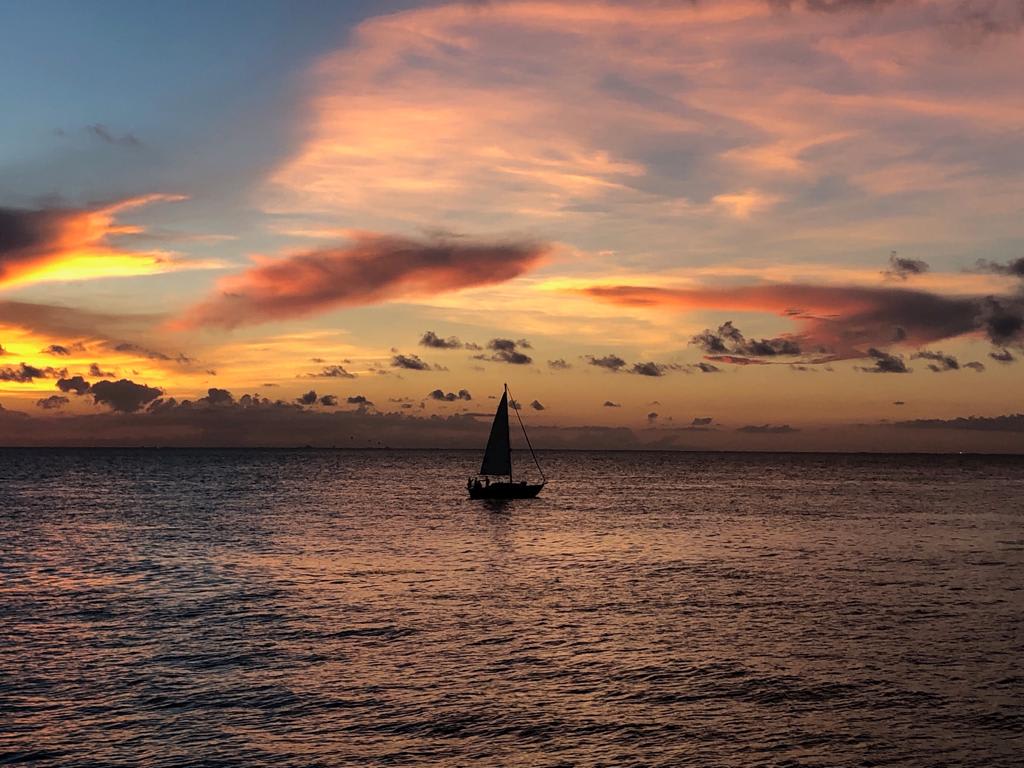 Sunset in the island of Cozumel.
Each evening, I sit here. Witnessing the golden sun, as it prepares to sleep far in the distance. Lighting the sky with a fiery orange and red glow. I hear the horn of the cruise ship "tooting" goodbye as it sails to the next port. Three times, as dictated by maritime tradition. In contrast, I notice an old sailboat that sits quietly in the horizon, small to the eyes, making its way slowly, gliding through the waves. It used to be a party boat years ago, full of life and music. Now, it just sails from one side of the island to the other. A ghost ship. Drifting away, every day. That's the passage of time, the passage of life. The wind guides it towards its destination. The same wind that, as a light breeze, brushes my face whispering a tropical melody.
I listen to the birds singing their lullabies, as they settle in their trees for the night, with their young and their life companions. I set my eyes on the bright clouds and breathe deeply as I take my wife's hand in mine, my life companion. White hair and soft hands, wise eyes and young hearts. We drink to our long and beautiful years. To our lifetime by the ocean. For the times past and the years to come. We toast to our health and to our island. Our special magical island. Hidden in the middle of the Caribbean, a precious gem. The one I discovered in my youth.
As a young man, searching to grasp life, I worked at great seaside hotels. I saw the glamour, the grandeur, the fluff and the bluff. Famous figures came and went at all times of the day. As I blossomed, I met businessmen in suits and dined in upscale places. Despite the privilege, a grandiose life has never been for me, for my soul has always had an inner, simple quality. Cotton and sandals, instead of cashmere and leather. I have lived a rich life beyond wealth. I worked hard, but I learned to enjoy the subtle, the important things. Living to savor each moment, celebrating life. Deep love, honest sex, good books and great food. Adventure. Sea-bound adventure, that is all I ever needed. And, of course, peace. Above all, inner peace. I have always found it by letting life flow through me, as I flow through it, like a turtle riding the underwater current.
The tide has taken me in many directions to countless adventures. It has scooped me up and carried me where I was meant to be, time and time again. Like the wave that travels through the horizon and the fair winds that propel a sailboat forward, life has brought me where I am today. Sitting in my late years, at a shining glass table, sipping Petite Sirah and eating Cheetos. Staring at the ocean from the terrace. A mystical view. Savoring another sundown, with the same golden glow that warms my heart and shines in my eyes.
Then, I think. Some stories need not epic plots, with twists and turns. Sometimes, all one needs is a brave spirit and willingness to learn. To adapt, to explore, to discover, to grow. To step into the unknown and let life sing its song. To flow with love and follow our passion, to listen to our soul. No fiction or fantasy. No need for pirate gold and ghost stories, or epic naval battles with past glories. Just time with family, enjoying every day. Watching the sundown, feeling the sea breeze, hearing the wind blowing, guiding ships -old and new- on their way.
In my life, I have found everything I needed. I dared adventures, sailing the seven seas. Diving was my passion, and I followed it to the end of the world. I discovered shells and fish, corals and reefs. The gems that the ocean freely gives mankind. But, the greatest treasure I found is my island. My beautiful island. Where I built my home with my kin, my children, my grandchildren, my wife. Surrounded by love and peace, fresh air and sand. Watching sailboats slip through the horizon, far from land, beyond sight.
I have more years to come and I will spend them here, in the same way, sitting, soaking in the golden light at the end of each day.
Here I am. A seasoned man, witnessing the sunset of life, living by the sea. On my island. Peaceful, happy and free.
-
Thank you for reading! I really enjoyed writing this story and it's one of my favorites so far.
If you liked it as well, please feel free to leave a ♥️ below (if you're a member at Vocal) or share it with your friends and family. If it's within your possibilities, tips of all sizes are also greatly appreciated! Every bit of support means a lot to me as a writer.
You might also enjoy some of my other articles and stories, like:
Thanks for your support!
- Love, Marina
literature
About the author
I'm a work in progress! On top of working in communications, I love writing for fun (mainly short stories, informative bits and heartfelt pieces to make people happy).
This is my personal writing page.
Find me:
TW: @marina_writing
Reader insights
Be the first to share your insights about this piece.
Add your insights