A Jungle Stroll. . Beach Time. . Coffee Plantation Tours. . Hiking Up a Volcano. .So Many Things to Do. .
What's it like to live here in Costa Rica? It's an entirely different way of life than what you're used to. .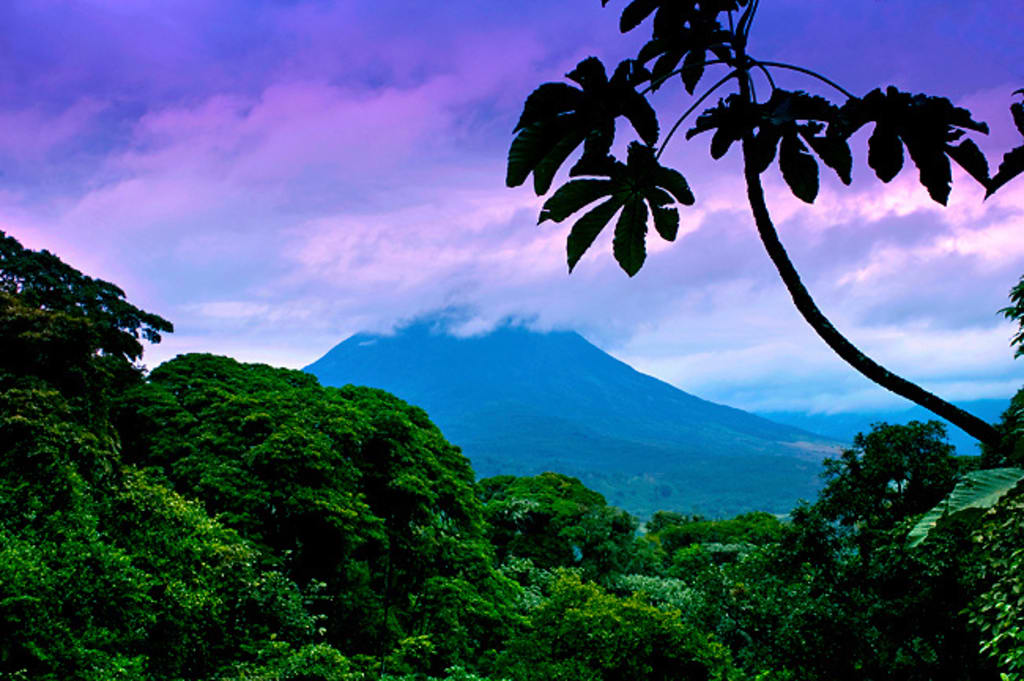 There are so many day trips ahead for you here in Costa Rica. . It's gonna be FUN!
Costa Rica. . about the size of West Virginia. . a little more than half the population of New York City. . Well over 25% of the land mass here cannot be touched. . National Parks, Reserves, Nature Preserves & Wildlife Refuges. .
One of the most BIODIVERSE countries on the planet. . over 500,000 species of animals here. 1,500 species of butterflies. . 300,000 species of insects. . 20,000 species of spiders. . 137 species of snakes. . over 900 species of birds. . the list goes on and on and on.
With way less than 1% of the world's land mass, it boasts over 5% of the world's biodiversity!
Over 800 miles of coastline. . over 60 volcanoes with 5 or 6 being noted as 'active'. . tens of dozens of coffee plantations with 70,000 farmers growing coffee here in Costa Rica. . the 13th largest coffee producer in the world. Over 1.5 million bags of coffee are exported every year, accounting for 90% of the total production.
Four species of monkeys here. . two species of sloths. . four turtle species. .
9,000 species of flowering plants in Costa Rica and 900 species of ferns. . 1,300 species of orchids in Costa Rica. .
The list continues! I could fill an encyclopedia with this information. My point is that with all of this biodiversity, there is so much for us to experience here in paradise. No matter what kind of mood you are in that particular day, one is able to do things that most of us only dream about. Chances are that you have done a lot already if you have visited here many times or if you are fortunate enough to live in Costa Rica.
Everything that is available for you to do seems to be either embedded in, surrounded by or dependent upon nature. Want to get up close and personal with a volcano? The Arenal area has so many hotels, B & B's and resorts close by. Poas stands boldly just north of San Jose and Irazu is to the east. Many more volcanoes are spread out all over the country!
Coffee Plantation Tours are available as well. Have you experienced this? One of the best couple of hours you will spend in your life. Being able to see how coffee is grown. . how it's harvested, picked, dried, roasted and prepared for drinking makes for an amazing, fun time for you and your entire family! And to finally get to drink a cup of fresh, hot coffee at the end of the your tour is like icing on the cake!
Sun's shining. . not a cloud in the sky. . it's beach time! Beaches are like jelly beans here. Take your pick! If you haven't been to a beach here in Costa Rica, it's an experience! Usually the jungle grows right out to meet the shoreline. You'll see tapirs, monkeys, crocs & other wildlife enjoying their day as well!
Are you a bird enthusiast? Well, birding is BIG here in Costa Rica. There are dozens of birding clubs here, with literally thousands of tourists and residents alike exploring the jungles and high cloud forests every year to catch a glimpse of the resplendent quetzal, the scarlet macaw, the many species of toucans and other rare birds as well. Simply google, "Birding in Costa Rica" and start your journey!
With over 30 national parks here in Costa Rica, there's a lot of time for jungle hikes. Short hikes, long hikes, night hikes, jungle camping grounds and so many more ways to enjoy nature at its fullest capacity. Many times, it is required to hire a guide to take you through that particular national park. The guide knows all of the HOTSPOTS and will make sure you get your money's worth. With Corcovado, Manuel Antonio being a couple of the main national parks in the southern zone, don't forget about the Tortuguero National Park in the northern Caribbean side, the Rincon de la Vieja National Park and the Santa Rosa National Park in the Guanacaste area. Over 30 national parks are waiting for you to explore.
Canopy Zip Line Tours, Animal Rescue Centers, Butterfly Gardens. . again, the list continues.
It's safe to say the whether you live here or are visiting for a couple of weeks, you WILL BECOME ONE WITH NATURE. This is what it's all about and we encourage you to plan your trip or, if you live here already and are not taking advantage of all your home country has to offer, then GET OFF YOUR BEHIND and start exploring everything that Costa Rica gives us. It's here for the taking!
And don't forget that some of the bigger towns. . San Jose, San Isidro. . they have their own charm. Why not spend a morning strolling the central markets or enjoying a cup of coffee (or two) at their many little parks. Almost every town in Costa Rica, big or small, has their own park, usually with an old church as its centerpiece. There's a park bench with your name on it, waiting for you to sit down, relax, take a couple of sips and enjoy watching the world go by.
Costa Rica is filled with opportunities to fill your mind, heart and soul with new experiences that will make you feel alive. So many cherished moments to be had by you and your family. I urge you to take advantage of all that Costa Rica has to offer you.
Pura Vida. .
You're invited to visit our websites at: www.costaricagoodnewsreport.com & www.costaricaimmigrationandmovingexperts.com
Also, please enjoy our over 1,750 episodes of our "Costa Rica Pura Vida Lifestyle Podcast Series". We are found on all major podcast venues, including iHeartRADIO, Spotify, Apple Podcasts, Google Podcasts, Radio FM, Anchor & many more. Here's our link: www.anchor.fm/costa-rica-pura-vida
central america
About the author
Costa Rica is a magical place. Since November, 2002, when I first visited this country, I have been in love with the people, the culture, its biodiversity, the food. . everything about it makes me happy! Now I share my excitement with you!
Reader insights
Be the first to share your insights about this piece.
Add your insights