A Distant Whistle
Occasionally we all need that special place that in some way reminds you of someone or something. It could be a time gone by you thought you'd lost, or someone you're hoping to find again. The North Yorkshire Moors Railway personifies this sentiment.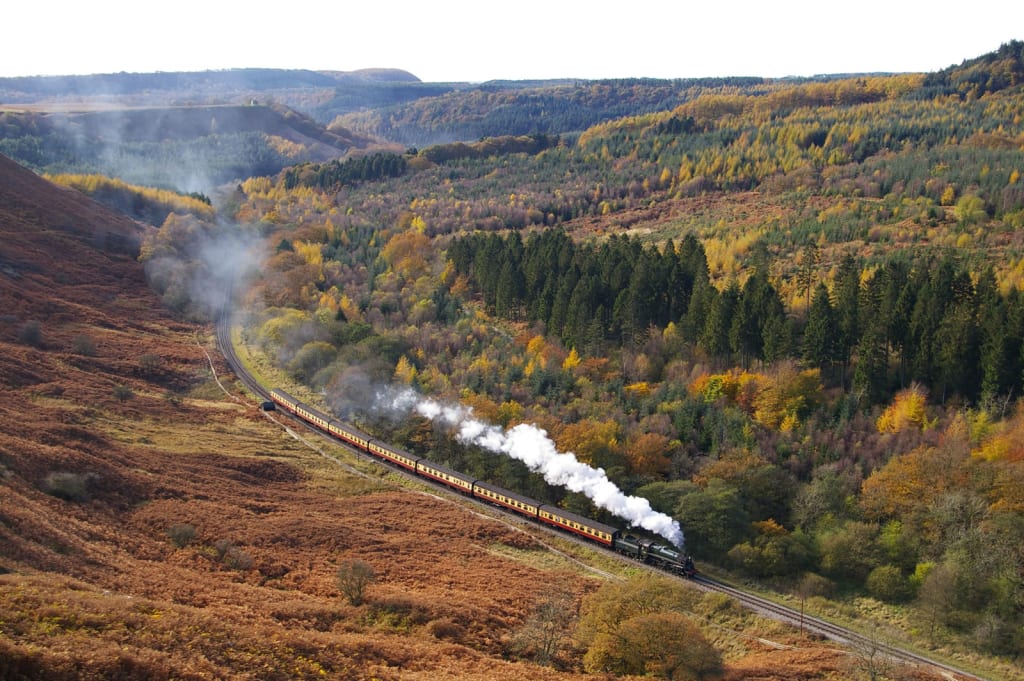 North Yorkshire Moors Railway
With sheer excitement, the anticipation was palpable. The faint whistle sounding in the distance was slowly followed by a plume of white steam rising behind the bare winter trees. The platforms of Pickering Station were packed. Children held aloft on their parents' shoulders, all wrapped in thick coats, woolly hats, and gloves. The crowds stood on their tiptoes, leaning to glimpse the approaching steam pillar. That eagerness was rewarded as the Black Five Steam locomotive chugged into platform one. The awe and wonder—as this majestic machine came to a halt—was bathed, alongside the dispersing steam, across every child's face; including my own.
This is the first memory I have of the North Yorkshire Moors Railway, but it isn't my most vivid. Besides my evident elation as a four-year-old boy who was an avid fan of Thomas the Tank Engine, what I remember most was my reaction was mirrored by my grandfather.
We had travelled to the town of Pickering with my parents and brother, as hundreds do each Christmas to ride "Santa's Special." Taking passengers across the Yorkshire Moors through Levisham, Newtondale Halt, Goathland, and ending at Grosmont, it is an enthralling Christmas adventure.
But what I notice now, which I didn't then, was in reflection my grandfather's very own actions on that platform station would plant a seed. One which through the years has grown and flourished into an understanding that some feelings of magic stay with you your whole life. These enchantments may be for different things—for me, Santa would be on that train! For my grandfather, it was a chance to reminisce on times he never fully admitted to missing.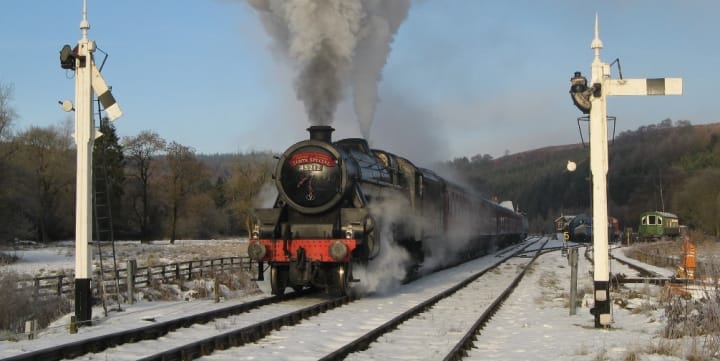 Every year, we would ride the annual "Santa's Special." Every year, the same excitement would bubble in my stomach. And every year, that same look would present itself on my grandfather's aging features.
Though as time continued to move on, so did my attention. The railway of the North Yorkshire Moors was replaced with the twisting and turning tracks of many a theme park's rollercoasters. And although my attention shifted, the wonder and magic never left me. Though it is only now when perhaps I realise that it also never left my grandfather.
Years would pass by before I would again step onto the fully refurbished carriages, beautifully restored by the NYMR volunteers. Sadly, it wouldn't be with the man who unapologetically shared in the excitement with his grandchildren. Months after his death, I would find myself watching the deep crimson moorland pass by. And in a period of grief, it was strange how medicinal the clickety-clack of the carriage wheels passing over the iron rails were. On return to Pickering—though the train ride hadn't been planned—for my mother, brother, and myself, it was strangely therapeutic.
More years would pass by before the whistle of the Steam Railway would call out again. This time I wouldn't be a boy or a teenager, but a grown man. And once again, standing on platform one of Pickering Station, that bubbling would begin.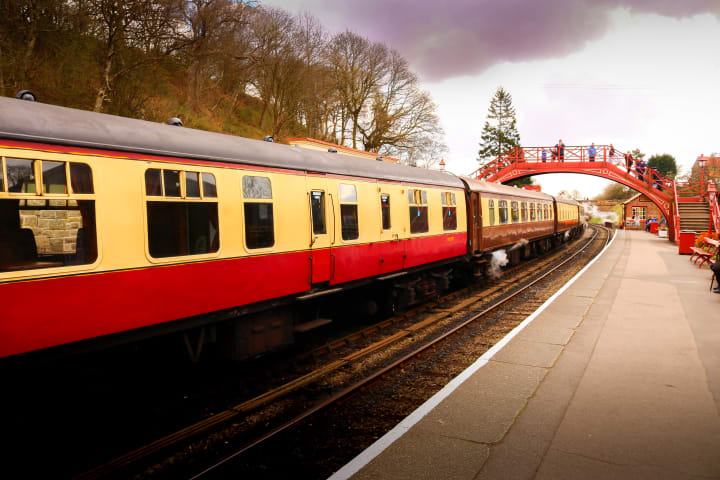 Unlike at Christmas, the many carriages were less busy. Though this didn't dampen the friendly feeling the North Yorkshire Moors Railway exudes. Everyone says, "Hello, how are you?" There's always a helping hand and a story to tell to those willing to listen. And although they are all volunteers, you can blatantly see a deep affection for the railway.
Suddenly, the whistle howls and we're off, slow at first then gathering pace. Steaming away from Pickering, we stop at Levisham. Moments later, we're on our way again, thundering through Newtondale Halt. The landscape unravels and the deep valleys of the moorland stretch on endlessly. The heather is patch-worked with the long-grass, with stoic fur-trees reaching to the heavens. It is the very definition of picturesque and I find myself regressing back to a child, winding down the windows, hoping to see the steam train appear as it banks a corner.
We eventually come to stop at Goathland, famous for being used in the Harry Potter series. This quaint station perfectly embodies the magic and mystique the series is famed for, so it is easy to see why it doubled as Hogsmeade. It is here where we decided to stop. Grabbing some lunch from a café in the heart of the village, it wouldn't be long before were heading back towards Pickering.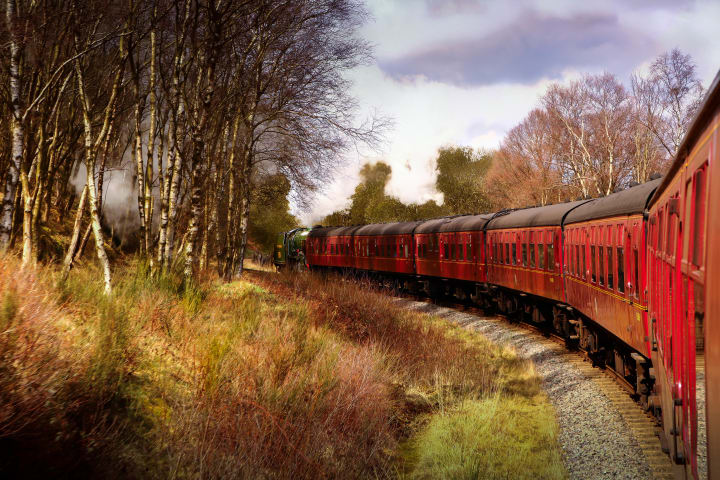 Once again, the familiar friendly staff was more than happy to chat, providing information regarding the railway and the numerous steam and diesel trains.
These elements are the numerous cherries atop an everlasting and time-travelling cake. There is an authenticity to the NYMR, a timeless quality which harkens back to an industrial age long forgotten. It is fundamentally British, and as we are living in times where many hide from this, the NYMR embrace it fully. It is as if this entire route is a love letter to a bygone age, one where pride in Britain's engineering was deemed enough.
What has been encouraging to see is the sense of renewed popularity across Pickering, Goathland, Grosmont, and Whitby. With this popularity comes more visitors and, therefore, an increased profit to invest back into the railway. Numerous carriages have been refurbished, trains are regularly serviced, a roof was built onto Pickering station, and even some of Britain's most adored steam trains have thundered along the rails.
Since 1836, this railway has been a commercial benefit, and after closing in 1965—to then reopen two-years later in 1967—it has since delighted guests young and old as a glimpse into Britain's heritage and history.
But to me, it has been so much more. There may have been a time when perhaps I didn't truly realise it, but now I do. For what I've come to understand is the same recognition I believe my grandfather had. This magnificent railway doesn't need to be ridden to be appreciated. It doesn't need to be decorated in Christmas decorations to be magic, and you don't need to be a four-year-old to be enamoured by the wondrous machinery.
To see where we've visited so far in our History and Heritage series, then visit our website to find out!
To see more amazing articles like this... visit our website. Let's get ready to Rumble!
activities
Our blog covers everything from entertainment, Movies, Politics, The Royal Family and so much more!!
Let's get ready to RUMBLE!
Visit us at our website:
Receive stories by Jonathan Reed in

your feed