A Day Well Spent in Kefalonia, Greece
Add it to your bucket list.

If you haven't yet heard of Kefalonia, Greece, I highly recommend looking into booking your next trip. This island is extremely unique and different from its more popular southern counterparts of Santorini or Mykonos. It's much quieter, much cheaper, and much more quaint to the more bustling tourist destinations that Greece is known for. We wanted to dedicate one full day to exploring as much as we could on this beautiful island while reserving the rest of our time to rest and relaxation and eating… lots of eating.
We stayed on the northeastern side of the island in the charming coastal village of Agia Effimia, at the beautiful, family run, Odyssey Hotel with a gorgeous seaside pool and a phenomenal restaurant. We committed to exploring as much as we could on the northern side of island including the famous Melissani cave and breathtaking Myrtos Beach, while throwing in a few other towns and beaches along the way.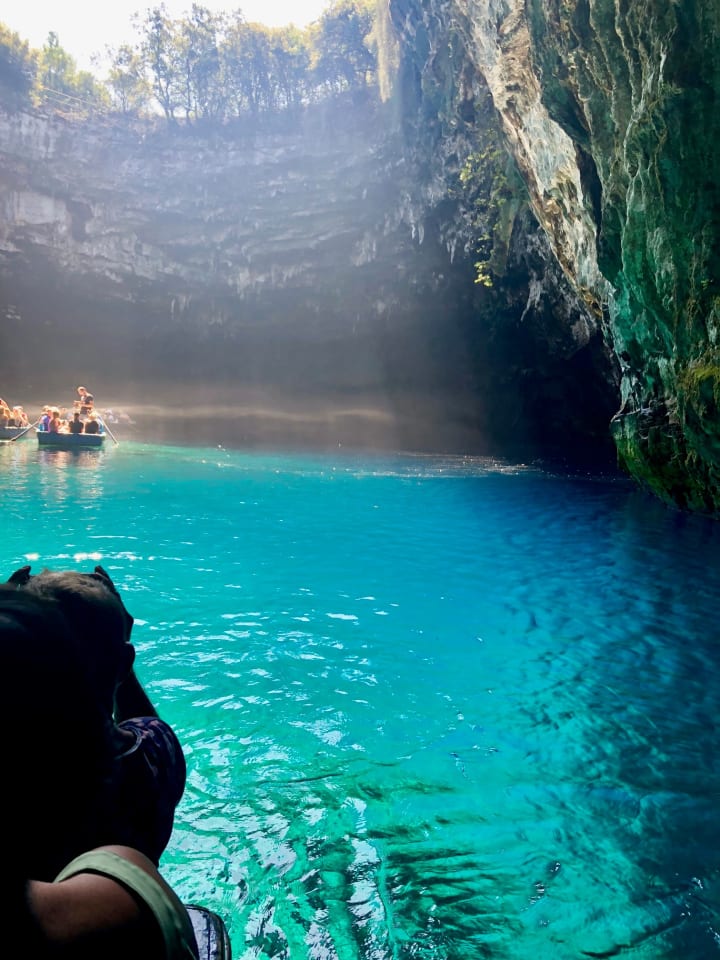 We started our day having a delicious breakfast at the hotel's restaurant, Mnistires. (They also offers a package to include lunch and dinner at an extremely low cost. Trust me, get the package!) We hopped in our rental "car" (and I use the word car lightly because what we were driving resembled more of a go-kart than it did a vehicle) and made our way over to the world famous Melissani Cave which dates back at least 10,000 years to its mention in Homer's Odyssey, but was only rediscovered in 1951. The cavernous lake is surrounded by dense forestry and mountain slopes that open up to an underground body of water due to the roof caving in some 5,000 years ago (at least that's when the tour guide told us it happened). It is best to visit the lake when the sun is at its peak, due to the unbelievable shades of blue, green and turquoise the light emits from the water. It is completely and utterly breathtaking. In early September, ideal time to visit was between 11 AM to 12 PM and entry was only 7€. You walk down a long underground tunnel that opens up to the mesmerizing water. You then hop into a small 12-person row boat with a guide that takes you on a 15 to 20 minute tour around the lake explaining the history and pointing out a few key features. This was definitely the highlight of our day and one of the most unique sites we have ever visited.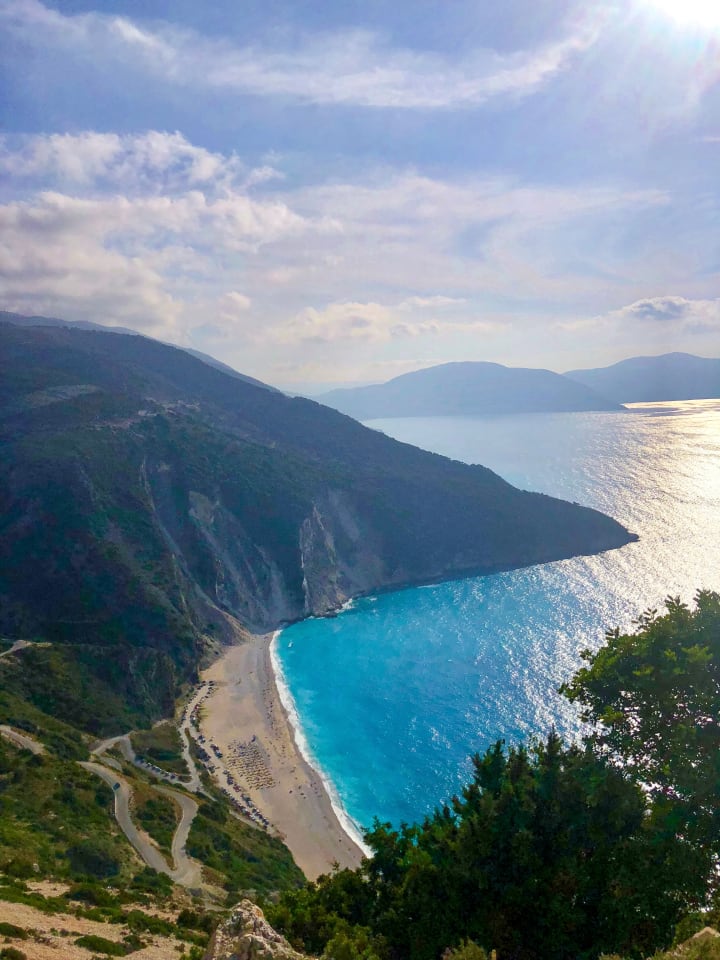 We then made our way 15 minutes up the coast to the town of Sami for lunch. It was a small marina village with numerous shops to browse and a bunch of waterfront restaurants to fall into. Might I recommend, Faros Taverna? It was delicious.
After lunch, we stopped by Antisamos Beach grabbed a couple of chairs by the water (only 4€ each!) and hung around with the locals for a couple hours enjoying the sun, warm turquoise water, and a good book.
When our tummies started grumbling again, we drove over to the adorable tiny town of Assos to grab some ice cream before heading to Myrtos Beach for sunset. The view from the top was just as mesmerizing as the view at sea level as we watched the sun make its final descent toward the horizon.

It was the most perfect day filled with rich history, delicious food, and mesmerizing views. The only thing I feel like we missed was the town of Fiskardo, which we were told is the only town in Kefalonia that survived the devastating 1953 earthquake that leveled the entire island.
The rest of the trip was spent mainly at the pool or walking around in Agia Effimia to stretch our legs. We also rented a small boat and spent a couple hours going up and down the coast visiting coves and beaches only accessible by boat (can you say private??). Kefalonia was the most pleasant of surprises and I can't wait to go back… for more tzatziki and I guess the views, too.