A COVID-Friendly Weekend in Salem, Massachusetts
Not all witches are from Salem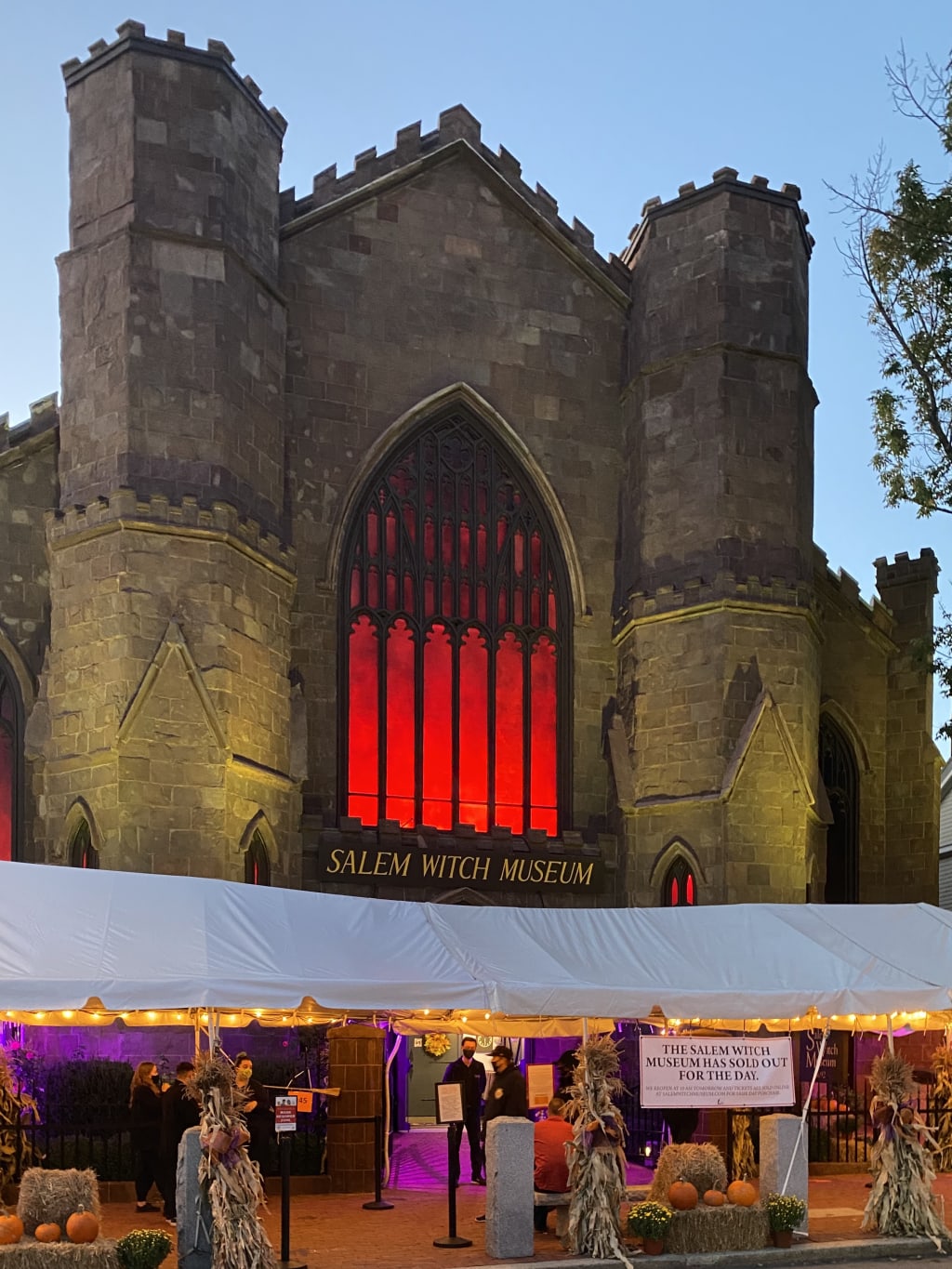 Salem Witch Museum in October 2020
The city of Salem — the one in Massachusetts, not Ohio — is home to the 1692 Salem Witch Trials. The city held onto its historical roots and is known for embracing its wicked history and all things Halloween related.
Salem's landscaping and nature alone brings visitors from all over to experience fall in New England. Only a few hours from surrounding states, it's easy to plan a weekend or day trip.
Before I decided to book my trip back in August, I researched whether it would even be possible. Since it is 2020 and the Coronavirus Pandemic is still amongst us, trips need to be COVID-friendly and planned with social distancing in mind. Each state has different mandates for its locals and visitors. Every aspect of a vacation — i.e. lodging, transportation, meals ­— should be figured out before booking anything.
How to Plan a Trip to Salem, Massachusetts During a Pandemic
Although October is typically crowded in Salem, this year will be out of the ordinary. According to the city of Salem, they recommend postponing any plans to come to Massachusetts unless you have already booked in advance.
Here are eight things to consider if you have already booked your trip in advance.
Parties are limited to 10 people. Virtual crowd control is available online.
No large events like festivals, concerts, or parades will be available. Check your reservations and schedules to make sure plans have not been changed.
Everyone is required to wear a mask indoors and outdoors, only removing one when eating or drinking.
Before arriving, you have to meet the traveler credentials.
Expect lines and social distance when waiting.
Do not travel if you are feeling sick.
Do get tested for COVID before arrival if you are experiencing symptoms.
Be respectful towards those around you and wear a mask.
I would also like to note that I have been taking this pandemic seriously since March. I wear a mask every time I leave my apartment, keep my distance from those around me, and have spent most of this year indoors.
Here are a few things I planned for my trip that I was able to do safely.
Shopping in Salem
Small businesses are still trying to recover from financial loss during the pandemic. I wanted to make sure that when visiting, I would be supporting local businesses. A popular shop in Salem is Coven's Cottage. I did not have the opportunity to enter the store due to long lines. A few shops I loved are Crow Haven Corner, Emporium 34, and Pentagram.
Crow Haven Corner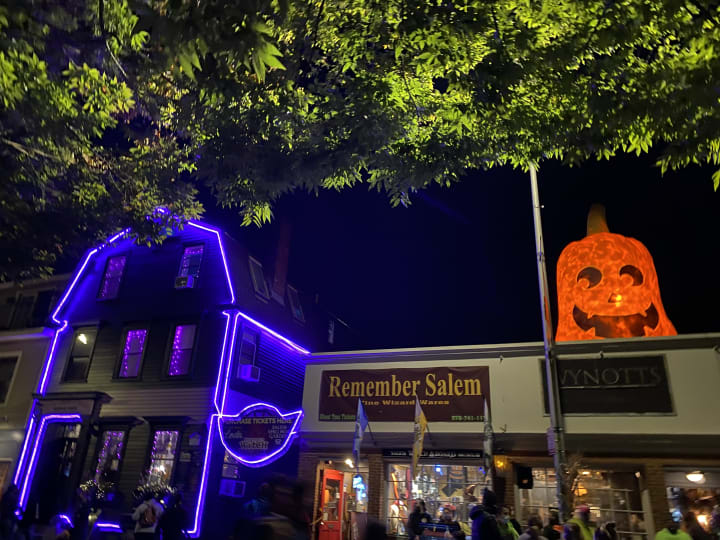 Salem's famous love clairvoyant is the owner of Crow Haven Corner. Being one of the oldest witch shops in Salem, people can purchase fine magical supplies like occult books, herbs, crystals, spell kits, candles, incense, potions, and more. There is also a new feature in the shop: the spell herb garden. I purchased a hand-poured mojo candle that goes perfectly with my nighttime rituals.
Emporium 32
This shop has a warm, vintage feel to it. Emporium 32 is an old-world boutique featuring products like handmade jewelry, pins, stickers, home decor, hair care, and hats.
Pentagram Witchcraft and Magick Shoppe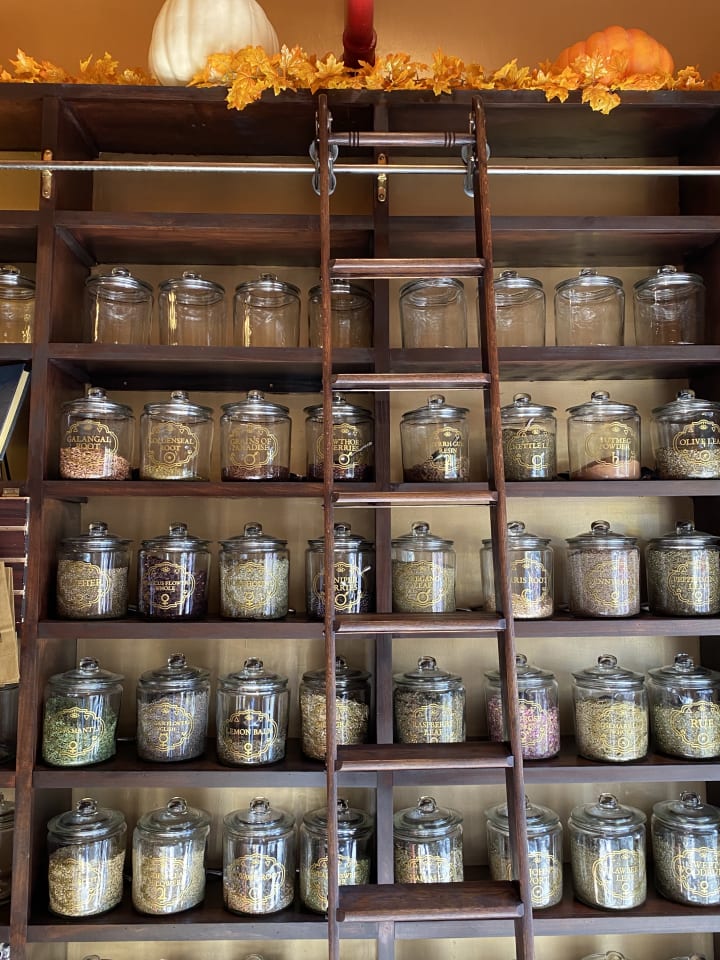 My favorite thing about this store was the ambiance. When you walk in, to your right is a wall of herbs and spices. Just like Beauty and the Beast, there was a sliding ladder that just gave the store a fairytale vibe. Pentagram offers psychic readings, tarot cards, and books on witchcraft.
Tours of Salem
There are many tours you can participate in while in Salem. Historical tours, haunted tours, and ghost tours are the most popular. I went on a ghost tour that was quite informative. It talked about the history of Salem and the importance of the town and the buildings. You can even do a self-guided tour of the Salem Witch Trial Memorial, the botanical garden walk, and walk along the dock to see the water.
Museums
With so many historical events that happened in Salem, there are many museums you can attend to learn about it. There are four I would like to point out: Salem Witch Museum, Count Orlock's Monster Museum, and the Halloween 3D Walkthrough Museum.
Salem Witch Museum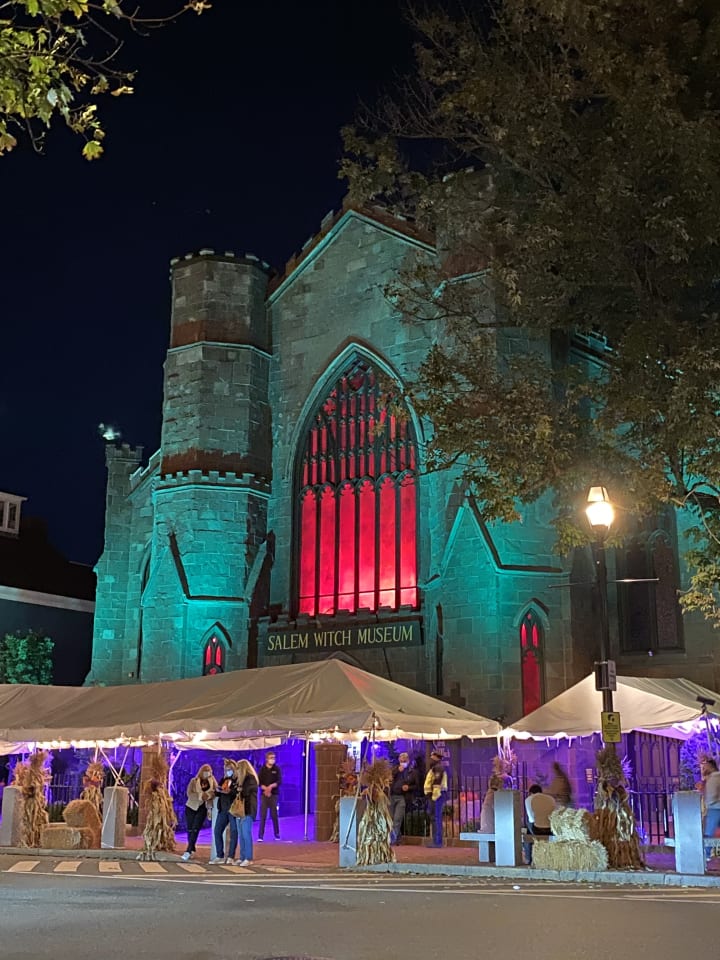 One of my favorite museums I have ever been to! I didn't know what to expect when I booked my hour time slot in advance. Some museums are self-guided but this tour was more of a presentation. It highlighted the events of the witch trials and how modern-day witches are perceived in the media. 10/10 would recommend!
Count Orlock's Monster Museum
This museum was so cool because it contained props from horror movies throughout the years. Any scary movie you could think of, there is probably a prop in the museum from it. One of my favorite things was to witness how stage makeup has transformed throughout the years.
Halloween 3D Museum
This museum is the more underrated museum in Salem. It was 3D and I haven't done anything in 3D since I was a kid. Full of neon displays talk about the history of Halloween in the United States and especially in Salem.
Visit Film Locations
Hawthorne Hotel
Bewitched, a popular TV show, filmed in the Hawthorne Hotel. Although I have not seen this show, I did learn that the hotel is haunted! Viewers loved the show so much that there is a Bewitched statue in the downtown square.
Salem Town Hall
Another haunted location is where one of the most iconic Halloween movies of the '90s was filmed. On the second floor of the Salem Town Hall is where the "I Put A Spell On You" song was performed by Bette Miller at the adult Halloween party.
Hocus Pocus Houses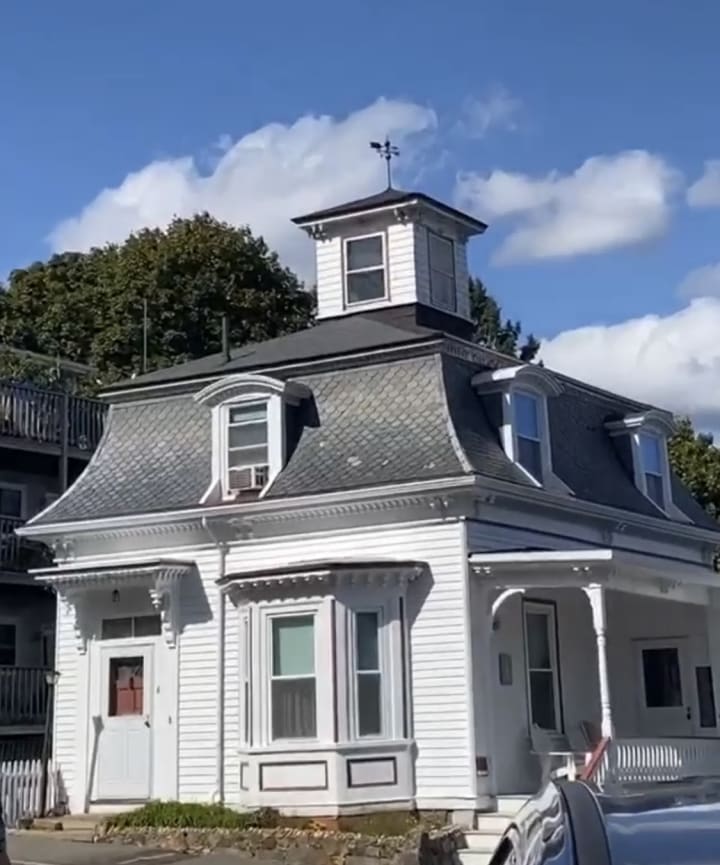 Besides from the Salem Town Hall, there are two other houses in Salem that were seen in the movie. The white one was on the water and had a gorgeous view! I do want to note that these houses are homes and people live for. I saw a few people being disrespectful for the yard and sidewalk in front of the homes. Don't be like them. Stay off the lawn and keep your distance for pictures.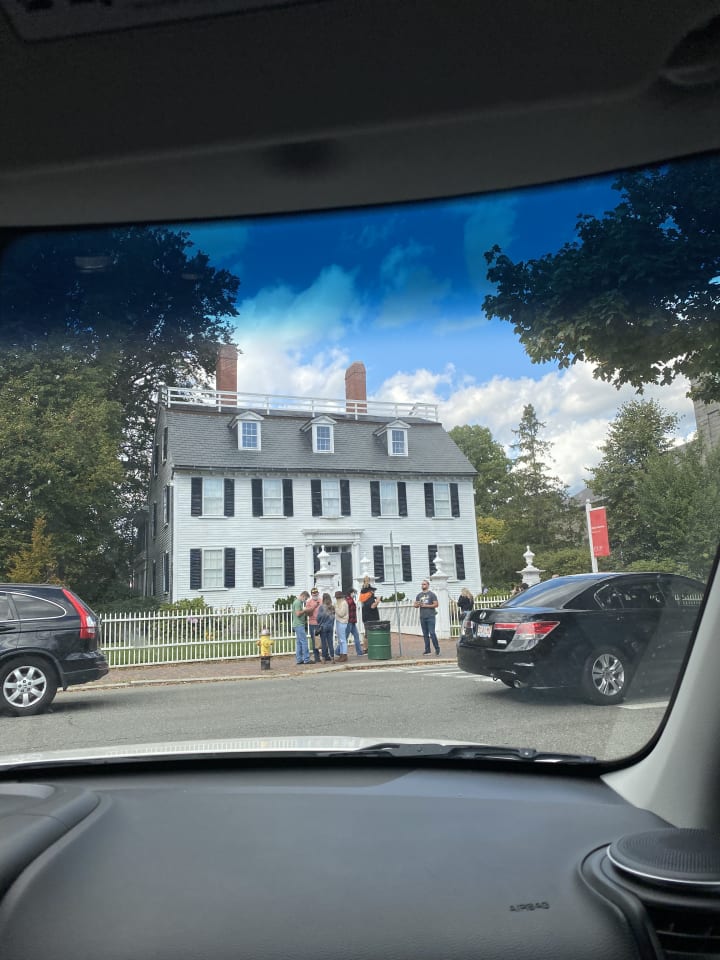 Hubie Halloween
A new movie that will be aired on Netflix was recently filmed in Salem. I had no idea about this before arriving. There were these lovely orange lights hanging from the trees in front of the Salem Witch Museum. Although the movie is not out yet, I will be searching for the film location once it's released.
Overall, Salem was a good experience. I would recommend visiting Salem, but maybe not during a pandemic. Although I was able to do what I wanted, it would have been great to experience Salem not during a pandemic. Hopefully next time I visit I can experience more of the wickedness!
activities
About the author
I'm a 20-something writer and digital artist. Follow my art account @bratty.beach on Instagram for more creative content.
Reader insights
Be the first to share your insights about this piece.
Add your insights