A Corporate Travelers Guide to Singapore
Singapore is a world leader with a prominent reputation for providing corporate entertainment across the city. As part of its culture and hospitality, all business proceedings are often hosted over corporate lunches or dinner.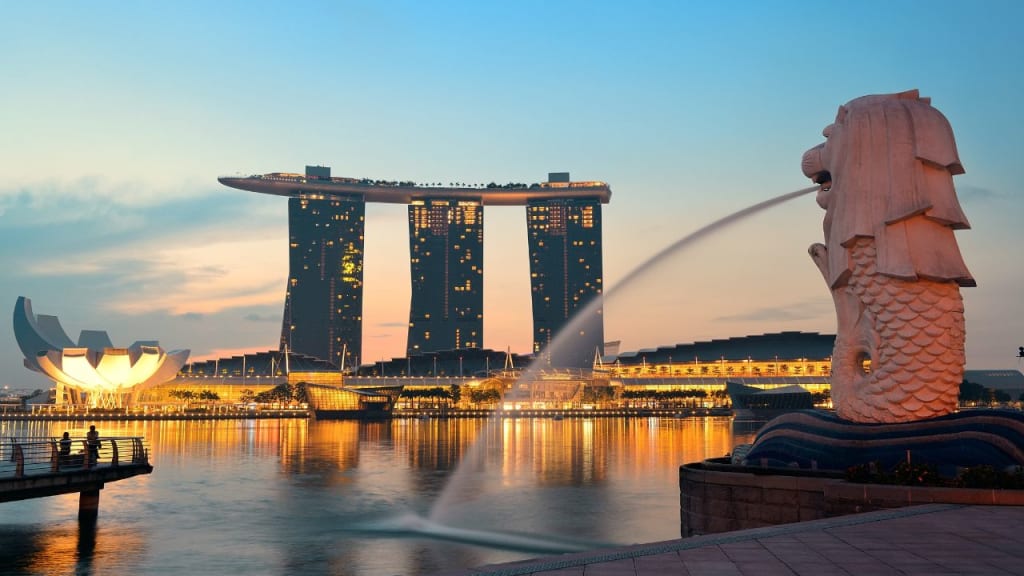 Singapore Skyline
The multi-cultural island nation of Singapore is home to people from Malay, Indian, Eurasian and Chinese cultures. The homogenous city buzzes with an entrepreneurial vibe attracting businessmen and investors from around the globe. Though not the largest country in Asia in terms of its total area or landmass, most districts are population-dense and bustling year-round.
This southeast Asian destination has four widely spoken languages including Mandarin, Tamil, Malay and English. English is treated as the official language of business and commerce, with more people speaking it fluently every passing day.
While the average tourist may comprehend Universal Studios, heritage museums, art galleries, Buddhist temples, diverse flora and fauna when picturing the island of Singapore; the country draws an equal number of corporate travelers year-round.
Thriving Business Climate
Key industries that attribute Singapore's status as a global business hub include education, telecommunication, medicine, information technology, tourism and finance.
Furthermore, this destination is a central meeting point for travelling businessmen looking to strike a deal in shipping, trading, banking, and gas and oil trade.
A Corporate Way of Life
Corporate housing in Singapore is rising as a popular choice, giving guests access to a private business space in their apartments. Such properties may often have their own personal conference rooms and seminar halls that corporate travelers can make the most of. Furthermore, city-wide easy access to free internet services at most cafes and private establishments make working on the go possible.
Even getting to the country for business purposes is relatively easier due to the lack of red tape while entering its borders. Citizens from nearly 80% of countries around the world can travel to Singapore on business, without a visa, provided they have a valid return ticket scheduled within 30 days of their arrival.
Getting Around Singapore
The city itself is well connected across its many islands. Access to Changi International Airport and the Central Business District is easily available given the abundance of busses, taxis and ferries. The underground train system, best used during rush hour, connects several of the 28 districts to one another.
Singapore itself isn't the largest city making it easy to get from one end to another. It takes less than an hour to reach Tuas on the West end from Changi Airport, which is at the Far East end. Getting to Marina Bay and Downtown Core is a short 20-minute drive from the international airport.
Where to Stay in Singapore?
Most visited areas that offer an abundance of corporate housing in Singapore include both the Marina Bay area and Downtown Core. The stretch through the Orchard Road Belt is also a major destination for businessmen to find accommodation given the series of upscale hotel chains through the district. Furthermore, most major and mid-tier businesses and corporate offices are situated in the Marina Bay and Downtown Core area offering close proximity to and back from work.
Accommodation ranges from fancy upscale resorts, luxury private villas, quaint boutique hotels, to premium serviced accommodation and corporate housing in Singapore. With numerous properties catering particularly to corporate travelers, there is an option for every business requirement. The Marina Area and the CBD also specialize in providing upscale fine dining for more formal events and corporate gatherings.
Professionalism is Rewarded
The island country is built on its corporate backbone and global business values. Due to the rich mingling of unique cultures in the area, it is imperative to conduct all business and corporate proceedings by being respectful to local sensibilities and traditions. Though a progressive country with minimal restrictions on lifestyle and indulgence; certain basic rules can elevate your Singapore vacation.
Being late is unacceptable. Business is pivotal, and the city has a robust public transport network. Excuses are not appreciated.
Roles are often attributed in society with age. Maintain the age hierarchy as it is a sign of respect.
Local greetings and cultural mindfulness will go a long way in assisting you in any business endeavor.
Animated outbursts in public are not appreciated since they are considered to be rude and insensitive.
The official currency of the island is the Sing dollar or Singapore dollar. Its unwavering political stability, corruption-free environment, pro-business tax policies, prime geographic location, technologic inclination and widespread use of the English language has maintained Singapore's reputation as a foremost business destination of the world.
travel advice
About the author
Yatin Kumar is a professional wordsmith with 4+ years of experience in Content writing and Editing in the travel and serviced apartments industry. He loves to travel worldwide.
Reader insights
Be the first to share your insights about this piece.
Add your insights