900,000 Women
A trans woman in Kuala Lumpur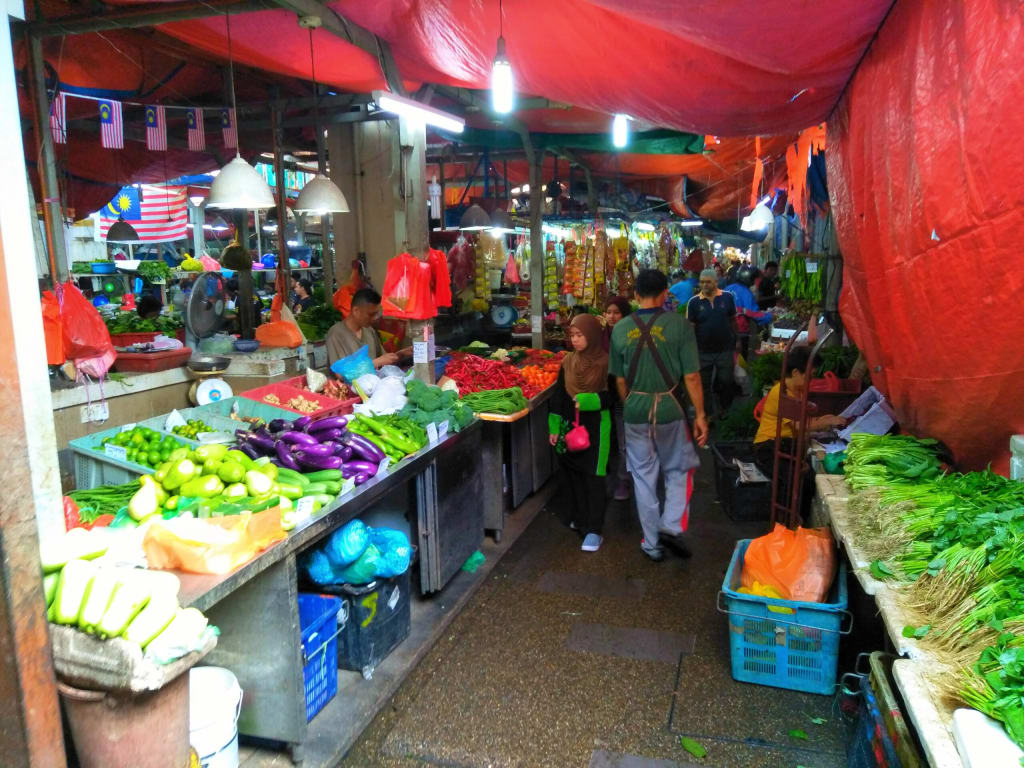 Thousand of locals attend this bustling market in Chow Kit, Kuala Lumpur every day.
Kuala Lumpur – Where a trans woman can be in a public bathroom, fixing her lipstick in the mirror next to a Muslim woman adjusting her headscarf, without either woman feeling uncomfortable or threatened.
I've seen such a diversity of women in this city; women wearing anything from short-shorts to full burqas. I've seen a conservatively dressed woman in an hijab laughing and having a good time with her friend in a mini-skirt. I've seen women in burqas walking down the street holding their husbands' hands, despite being led to believe that they must walk three steps behind. I've even seen headscarves combined with short-shorts.
Kuala Lumpur is the capital city of Malaysia. Some 870,000 women lived here in 2018, and over 60% of the population are Muslim. Most women here wear some form of head covering although it is not a requirement by law. Given the majority Muslim population, most would be wearing these for religious reasons although some, I'm sure wear them for fashion or convenience. More than once I considered wearing one merely as protection from the intense sun. While at home in Australia, women are often harassed for wearing a headscarf and downright condemned for wearing a burqa; here nobody cares whether your hair is out or not. Having said that, be aware that there may be some attractions you might like to visit where it would be disrespectful not to cover your head.
The first on my to-do list after arriving in Kuala Lumpur is to take a bus to Chinatown. This will cost 12MYR from the airport, approximately AU$4. A handy, yet rough conversion guide is 3:1; that is one Australian dollar will buy around three Malaysian Ringgit. The bus will stop just a short walk from Petaling Street; the centre of Chinatown.
The street is lined with vendors of all kinds, however my primary focus at this time is food. Any number of delicacies can be sampled in Petaling Street, although my favourite outlet is Tang City Food Court. Here, a score of vendors will offer a variety of authentic dishes at an average cost of 8MYR. An individual vendor might specialise in Korean, Vietnamese, Sichuan or any other Asian cuisine. There is also a buffet in the centre of the food court and drinks are served to your table.
After satisfying my cravings, pampering is next on my agenda. A block away from Petaling Street on the main thoroughfare you will find what you need. Various shops will offer massaging (a one hour foot massage is heavenly for around 60MYR), manicures and pedicures. Over the road in the shopping complex you will find hairdressers and eyelash studios. A simple hair wash and blow dry (which will incorporate an head and neck massage) is truly refreshing in the tropical heat and will cost between 15 and 25MYR. You can relax in these places knowing that, regardless of whether you "pass", you will be treated with the dignity of a princess.
If you're like me and are most attracted to food and culture, then you must visit a wet market. Even if you don't intend buying anything, there is something unforgettable about the assortment of colours, the array of aromas and the variety of people. There is an impressive market centre in the Chow Kit district (accessible by light rail). Thousands of locals will visit here every morning, to select from an unbelievable range of meat, seafood, fruits, vegetables, spices and sweets on offer from hundreds of vendors. There is nothing like this in Australia.
If finery is more your style, then Bukit Bintang is the district for you. Here you will find an expanse of shopping malls, with purveyors of clothing, handbags and jewelry. There are some fine restaurants and dessert bars too, although I prefer the street food. Most of the city is connected by a convenient light rail transport circuit. At Bukit Bintang LRT station you will find electric scooters for hire to help expedite your shopping experience.
I have not seen everything that Kuala Lumpur has to offer. I have not even seen the well-known tourist attractions yet; the iconic Petronas Towers, the virgin rainforest at Bukit Nanas in the heart of the city or a tour to nearby Batu Caves. This won't be my last trip however, as Kuala Lumpur is conveniently located as a base for South East Asian adventures.
I must admit that I had some fears coming on this, my first real trip to Malaysia. Knowing that it is a Muslim country and that I am a trans woman, I didn't know how I would be received or how comfortable I would feel. I had been to Kuala Lumpur briefly once before; I had spent the day there on a layover on my way home from having gender affirming surgery in Bangkok. It had been enough time to get a pleasant feel from the city, just not long enough to see if it was truly welcoming. This time, I spent nearly a week here and used it as a staging point to explore other parts of Malaysia (namely Penang and Malacca) as well as Singapore and I can report my experience to be positive and pleasant, both here and in the other destinations.
While gender affirming surgery certainly has impacted on my confidence abroad, I am still aware that I don't always "pass" and this increased my fear to travel. I'm ashamed to say that, despite not believing the propaganda we hear in Australia about Muslims, I did experience some anxiety when first sighting a woman in a headdress. I guess, despite how much one might consciously reject the fear campaigns happening in the west, prejudices do rub off. However, standing next to that woman in the bathroom and noting her genuine smile (not one of fear or hostility), I realised that we are women, this is Kuala Lumpur and the West has a lot it can learn from this city.