8th Wonder of the World
Banaue Rice Terraces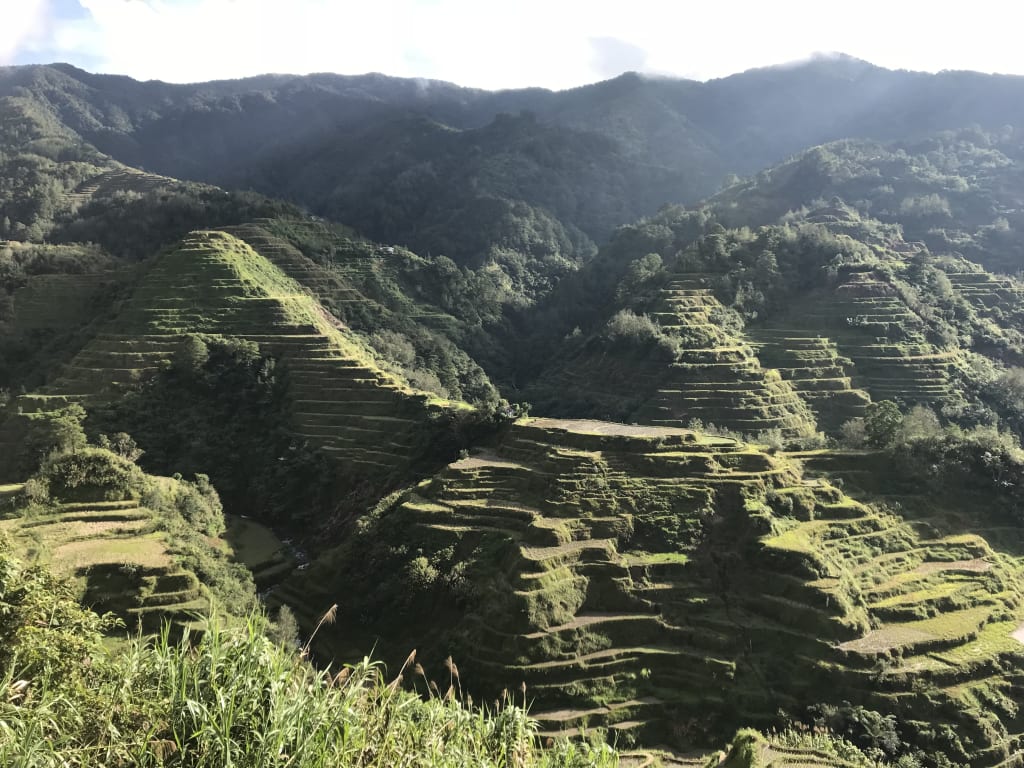 My father and I left Nueva Viscaya at around 9 AM. We took a jeep to Cabanatuan, then a bus to Bagabag, another jeep to Lagawe and finally, a last jeep to Banaue. Unfortunately, there wasn't any straight transportation system to Banaue, but we managed by asking directions from the local people.
It was 5 PM when we arrived in Lagawe, and for the first time in my life I could ride on top of a jeepney. Actually, we didn't have a choice because the jeep was full and the driver was still waiting for passengers. We left at around 5:30 PM. I was so excited for this ride! The thought of feeling the wind, seeing the fields and being on top of the jeep was new to me. But as we got higher and as the sun set, I didn't expect a factor that made a huge difference. The cold! Stupid me, I didn't think of wearing a jacket before the ride. Obviously as you go through the night, the heat of the day disappears, and as you go higher in altitude, the cooler it gets. Now I understand why the locals were wearing long-sleeved jackets. My dad and I were the only ones in t-shirts. Ahhh, these tourists. It's funny how tourists stand out from locals, clothing and attitude-wise. In my case, I always try to fit in, but this one was an epic fail.
Anyways I was freezing cold when we arrived in Banaue. We went inside the first inn that we saw, Greenview Lodge, asked the price (1,500 pesos per night for my dad and I) and told them to book it right away. I think the receptionist saw our fatigue because she brought us straight to our room without filling the booking sheet yet.
After settling down, I came back to the reception to do the check in and talk about things to do in Banaue. A guy sitting beside our table started joining our conversation about tours. He told us he was a guide and has a tricycle. That's good because it would be cheaper for us if we hired him instead of looking for a guide and a tricycle driver. We had a good chat and decided to go with him. His name is Mikel by the way. If you ever need a tour guide in Banaue, I can refer him to you.
The next day we drove to the view point. It's the place where most of the famous pictures of Banaue are taken from. I was amazed! We just left the village and in a few minutes you could admire this view. WOW!!
I was staring at the terraces for 10 minutes thinking how did people manage to carve such mountains?
Mikel told us that according to the ancestors, they used to live in the low lands and decided to follow the upstreams of the river until they could find a place to hunt for food. Finally, they settled in the mountains, but they had a problem. The mountains didn't have any flat land to cultivate rice. The solution was to make it themselves. With no planning, no architects and with basic tools, they decided to flatten the land. In time, it became the terraces that we see today. Nothing to say but WOW!!
After taking a few pictures, we headed off for Batad. It is also rice terraces, but this one had a stair-like shape. We continued our hike to the Tappia falls because on the way, you had the opportunity to hike on the rice fields. There as well, I was amazed. How could you not admire the beauty of the fields? Especially when you walk on the terraces themselves. I hope you are not afraid of heights or have any balance problems. The rule is to look at the way while walking. If you want to look somewhere else or take a picture, STOP! You don't want to fall to your left (a rice field) or to your right (another rice field but a level lower). A funny story Mikel told me was when a woman fell on the rice field below during one of his tours. He was ready to go down to get her but her husband blocked him. Then, the husband put his bag down, brought out his camera and started taking pictures of his wife in the mud. Mikel almost had a heart attack when she fell, but here you have the husband laughing and talking pictures. Fortunately, she was not hurt and managed to get up.
To be honest, I couldn't stop taking pictures every five steps. Batad is one of those places where pictures looks good wherever you take them. But at one point, I was also unbalanced, distracted by filming videos. Thankfully Mikel pushed me to the side. In all seriousness, follow the rules. You don't want to risk your life.
Be prepared, because the hike can be exhausting, as it's full of ups and downs. You can see the path you've passed and where you are heading as it is an open view. It was a covered day in February and the heat was not very intense when we hiked, but I suggest you to bring enough water to drink, especially if you hike there during summer.
Here and there we would meet tourists from the other direction, and you have to take turns to cross the terraces as the way can cater only one direction at the time. One thing that surprised me is that I mostly saw foreign tourists and not many Filipino people. Mikel confirmed that he mostly gives tours to foreigners because they enjoy hiking. Mostly French, Italian and Israeli people. It's true though, I met a lot of French people during my stay in Banaue. I met people from France, Israel, Italy, Spain, Australia and Switzerland. Yes, we Swiss love hiking, and if I had the luxury of time, I would have gone to other places too.
When you see the Tappia falls from afar, you want to get closer to swim. But as you get closer, it is actually huge! The current produced from the downfall is strong and makes it hard to go closer. I tried to get closer, but I couldn't. Swimming on the side of the falls feels good, especially after a long hike. It's refreshing! Don't forget to bring your swimming trunks.
Keep your energy Pau, we still have to hike back up to Batad.
Oh believe me, my energy is still high. You want to know why? Lunch. Before hiking to the Tappia falls, we ordered lunch in an inn in Batad, so that when we got back our food would be ready. Knowing this in mind, it gives you extra motivation.
We started our hike (left Batad) at around 10 AM and came back at 4 PM. 4 PM is not really lunch, but we ate as if it was lunch. It was a well deserved and it was incredible! The rice was the best rice I have ever tasted in my life!! I've never eaten such rice that tasted so good on it's own; no side dish needed. They said it was authentic rice from Banaue from their terraces. Their rice is cultivated manually as there is no space for machines or buffalo, and it is grown with time without any pesticides. It's the perfect meal after a hike.
The day ended as the sun set in Banaue. This trip was actually my highlight of the Philippines. The rice terraces, the walk on the fields and the food are memories that will stay with me for a long time. For sure I will come back, as Mikel suggested me to do the four days, three nights of camping. Walking in the mountains, preparing your own food and seeing villages with traditional lifestyle are things I look forward to doing in the future. Interested? Let me know… We can organize the trip. If you want to go to Banaue and need some suggestions, feel free to leave a message. I'll be glad to help out!
Thanks for reading! Take care and keep your adventurous spirit up!
Taking pictures of the elders of the Ifugao tribe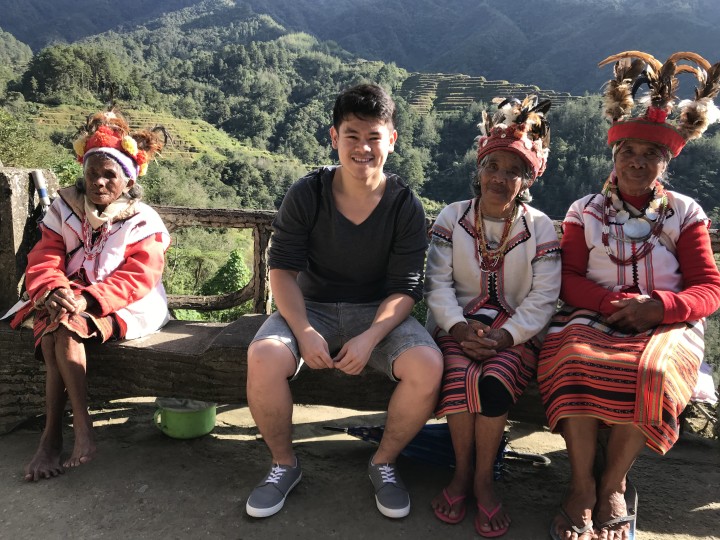 Batad rice terraces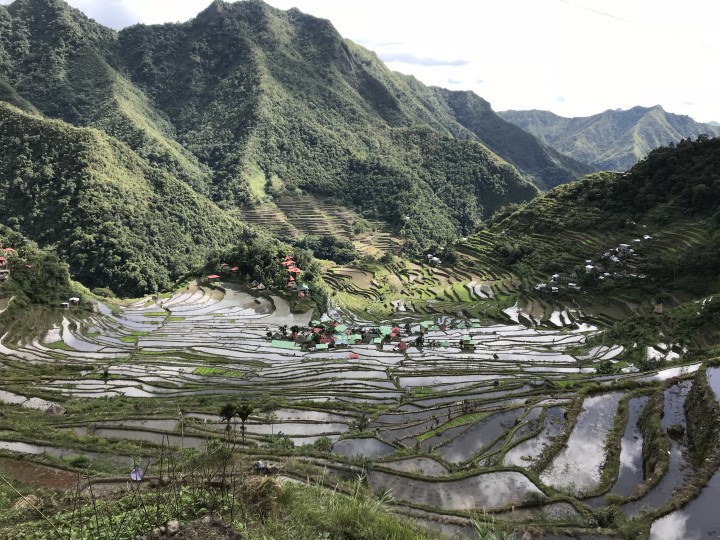 Dad taking a photo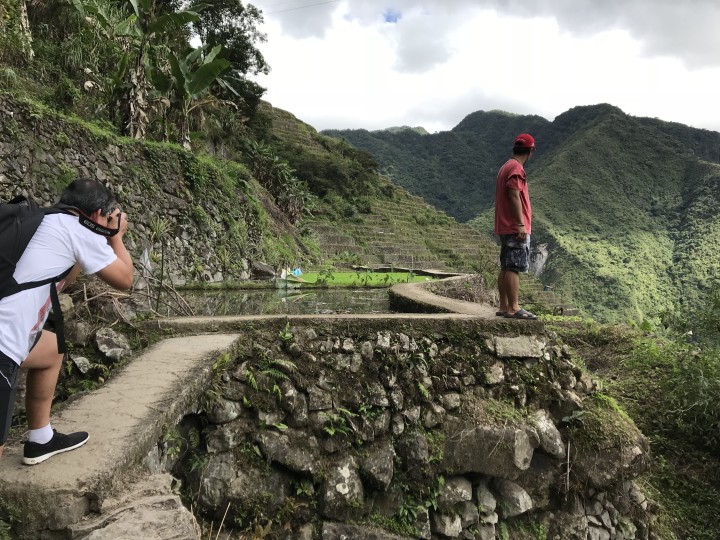 Tappia Falls