8 Most Important, Historic Tourist Attractions in Hyderabad
Looking for the best historic places in Hyderabad, Telangana to visit? Take a look at these 8 most important tourist attractions in Hyderabad that everyone must visit on their first time.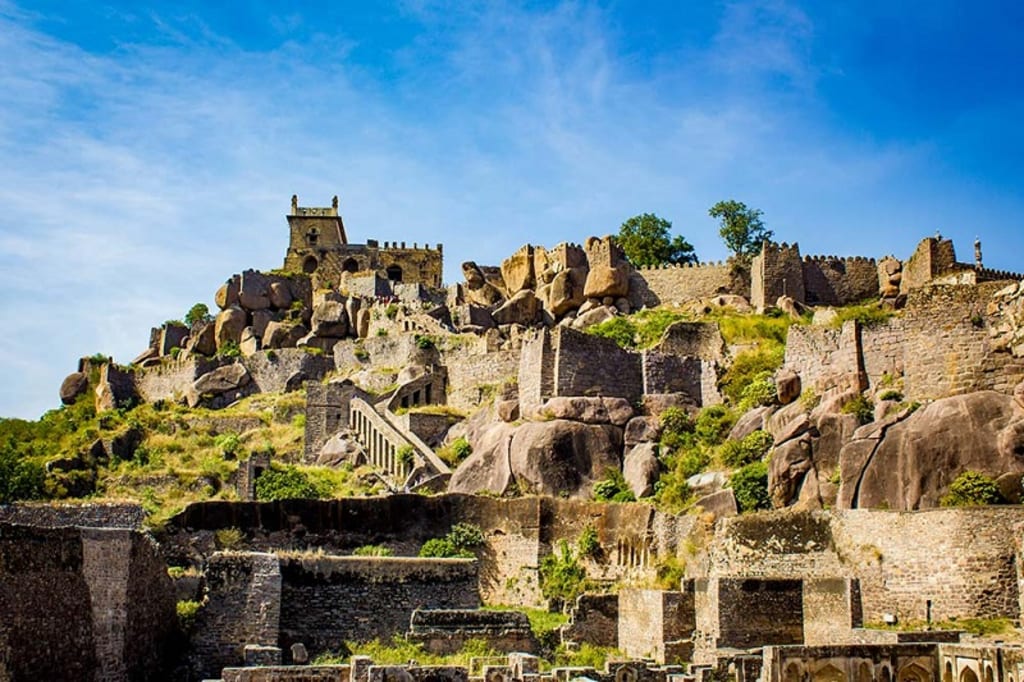 Hyderabad is one of the most ancient and oldest cities in Telangana and the Deccan region in general. It was called Golconda during the reign of Kakatiyas and was world-renowned for its fabled diamond mines. Some of the most famous and largest diamonds in the world were found in the Golconda region such as Daria-i-Noor, Koorl-ul-Ain, Koh-i-Noor, etc. Hyderabad has a long and glorious history which affords many historic tourist places to visit. There are also many scenic spots to chill as well. Now, let's take look at the most important and historical tourist attractions in Hyderabad that you must visit if it's your first time.
Golkonda Fort
Golconda region has been inhabited by humans for quite a long time. Under the Kakathiyas, Golkonda Fort served as their main treasure fort with an influence reaching as far as Guntur and Bejawada. The Golkonda region was fabled for its huge treasure of diamond mines. The fort ruins give testament to the devastation that was caused to region in pursuit of heavenly treasures. Later during the Qutub Shahi Dynasty, Golconda or "Hyderabad" became the capital city and consequently Golkonda Fort was chosen as the main residence and palace of the king. On your visit, don't miss the view from the top, as you can see what several emperors saw before as you wonder if they have seen anything better than this.
Salar Jung Museum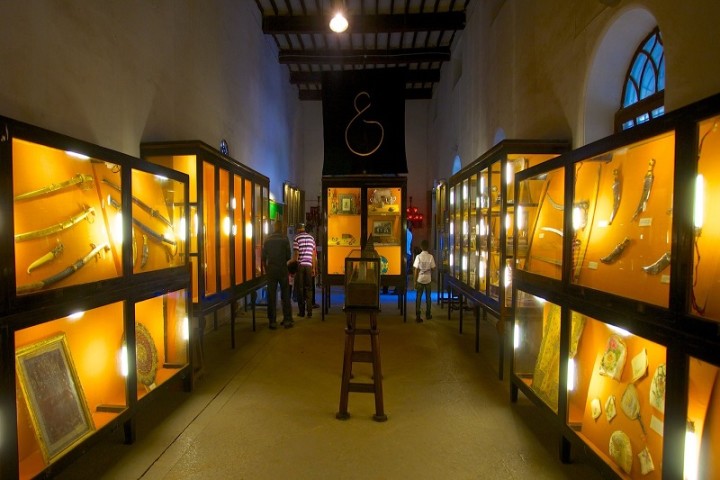 A round-trip to Hyderabad would be incomplete without a visit to Salar Jung Museum, especially if you're interested in South Indian and more importantly, Telugu history. This National Museum is one of the largest museums in the world with a huge collection of numerous artifacts from various parts of the world including Persia, Egypt, China, Japan, Europe and North America.
Hussain Sagar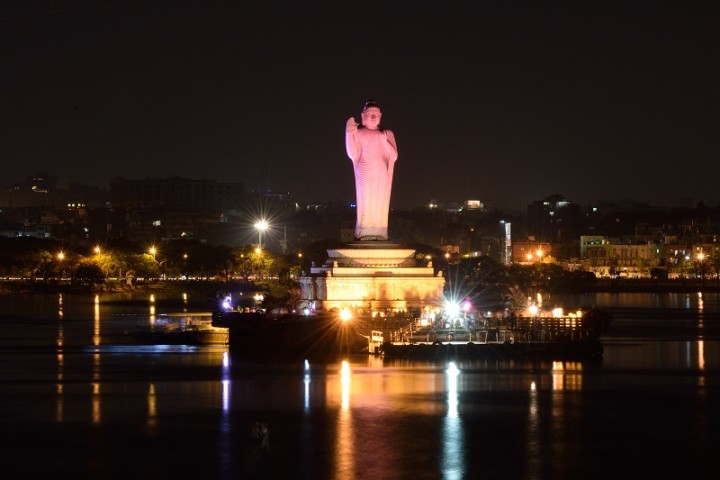 It is an artificial lake built by a Quili Qutub Shahi ruler located in between the cities of Hyderabad and Secundrabad. It is home to many landmarks and attractions that are worth their own post. Along with other Qutub Shahi Monuments, Hussain Sagar was declared a UNESCO World Heritage Site. It is a popular spot for lovebirds that flock to see the sun set behind the Great Gautama Buddha statue that is made of a monolithic granite stone. A few popular tourist attractions in Hussain Sagar include Birla Mandir, Lumbini Park, NTR Gardens, and Sanjeevaiah Park.
Charminar
Charminar is a historical monument and a mosque which was built by the Qutb Shahi monarch, Muhammad Quli Qutb Shah to commemorate Cholera eradication. It eventually became the symbol or the landmark of Hyderabad. Located in the center of Old City, it is surrounded by several historic shopping streets where you go can shopping for athar, tobacco, and other fashion accessories for women.
Taramati Baradari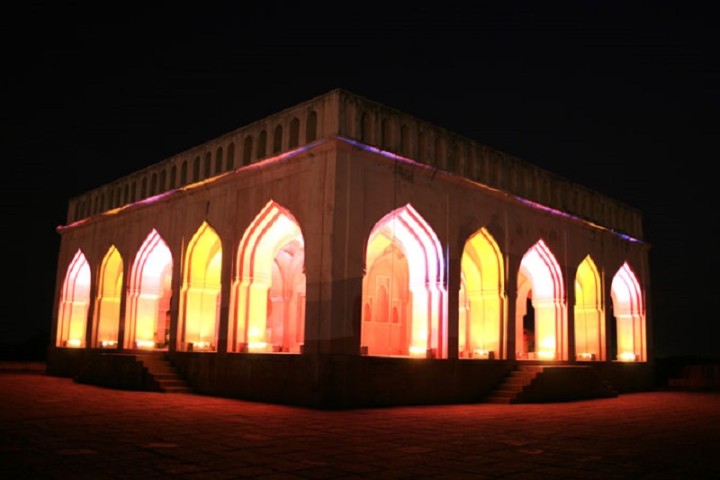 Taramati Baradari is a historical roadside tavern constructed on the banks of Musi River during the reign of Abdullah Qutb Shah. It is named after the sultan's favorite mistress. As the story goes, when Taramati danced and sand in this Baradari, it could be heard by the sultan at his Golconda palace. It is part of the Ibrahim Bagh which is a Persian style garden built in 16th century on the historic trade route connecting the diamond markets of Golconda with the historic port city of Machilipatnam.
Durgam Cheruvu
The Secret Lake of Hyderabad located between Jubliee Hills and Madhapur is Durgam Cheruvu. However, unlike the name suggests, it is anything but secret. In fact it is a popular tourist place in Hyderabad. It was the primary source of water for the ancient city of Golconda. There are several activities to par take at this lake like boating, rock climbing, trekking, rappelling, and art gallery.
KBR National Park
Kasu Brahmananda Reddy National Park is located in the southeast of Jubilee Hills. It is also home to the Chiran palace. It is a jungle located in the heart of Hyderabad City. The 390-acre park is home to over 600 flora species, 140 bird species and 30 butterflies and reptile species including peacocks, porcupines, jungle cats, anteaters, small Indian civet and a few others. The park is only open during certain times in the morning and evening. It is perfect for taking a romantic stroll or a fun jog around the massive enclosure.
Nehru Zoological Park
One of the most important and visited tourist places in Hyderabad, Nehru Zoo Park is home to over 1,100 animals and 100 species including the endemic species like Asiatic Lion, Bengal Tiger, White Tiger, Indian Elephants and Rhinos, panthers, pythons, etc. It is located next to Mir Alam Tank which attracts several hundred migratory birds making it popular for wild-life photography and bird watching. There are multiple parks and safaris in this zoo park that takes an entire day to explore.
What is the best time to visit Hyderabad?
In terms of climatic conditions, October to March is the perfect time to visit. The monsoons bring out the best in Hyderabad when it is soaking wet in rain but the terrible traffic conditions make it a hell during the rainy seasons. But Hyderabad's real beauty comes out during the dusk in a relief period between monsoons when the sky is painted in various colors colorfully lighting up the sky.
I hope this article served as a general guide to Hyderabad city and all of the tourist attractions it has to offer. By the way, don't miss any of these eight most important and historical tourist attractions to visit in Greater Hyderabad.